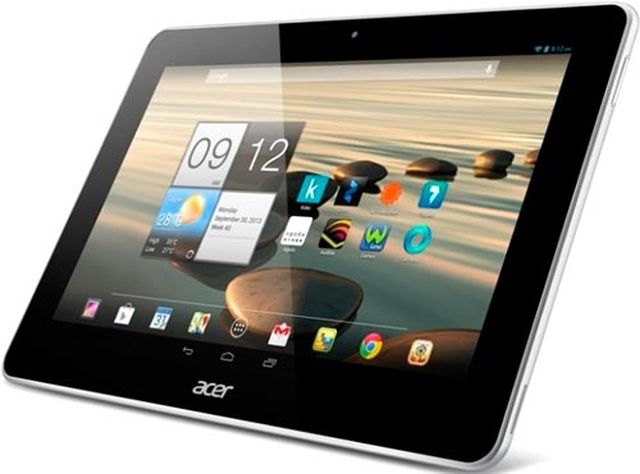 With many devices line ICONIA no stranger. Its feature is the touch control. Thus, at the time the public learned about the laptop Acer ICONIA with two touch screens, which is not something that has caused an explosion of emotions, but definitely caught the attention of many users. Not less interesting and tri-mode transformer ICONIA W5.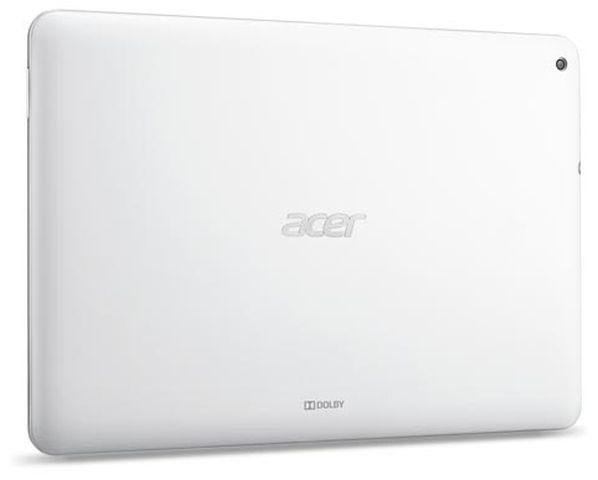 As you know, the ranks of this family are concentrated in Android or Windows-tablets, which due to its modern equipment can successfully compete in the electronics market. One of the representatives of the line is ICONIA Acer ICONIA A3-A11 3G, which manufacturers call "cinema in the palm." It is tempting. Apparently, the speakers and the display of the gadget must be on top. Will not guessing and figure out what's what.
Technical characteristics Acer Iconia A3-A11 3g
Processor: MediaTek MT8389W 1200 MHz
Memory: 1 GB DDR3 1600 MHz
Storage: 16 GB of internal memory
Display: 10.1 "1280×800 WXGA LED IPS, glossy
Video: PowerVR SGX 544
Wireless: Wi-Fi 802.11b/g/n, Bluetooth 4.0, 3G
Audio: Dolby, 2 speakers
Interfaces: Micro-HDMI, Micro-USB, card reader microSD, headphone output, a slot for Micro-SIM
Extras: 0.3 megapixel front webcam, 5MP rear webcam
Battery: 2-cell Li-Polymer 7300 mAh
Dimensions, weight: 260h175h10.2 mm, 570 g
Operating system: Android 4.2.2 Jelly Bean
Design Acer Iconia A3-A11 3g
Housing Acer ICONIA A3-A11 has dimensions 260x175x10.2 mm and weighs about 570 grams. For 10.1-inch gadget is normal levels, although he does not look particularly thin, which further emphasizes the bright edges of the housing. However, in general tablet relatively compact, so it will be easy to carry with them daily. It should be noted that along with the good parts fixed some bugs in the form of a small creaking and bursting of the housing. Incidentally, the plate is not made of metal and plastic.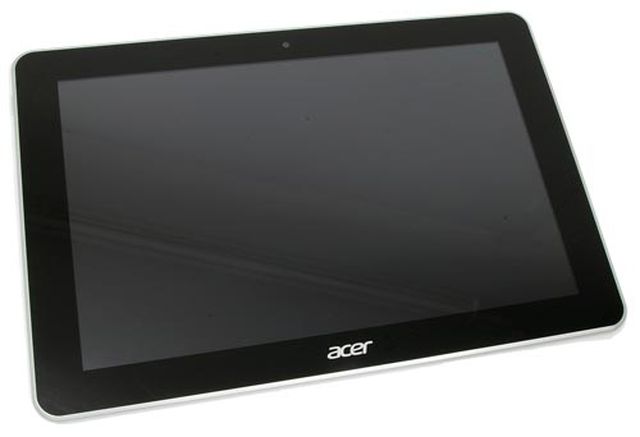 Originality and elegance ICONIA A3 is not enough, rather, it is made in a simple and unpretentious design in black and white. The upper part of the tablet – the display on which you can see the built-in camera. The reverse side has a radically opposite color, light, looks a little animating device. Separates the two diametrically opposite color silver frame. By the way, the rear surface is smooth enough, so it can slide in your hands a bit. On the reverse side of the display you can see the logo of Acer, as well as the main camera lens.
Display, audio, webcam Acer Iconia A3-A11 3g
Acer ICONIA A3-A11 3G – it's 10.1 inch gadget, its display has a resolution of 1280×800 pixels. Pixel density is very small, only 160 dpi; brightness level up to 300 cd/m2 and is not regulated automatically and manually; good color signals; uniform illumination; screen contrast is above average. We should also mention the excellent viewing angles, their stability at any inclination is achieved by IPS-technology, which is made on the display.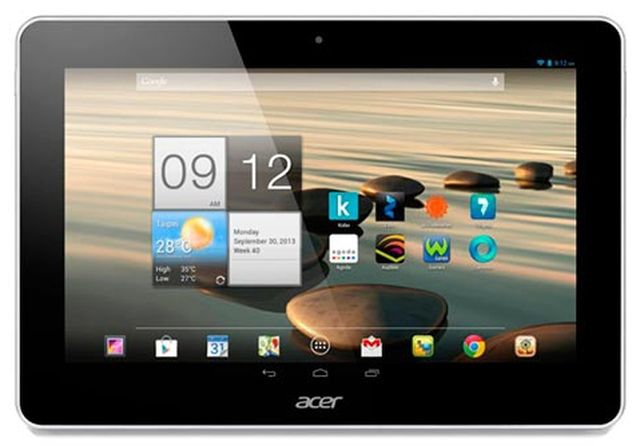 Touch screen surface responds well to touch, there is support for multi-touch gestures and ten simultaneous touches that make using the tablet more convenient. Despite the anti-reflective coating, the display still gleams and outdoors, and indoors. Pleased that the oleophobic coating is used here, it can have less fingerprints, and they erased effortlessly.
In the tablet has two stereo speakers, also has technology support Dolby, whose settings can improve the sound quality. In general gadget sounds loud, clean, but like many other devices of this form factor, it lacks the balance of frequencies.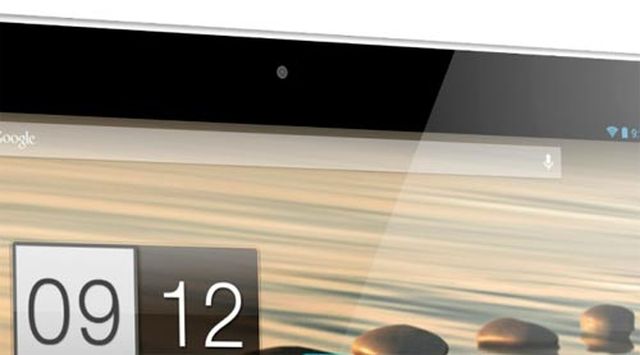 Acer ICONIA A3-A11 is equipped with two cameras. Resolution is 0.3 megapixel front, it will be enough to communicate on Skype. With a 5 megapixel main camera, you can take pictures and record video, including Full HD, perform panoramic pictures. However, in low light the quality is not the best, and the location of the lens in the corner rather than the center to reduce usability.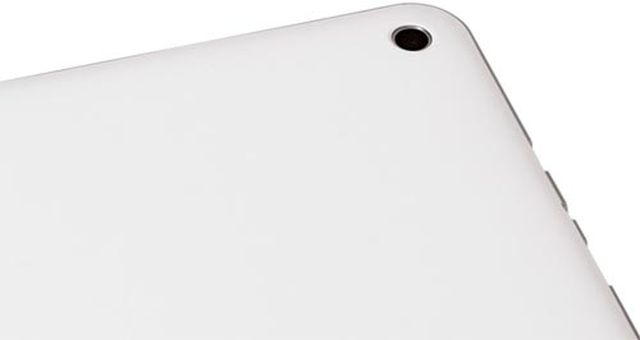 Keyboard Acer Iconia A3-A11 3g
In the tablet has a virtual keyboard, which is entirely sufficient to enter text. Button sizes are not too large, however, there are no problems with printing, accidentally pressed minimal. The device also has three touch-sensitive keys, traditional Android, – "Back", "Home" and "menu of open applications."
Performance Acer Iconia A3-A11 3g
Acer ICONIA A3-A11 works on the operating system Android 4.2.2. Among tablet software you will notice an interesting application Acer Touch WakeApp, through which you can quickly open the desired program if previously assign what gestures you launch it. For example, two fingers on the default, you can go directly to the camera.
In the quad-core tablet worth MediaTek MT8389W 1.2 GHz. It belongs to the budget class and its core Cortex-A7 slower than, for example, Krait. However, the processor is able to ensure the normal performance of the gadget, which will suffice for business and leisure purposes.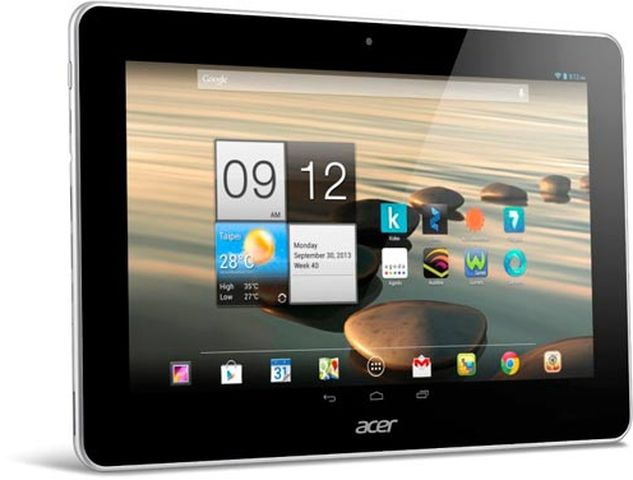 MT8389W complemented by integrated graphics PowerVR SGX 544 at up to 300 MHz. This graphics accelerator is quite popular in many mobile devices, as it provides a good 3D-performance, making it possible not only to watch but also to play modern, including some demanding toys smoothly and with good detail. Examples of such games can be 8 or Asphalt Dead Trigger 2.
The gadget is equipped with 1 GB of memory standard, DDR3. Despite the fact that now, in many plates 2 GB of RAM installed here volume is sufficient for stable operation of the device at a time when running a number of applications. As for internal memory, 16 GB is not too much, especially if the tablet is needed for entertaining. So do not forget about the card reader, through which you expand storage space for files, inserting card required volume.
Ports and Communications Acer Iconia A3-A11 3g
The left side Acer ICONIA A3-A11 is, in fact, the only one which has interfaces. Here you can see Micro-HDMI, Micro-USB, headphone jack, and a card reader and a slot for Micro-SIM. Also there was a place for the power button for one of the speakers. As you can see, this butt is too full, but met the optimal distance to the connected devices do not interfere with each other, and the wires are not tangled.

On the opposite side of the tablet is only available in speaker and volume control button.
As far as wireless communications, it is not limited only to Wi-Fi 802.11b/g/n and Bluetooth 4.0, as there is 3G enabled SMS. In addition, a number of technologies for mobile communications: EDGE, GPRS, HSDPA, etc. Also, the tablet can be used as a navigator, as it has a receiver GPS.
Battery Acer Iconia A3-A11 3g
In ICONIA A3-A11 3G has a 2-cell lithium-polymer battery having a capacity of 7300 mAh. The manufacturer claims that the autonomy of the tablet can reach 11 hours. In case the length of the device slightly less, for example, reaches the nine o'clock when viewed on a video display the maximum luminance.
Conclusion Acer Iconia A3-A11 3g
Acer ICONIA A3-A11 3G has a value of up to $ 350, modern stuffing has all the necessary functions, including multimedia, to meet the needs of most users. Gadget will give you a good autonomy, high-quality display and a very decent acoustics. At the same time, have to accept the body flexes and not too convenient location in the main camera. In general, from this tablet, you get everything you need, what you need for daily work and entertainment. Ultimately, if you do not want to overpay, but at the same time get a lot of what is in the top Tablet PC, look at the ICONIA A3.
Read another very interesting article about alternative energy of the Sun, water and air.