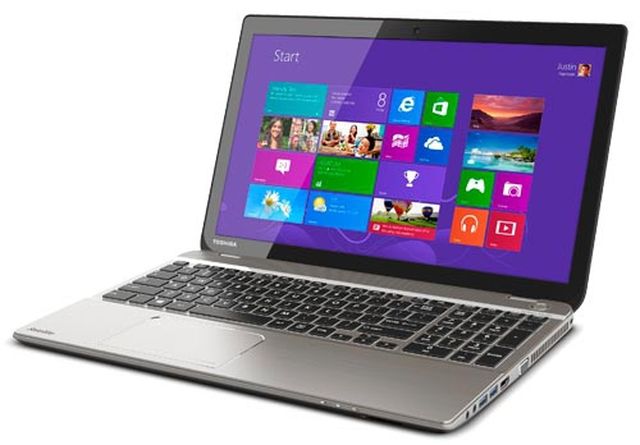 At the annual CES show in 2014 was first introduced laptop Toshiba Satellite P50t, having a multi-touch display with very high resolution 3840h2160 pixels. This had largely known ahead Retina-display, in particular, the density of pixels. Interestingly, the proposed different grade Satellite P50t not with 4K-screen TV and a Full HD, filling in this laptop is also quite productive, though not up to the masthead. That's what we'll copy in the review, because it also deserves some attention of users.
Technical characteristics Toshiba Satellite p50t
Processor: Intel Core i7-4700MQ 2400 MHz
Memory: 16 GB DDR3 1600 MHz
Storage: 1000 GB HDD 5400 rpm
Display: 15.6 "1920×1080 Full HD LED, glossy touch
Video: Intel HD Graphics 4600, NVIDIA GeForce GT 740M 2GB
Drive: Blu-ray
Wireless: Wi-Fi, WiDi, Bluetooth 4.0 + LE
Audio: DTS Sound, 2 speakers
Interfaces: 2xUSB 2.0, 2xUSB 3.0, VGA, HDMI, RJ-45, card reader SD, headphone output, microphone input
Extras: 2 MP webcam
Battery: 4-cell Lithium-Ion 3220 mAh
Dimensions, weight: 386.5x251x28 mm, 2.4 kg
Operating system: Windows 8
Options: Toshiba Satellite P50t-A (02T029)
Design Toshiba Satellite p50t
Body of this laptop is made of aluminum and has a silver coloring («Prestige Silver»). However, this color is not used anywhere, for example, the keyboard is completely black, which noticeably stands out. Dimensions Toshiba Satellite P50t-A constitute 386.5x251x28 mm regards weight of 2.4 kg, it is the normal rate for the majority of the 15.6-inch device.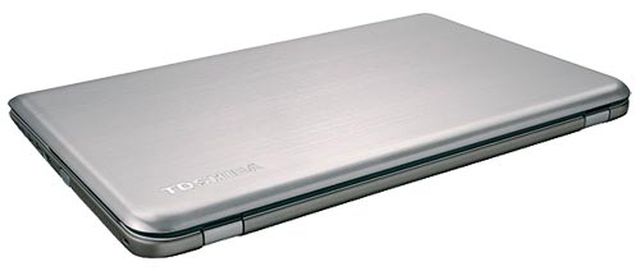 Can not say that the laptop looks pompous. The upper part of the laptop is quite modest, on its surface can be seen only logo Toshiba. At the same time, the sloping edge of the cover is the final element of the design concept. The bottom holds more traditionally, it has one compartment, as well as several louvers for air intake. In general, this notebook can be compared with some premium models, it is definitely the sense of style, elegance and individuality markedly.
Display, audio, webcam Toshiba Satellite p50t
Toshiba Satellite P50t has a display of 15.6 inches, a resolution of 1920×1080 pixels and a 16:9 aspect ratio. On Full HD-screen font looks smaller than usual, however, good color reproduction and wide enough visibility allows you to see the bright undistorted image is completely overlap. Not enough unless the field, observed from a small blur. But the display has a touch surface with support for 10-finger multi-touch, it will undoubtedly increase the functionality of the laptop as a whole.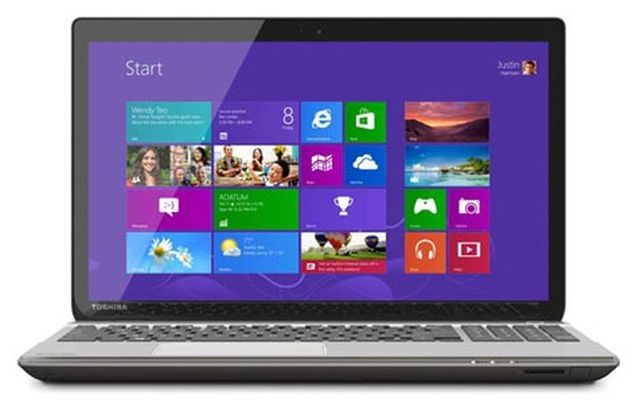 By the way, as already mentioned, there are equipment and ultra-high resolution display – 3840h2160 pixels (density of 282 ppi). On this screen QHD-everything will be even smaller, but you will get at least stable viewing angles and excellent color.
Laptop stereo speakers located above the keyboard, they are hidden special decorative grille. Harman Kardon traditional choice for Toshiba, besides further you can customize the sound with DTS Sound. Well, it sounds really like it, because it is clean, moderately loud, and even when playing audio tracks audible bass. Of course, this speaker is not intended to outshine the music center, however, it is worthy of praise. If you belong to the sound quality is too demanding, perhaps then can not do without earphones.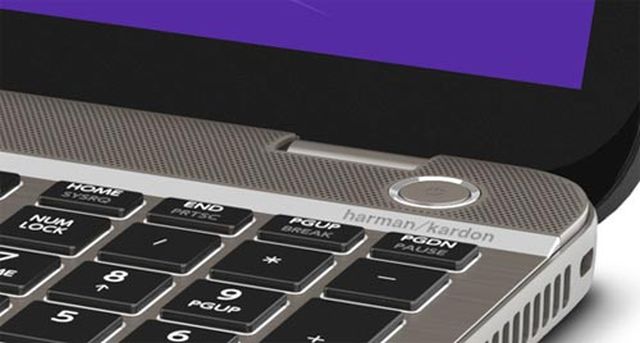 In Satellite P50t a web camera with a resolution of 2 megapixels. Its good to use if you want to talk on Skype. However, if you want to take a photo or video, the camera will cope with this task.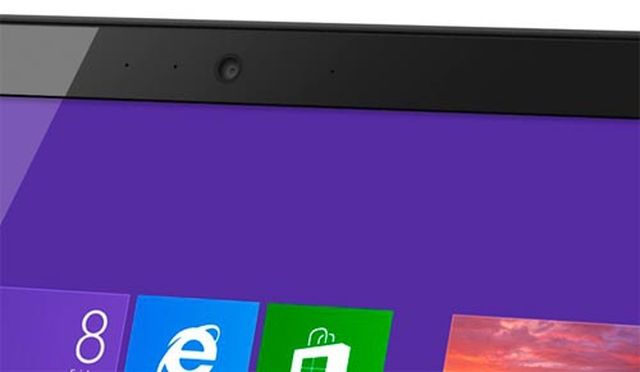 Keyboard and Touchpad Toshiba Satellite p50t
The keyboard of this laptop is made on island principle, moreover, besides the main keys and it accommodates more nampad. At the same time all the buttons medium size, work with good response, but with a short course, this will have little getting used to at first.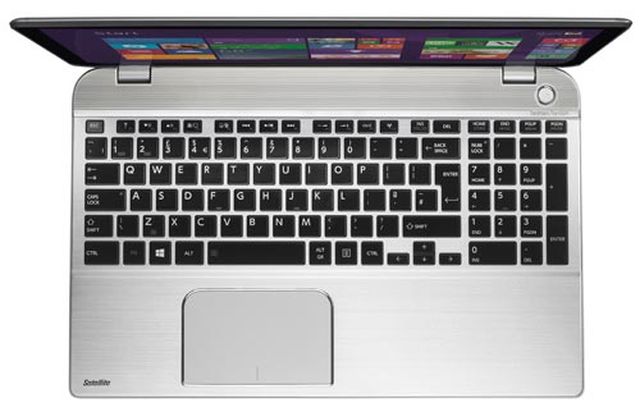 The main advantage is the keyboard backlight, it allows you to work comfortably even in dark conditions. To enable it, you must press the key combination [Fn] + [Z]. When you stop typing, turning off lights by yourself.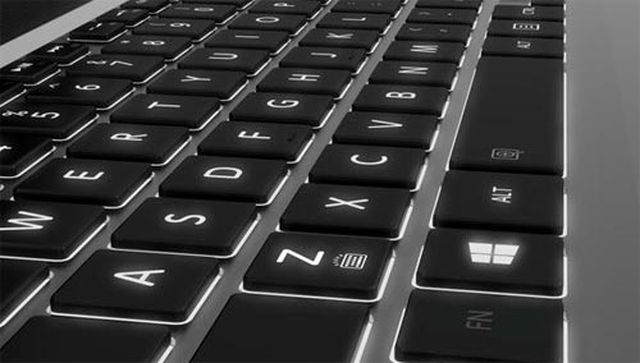 Laptop touchpad shifted to the left relative to the center podladonnoy site, so right wrist will be more space. It is relatively close in time to respond to commands due to good sensitivity. Touchpad also allows scrolling, zooming and other gestures. Separate physical buttons below the touchpad not, for the convenience of the right and left mouse buttons separated zone thin vertical mark.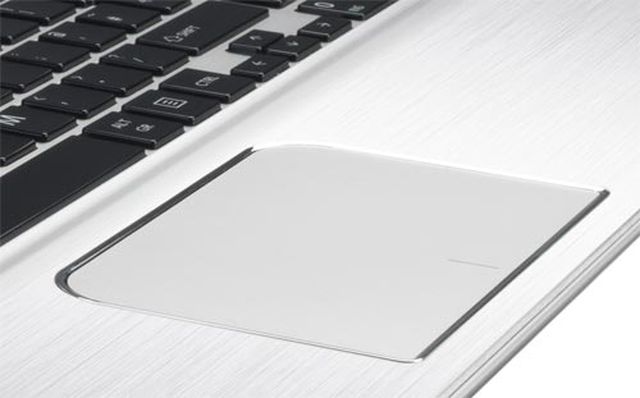 Performance Toshiba Satellite p50t
New Toshiba Satellite P50t-A (02T029) runs on 64-bit operating system Windows 8. The housing Toshiba Satellite P50t is fourth-generation processor Intel Core i7-4700MQ, having four cores. CPU with a clock speed of 2.4 GHz has a cache in the third level of $ 6 MB. With Turbo Boost technology can increase it to 3.4 GHz. It supports multi-threading, which allows to increase the speed. Of course, this processor is very productive, he is capable even many challenges.
The notebook uses two video cards. First – built-in accelerator Intel HD Graphics 4600, has 20 execution units and supports DirectX 11.1, OpenCL 1.2 and OpenGL 4.0. The computing power of this card a quarter higher than the HD Graphics 4000. For embedded controller only uses system memory, or rather part of its volume. It is noteworthy that in the Intel HD Graphics 4600 provided improved decoder for 4K-video. In general, it is well to cope with many graphics tasks.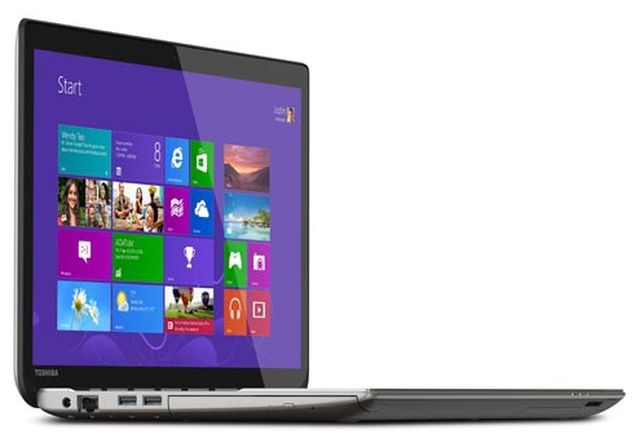 Second graphics card in Satellite P50t-A is a mid-level discrete graphics NVIDIA GeForce GT 740M with 2GB of internal memory and support for DirectX 11. It encodes and decodes the video, you can send video to an external monitor via HDMI. In general, GT 740M is quite efficient, it will suffice for all sorts of entertainment, including gaming. For example, the native Full HD resolution with maximum settings you can play F1 2013 to 30 fps. In other games (Tomb Raider or BioShock Infinite) – high or better than average with a frequency of more than 35 frames per second, provided that it is necessary to reduce the display resolution to 1366×768 pixels.
As for RAM, this package includes 16 GB, with each slot installed on standard 8 GB DDR3-1600 MHz. This amount of RAM is more than enough to perform advanced tasks, and with a good supply for the future. Also there is a grade in which less than half the RAM. By the way, and storage space is more than enough, because there are a hard disk capacity of 1 TB. HDD is not too fast, because it has a spindle speed of 5400 revolutions per minute.
Ports and Communications Toshiba Satellite p50t
On the left side of the casing Satellite P50t located two ports USB 2.0, network RJ-45 connector and socket for recharging. In addition, there is a built-in drive Blu-ray, reproducing discs of different formats. Recently, many manufacturers stopped equipping laptops optical drives, and here he is present that is sure to pleasantly pleased.

On the right side of the device can be seen two more USB, but the standard 3.0, two audio jacks for microphone and headphones, as well as HDMI, VGA, and a Kensington lock slot. Note that one of the USB supports Sleep-and-Charge, so from this interface, you can recharge various gadgets.

The rear end of the laptop completely empty.

Front, on the bevel is only SD-card reader, and on the very edge – three LEDs that display the work laptop and activation of wireless modules.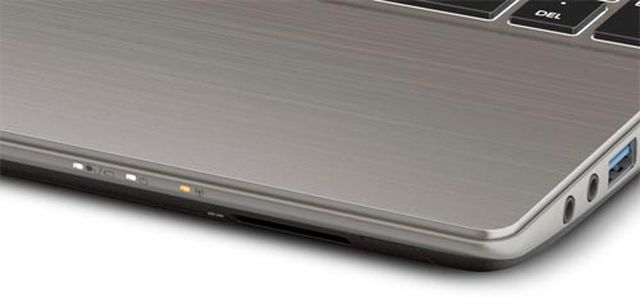 Of wireless communications present Wi-Fi, WiDi, and Bluetooth 4.0 + LE.
Battery Toshiba Satellite p50t
The laptop is a 4-cell lithium-ion battery prismatic power 3220 mAh (43 Wh). To charge it used 120 watt power supply. It should be noted that the autonomy of the device is not high enough. For example, reducing the screen brightness to 40%, you can work on Toshiba Satellite P50t in balanced mode, no more than three hours.
Conclusion Toshiba Satellite p50t
Laptop Toshiba Satellite P50t-A is not only an attractive device in the case of aluminum, which perfectly fit into the interior work and home, but also a good multimedia device. Thanks to the powerful processor, discrete graphics, 16 GB of RAM and high-quality display, you can not only watch high definition movies, but also to play modern games. By the way, the laptop is equipped with an optical drive Blu-ray, and it expands the list of supported disc formats, it also boasts a speaker Harman Kardon, a touchscreen and a 2 megapixel front camera. Not less than pleased that the keyboard Satellite P50t may be illuminated, so you can successfully and comfortably to work or play in the dark, without annoying the household indoor lighting.
Depending on the cost of the laptop ranges from $ 1500 to $ 3000, so it's only you to make a choice. The only thing that at this price will need to weigh the pros and cons.
Read another very interesting article about alternative energy of the Sun, water and air.