Smart Lock is an advanced feature that allows you to unlock your Android smartphone intelligently, through several very smart methods, as its name suggests. We have several options to unlock Android device, for example, face recognition, nearby devices and many others.
Smart Lock alllows you not to enter password when the screen is locked. This feature is available on all Android devices from version 5.0 Lollipop. Before we start to set up Smart Lock, you need to go to Settings > Security> Smart Lock. Here you have to enter PIN-code or password, then you can choose the different options of Smart Lock. Now we look at the most popular option of Smart Lock.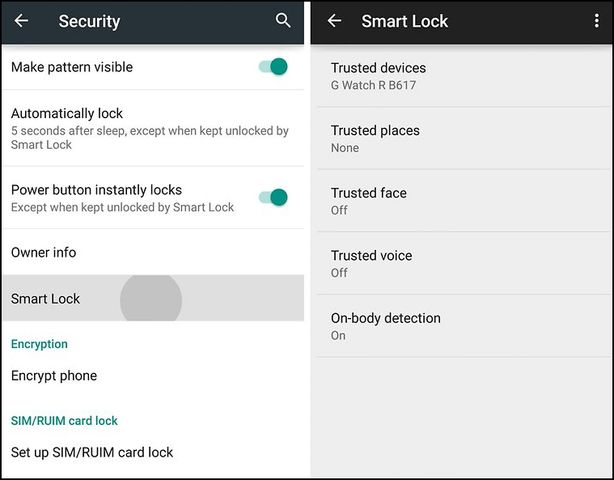 Set up Trusted device
If you use devices connected to your smartphone via Bluetooth or NFC, such as wearables, bracelets, watches or other electronic devices, for example speakers and even car, then Smart Lock can recognize all these gadget to unlock your smartphone.
To set up nearby trusted device, follow the steps below:
1. Connect Bluetooth or NFC device to your Android smartphone.
2. The first time it will ask if you want to use it as a trusted device and we can start the configuration. You can also start the setup later in  Settings> Security> Smart Lock> Trusted Devices.
3. Now choose the device type: Bluetooth or NFC.
4. From the list that appears with the connected devices, choose the one you want to unlock your smartphone.
5. Accept the prompt to add a trusted device and you're done.
Set up Trusted places
You can also set up safe places such as home, work or even the specific place with coordinates. To set up it you need to enter "Trusted places" in Smart Lock menu.
You can select a place from Google Maps list or add a new one from Google Maps with the coordinates. When you will be in that places, your Android device will be unlocked.
Set up Face Recognition
Face recognition uses the front camera. So, you just have to show you face to Android smartphone, it will recognize you quickly, and unlock the devices without having to enter any code.
To set it go into "Trusted face" within the Smart Lock options. First time, you will need to make the first recognition in an interior place with good lighting. Place your face inside the circle and wait for recognition is completed.

Set up Voice Recognition
You can also unlock Android device with the classic "OK, Google." To activate this option go to Settings> Security> Smart Lock> Trusted voice. The Google's voice detection settings will be opened and you must activate the 'From Any Screen' and 'Unlock by Voice' options.
As you can see, Smart Lock on Android is really very useful feature. It helps you save time when unlocking your smartphone.
Read another very interesting article about alternative energy of the Sun, water and air.