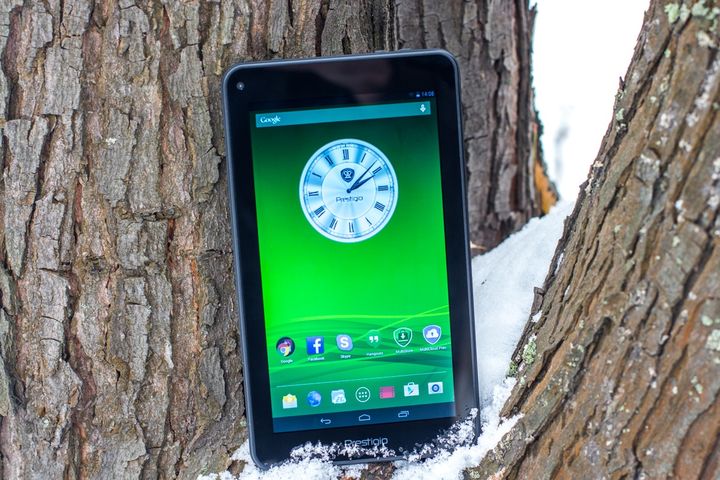 One of the most powerful tablets in the price range up to $ 100. On board processor Intel Atom Z2520, belongs to the family of Clover Trail +, 1 GB of RAM and OS Android 4.4 KitKat. In general, the device in Prestigio, despite the "modest" price tag turned out quite interesting, and therefore deserve a closer acquaintance.
Scope of delivery
Prestigo MultiPad Thunder 7.0i comes in a solid box of cardboard, made in the company colors producer. On her wall is a depiction device and its key specifications.
A complete set of the gadget a cable microUSB-USB, charger, adapter with euro, OTG-cable, manual and warranty card. But for the usual brand products cover in the box no, that probably also help to lose a few extra dollars to the price tag.
Design and functional elements
In terms of design Prestigo MultiPad Thunder 7.0i stands out among competitors in its price range. This concerns, first of all, its design on the rear panel.
She brushed textured fine mesh plastic. Thanks to this material plate pleasant to hold and at the same time, more importantly, he strives not to slip out of them in operation.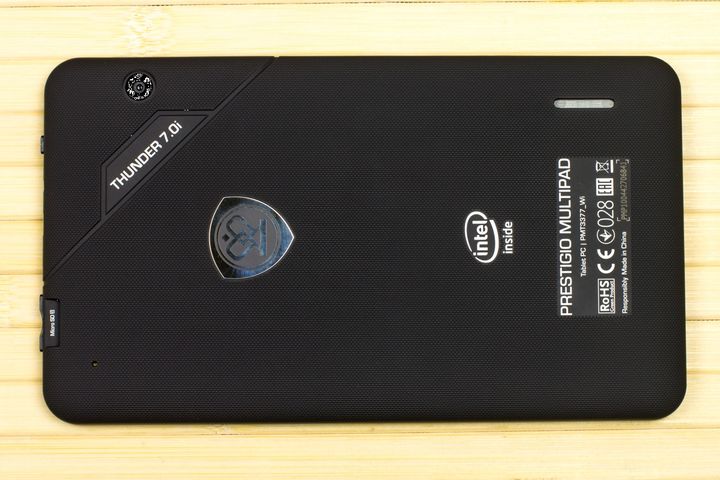 Yes, in terms of reliability solution has also been very successful – there is no backlash, the creaking and walking details.
At the top of the rear panel is a slot for MicroSD-card button Reset, and visually rendered in a separate block peephole camera 2 megapixel main and insert the name of the model. Here the user will find multimedia speaker output, logo and vendor corporation Intel, whose platform and built a "hero" of the review.
The front panel is divided tablet 7-inch display, a VGA-eye front camera and the inscription «Prestigio».
Due to its small size – 9.5 mm 190h115h MultiPad Thunder 7.0i takes up little space and easily fits in a purse or briefcase.
Its quite easy to hold with one hand in portrait orientation, but the operation of the gadget is still more comfortable, if you take it with both hands, as the album. Especially considering the fact that all controls manufacturer introduced the upper end of the gadget: the power button, volume rocker, a 3.5mm audio jack and microUSB.
Display
MultiPad Thunder 7.0i received a display with a resolution of 1024×600 pixels, which together with the 7-inch provides a pixel density at 170 ppi.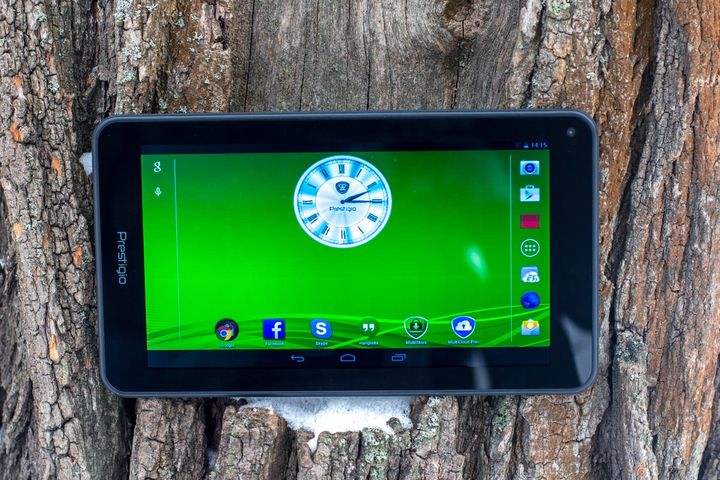 It is based on TFT-matrix with, frankly, "weak" viewing angles are not the best color and brightness of the small margin. The picture is not very clear and sharp, and the brightness of the screen in the absence of the light sensor is adjusted manually.
The touchpad is recognized up to 5 simultaneous touches. I also note that the glossy surface of the display there is reflection – working in direct and bright, it is better to raise the brightness to the maximum.
Memory
The volume of the built-in Flash-drive – 8 GB, however, slightly more than half of it "eats" the Android system and preinstalled software. As a result to the user just 3.91 GB.
A small amount of memory can be expanded using microSD-cards or by connecting a normal USB flash drive using OTG-cable. On top of that you can use even cloud storage MultiCloud of 200 GB is absolutely free for 1 year.
Features and performance
2-core processor Intel Atom Z2520 processor with a clock frequency of up to 1.2 GHz and graphics PowerVR SGX 544MP2 paired with 1GB of RAM allow the device to easily play movies in HD-resolution.
In principle, the system will cope even with toys such as Asphalt 8. I would also smooth and fast operation interface.
Among the wireless communication modules on board MultiPad Thunder 7.0i installed Wi-Fi 802.11 b / g / n technology with Wi-Fi Direct and Bluetooth 4.0. There is a tablet and GPS-receiver, the quality of the reception was a good, even indoors.
Battery
Energy for life tablet provides built-in lithium-ion battery capacity of 3000 mAh. One full charge enough for 3 hours watching videos and about 4-5 hours of Internet surfing at an average brightness of the screen.
Speaker
In MultiPad Thunder 7.0i one speaker who does not possess the power and sound quality. At maximum volume added noises and metallic rattling.
But the headphones do not have any hint of distortion than usually suffer many cheap devices.
Camera
Prestigo MultiPad Thunder 7.0i is equipped with a VGA-camera and a 2 megapixel front-core without autofocus and flash, so the quality and capabilities relevant.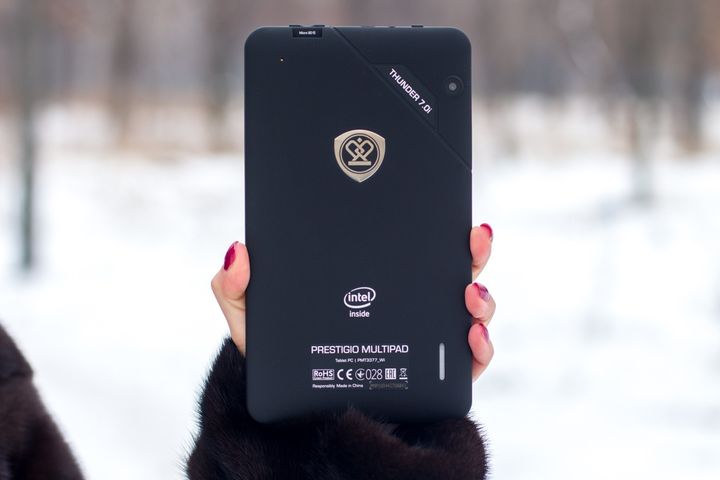 The main photomodule tablet shoot HD-video, and front to record videos at a maximum resolution VGA. For both a mode of time-lapse.
Software
MultiPad Thunder 7.0i running the operating system Android 4.4.2 KitKat with a lot of utilities: the services Google, electronic library eReader Prestigio, app store Prestigio MultiStore, program Megogo and Deezer, office suite Office Suite and many others.
Findings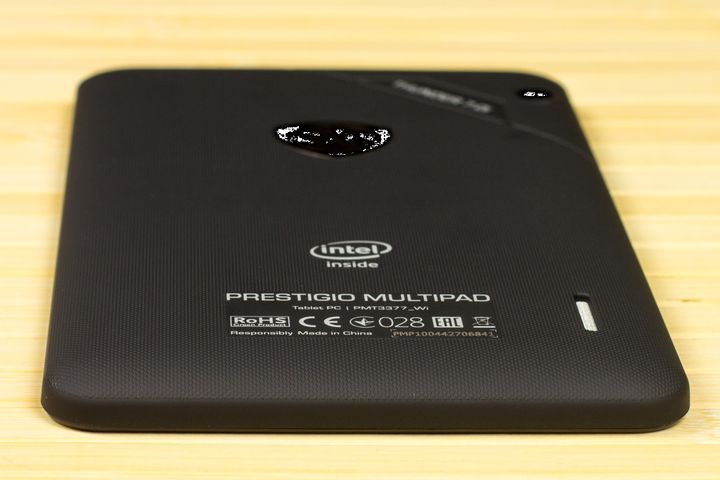 Well, for a very modest price Prestigo MultiPad Thunder 7.0i does not offer the user some incredible features and the more innovation, however, its software and hardware stuffing makes it comfortable to surf the web, listen to music and watch videos by connecting your headphones.
The developers paid particular attention to the quality of assembly unit, his "iron fillings", but his weakest spot, as it turned out, a small display with a resolution, weak viewing angles and brightness of the small margin.
Pros:
Quality assembly;
Good performance considering the price tag;
Android 4.4 KitKat «out of the box";
Cost.
Cons:
Display;
Opportunities cameras.
Read another very interesting article about alternative energy of the Sun, water and air.