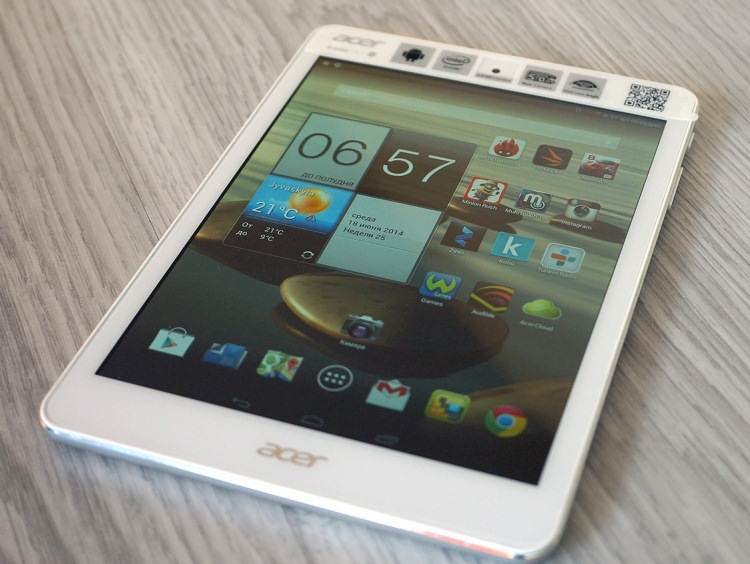 Introduced last year Iconia A1 has become quite a popular model due to its reasonably priced and user confidence in the brand Acer. This year the company decided to upgrade the low-cost model, abandoning the ARM-processor Mediatek in favor of the product Intel, changing the display and body materials. What else has an updated «mini» from A-brand? Matter whether the update is for the benefit of the gadget? About it – in today's review.
The device comes in a bright blue box, inside which lies directly tablet itself, long and durable micro-USB <=> USB cable, AC adapter solid black and neatly packed instructions. Despite the fact that the device supports OTG, the manufacturer has decided not to invest in a set of OTG-cable, so wishing to connect to the gadget USB-periphery have to buy it separately.
Appearance Acer Iconia A1-830
At first glance, Acer product recalls "apple" mini-tablet. On the second you will notice that it is much larger and thicker than its prototype.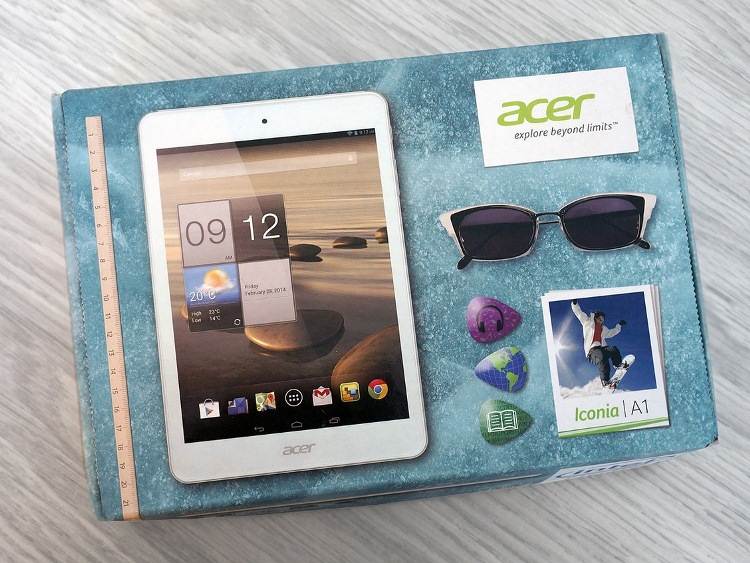 The front part of the device is completely hidden under the glass. It boasts a 7.9-inch display with a fairly thin frame. In the middle of the upper frame is placed over the display module small front camera.
In the upper right end part – a plastic button on / blocking. It is pleasant to the touch, do not play and has a good power reserve. Under the key lock – volume rocker.
At the bottom end – not covered with a flap slot microSD.
The right side of the upper end of next to each other derived 3.5-mm headphone jack, micro-USB connector and a microphone.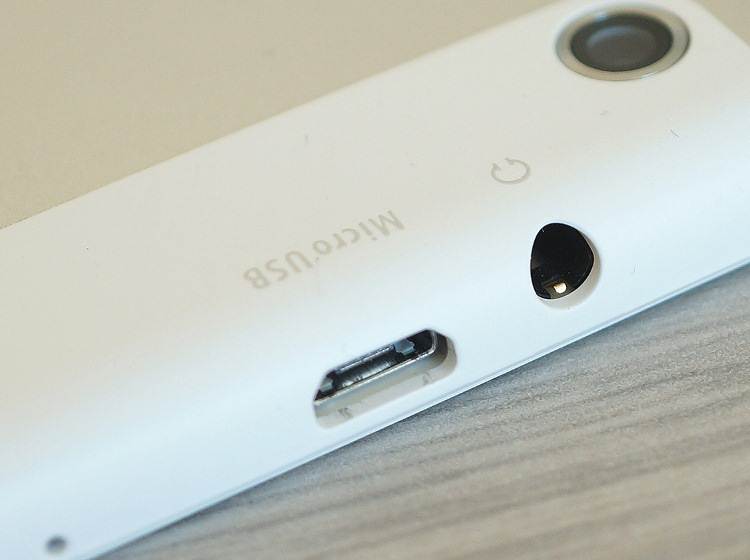 The back cover gadget made of silver plastic, stylized aluminum. However, there is a small area on top of the usual smooth plastic, leaving the upper end. In the upper left corner of the back cover – main camera lens. Middle housing logo emblazoned Acer, under which you can see the proud inscription Intel inside.
In the bottom of the cover are two speakers, which should provide stereo sound.
Ergonomics Acer Iconia A1-830
The first thing you feel, picking up the Acer Iconia A1-830 – it is much harder than it might seem at the view. 380 grams – very serious weight for a compact tablet, the same iPad Mini weighs 308 grams felt quite differently. However, to work with the tablet does not prevent excess weight.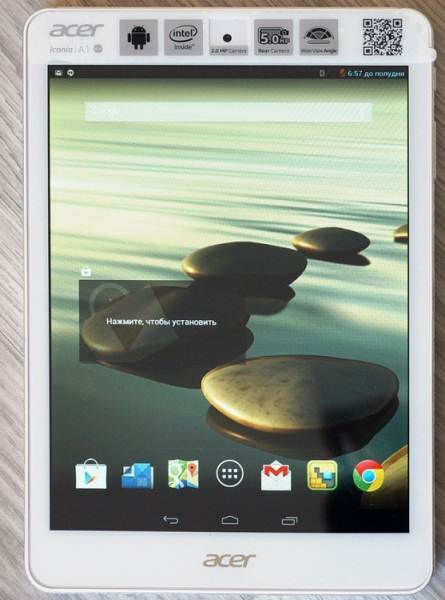 Considerable thickness of the device, and because the back cover is rounded, which allows it to be in good hands. But press the release button located on the side is not very convenient, it is necessary to intercept device specifically to reach out to her index finger. If key carried on the upper end, she went straight to the pin and would be noticeably easier.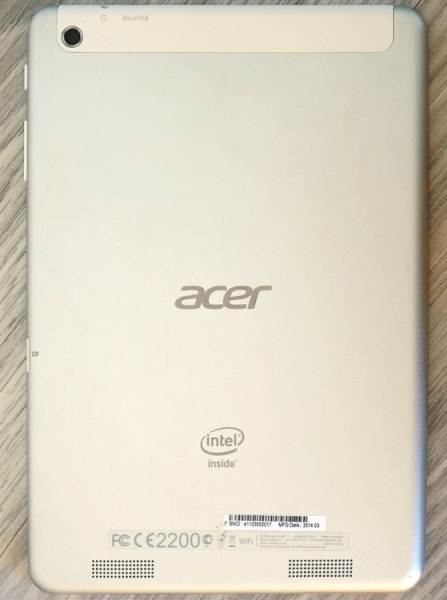 Use the device with one hand will not work for this and it velikovato hard. But, hold it with both hands, you can easily reach the thumbs up all the right points on the screen.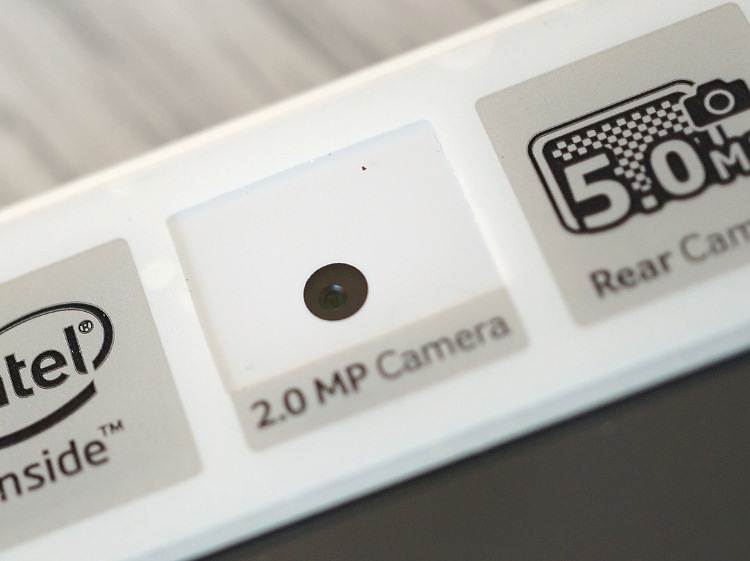 Ergonomics gadget can be described as satisfactory. Compared with large Acer Iconia A1-830 "tablets" product Acer, of course, wins, but of mini-tablets have a lot more user-friendly devices.
Screen Acer Iconia A1-830
Display at the Acer Iconia A1-830 is decent, though not the most modern. 768×1024 pixel resolution at 7.9 inches diagonally gives a density of 162 ppi. Pixelation visible to the naked eye, and the contours of the menu items slightly blurry. On the other hand, the screen boasts a glass, not plastic, as many "budget" tablet coating. Furthermore, it is the technology IPS, it excellent viewing angles. Loved the contrast and the colors are fairly realistic.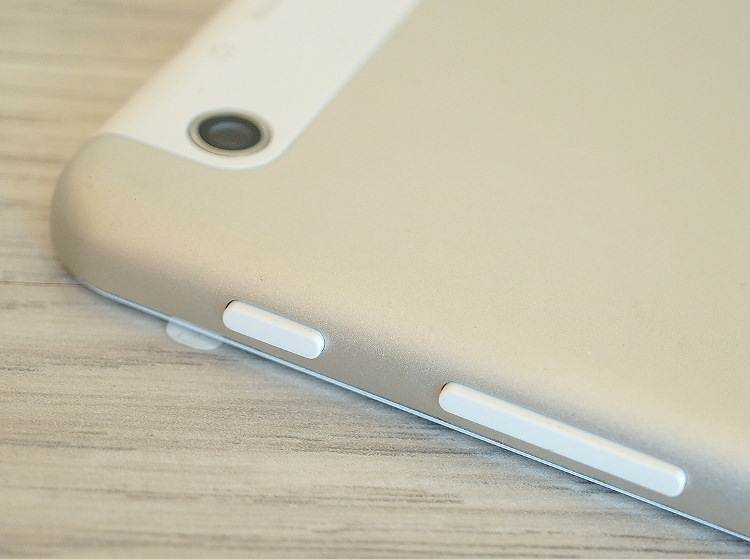 Display almost no glare, although noticeably fade in the sunlight. Frustrating lack oleophobic coating, but it is a common problem almost all budget devices, so it hardly makes sense to bring this claim.
Capacitive multitouch support only five simultaneous touches, but works quickly and accurately – without a problem "tapnut" even on minor UI elements.
Interface Acer Iconia A1-830
The device Acer Iconia A1-830 is running more current, although it was not the first freshness Android 4.2.2 Jelly Bean. However, the manufacturer promises to upgrade to the Android 4.4 version during the summer of this year, which is good. Changes compared with the stock Android insignificant.
But the manufacturer installed on the device a lot of different programs. Company expressly agreed to compensate the low price devaysa due to "affiliate" with shops software.
For example, a music store 7Digital. To this was added an informative and beautiful weather app AccuWeather.
Not treated in the company without pre-own "cloud" service AcerCloud.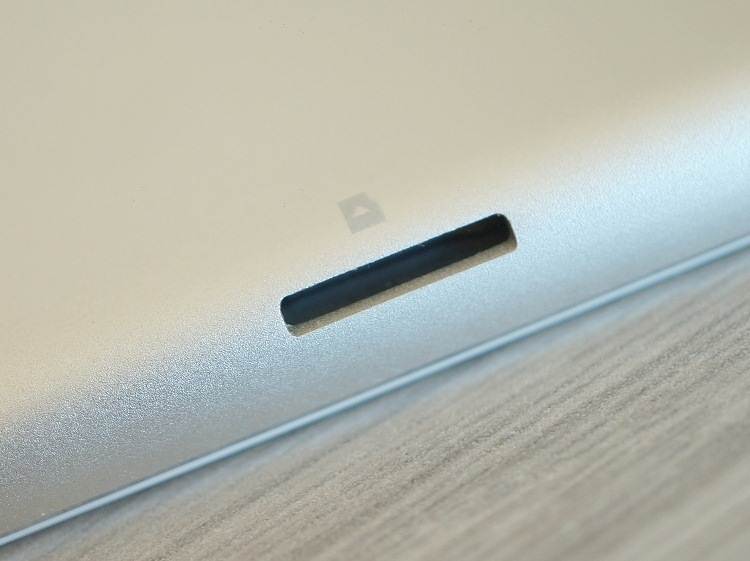 There is also a service to search for nearby hotels Agoda.
As a file manager performs Astro File Manager, which is characterized by advanced integration with a variety of "cloud" services. Do not forget to Acer and bibliophiles, setting store audiobooks Audible. Gamers also not a loser: in addition to its own store Acer'ovskogo Games Games gaming service has Kobo.
Clients installed Dropbox and Evernote, all the services Google, antivirus McAfee.
One can also note a very beautiful app Life Image, allowing you to create images of history.
Also in the kit has a soft-Skype, convenient client for listening to radio from the Internet TuneIn Radio, newsstand Zinio Acer and services for remote viewing files.
In short, a set of software allows you to work "out of the box." And it is – a definite plus device.
Unit in operation Acer Iconia A1-830
Unlike last year's version based on Mediatek updated A1 got a fairly powerful Intel Atom Z2560 processor with a frequency of 1.6 gigahertz. Coupled with a gigabyte of RAM and a low-resolution screen "iron" should be enough to more or less normal execution of all major tasks. 16 gigabytes of built-in storage at 11.5 available to the user.
Of course, some freezes occasionally observed, but compared with other "low cost" devices can be ignored. In AnTuTu benchmark device has gained 19,320 points, was only slightly more powerful pozaproshlogodnego Galaxy S3.
In the test Ice Storm 3D Mark benchmark device gained a satisfactory result in 6094 "parrot."
Programs run on the tablet with decent speed for a long time to wait for anything not necessary. Also does quite decently behaved: if you do not run simultaneously dozen "heavy" pages, no slowdown will not happen when surfing or when scaled.
With 3D-race Asphalt 8 device right – loose in some places there were some, but overall it was playable.
Somewhat heavier than tossing a three-dimensional runner MinionRush. However, the play was still possible, though not without periodic unflattering comments.
But almost purely worked zombie shooter Dead Trigger 2. And so all 2D-games running on the device, all went flawlessly.
Managed without glitches play streaming video in 1080p. Another matter that on this screen to view high-definition video is not much point.
Big disappointment steel built-in speakers. Promised stereo sounds are very quiet and not to say that clean. Watch movies without headphones is still possible, but listen to the music, probably not worth it.
Camera Acer Iconia A1-830
Unlike other "budget" mini-tablets Acer Iconia A1-830 product was not only the front, but the main camera. The quality of the main can be called quite decent for its price category. In the daytime obtained pretty decent shots. Rendition, of course, playing pranks, but autofocus works well.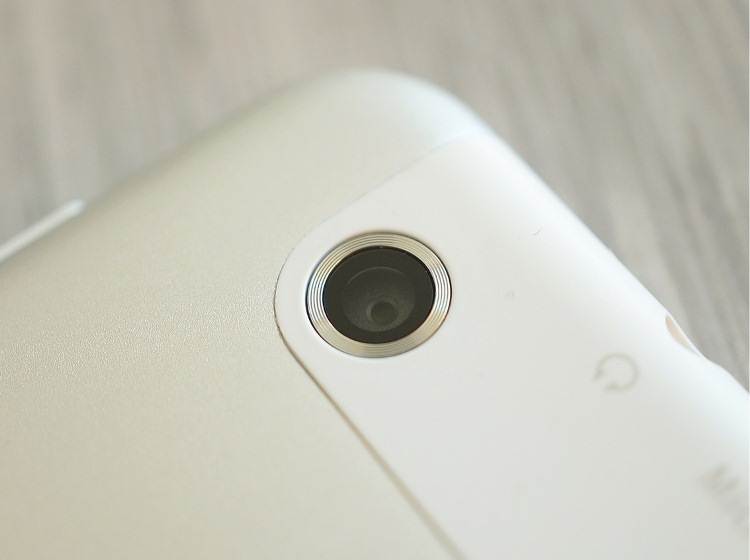 Camera application is started quickly, shooting also occurs without significant delays. However, light of dusk is already enough to the camera started to give color distortion and noise.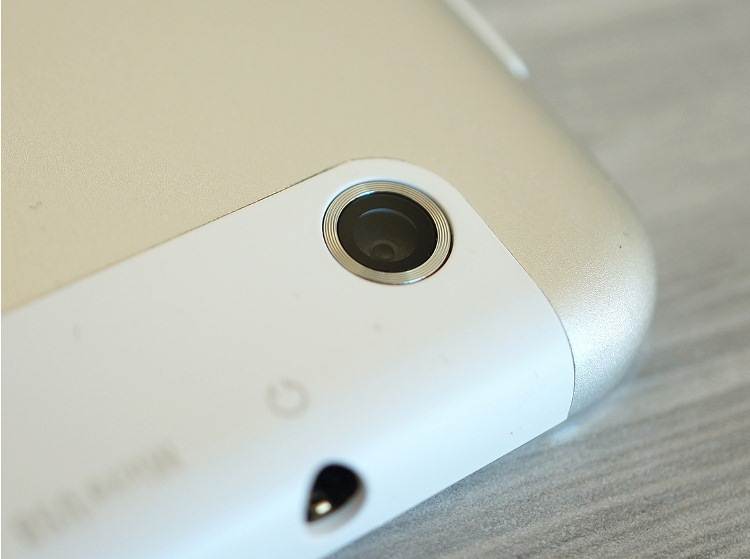 Front-facing camera for photos will not work, but you can call on Skype.
Wireless interfaces Acer Iconia A1-830
Wi-Fi is stable, no crash or hang. Device Acer Iconia A1-830 good catches even a weak signal. Bluetooth tablet uses the third version. As a result, connect wireless headphones to the device failed, but the fitness tracker Jawbone Up 24 refused to work with outdated technology. Given that almost all the "smart" trackers require economical battery power on the part of Bluetooth 4.0, control calories holders tablet from Acer, do not seem to succeed.
Autonomy Acer Iconia A1-830
Manufacturer equipped their offspring battery with no outstanding, but not in the small capacity 4000 mAh. The battery Acer Iconia A1-830 provides about seven hours of battery life with an average load. Result decent, but not a record.
An hour of video playback at maximum brightness discharge unit approximately 21%. Hour game Asphalt 8 cost about 23%.
For a less expensive tablet cases autonomy is enough. During testing, the device was used mainly for reading and surfing, and by the end of the day remained stable for about half of the charge, or a little more. In the locked position the tablet almost discharged. Leaving it overnight with a charge of 53%, nine hours by 52% found.
Results Acer Iconia A1-830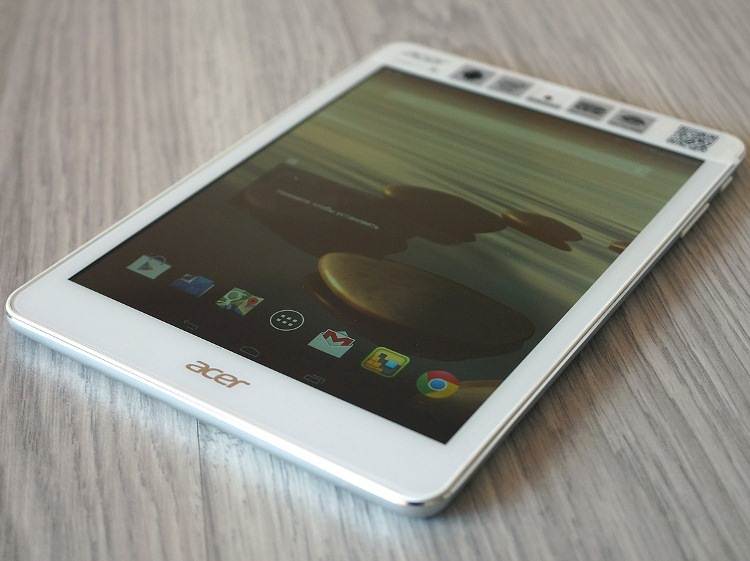 Acer Iconia A1-830 was a good value for your tablet. "Stones" from Intel is more powerful than the cost ARM-based processors, and in some operations (for example, playing FullHD-video) markedly their superiority.
Traditional quality Acer ensure device reliability in continuous operation, not to mention the availability of the service. Another argument in favor of the product can be called the Acer company's promise to update the "pill" to Android 4.4. In short, those who are looking for quality workhorse A-brand will not be disappointed.
Pros Acer Iconia A1-830:
low price;
Processor Intel;
Update coming under Android 4.4.
Cons Acer Iconia A1-830:
quiet speaker;
low resolution screen;
symbolic front camera.
Read another very interesting article about alternative energy of the Sun, water and air.