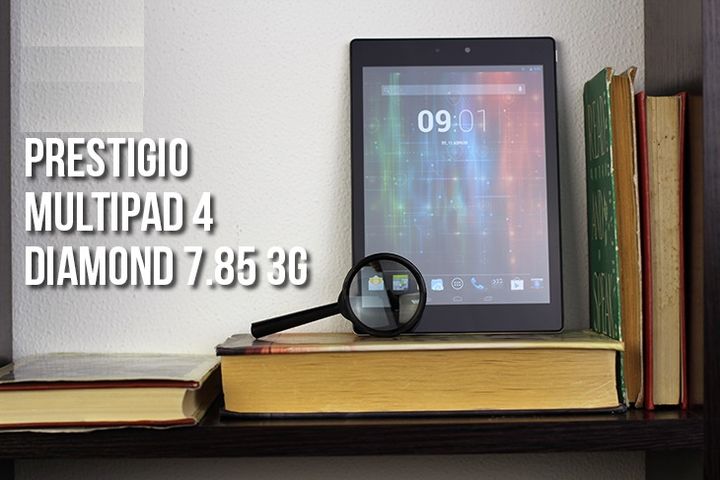 It is no secret that many geeks Prestigio brand is not associated with the best devices. And among the lovers even jokes appeared on Prestigio. But let us leave aside the analyst sofa and look at the actual sales – this brand they are. Buyers Prestigio – ordinary people who came to the electronics superstore to purchase a smartphone or tablet. In this review, we look at another tablet Prestigio – Multipad 4 Diamond 7.85 3G.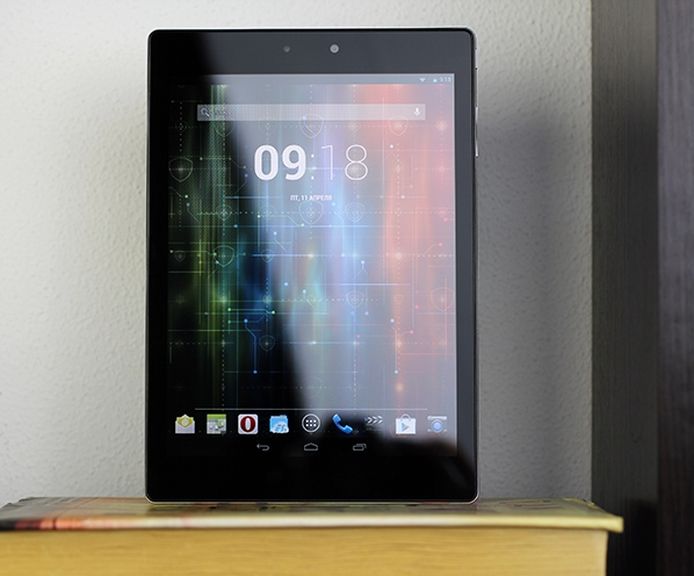 As I wrote above, Prestigio gadgets really selling well. Moreover, this company was the last few years. From this it follows that the Prestigio behind the big experience in which there is a place for mistakes, and for good solutions. Today Prestigio devices represent a not those gadgets, which just want to say "thanked, China", and quite worthy and sufficient quality devices.
Design and Ergonomics Prestigio Multipad 4 Diamond 7.85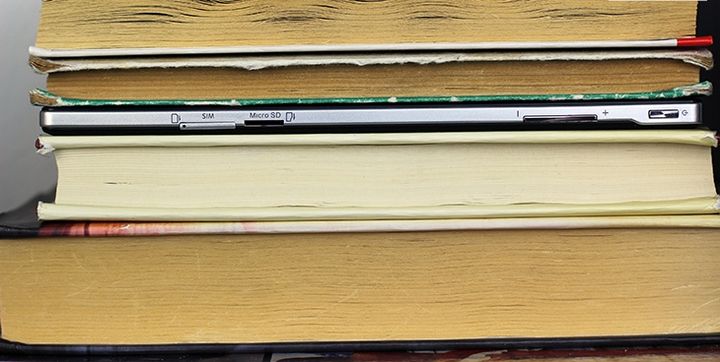 Frankly, taking Prestigio Multipad 4 Diamond 7.85 3G in hand for the first time, I immediately began to shake it – was sure that any item inside the tablet button or plug necessarily begin characteristic rattle, but it never happened. Then I began to diligently inspect all connectors and keys device. Here again I was pleasantly surprised – the buttons did not hang out, have a great move. Little did not like connectors for SIM-card and memory card. They are made carefully, again, nothing loose and not shaken, but the terrible inscriptions SIM and Micro SD manufacturer can not get rid of until now.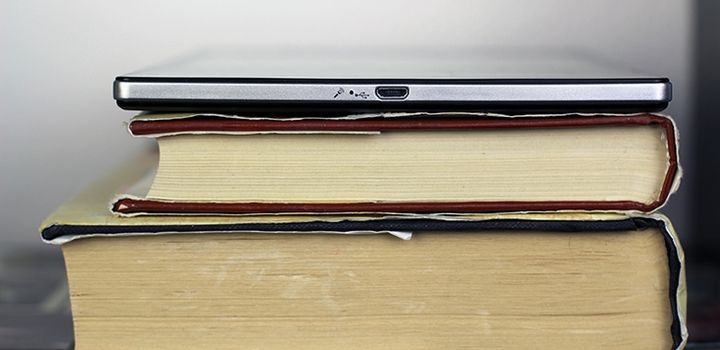 Multipad 4 Diamond 7.85 3G pleasure to hold in your hands. Its proportions and rounded corners, of course, reminded you of a fruit device. The thickness of the plate is 8.3 mm. Weight – 363 on the front side of all standard – display, eye front camera, light sensor and protective glass, to cover all this beauty. The top of the headphone jack located on the bottom – the microphone hole and microUSB. The left side is empty, on the right you will find the power button and volume rocker, and connectors for SIM cards and memory cards. The back side is made of metal with interesting texture and soft-touch plastic, which occupies the upper part of the face width to the diameter of the camera eye. Here are two holes on the stereo speakers.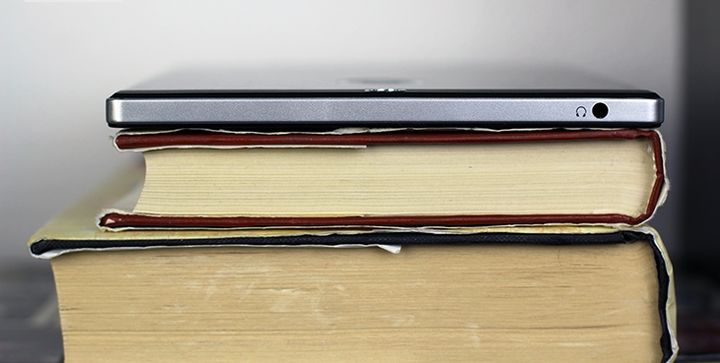 Special attention should be packing grade tablet. The box that comes a few catchy device, but with quality printing, which does not meet each manufacturer A-Class. Inside, in addition to the tablet, standard sync cable, AC adapter, paper clips and instructions laid Prestigio USB OTG cable and classy leather case. Soft cover, inside is made of microfiber, which more or less takes care of the cleanliness of the device.
Display Prestigio Multipad 4 Diamond 7.85
Diagonal Prestigio Multipad 4 Diamond 7.85 3G, as you can guess from the name of the model, – 7.85 ", the resolution is 1024 x 768 pixels, giving a total pixel density of 163 pixels per inch. A bit like tablet in 2014, but do not forget that this is not a flagship device.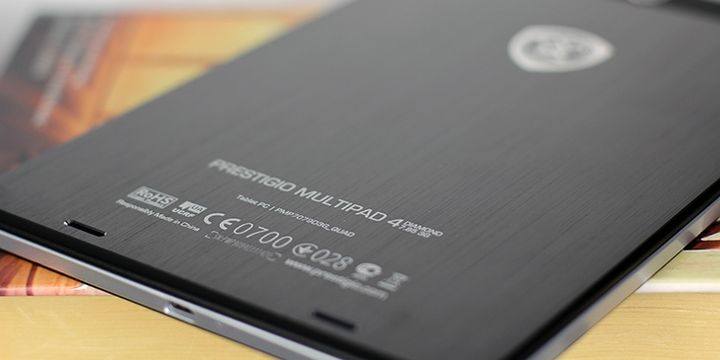 I am glad that the matrix is ​​based on technology IPS, tilt the tablet colors do not change, although the characteristic backlight illumination at the edges of the screen is not going anywhere. Multitouch recognizes up to five simultaneous taps on the screen.
Camera Prestigio Multipad 4 Diamond 7.85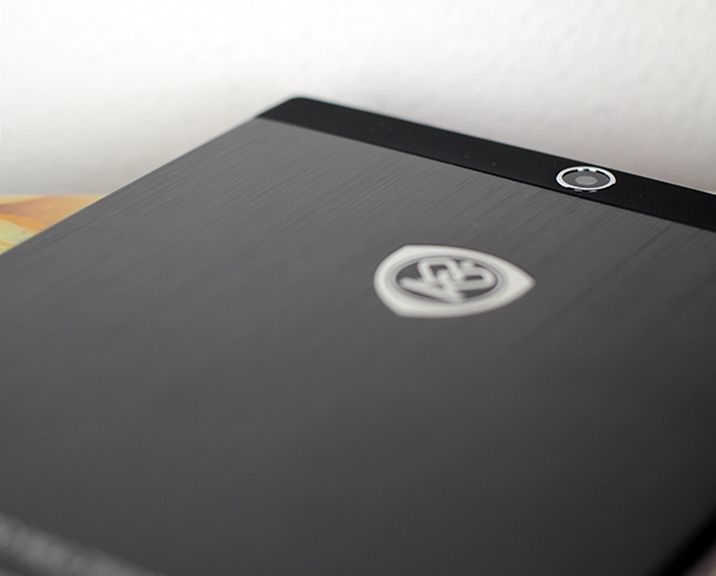 In such cases we say "they have here." Front camera, the resolution of which is 0.3 MP, it does its job, that is to talk on Skype and make self pozamylenney you get with ease. But the basic 2 MP, frankly, surprised. Neither you touch-focus, no minimum magnification. Of course, we can once again reflect on the need for the camera to the plate, but strange to me that a modern device, on the back of which the camera is installed, can not adequately take pictures of text.
With all of this standard application "Camera" is functional enough – supported by shooting smile, HDR, panorama, best shot mode and "beautiful face." But whatever the software, the camera is still weak.
Hardware and software Prestigio Multipad 4 Diamond 7.85
In Prestigio Multipad 4 Diamond 7.85 3G quad-core processor installed Mediatek MT8389, whose frequency is 1.2 GHz. Together with him working accelerator PowerVR SGX 544MP. I recall that a small screen resolution – 1024 x 768 pixels, and it would seem, the performance of the tablet should please the owner, but no. The interface works and speaks almost perfect – visible only occasional twitches, but the notification bar consistently leaves smoothly that uncommon for a large number of Android-devices. Browsing also raises no objections, but in games the tablet can be called useless. Yes, solitaire and birds you can throw without problems, but to play in Real Racing 3 and Dead Trigger 2, for example, will not be so nice. And benchmarks only confirm this.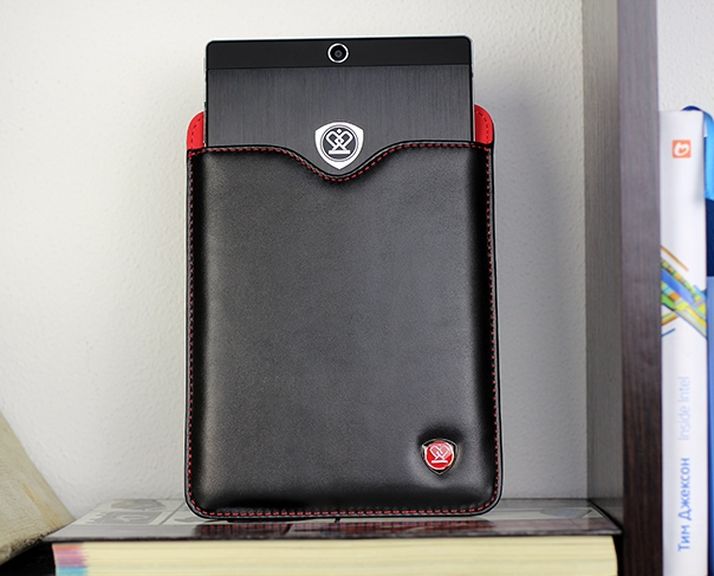 Can not but rejoice that the tablet, whose price is $ 200, supports 3G. In a metal tray set Simca format Micro-SIM. And with the help of 3G you will not only get wireless internet, but also be able to make calls – this, of course, is an extreme option, but this possibility is not just unnecessary.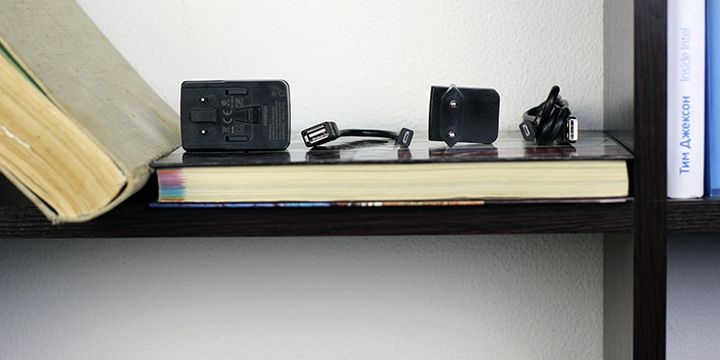 The storage memory to 16 GB tablet, besides that has a slot for memory card format MicroSD. In the device comes with cable USB OTG. Flash drive is connected to the tablet in just a few seconds, and pre ES File Explorer with no problems finding it. No dancing with tambourines, no Ruta – This function works right out of the box. RAM is 1GB.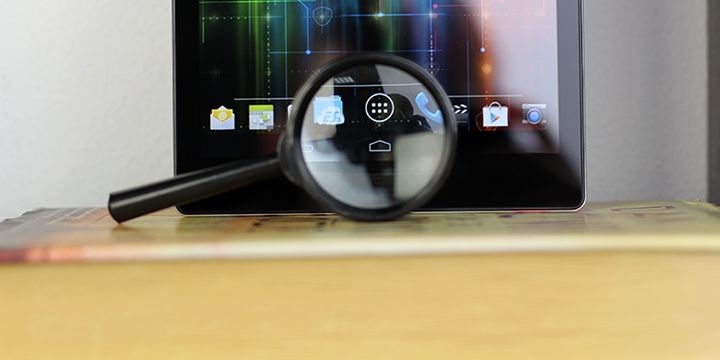 Battery capacity Multipad 4 Diamond 7.85 3G – 4700 mAh. This is an order of magnitude larger than in tablets Google Nexus 7, for example, the running time is a few complained. Yes, and a small screen resolution only plays into the hands of autonomy. In my hands the plate kept long and bravely. Once it was enough for the day, once in two, and once and for four.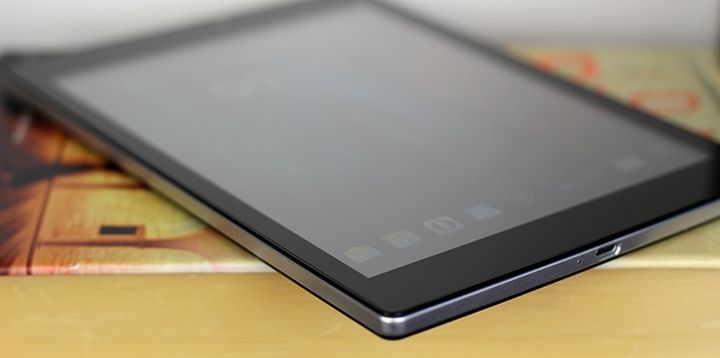 The operating system – Android 4.2.2 Jelly Bean. Manufacturer carefully established as proprietary applications and third party software (such as ES Explorer, Opera browser and office suite OfficeSuite). Prestigio of services presented here account Prestigio, eReader and installer. In addition, in the settings you will find new items such as "Manage SIM-cards", "Sound profiles" and "Schedule incl. / Off." Basically, it is a bare Android Jelly Bean with a couple of pre-installed applications and widgets.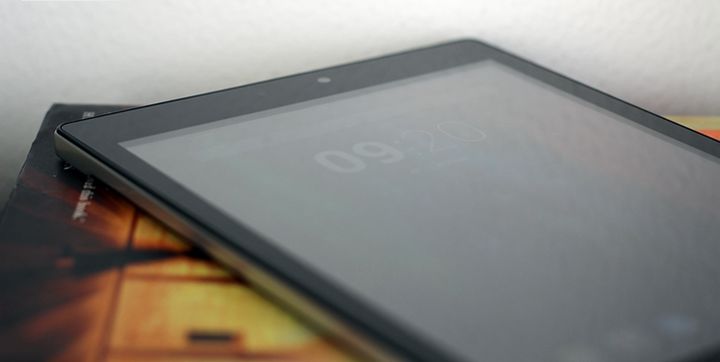 Technical characteristics Prestigio Multipad 4 Diamond 7.85
Dimensions: 200 x 136,5 x8, 3 mm.
Weight: 363
Operating System: Android 4.2.2, Jelly Bean.
Processor: Quad, Mediatek MT8389.
Graphics: PowerVR SGX 544MP.
Display: IPS, 7,85 "1024 x 768, 163 ppi.
Memory: 16 GB.
RAM: 1 GB.
Camera: Basic – 2 MP; front – 0.3 MP.
Wireless Technology: Wi-Fi, Bluetooth 4.0, 3G.
Interface connectors: 3.5mm headphone jack, Micro USB, Micro SD.
Battery: 4700 mAh.
Results Prestigio Multipad 4 Diamond 7.85
We got to make a decent Prestigio tablet. I loved his body. Yes, some may confuse logo Prestigio, but removing it we get a perfectly assembled device with a cooling palm nice metal back side. Multipad 4 Diamond 7.85 3G can safely take the whole day. It can be as bedside devaysom there and mobile – 3G support and, again, capacious battery allow it to be. We were pleased with support for memory cards and USB OTG, because we are so used to store your favorite movies, TV shows, music and photos on these storage devices. Disadvantages Multipad 4 Diamond 7.85 3G are frankly mediocre display, camera quality leaves much to be desired, and performance, which may not be enough for demanding toys. But remember the price, buy this tablet in Ukrainian shops are available for $ 200, more than justifies all the advantages and disadvantages of the tablet.
Read another very interesting article about alternative energy of the Sun, water and air.