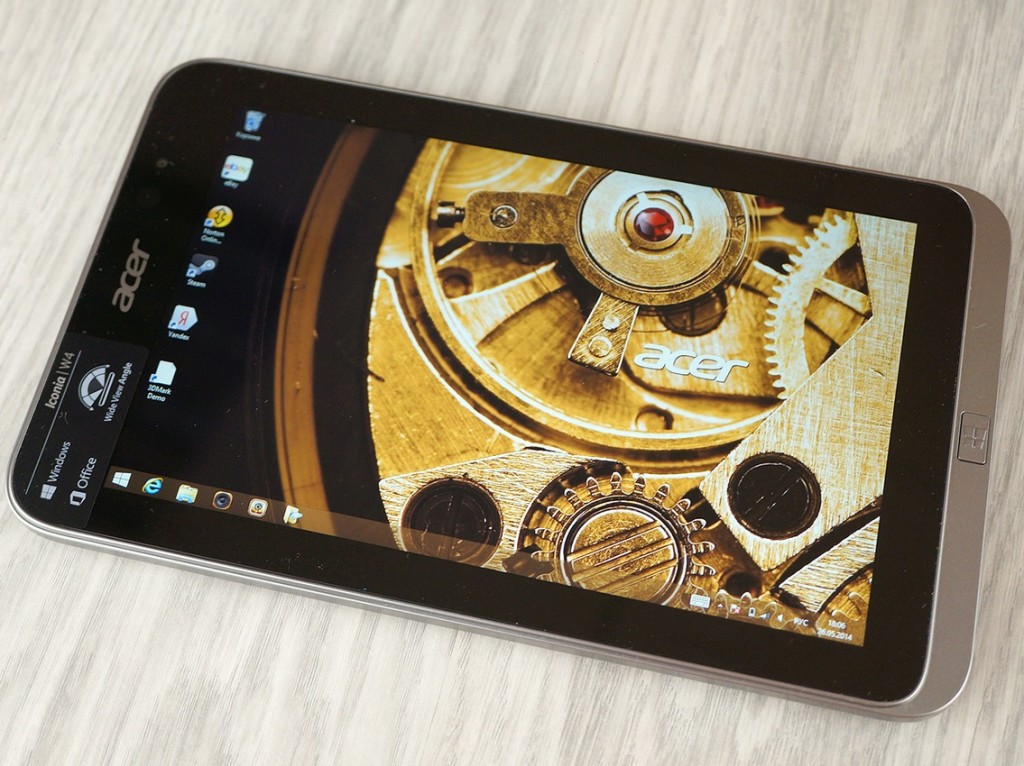 Tablet Acer Iconia W4 – direct successor to the W3, get a fresh Windows 8.1, the variation with 3G and lightweight body. Manufacturer finally got rid of the prefix Tab tablets to seriously work on the design and filling device. Will there be enough for her challenges and how comfortable W4 as a universal mobile assistant – read our review.
Technical characteristics Acer Iconia W4
Screen: TFT IPS, 8", 1280×800, capacitive, multitouch;
Processor: Quad Intel Atom Z3740 1,33 GHz;
graphics accelerator: Intel HD Graphics;
Operating System: Windows 8.1;
RAM: 2 GB;
Internal memory: 32/64 GB;
memory card support: microSD up to 32GB;
wireless connectivity: Wi-Fi 802.11n, Bluetooth 4.0, 3G (optional);
SIM: micro-SIM (optional);
Camera: Basic – 5 megapixel, front – 2 MP;
sensors: light; gyroscope;
Battery: 4960 mAh;
Dimensions: 219 × 135 × 11 mm;
Weight: 415 grams.
Packaging, equipment
The tablet comes in a striped box, which lists its main advantages.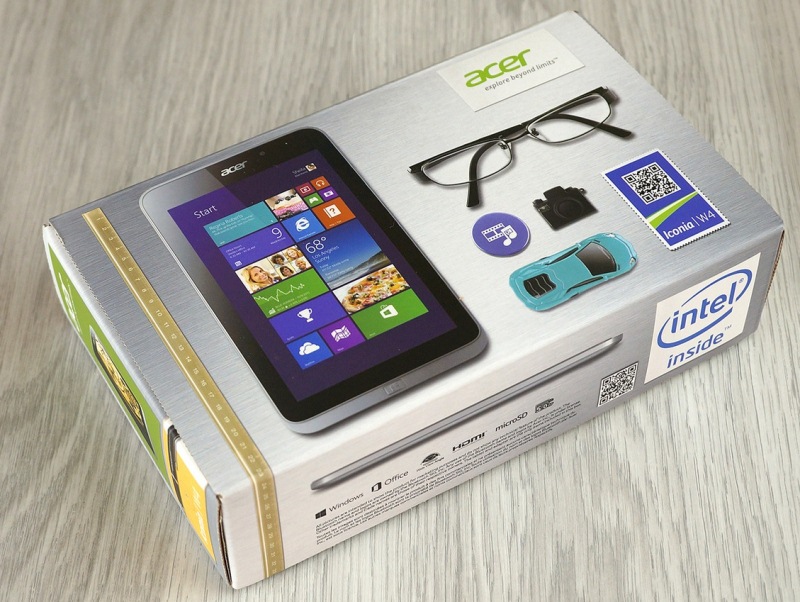 The device is packaged in a milky film on which indicated the location of connectors and buttons. Inside is a standard set of accessories: charger, cable micro-USB <=> USB, cable micro-USB <=> USB OTG, user manual and warranty card.
Unlike the previous model with its own power connector, now micro-USB is used for charging and for connecting.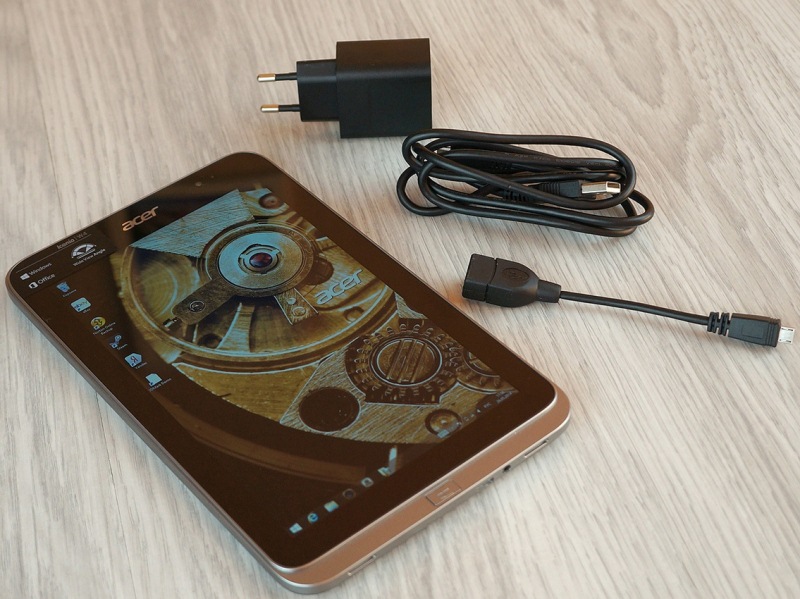 Appearance Acer Iconia W4
In comparison with W3, W4 has an improved design. Housing of the tablet is made of durable plastic, tried to look like aluminum. Even the picture on the silver back panel – vertical strips – typical for the metal housing.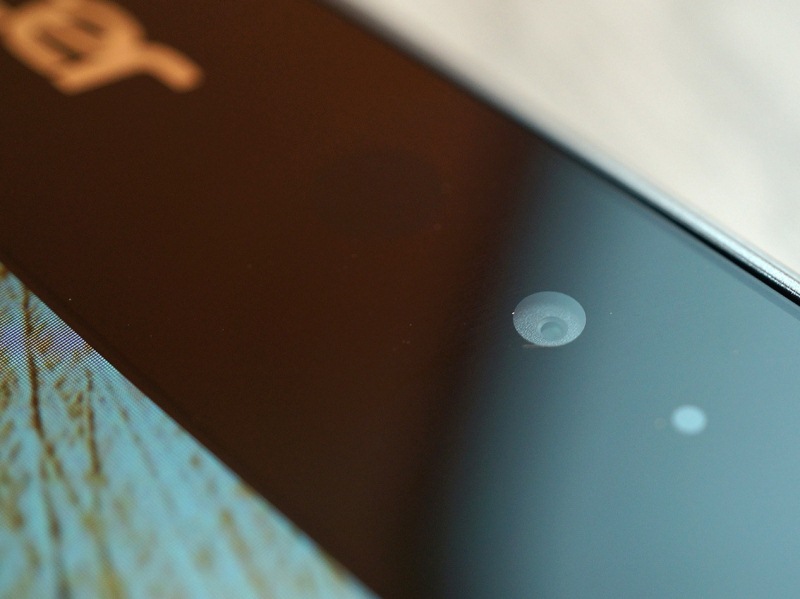 Creators of new items, obviously wanted to achieve and another effect: the display with a black border in a narrow gray framed as if pasted on the silver case, protruding over it by about 1 mm. Above it is a front 2-megapixel camera and a light sensor. Windows key remained "below."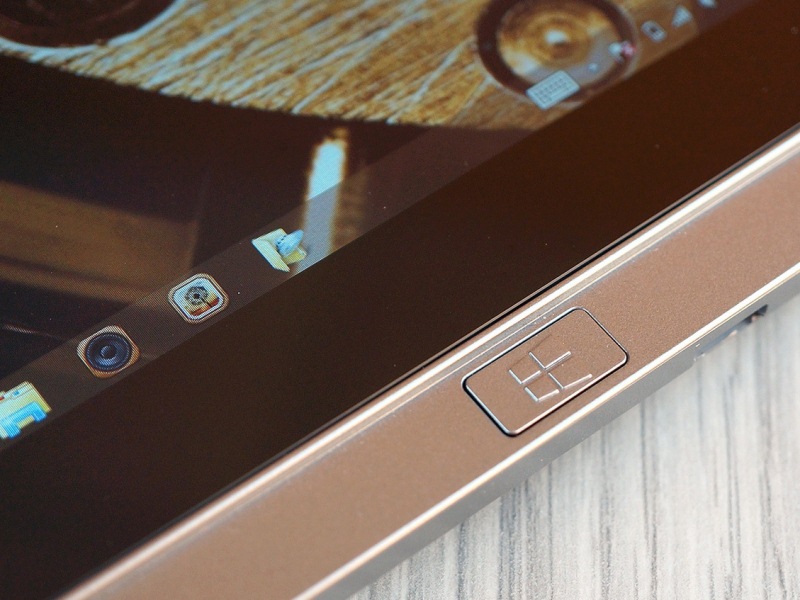 At the top there is a power button.
At the bottom – two stereo speakers on the edges and micro-USB connector and 3.5mm audio, just right of center.
Any items left there, but the right – the whole scattering microphone, volume control buttons, slot micro-HDMI, signed micro-SIM slot and microSD. All slots are open and connectors, plugs not.
On the rear panel: top left – main camera lens, under it – convex manufacturer's logo and stickers with information about the tablet. No access to the battery.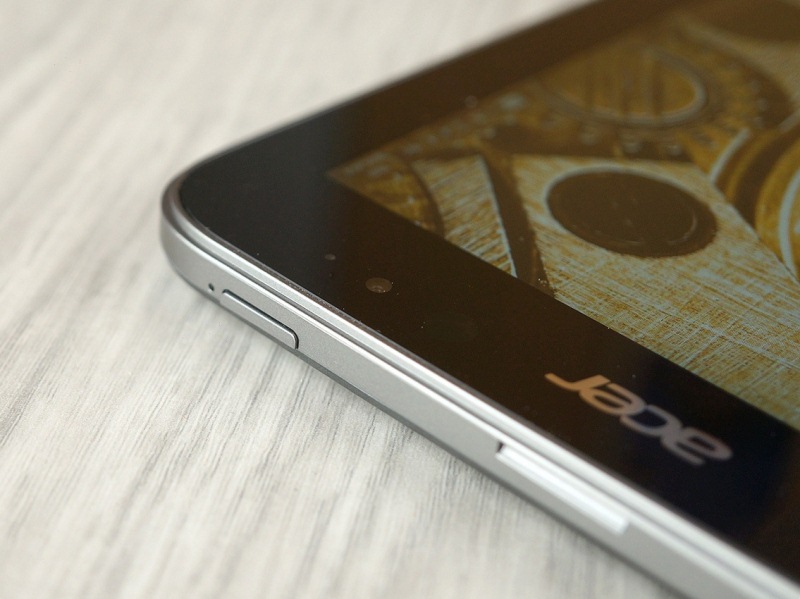 Build quality is good, the only remark – with pressure on the body heard a light crunch.
Ergonomics Acer Iconia W4
8.1 inches – the maximum diagonal display with which the tablet can embrace the fingers of one hand the average. True, a little confused by this: to get the first time on a microscopic "cross" in the windows of Windows can only be a very experienced user. And while trying to – and you can drop the tablet. Therefore it is better to hold it with both hands and fingers free to train.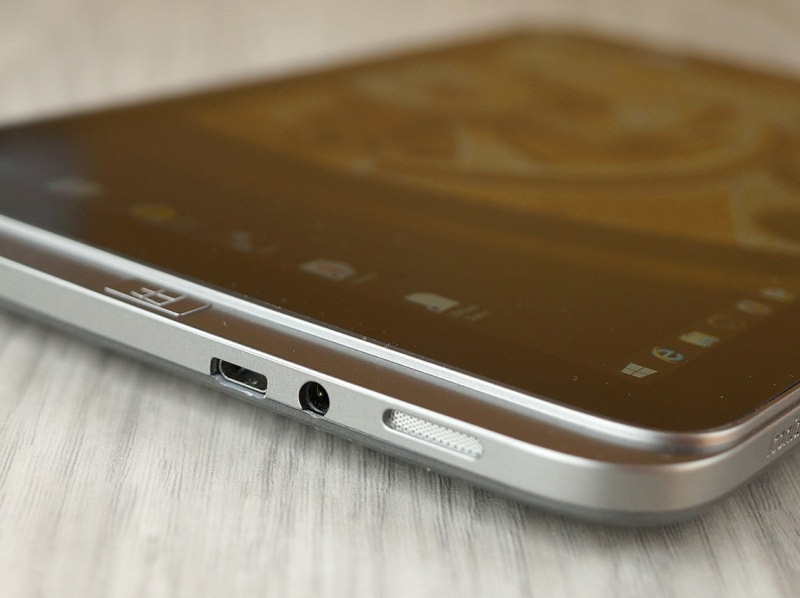 Acer Iconia W4 quite heavy. No, compared to W3 it is certainly lighter (415 grams versus 500), but Android-powered devices with similar displays weigh an average of 320-350. Metal body would excuse, but here – it only imitation. And gloss: it fingerprints, and sometimes themselves fingers slip.
Power button and volume slightly protrude from the body, but have a small stroke, and is not always clear whether the press turned out, and how many times. Modelled Windows key handy. However, take a screen shot (Windows + volume down) not all come from the first time: the buttons are spaced far, and ergonomic control the volume in question.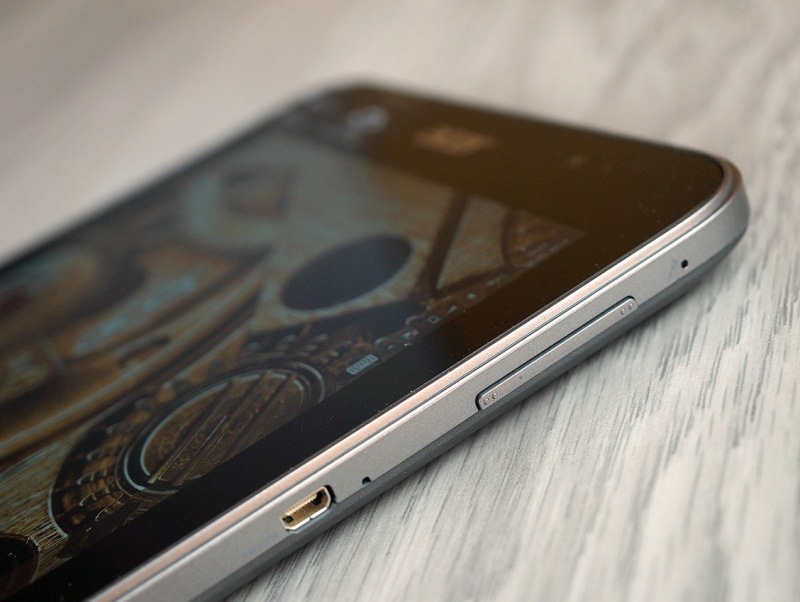 Built-in stereo delight plural and sound unnerving location. In the vertical orientation of all right, but when you watch a movie I want to hear the sound from both sides, not just the left or right.
Screen Acer Iconia W4
Display with a diagonal of 8.1 inches has a resolution of 1280×800 pixels. It is a little, but it is made by technology IPS, promises excellent color reproduction and viewing angles. The sun stays legible – technology Zero Air Gap (no air gap between the touch panel and the actual display).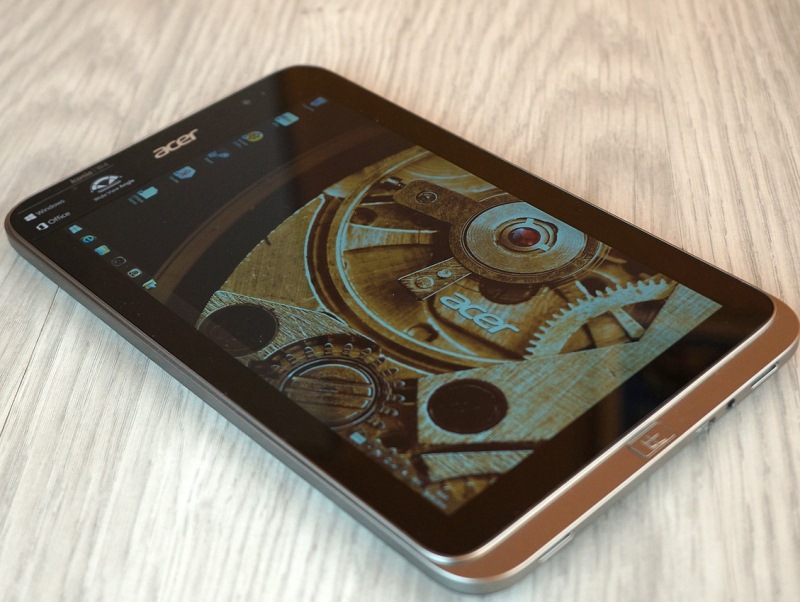 The screen supports up to five simultaneous touches and adequately react to them. But when it comes to small, point objects (eg, stations on the subway) to get right the first time is almost impossible. That is, the accuracy of the sensor is not very high.
Stock brightness large enough for many operations 30-40%, at a minimum is easy to read in the dark.
Interface software Acer Iconia W4
When you first turn the tablet user expects a "surprise" – a hint on the left side of the screen. It sometimes closes important controls and regular way to remove it is impossible. Need to go to the registry and change one of the parameters. For inexperienced users, this is the problem, does not give the joy of "care» Microsoft.
Another strange feature of the system – at the entrance to does not appear on-screen keyboard, it must be opened by clicking the appropriate icon in the Quick Launch.
The keyboard produces an ambivalent impression. On the one hand, it does not have the top row of numbers, on the other – they are "on-phone" grouped on a separate keyboard, and is located next to block additional characters. Looks strange button speed dial domain. RU – apparently also caring, however. COM would be useful to many, no less. Finally, the keyboard is not displayed on the screenshots.
System performance depends on where the open applications. From the Desktop, all opens quickly. But most of the "tiles" is slower. Third-party applications are loaded for a few seconds longer than their counterparts on Android-device with comparable characteristics.
Everything else is very slows gyroscope: switch screen orientation takes no apparent reason to five seconds.
In addition to the standard set of applications Windows 8.1, installed in the tablet party. This collection of tiles called "Applications Acer" and includes some proprietary software: Acer Explorer (shop and documentation, as well as media resources), Portal (cloud storage data), Docs (cloud work with documents), Remote Files (network access files on another device and exchange with them).
In addition, the applications installed Evernote, Litres, Yandex (Disc, Money, Maps), Kindle, «Vkontakte», NewsXpresso (news), TuneIn (access radio and podcasts), WildTangentGames (game store), 7Digital (music). Installed and Microsoft Office, for which the box has a license key.
Performance Acer Iconia W4
In line W4 have three options set: 32 GB of memory and 3G-module, 64GB with 3G and one without. The other characteristics are the same.
"Heavy" 1080p videos from YouTube little "stammer": the trailer for the animated film that occurs on average once every two seconds. Video from social networks broadcast more smoothly.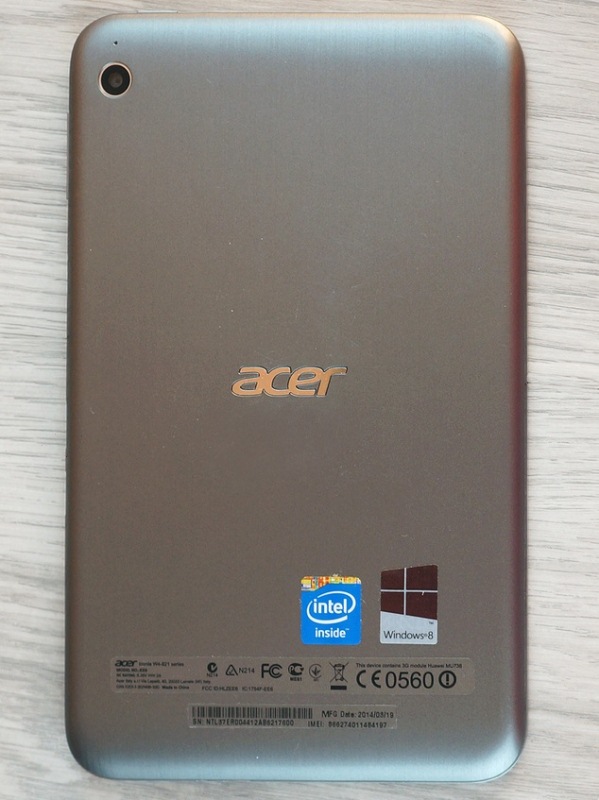 Light games are excellent, Asphalt 8 jerky picture upset because dropped frames, and the game itself, "flew" twice in eight starts. Minion Rush is also not ideal, but the frame is lost and less bounce was not working.
Multitasking is given the tablet easily. Zooming in the browser works fine. Work with documents in the full version of Microsoft Office is very convenient, and an external keyboard – even more so. However, it must be purchased separately.
USB-host interface works: external hard drive and "Stick" recognized as well as on the desktop, file transfer speeds with them – up to 18 MB / s. Yota modem was completely ignored. For a model with 3G slot inability to connect the modem is not critical – a variant of the mobile Internet is. But for bessimochnoy it is not very convenient.
Camera Acer Iconia W4
The main camera with a resolution of 5 MP takes. More to say about it, alas, there is nothing: no setup, no special quality shooting or AF with flash. Since the time of W3 nothing has changed. We can say that it is present in this tablet for show everything to be like everyone else. Control shooting is not very convenient as small icons. Camera turns on for about five seconds, Homesick have time to wait.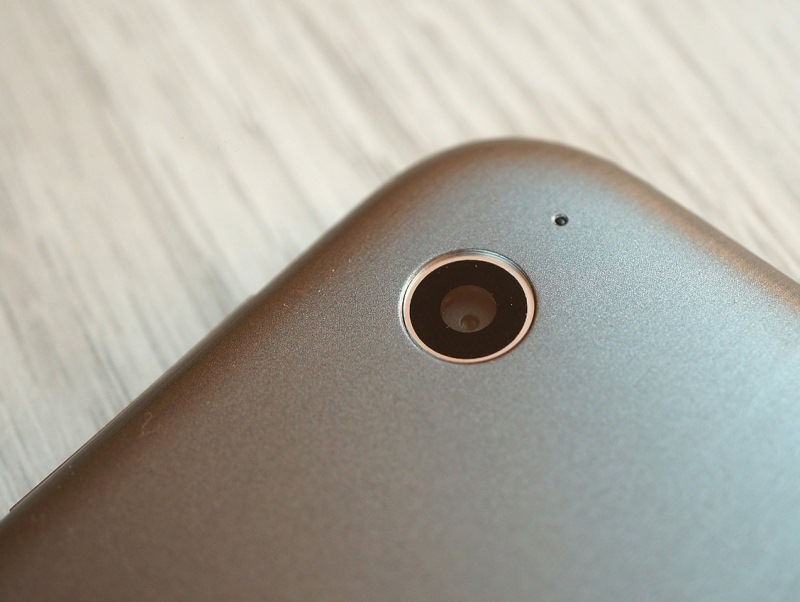 The camera shoots in panoramic mode, storing the result in a format PANO. You can open it in a gallery or using third-party applications.
Video at up to 60 frames per second attracts only the specified number, the quality of the material is weak. Recording starts immediately after clicking the icon. From time to time instead of start recording shows "when recording video, something went wrong", and the application returns to photography.
By the way, the tablet film finds a set of photos, giving ridiculous advice like "to see the film, pull the screen to the right."
Front 2 megapixel camera is useful for video chat, more of it is required.
Wireless interfaces Acer Iconia W4
Modules Wi-Fi and Bluetooth work fine, found the number of wireless networks coincides with the opinion of other devices.
The tablet does not allow calls and send messages, micro-SIM slot only for access to the mobile Internet. Connection is successful, the work no complaints.
Autonomy Acer Iconia W4
Built-in battery, the assurance of the manufacturer, provides up to 10 hours without recharging. This is quite true.
Playing movies with a resolution of 720 (at maximum brightness and average loudness, in the "in plane") discharge the battery in 5 hours 20 minutes. At constant 3G-connecting and synchronizing with net time of the screen about 2.5 hours (including its then for a moment, then an hour, with the launch of the browser, office suite, Angry Birds and standard applications) tablet lasted 9:00 for 10 minutes. Hour of play Minion Rush with an average brightness demanded 14% charge, Asphalt 8 – 18%, and an hour of reading at a minimum – 10%.
It is worth to note that from 10% to 0 discharging is somewhat faster than with higher numbers. To fully charge the battery from the network requires 1 hour 40 minutes.
Results Acer Iconia W4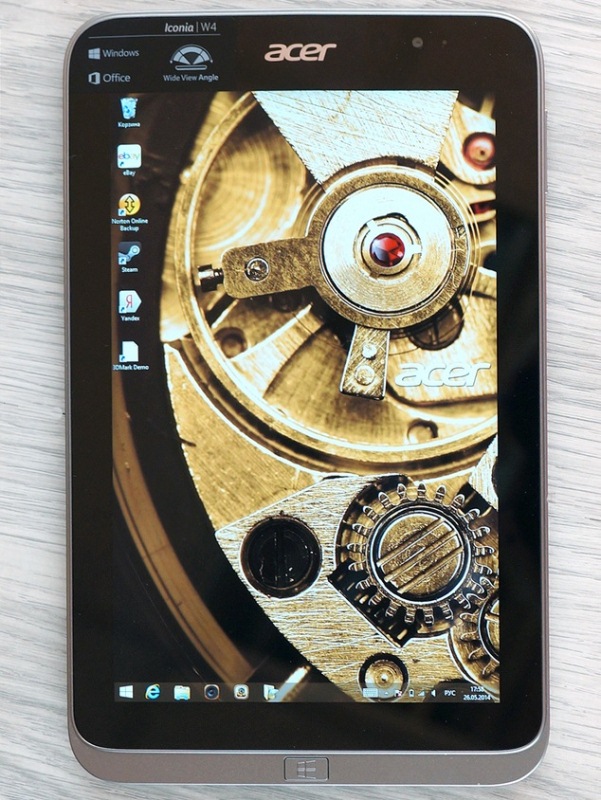 Tablet for those who loves Windows and does not want to learn any other operating system. Acer Iconia W4 with an external keyboard is quite capable of working to replace a laptop when it comes to office applications and surfing, not video editing. Another strong point of the device – a powerful battery. The starting price does not seem but W3 experience shows that after six months, it may fall to 4-5 thousand and become quite competitive.
Pros Acer Iconia W4:
long battery life;
quality display;
easy connection of USB-devices and televisions;
full desktop OS.
Cons Acer Iconia W4:
a lot of weight;
weak camera;
absence of GPS-module.
Read another very interesting article about alternative energy of the Sun, water and air.