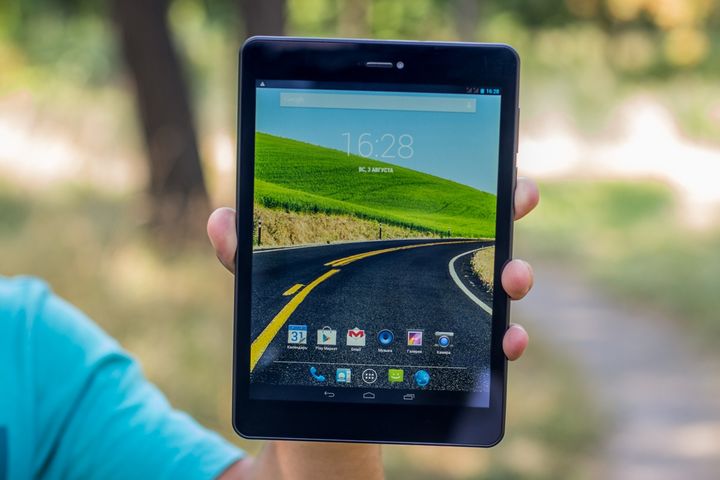 The second generation tablet Fly Connect interested primarily mode support dual-SIM. In addition, there is a 4-core processor, IPS -display, 5 megapixel main camera and battery capacity of 4600 mAh. But how much more interesting to get such a combination is justified and whether the price tag of $ 170, I'll tell you more.
Options – Fly Flylife Connect 7.85 3G 2
As in the case of the Fly Connect the first generation, the new producer also received fairly compact cardboard box a dark color. Its design is borrowed from the packaging predecessor adjusted only for graphic and technical "label", showing features of the new machine.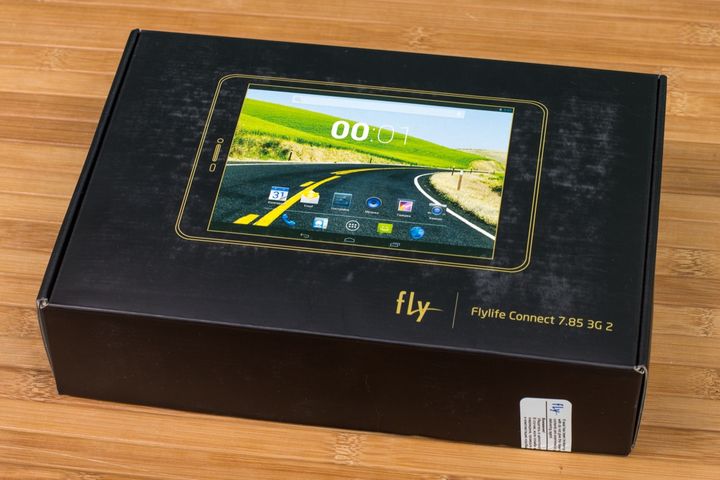 Inside it, in addition, of course, most of the tablet Fly Flylife Connect 7.85 3G 2, there is provided an adapter charger cable micro- USB / USB, as well as an adapter USB OTG, a wired headset is quite good quality, plus the necessary documentation. But here there was no cover, while the supplied precursor he was.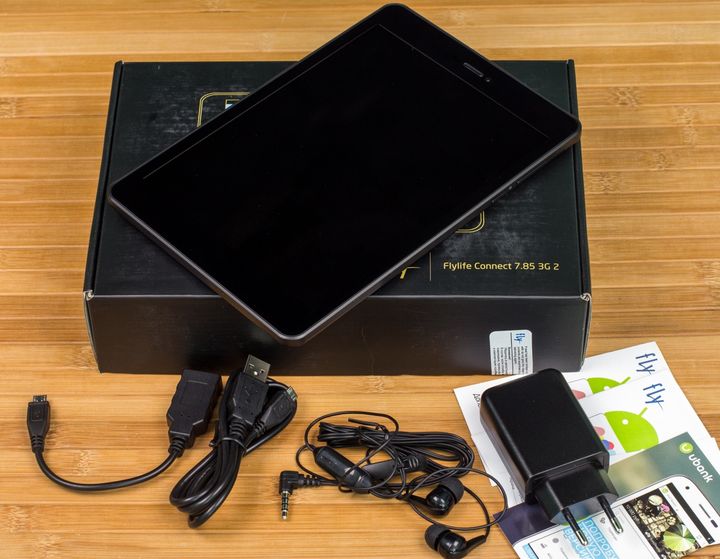 Materials and build quality – Fly Flylife Connect 7.85 3G 2
The housing Fly Flylife 7.85 Connect 3G 2 equally and many metal and plastic, and even material that combines plastic with glass. The latter, as befits a device of this class is covered by the front panel. On its protective features I described in other reviews decisions Fly – absolutely nothing has changed here – in daily use without a cover for the month marks the surface is formed.
Virtually the entire rear panel metal and only closer to the upper end is a plastic cover, "hides" in a slot for SIM-cards and memory cards MicroSD , plus antenna radios.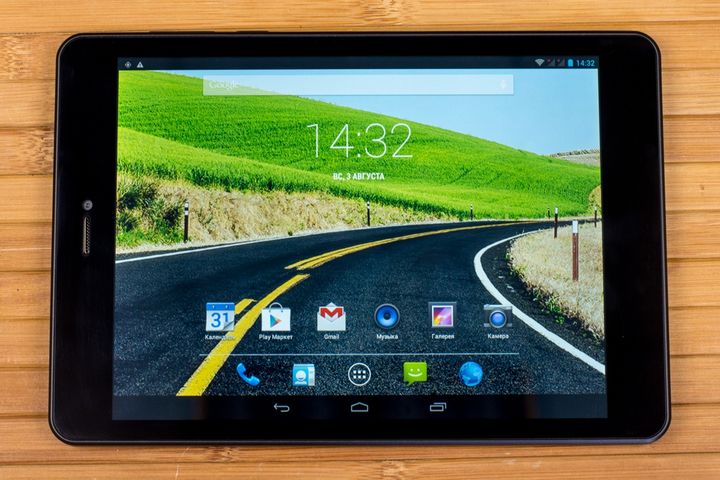 Turned plastic frame and border. End with small nut protruding above the display. In practice, it is not only inlay but a kind of protection of the coating from contact with the smooth hard surface, such as a table.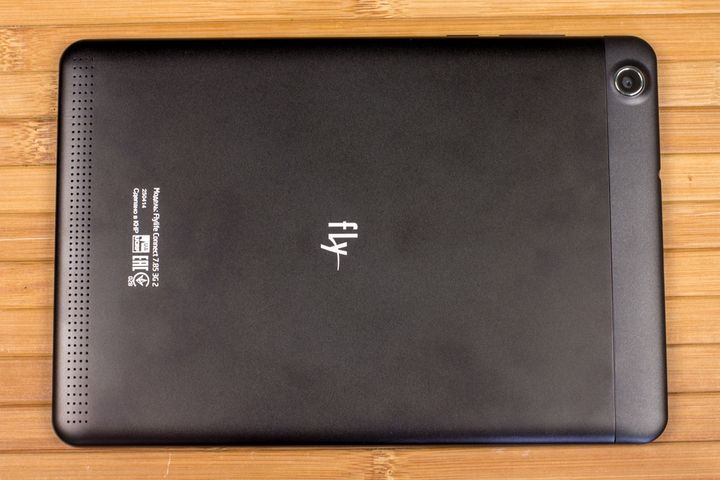 To build quality no complaints – great fit elements, minimal seams / gaps plus absolutely no play or squeak materials. In short, do not undermine!
Functional elements – Fly Flylife Connect 7.85 3G 2
The front panel is divided between the tablet display, three classical touch buttons and earpiece eye frontal VGA -camera and a light sensor / proximity.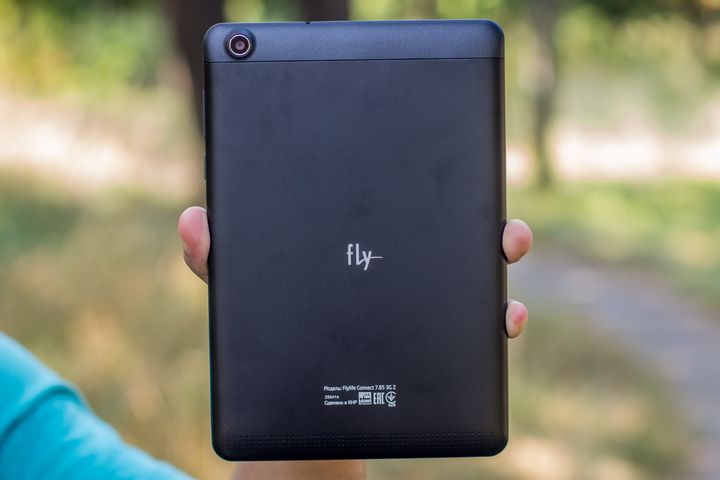 On the back there are a few of the logos and labels, grid handsfree speaker, the output eye 5MP main camera and the aforementioned plastic cover.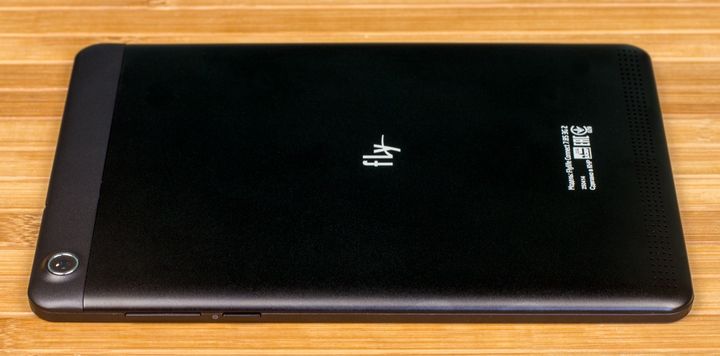 Further, if we study the potential of Fly Flylife Connect 7.85 3G 2 turning the device so that the front camera found herself on top, on the right side face of the "found" sound volume rocker and a power button on / off.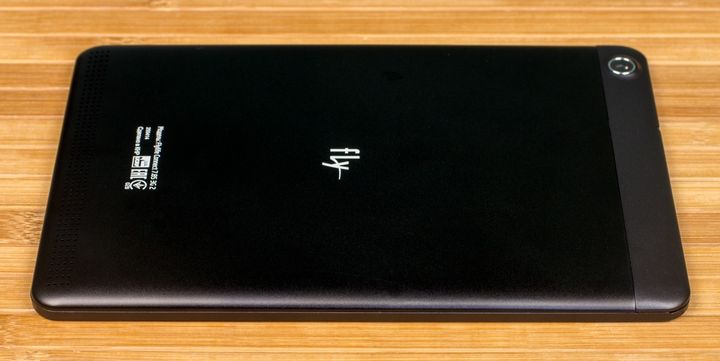 Opposite part of any functional elements not received, except for a small gap at the interface of this face and the upper end. Last is designed for only one purpose – to "help" the user to remove the very cover.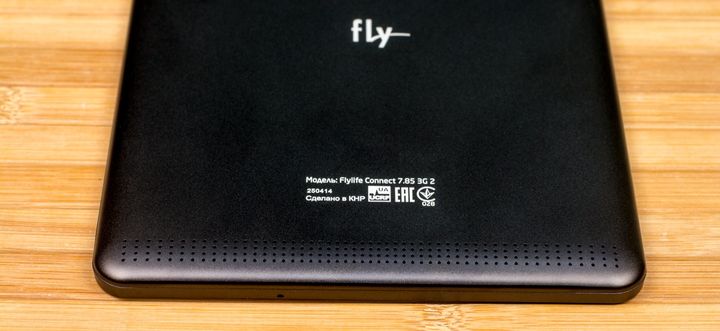 The upper edge of remarkable micro-USB port and 3.5mm jack classic.
Located on the lower output built-in microphone.
Display – Fly Flylife Connect 7.85 3G 2
Fly Flylife Connect 7.85 3G 2 received 7.85-inch display. At the heart of IPS-matrix with good viewing angles to either side and a maximum deviation of colors at the same time.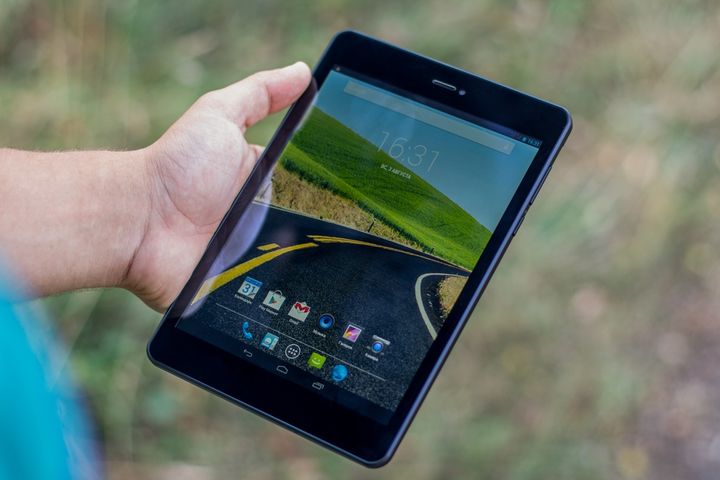 Claimed screen resolution – 768×1024 point, but in practice it is a little less! The reason is simple – the classic for both Android smartphones and -planshetov- button rendered in this unit to a display section.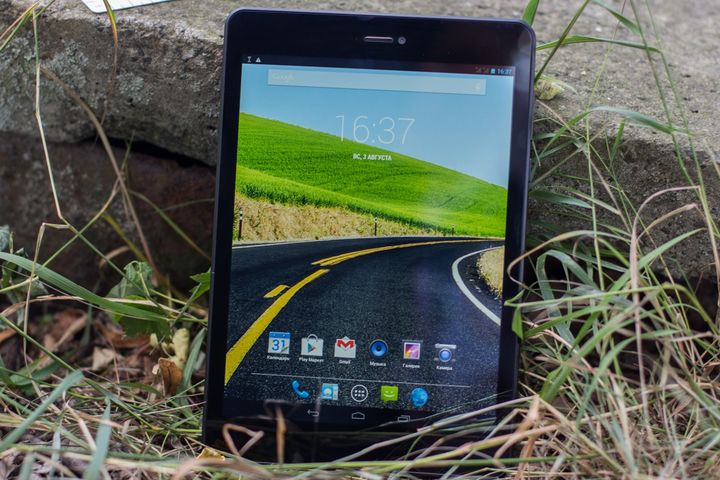 During operation of the device in bright sunlight certain "extinction" of the displayed data is taking place. However, very critical it can not be called as "screwing" the backlight for the maximum level of discomfort and did not notice.
By the way, the backlight is regulated either manually or automatically.
To claim no sensitivity – supported touch control through five fingers simultaneously.
Memory – Fly Flylife Connect 7.85 3G 2
Of the declared officially 8 GB of internal memory available to the user a little less than six – almost 1.5 GB for applications and a little more than 4.3 GB of data storage.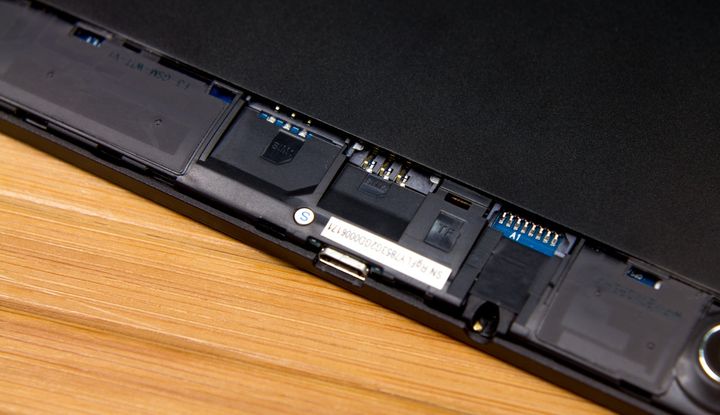 Extension as provided by microSD cards up to 32 GB or less, and by means of USB-drives.
Battery – Fly Flylife Connect 7.85 3G 2
Built-in battery capacity 4600 mAh. Manufacturer confident user will be able to work with the device up to 7 hours on a single charge,
however, under any circumstances, is not specified.
In practice, it turns out, you can count on viewing Full HD – video up to 4-4.3 hours or in the region of 5.5-6 hours in total WEB-surfing, e-mail, reading and working with documents. In my opinion, it is a classic figure.
Speakers – Fly Flylife Connect 7.85 3G 2
Fly Flylife Connect 7.85 3G 2 received two separate speaker – Elementary, as well as a speakerphone.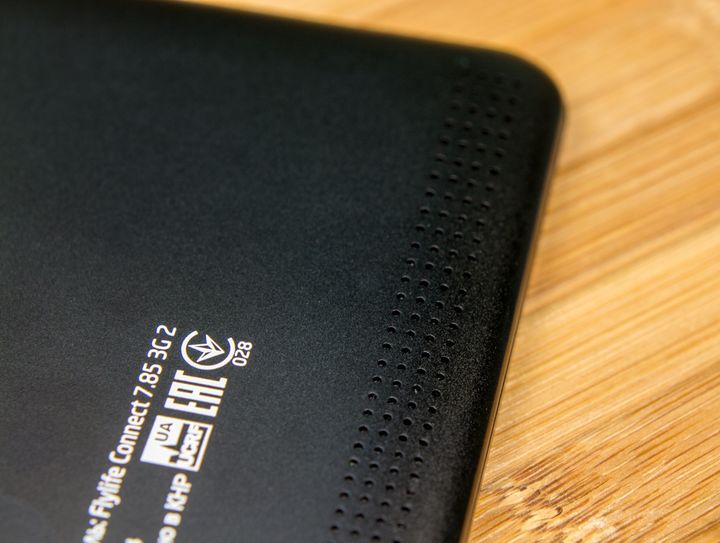 I do not know how often the future owner of this tablet will use it for ordinary telephone calls, but the voice speaker in this regard is quite good – even in the streets of complaints "at the end of the line" the quality of communication was not. 23
Multimedia I also liked. Of course, the competition gave him nothing, but within their budget decision is good – watching videos, games, mp3 in the indoor environment – all of this for the user is quite comfortable.
Features and performance – Fly Flylife Connect 7.85 3G 2
Powered tablet operating system Android 4.2.2 "out of the box"!
At the heart of a 4-core MediaTek MT8382V, the clock frequency of 1.3 GHz. The amount of RAM 1 GB. In addition, "on board" graphics Mali- 400MR.
You can work with the following wireless modules: Wi-Fi 802.11 b / G / n with support for Wi-Fi Direct, Bluetooth 3.0, VPN, GPS and so on.
Supports dual-SIM implemented in the same way as is done in smartphones MediaTek. Two cards at the same time can only work in the standby mode.
As for performance, I note that sold here "iron" is enough to play Full HD – Video or else run demanding games.
Camera – Fly Flylife Connect 7.85 3G 2
5MP main camera without flash, but with support for autofocus for photos and for video, plus classic potential settings / shooting modes.
Video camera with a maximum resolution writes 1088×1920 points.
Some of the findings – Fly Flylife Connect 7.85 3G 2
Fly Flylife Connect 7.85 3G 2 worth recommending to acquire users looking for a cheap tablet with decent by their standards "iron", support for regular telephone calls and IPS-display.
Pros
High-quality materials and the level of housing assembly;
IPS-matrix with good viewing angles;
Good performance (taking into account the price tag);
The opportunity to make regular phone calls
Cons
The lack of cover in the scope of delivery
Estimated price Fly Flylife Connect 7.85 3G 2: $ 170
Read another very interesting article about alternative energy of the Sun, water and air.