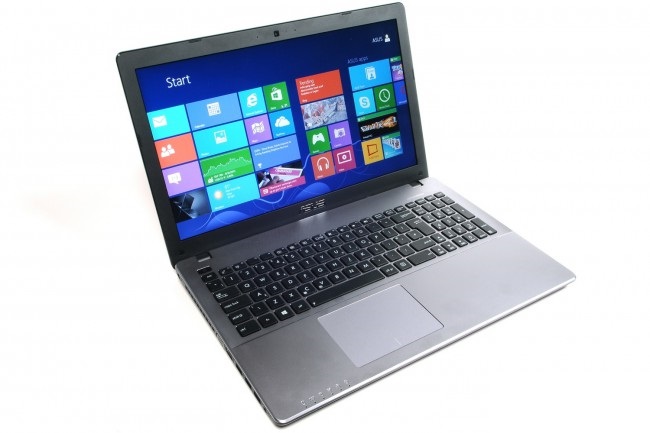 According to the positioning of laptops from ASUS X series are entry-class models. Yet, even among these devices can be found very good equipped with copy, especially if it is one of the important configurations based on Intel Haswell processors and discrete graphics NVIDIA GeForce GT 700 series.
Options
Laptop ASUS X550L comes in a box from a lowly recycled cardboard. The device and accessories fixed with cardboard inserts, besides the usual documents and the power supply in the box can also be found removable four-section 44 Wh battery capacity.
The power supply is in the format of a monoblock with a single thin wire, the length of which can be quickly adjusted using the "Velcro".
Design
Model ASUS X550 is made ​​in the calm black and gray color scheme, used in the decoration of practical matt and textured plastic.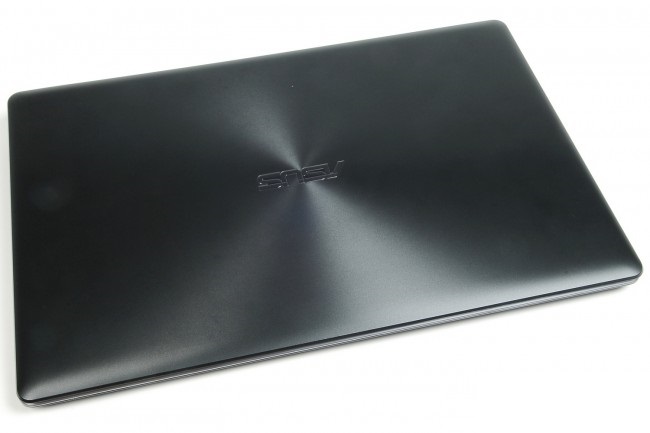 Metal and glossy plastic are at a minimum – in the form of a logo on the lid and a thin border of the perimeter display unit, respectively.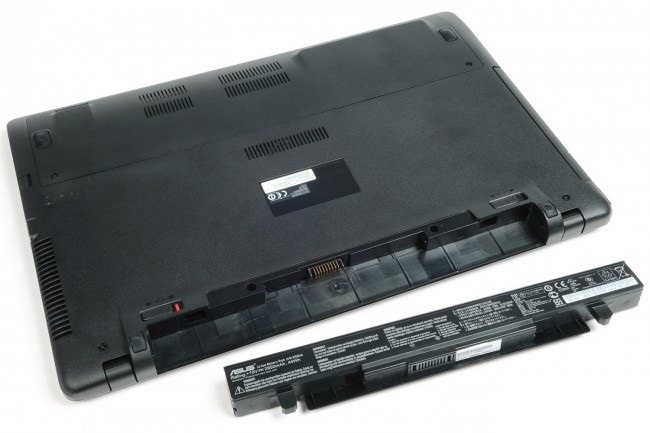 ASUS X550 laptop lid is decorated with dark gray plastic with a radial texture in the form of thin rings radiating from its center. The lower part of the body is of a practical rough black plastic, it is possible to find not only the usual holes for ventilation, but also the access panel for self-upgrade, as well as a removable battery compartment. 
The first takes up almost the entire width of the body and is characterized by a noticeable bulge at the location of the hard drive and full-format card reader near the front face. Compartment for four-section 44 Wh battery capacity is built in a classic case, the battery is secured by two latches, one of which serves as an additional fuse.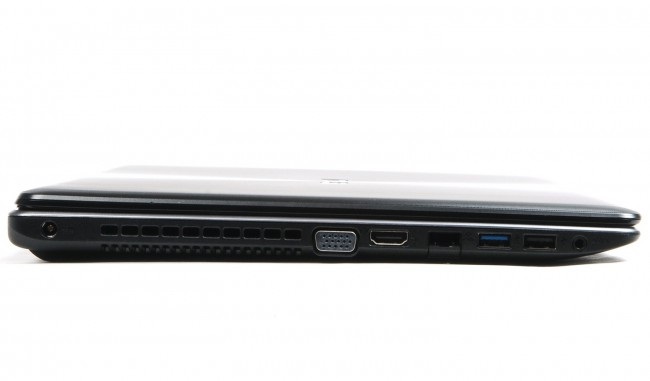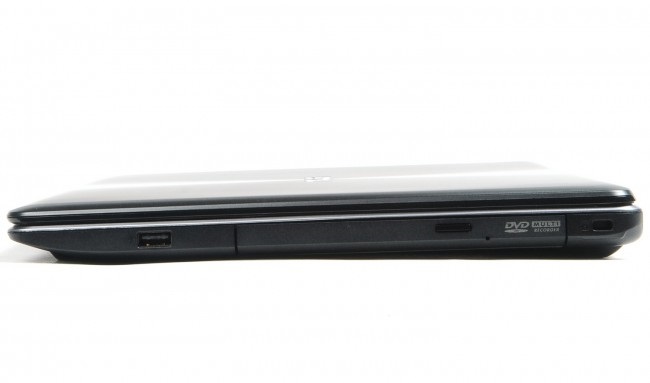 The rear face of the housing ASUS X550 is empty, the front has only two indicators of activity. Hand handed one port USB 2.0, optical disc drive and a hole for a Kensington lock, a left – radiator cooling system and all of the remaining connectors: combined audio port, a pair of USB, Network RJ45, HDMI, D-sub jack and charger. Note that the connectors on the left side are grouped very tightly, which may make switching periphery.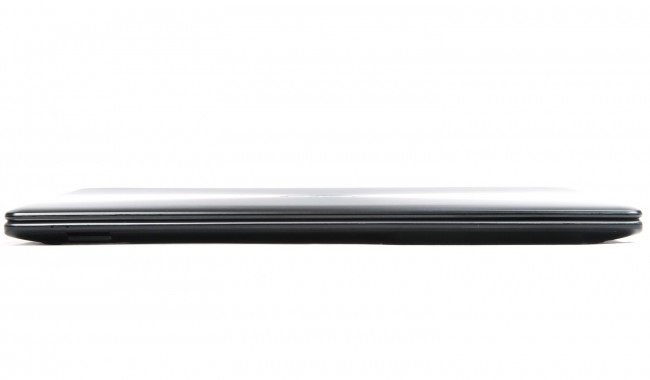 Ergonomics
Open the lid ASUS X550 with one hand does not, hinge is too tight for such experiments. Outlining a 15.6-inch display unit is made of a dark matte plastic, in its upper part is a webcam and a pair of microphones.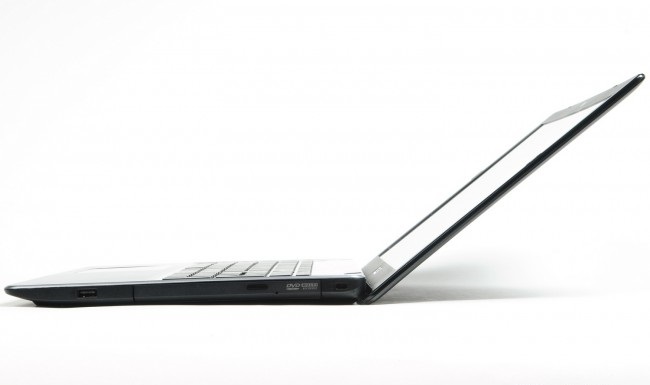 The model is equipped with exclusive ASUS X550 glossy TN-matrices with a standard Windows-1366 by 768 pixels. The measured brightness range test sample was from 20 to 190 cd/m2 in the range of 10 shades, viewing angles – typical for technology TN + film are small.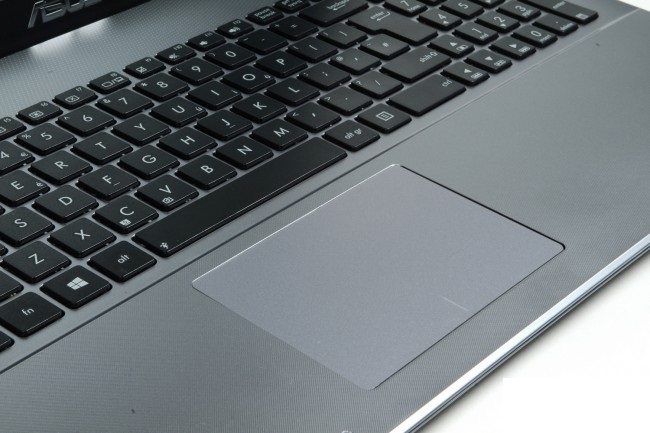 Operating panel ASUS X550 is made ​​of gray plastic, with its podladonnaya part has a point structure, and the remaining space is smooth and decorated with dot pattern. Large comfortable without dedicated touchpad buttons is a separate unit that makes it easy to feel the moment of the finger beyond the touch pad. Island keyboard with numeric keypad is quite good for tactile characteristics, but it is easy to bend the substrate and the unit is characterized by the arrows tucked between symbolic and numeric keypad. In addition to miniature power button and the six indicators of activity under the left wrist of additional elements on the operation panel is not.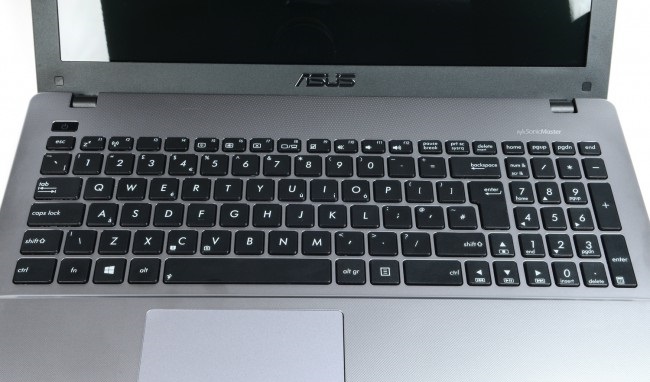 Functionality
Medium-format notebook ASUS X550L is available in three basic models: LA, LB and LC, each of which is based on Intel Haswell processors and is equipped with an integrated (LA) or discrete graphics from NVIDIA (LB and LC). At first glance, this model can be assembled fairly productive unit, as in the available CPU Set Intel Core i7, but do not lose sight of what we are talking about low-voltage versions of Intel Core iX xxxxU.
To make things clear, what exactly is the difference between these processors for example, let's compare the characteristics of the three versions of the mobile Intel Core i5-4200. All three chips manufactured on 22 nm technology, equipped with an identical amount of cache (128/512/3072 MB) and have two cores and integrated graphics Intel HD Graphics 4×00. However, the "core" processor Intel Core i5-4200M operates at frequencies of 2.5-3.1 GHz, equipped with HD Graphics 4600 graphics with operating frequencies of 400-1150 MHz and allocates a maximum of 37 watts (TDP); low-voltage Intel Core i5-4200U operates at lower frequencies 1.6-2.6 GHz with slower graphics Intel HD Graphics 4400 (200-1000 MHz) and potentially consume two and a half times less energy (15 watts TDP) and finally the most cost-effective Intel Core i5- 4200Y operates at frequencies of 1.4-1.9 GHz with graphics Intel HD Graphics 4200 (200-850 MHz) and has a TDP of only 11.5 watts. Therefore, pay attention not only to the family (Celeron, Pentium, Core) and level (i3, i5, i7) processor, but also on its version (M, U, Y), otherwise you risk getting the wrong level of performance / autonomy it was expected.
Battery Eater (Reader's test)
Caught on the test laptop ASUS X550LB low voltage processor is equipped with Intel Core i5-4200U, 8 GB RAM, 500 GB hard drive and discrete graphics NVIDIA GeForce GT 740M. In this configuration, the laptop showed the following results in the major benchmarks. The battery life was more than three hours at maximum load, and five and a half hours in the emulation mode of reading.
Operation
Critical claims against ASUS X550L during test operation does not arise. Those shortcomings that we noticed (layout of connectors, especially the keyboard), deemed worthy of attention, not all potential users, in general, the laptop made a pretty good impression.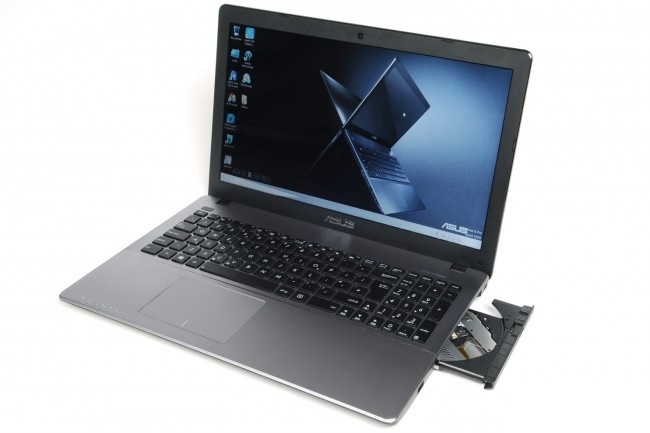 Heating degree podladonnoy panel remains within reasonable limits, including during the hot video game battles, but sometimes the cooling system refused to "settle down" even after going to the office mode. In this case, the cooling fan continued to hold high speeds, even a few tens of minutes after the release of heavy duty when all the estimations of the internal components needed to cool down to normal levels.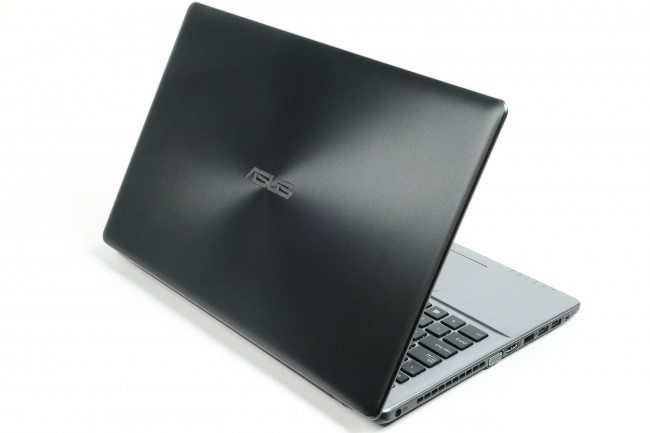 In order to bring the cooling system in a sense, had to forcibly restart the laptop. It is unlikely that this problem will manifest itself in all configurations ASUS X550L, yes and solve it quite simply by optimizing the firmware, but do not pay attention to her potential customers we just could not.
The results
As a result, ASUS X550L – practical workhorse with a calm design based on modern hardware platform, which is suitable to use at home and in the office.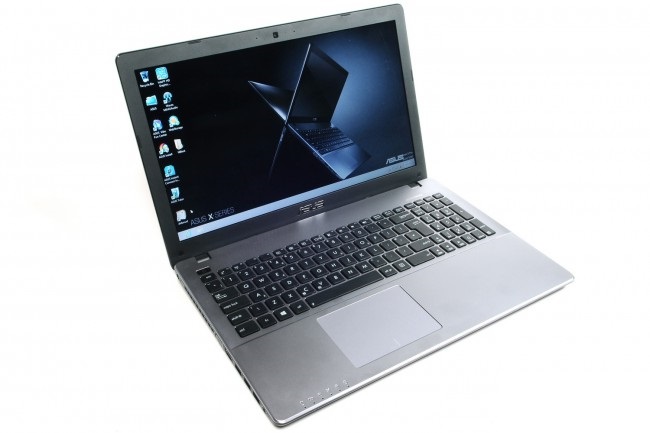 Liked
+ Design, materials used
+ Modern hardware platform
+ Full set of necessary connectors
+ Removable battery
Do not like it
– A dense arrangement of connectors on the left side
– The algorithm of the cooling system
– Flexible substrate keyboard, the decision unit "arrows"
Read another very interesting article about alternative energy of the Sun, water and air.