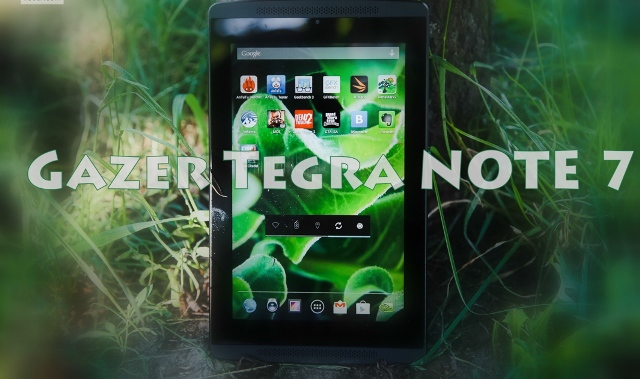 I do not know about you, but I have to NVIDIA's always regarded positively. The reason for this was the absence of glitches in games of my childhood (compared with graphics cards from AMD). And the drivers have less problems. With the release of a Tegra processor for mobile devices personally for me it is much less rosy. The company does not seem interested in where they "shoved" their chips, but in vain. End devices often have gotten the most successful, so my personal consumer attitude to business mobile chipsets deteriorated. But the past has left a bright flame of hope, and although the company ties with smartphones, tablets and focuses on portable consoles, I want to believe that the work was done knowingly. And help us understand this tablet Gazer Tegra Note 7.
Design and Ergonomics Gazer Tegra NOTE 7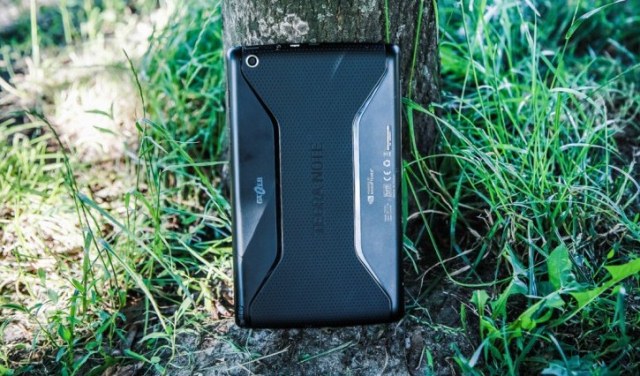 Let's start with a pleasant. Appearance of the device is quite attractive, especially the front panel. Although the frame around the screen is quite thick, the tablet looks stylish, fashionable and even youth. Design combines a pleasant classic and best game aggressiveness. Impressive speaker grille on the matte black plastic combined with rubberized part of the back cover plate turns on sensations in portable console.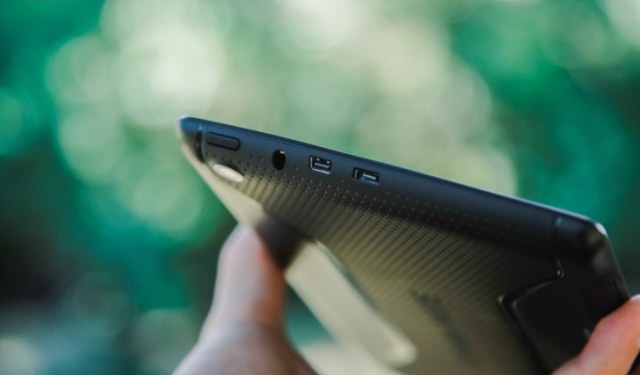 Outwardly back cover initially slightly glossy stripes discourages sharing textural softtouch and ordinary plastic, but over time, they are not so eyes.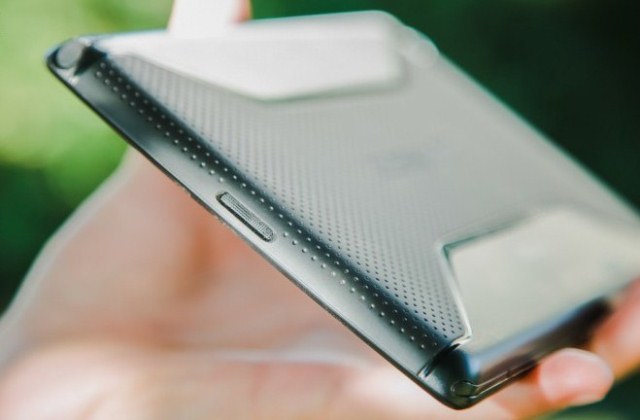 If you place the device horizontally, on the left side will be: Lock button, 3.5mm headset jack, MicroHDMI and supporting MicroUSB OTG. On the opposite side there is a stylus and a phase inverter (analogue holes in columns for better sound lowpass). Top – connector for memory card format MicroSD and volume rocker, practically bulging out of the housing. On the bottom – a plug for mounting corporate cover Slide Cover.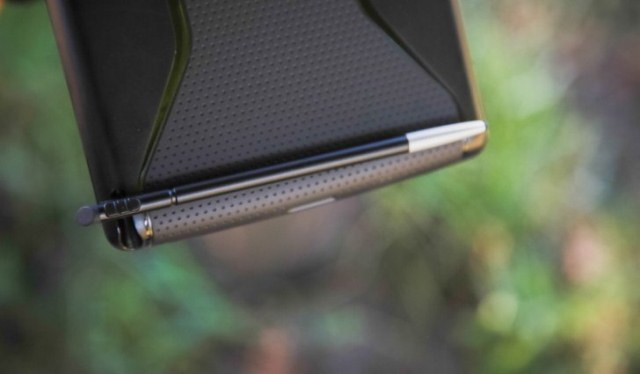 Front, under the protective glass, – 7-inch display, front camera 0.3 MP and a light sensor. Placed on the sides of two multimedia speaker, which, together with bass reflex technology represent a NVIDIA PureAudio. Not to say that sound smart, he definitely worse than the HTC, but still play with the soundtrack is pleasant enough. Do not forget that this tablet is 2.5 times more affordable, so that the claims should not be. Microphone hidden under the left speaker grille.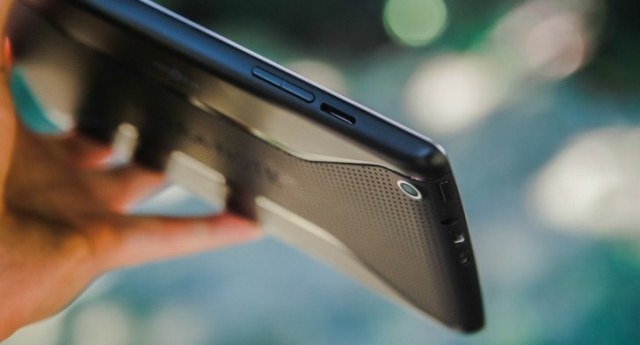 Build quality, I would say great. I also liked the ergonomics – the tablet does not collect fingerprints, except for the glossy stripes on the back cover. But pumped up the volume buttons – the location did not like the first time find impossible.
Display Gazer Tegra NOTE 7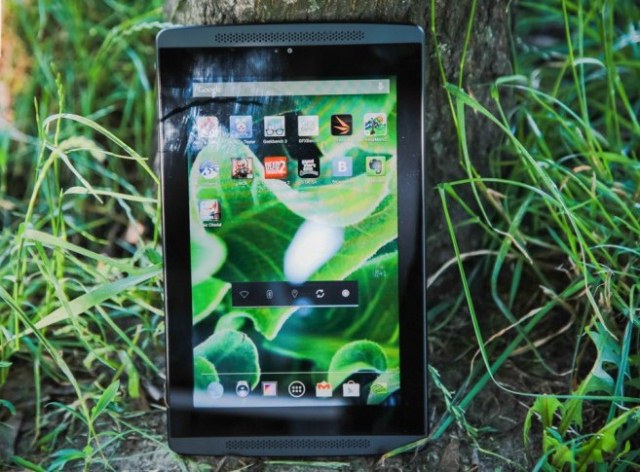 The device two weaknesses. In second place the display, but do not think it's bad, just not good enough compared with the piece of iron that stands inside. This is a pretty decent 7-inch IPS-matrix, with HD-resolution, which is not enough for the diagonal (1280 x 800 pixels), but we must remember that it prolongs battery life. Good viewing angles. However, the display still too warm. The maximum brightness is not that the maximum and the grid layer capacitance can be seen in sunlight (like on the Nexus 4). In the settings you can select the color correction: "Yes" or sRGB. Much difference I noticed. Pleased with the presence of the light sensor in the budget models, it is not always there. Also supported by proprietary lights Tegra PRISM, that regulates color and brightness to increase energy efficiency of the processor.

The advantages include support corporate digitizer DirectStylus, he weighted, giving the feeling of a good fountain pen. Tip is shaped marker and the back side can function as an eraser. All of the functionality provided by a stylus pen, as it is sold at Wacom, and computing capabilities of the processor Tegra 4.
Camera Gazer Tegra NOTE 7
But the camera – № 1 in the weak sides of the unit. Front 0.3 MP, which is hardly enough for video, the main – 5 MP, probably comparable with other cameras of this class. In any case, well, it's there, because in our time the camera is used not only for pictures text translation, scan QR-codes, augmented reality applications. Standard camera app is here Camera Awesome, I liked it. Thanks to technology NVIDIA Chimera can make quick HDR-images, videos with slow-motion effect and focus on moving objects. But despite all the buns, professional instamografam this camera will not be enough.
Productivity and Software Gazer Tegra NOTE 7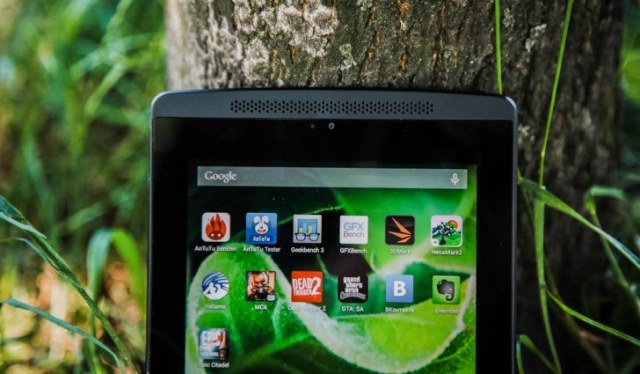 The tablet is equipped with the latest processor from NVIDIA, which today is one of the most powerful on the market – Tegra 4. Since tablet uses low resolution, of any hang-ups and not talking. Total testing time was not a single case of suspension or sagging frames per second, even in demanding games at maximum graphics settings. In the benchmark device also holds a leading position. The processor includes a quad-core Cortex-A15 with a maximum clock frequency of 1.8 GHz, there is an additional energy-efficient core and accelerator GeForce ULP. On board 1 GB of RAM (SoC supports up to 4 GB) and 16 GB of storage, supports memory card format MicroSD. The battery on the 4100 mAh battery, which allows the device to operate up to 10 hours of viewing HD-video. Implemented 3 power saving mode in the economy are two of the four processor cores disabled.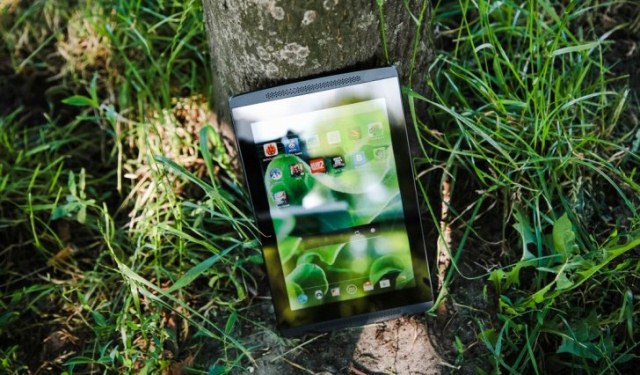 Gazer Tegra NOTE 7 OS running on Android 4.4.2, and I received a dozen updates before I got treasured inscription "for your system updates are not required." And there is the fact that updates the device company NVIDIA. Graphic add-shell on classic Android absent, and updates regarding the optimization of the system. There are only minor changes, such as full screen mode, in which the keys and the notification bar "leave" from the screen, you can return them to the usual swipe. This function is very useful in games where ever you turn the key and you will touch the window. Also when removing the stylus window opens with applications aimed at handwriting, and in the navigation bar there are two additional buttons – lasso (to highlight a particular area of ​​the screen), and mode "Only stylus" (to prevent accidental key hands). Can be set up to run a specific application when removing a stylus and tablet can be to ignore this action.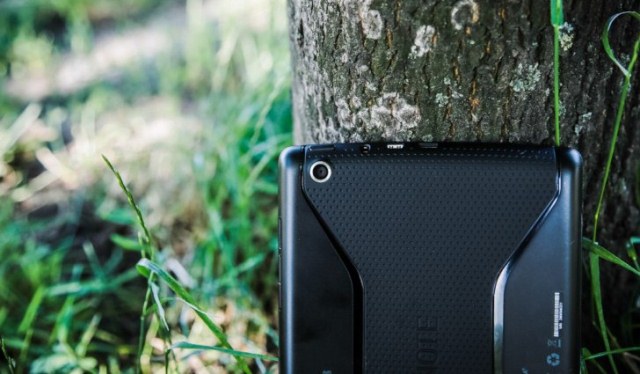 Technical characteristics Gazer Tegra NOTE 7
Dimensions: 199 x 119 x 9,6 mm.
Weight: 320 g
Operating System: Android 4.4.2 KitKat.
Processor: Quad (+1), NVIDIA Tegra 4, 1.9 GHz.
Graphics: 72-CORE NVIDIA GeForce GPU.
Display: IPS, 7 ", 1280 x 800.
Memory: 16 GB flash.
RAM: 1 GB.
Camera: 5 MP, video recording in FullHD, 0.3 MP front.
Wireless Technology: Wi-Fi, Bluetooth 4.0 LE, miracast.
Interface connectors: 3.5mm headphone jack, MicroUSB (OTG), micro-HDMI.
Battery: Li-Ion battery 4100 mAh.
Output Gazer Tegra NOTE 7
Cost of the device to date is 3100 USD, which at the current course ~ $ 260, it seems to me justified price. The plate was well assembled, nicely rests in the hands and stand out among competitors striking appearance. The device is perfect for fans of mobile gaming with stereo sound and high-end multimedia solutions (supported by technology Miracast). Good battery life, memory card slot and the presence of the stylus can attract everyone else. Not without flaws, but it seems to me, the latest processor and pricing eliminates them.
Read another very interesting article about alternative energy of the Sun, water and air.