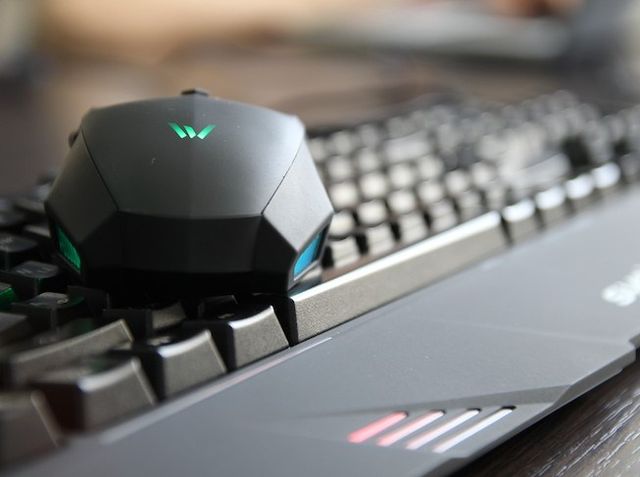 Today no surprise specialized gaming peripherals. There is a whole industry of accessories for gamers. Hundreds of mice, keyboards and headsets tailored to the needs of the players. And if before such could afford only real kibersportsmeny or "majors", now on the market models and budget and mid-price category. Heroes of today's review – gaming keyboard and mouse Qcyber Syrin Qcyber Wolot. Representatives just average price. Let's see what they can do.
Accessories Qcyber fall on our site is not the first time in November we looked at the headset and mouse Qcyber Dragon Qcyber Weles. then devices of this brand have proven to be strong middling. Continue discussing the company's products Qcyber.
Qcyber Wolot – Gaming Mouse symmetrical shape. On its body taken 9 buttons. This is our usual six buttons and three-position dial.
Covering Qcyber Wolot – soft-touch plastic. Device with such a price, and if you expect soft touch, then some cheap and impractical. With the same model all exactly the opposite. Housing material is pleasant to the touch, it can not name the brand, and during the test it seemed durable plastic unhurt even after torture keys.
As befits this gaming mouse, Wolot connects to a computer via a cable. This cable, by the way, is not simple, and braided. The manufacturer claims that together with a gilded connector that allows the manipulator to serve more than one year.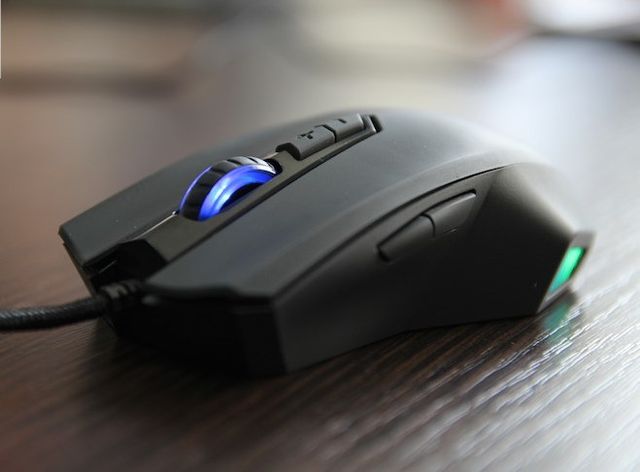 Walk through the technical and performance of this rodent. The maximum available resolution laser sensor mouse – 3200 dpi. Not a record figure, but for most people quite enough. Polling frequency can be adjusted from 125 to 1000 Hz. The key travel – 0.8 mm, they are designed for 3 million keystrokes. Dimensions Qcyber Wolot pretty standard – 124h70, 2×40 mm, weighs 135 grams mouse.
What about functionality? The software allows you to configure Qcyber each of the nine keys. It can be just like a regular action and macro. You can save up to five different profiles. In the same program, there are many items to fine tune the mouse behavior. However, such release drivers for Mac OS company had not bothered.
Undeniable wow effect causes a LED-backlight mouse. Wheel always illuminated by a blue diode and logo Wolot and two inserts of transparent plastic on the sides, light up when you turn on your computer. Of course, you can turn off the backlight. Also from the settings selected mode of its operation: continuous light or smooth change colors, which, incidentally, is available six.
In the few days that the mouse Qcyber Wolot was on the test, I really had to get used to it. I liked the good proportions, classy soft-touch coating and confident move the main keyboard. A nice bonus is the illumination of the mouse. The disadvantages include the lack of software for Mac OS and some of its ugliness for Windows, not too clear step wheel and feet that get too thin.
Qcyber Syrin
Do Qcyber Syrin has everything that is required of gaming keyboard – large and comfortable soft keys with the smooth running their lights and 15 additional buttons for your macros and commands. But first things first.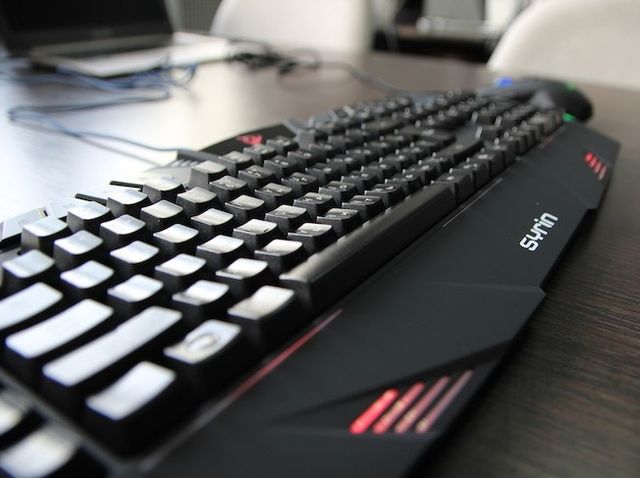 Keyboard housing made of the same as in Wolot plastic. Keys made of a different material, which is designed for frequent depression and, correspondingly, a large dirt retention. Dimensions Syrin – 49,3 × 211,5 × 34,8 cm, weighs 925 grams, this model. The design has holes for draining the fluid, so that you can safely spill your coffee on the keyboard, but let it dry all it is worth. Qcyber Syrin also connects to a computer via a braided cable, gold plated connector.
Total on this keyboard is located 75 membrane-type buttons. The key travel – 2 mm, they are designed for 15 million keystrokes each. With the help of software Qcyber any key can be customized – assign it an action or a macro. With this program you can also create and store up to five profiles. Again, drivers for Mac OS you will not find. Pleased with the presence of Anti-Ghost key and WIN Lock, which disables the Windows key during the game, for example.
Certainly in Qcyber Syrin installed LED-lights. Given a choice of three colors – red, blue and purple. And you can change the backlight mode – off, minimum, maximum and smoothly flashing. In the dark, the keyboard looks aggressive. Highlighted not only key, but inlays and logo Qcyber.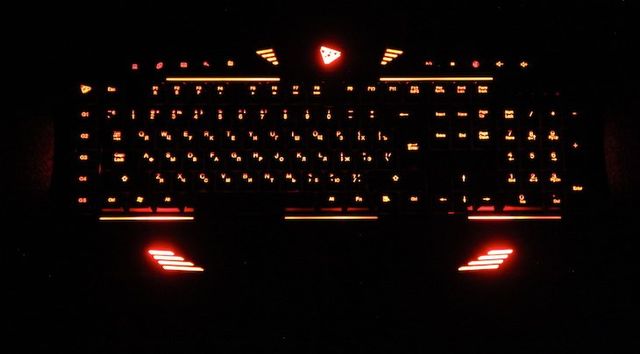 Do Qcyber Syrin has both its advantages and its disadvantages. The former include the material and design of key quality lighting, and similar to the second with Wolot problems with software and unfortunate location button profile switching, and which wants to instead of the Esc key is pressed on it.
Output
Qcyber Wolot and Qcyber Syrin compromise device. For the average price ($ 30 and $ 60, respectively), they are ready to offer you almost all the same as the top gaming accessories, but with some concessions. Attention to detail – that's what is missing Qcyber. Not the highest quality software and some problems with the buttons (scroll wheel fixation step, for example) leave an unpleasant aftertaste. Also do not forget that Qcyber very young company (entered the market October 1, 2011), so expect the guys cool new products.
Read another very interesting article about alternative energy of the Sun, water and air.