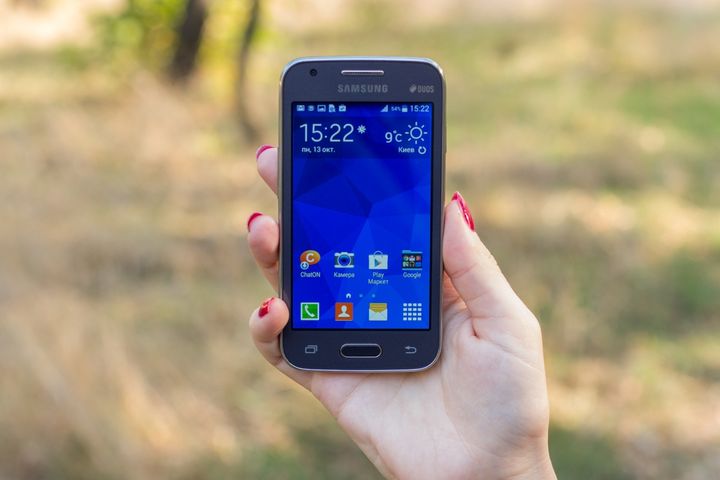 Budget new Samsung Galaxy Ace 4 Duos with support two SIM-cards, familiar design, the latest version of Android "out of the box" and valued at $ 130. How balanced get a smartphone, who will be interested in and what else will be able to bribe !? All this and more talk.
Design – new Samsung Galaxy Ace 4 Duos
Appearance of a new Samsung Galaxy Ace 4 Duos, no significant changes have undergone – plastic housing, made "under the metal" one hardware button and two touch-sensitive. Incidentally, the last non-illuminated.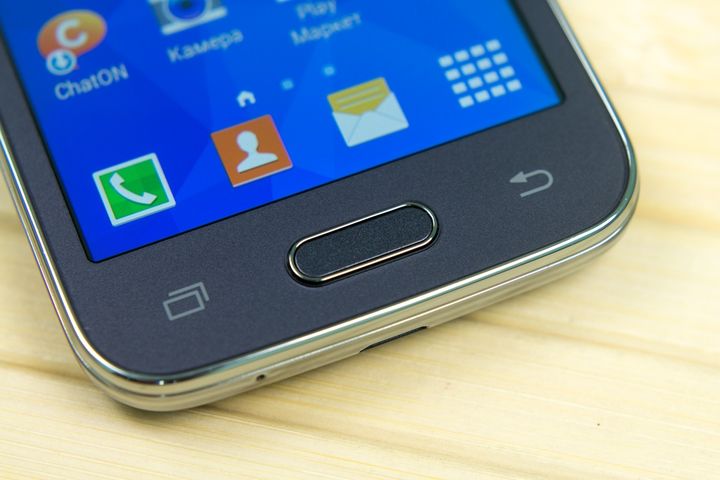 However, one "innovation" in the design of new Samsung Galaxy Ace 4 Duos is still there – wide gray stripe rough texture that crosses its back cover from top to bottom.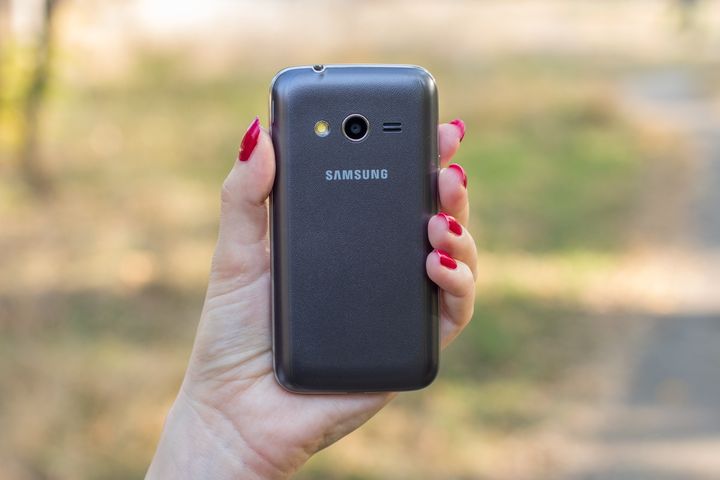 I note and good build quality housing – squeaks and no backlash, the battery cover may be tight.
New product is available in several colors, including gray, as we have on the test, in addition to the traditional white and black.
Functional elements – new Samsung Galaxy Ace 4 Duos
With regard to the location of the buttons and connectors on the housing new Samsung Galaxy Ace 4, in this respect, all classically for both smartphones Samsung: 3,5 mm audio jack on the top, and a microphone jack micro-USB on the bottom.
Volume rocker on the left undeveloped, while the power button and the clearance required to remove the cover of the battery pack on the right.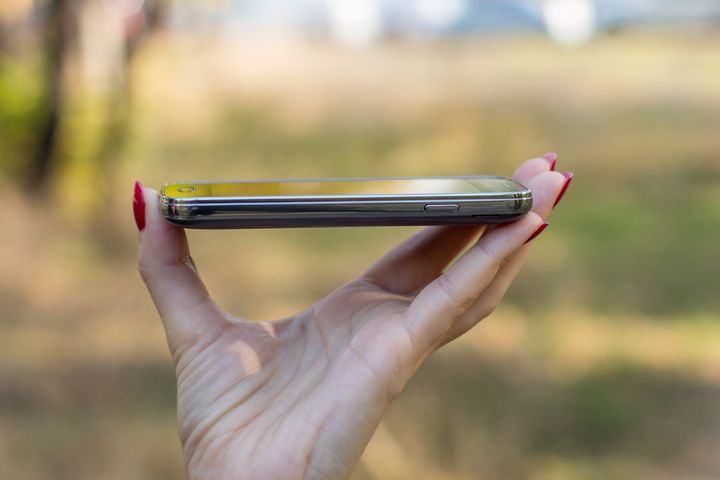 By the latter is "stored" battery, covering a two slots for micro-SIM cards, and slot for MicroSD -card.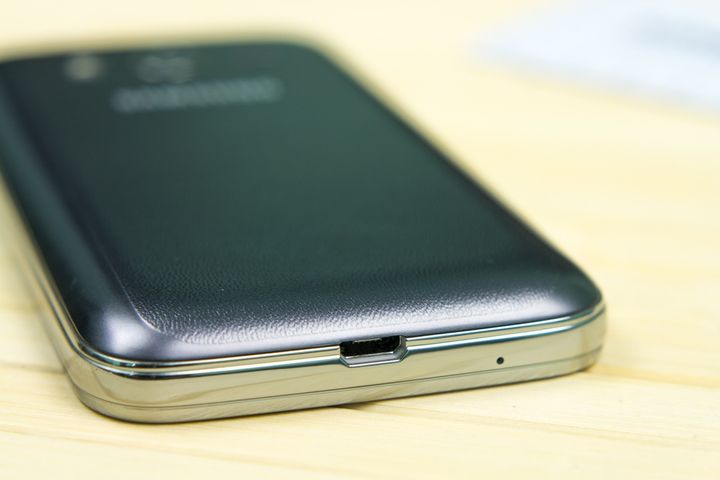 The back side new Samsung Galaxy Ace 4  remarkable – 5MP camera, framed by a metal ring, LED-flash and two small slits under the speaker.

Front panel new Samsung Galaxy Ace 4  of the 4-inch display, earpiece front VGA – camera, as well as a manual one and two touch-sensitive buttons located below the screen a bit. As in the previously discussed model Samsung Galaxy Core 2 there was no place for a light sensor and proximity. However, when you call the screen will still be blocked on and off automatically as soon as you press the answer button.
Display – new Samsung Galaxy Ace 4 Duos
New Samsung Galaxy Ace 4  has a 4-inch screen with a resolution of 480 x 800 pixels and a density of 233 ppi. Pixelation although visible, but generally not very "cuts" look.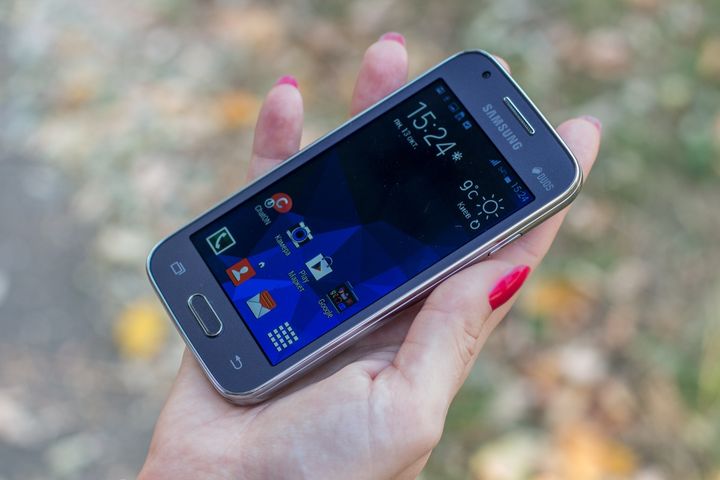 This low-end model, so you have to settle for TFT -matrix. However, the brightness and contrast are at a decent level. Viewing angles are average – when you reject a horizontal color significantly distorted, while the vertical such an effect is observed much less.
Cruising on the brightness, which is regulated here in manual mode – good. In normal daylight or indoor enough 40-50% of maximum. But in the bright sun, so read the information on the display of the gadget, it is better to expose it to the maximum.
Screen new Samsung Galaxy Ace 4 reacts to touch and supports up to 2 simultaneous touches.
Oleophobic coating and the protective glass is not here, at least, the manufacturer does not mention them. However, given the cost of the device, it is not surprising.
Memory – new Samsung Galaxy Ace 4 Duos
The amount of RAM is 512 MB smartphone, custom – 4 GB of which is available, however, about 2 GB, the remaining space occupied by the system. Expanded storage capabilities devaysa standard – through microSD-cards maximum capacity of up to 64GB.
Features and performance
The model is based on the 2-core Broadcom BCM21664 (Cortex-A9) with a clock frequency of 1 GHz and a graphics accelerator Broadcom VideoCore IV HW.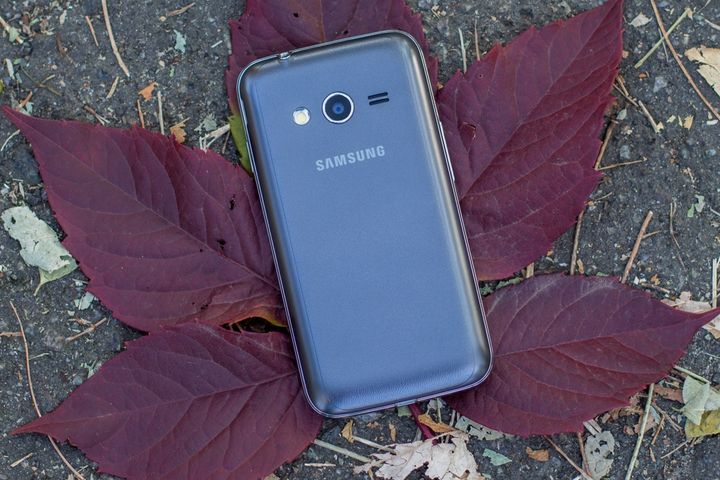 I have to say something supernatural Benchmark new Samsung Galaxy Ace 4, of course, does not show, but as for me, the modest money that he asked for, he fulfills. In practice, the available "resources" allow him to play HD -video, although with some slowdown, as well as simple games.
Of wireless modules here: Wi-Fi 802.11 b / G / n technology Wi-Fi Direct and the ability to input PIN-code WPS, GPS C A-GPS , GLONASS, Bluetooth 4.0, VPN, etc..
Module for use in cellular networks support GSM / 2G (850, 900, 1800, 1900 MHz) and WCDMA / 3G (900/2100 MHz). SIM-card two, they have the format "micro" and work at the same time in standby mode.
Battery
In new Samsung Galaxy Ace 4 has a removable battery with a capacity of 1500 mAh. According to the manufacturer of talk time machine will work 12 hours and standby time up to 5 days.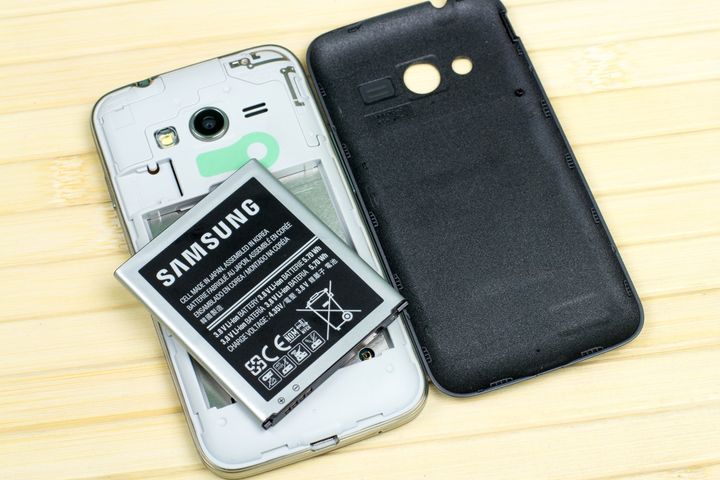 In my case, during testing, the phone was able to hold a single charge 3.2 hours playback of HD-video with an active Wi-Fi-module at a slightly above-average brightness of the display. Given the 1-2 hours of calls per day, and 2-3 hours of using other functions smartphone worked for one day, requiring recharging overnight.
Camera – new Samsung Galaxy Ace 4 Duos
New Samsung Galaxy Ace 4 is equipped with VGA-facing camera and 5MP primary system with avtofkusirovki and LED-flash.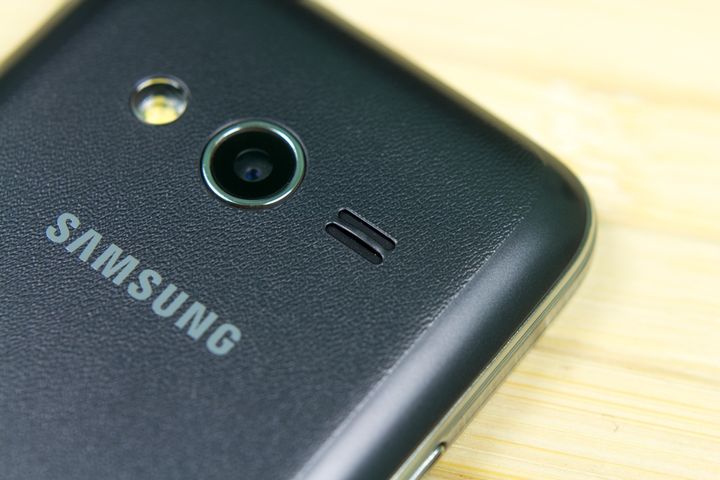 Last able to make photos worthy of attention even at fairly low light and in total darkness – helps LED flash.
In addition, it is able to shoot HD-videos. The quality of the video, filmed in the afternoon, a very decent. At night and in the evening hours the situation is worse – the amount of noise seems like overkill.
Set of options for managing the camera is standard for modern smartphones Samsung. A lot of them, they are divided into three columns: for photos, for movies and general.
Speakers
Two separate dynamics – handsfree and conversational.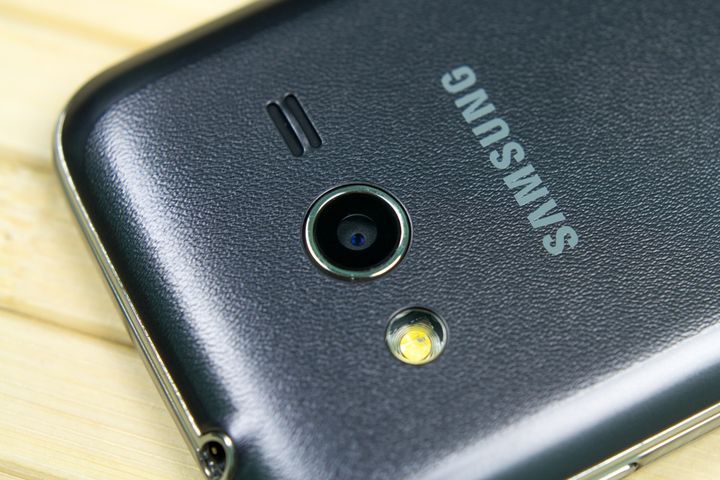 Last good speech, during intercourse no extraneous noise is not audible.
Multimedia speaker loud and do not distort the sound even at the highest level of sound.
Interface and functionality
New Samsung Galaxy Ace 4 running Google Android 4.4.2 KitKat. However, the next update hope, I think, just not worth it. Over the standard OS interface the company has established its own custom TouchWiz.
Notification bar has traditionally at its top navigation strip instant jump to the most popular functions, as well as changes in the brightness slider, and, of course, directly the list of recent notifications.
Additional applications preinstalled not much. Nevertheless, the company is Samsung ChatOn messenger and scheduler S Planner, as well as a wide range of service from Google.
Conclusions – new Samsung Galaxy Ace 4 Duos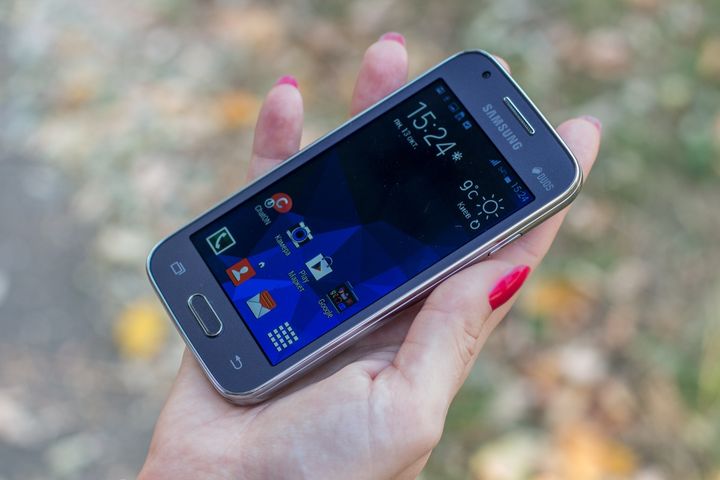 New Samsung Galaxy Ace 4 – a viable option for those who are thinking about the first Android-Cmartfon, but not willing to overpay for unnecessary it performance. Yes, the unit is not turned fast, have their own shortcomings and the display at the same time it boasts a good opportunity cameras and loud speakers.
Pros new Samsung Galaxy Ace 4 Duos
– The build quality;
– Android 4.4.2 KitKat «out of the box";
– Opportunities camera with an eye on cost;
– Loud speaker;
– Price
Cons new Samsung Galaxy Ace 4 Duos
– The amount of RAM;
– Poor performance
– No light sensor and proximity.
Estimated price new Samsung Galaxy Ace 4 Duos: $ 130
Read another very interesting article about alternative energy of the Sun, water and air.