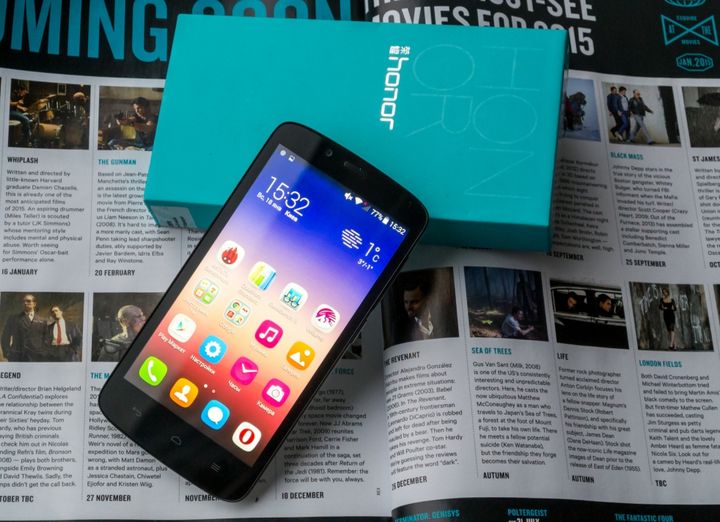 First there was the Huawei Honor 3, then – Huawei Honor 3C, trace – Huawei Honor 3X, which we were told, and now Honor 3C Lite. And if you think that the model number of Huawei features a leg break, you're not alone. For example, our current experimental – a "simplified" version of the 3C, which in India is very successfully marketed under the name «Huawei Honor Holly», three "x", so to speak. But this is not the nice cute smart.
Journalists agree that the Huawei Honor 3C Lite – a smartphone for the youth. Lightweight, stylish, inexpensive, moderately productive and a good camera. In short, the ability to fully correspond to the price. And let's be honest from the beginning of 2900 UAH (about 9000 rubles, or $ 150) – this is a very loyal price. And if you need to purchase a smartphone even during the jumps course, this device can afford.
Appearance and ergonomics
In color box Tiffany (read – turquoise, or even easier – blue) has a very smart phone, USB-microUSB cable and adapter for the outlet. There are some slot with free space. If there is something, and was, in my configuration nothing at all left. Spartan set.
We can say that the design of the smartphone quiet and conservative, and it is possible – and that faceless lopatkoobrazny. Then choose to your liking. Our specimen black front and white behind, completely glossy, with rounded corners. There are black copy. His back cover is made under the skin and all it reminds Philips Xenium I908, only our camera unit in the center. Can not say anything about the black copy, but gloss white terribly easily soiled, exactly like the glass cover -oleofobnogo not.
Front 5-inch smartphone is fully covered with a small glass bordyurchikom on the edge. Chin smartphone more than the forehead, because the button is located below the screen. I climbed all the settings menu, but could not find where to set the time for the highlight of the touch buttons. And then it turned out that no backlight at all. So in the dark it is only necessary for memory to navigate. The display itself occupies 86% of the body frames are relatively small, and Above the screen is short earpiece, front camera of 2 MP and ambient light sensors and events.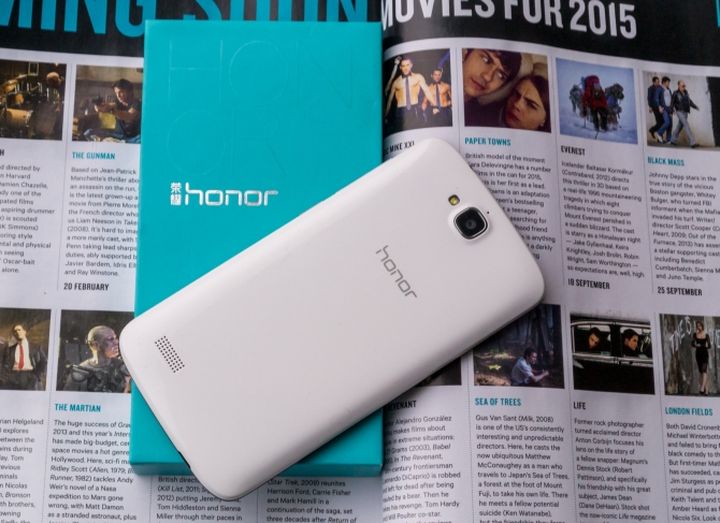 At the top end is located audiodzhek 3.5 mm on the bottom – microUSB, shifted to the left, and a microphone, and on the right side – chrome power button and the volume key just above the middle. By the way, it is very comfortable, with a mean certain way, exactly lies beneath the finger at least for right-handers, even for left-handers. The back cover is removable, very tight, it is hard to remove and bad snaps. It's very cool, do not be subsequently loose and play. And if bad snaps, on the right side will be seen clips.
Herself back again, and Mark glossy, slippery and smooth, very pleasant to the touch. In the center – the main camera of 8 MP, above it – an additional microphone for noise reduction, logo just below and short speaker. The sound is loud and good, it is easy to mute if we put on the table, or even more so – on the pillow. Under the removable cover has two slots for SIM cards, microSD slot for up to 32GB and a removable battery 2000 mAh.
In general, the smartphone is very well assembled, no backlash and groans. Cover a bit squeezed, but it is noticeable only when it deliberately squeeze. Huawei Honor 3C Lite good in the hand, even on slippery cover. Due to the parameters of 142 x 72 x 9,4 mm and a weight of 156 grams of the device is very comfortable. He's a little bigger and heavier than its older brother 3C, but due to the rounded corners 5-inch tube can try to manage with one hand. But up to the top edge of the display you will make it unlikely.
Display – Honor 3C Lite
5-inch IPS-display covered with protective glass, scratches on it and does not appear, oleophobic coating did not get, so the prints are collected easily and rubbed so-so. Anti-reflective properties of the medium, dark tilted angles like and good, but at the same angle Shinichi under another – yellow. Permission to 5 inches singled HD-resolution, ie, the density of 293 ppi. Not bad and not good, normal such permission. Image not falling pixels, it looks decent.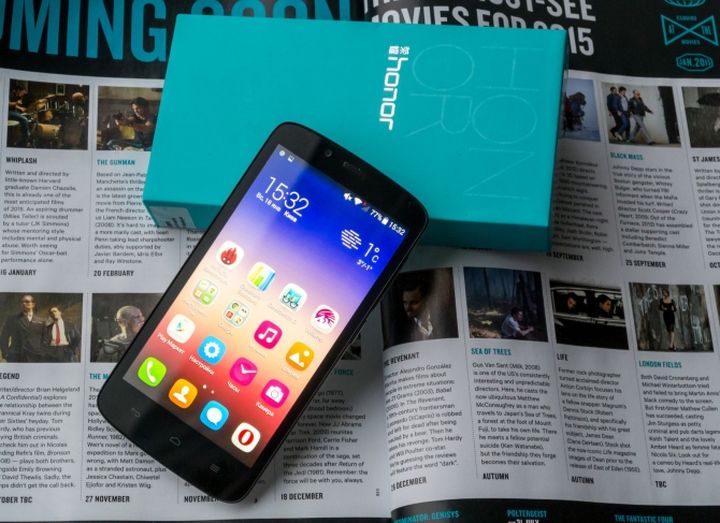 The color rendition is quite natural shades vyrviglaznyh not observed, rich enough, the picture looks juicy. Brightness can build handles, automatic is also present. Maximum sufficient for bright days and the minimum bit overpriced, but it is a standard topic for a mainstream smartphones. Of «Play Market" put some skrinfiltr – and the problem is eliminated. Supports up to 10 simultaneous touches. In general, the screen is not bad, and most important, the lack of it – no oleophobic coating. Very unpleasant greasy filter through to watch a movie. So do not forget to wipe the display – and you will be happy.
Camera
The front camera of 2 MP and got the opportunity to "make a beautiful face" (you know that it works as krivoruky fotoshopschik). Editor Esquire fall in nervous horror. The images are tolerable only in good light, indoors under yellow lights are too languid self. The main camera of 8 MP with autofocus, F / 2.0 and flash shows very good results even in good light, although sometimes there are kinks with contrast. The darker, the noise in the photos above, detailing falls. At night, it is almost useless, and under artificial light yellow with a white balance problem. But in the afternoon and in the morning you can still make some good photos, juicy and bright. And yet – the sound of "shutter" does not turn off. In any way. Even rezime without sound.
Removes format FullHD, but it is better not to scale, but otherwise it will be as an example. And during shooting autofocus does not work well, so do not forget to poke a finger in the screen on the important objects. The menu itself camera does not deserve special attention, this is the usual mode of live stock photos, panoramas, improve the texture of the face, automatic shot detection face (do not forget to put a tick in the settings).
Features & Software
Honor 3C Lite are structured based on the quad MediaTek MT6582 c 1.3 GHz, 1 GB RAM and Mali-400 graphics. All of this – a very good filling for such a price, and together you can afford gonochki Asphalt 8 at medium graphics settings and even more so taymkillery a series of piano tiles or crossy road. I set myself Smash Hit, Voxel Rush Real Racing 3 and rushed like mad with all the reflections in the mirrors.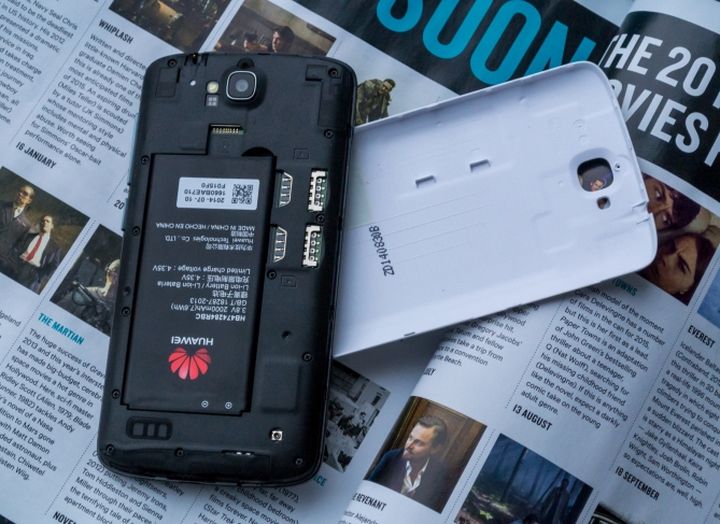 Synthetic tests give a little more than 19 thousand parrots, but this is not enough, if you like large numbers of synthetic tests, and it is currently approx for work and for life. Programs do not fly, the interface does not lag, toys go – well, what else do you want? Heated apparatus significantly, with the thermometer did not go, but in the area of pen camera you pripechet sympathetic.
Memory device 16 GB, of which slightly more than is available 13 GB, but smart poddredivaet cards up to 32 GB. To install, it is necessary to remove the lid. Simkarty hot can not be replaced – be kind, take out the battery. It smacks a bit of the past century, but you will forgive my fault-finding. But do not need to wear a clip! But again – the cap is removed tugovato, battery – too.
Powered gadget running Android 4.4.2 with redraw interface Emotion UI c firmware version Holly-U19. It looks like a complete firmware for the poor. Although it can also be purely my nitpicking. The special feature of the firmware – the lack of applications menu. All of them are based on the desktop of which may be countless, and stored in folders. There is a good set of animations, icons redrawn, but very amateur at these puhlyashi – icon third-party applications on the perimeter of the field is obtained.
There are four pre-defined profile, while two of the bottom ("Quiet" and "Meeting") can not be edited. There is a simple mode screen with large icons like lyumii – if you want to give your smartphone your grandparents. It is possible to connect an extra monitor to Wi-Fi. Of the software preinstalled Opera suddenly and Yandex, Huawei online support (a group in the VC) Huawei device (Russian store huyaveev) and that enough is enough of this lawlessness. Perhaps these two applications are installed immediately because Russia was chosen the first market for the device. For the record – they are easy to remove. Smartphone even ask again will not be sure whether you. In general, I'm not bad to third-party firmware without the application menu, but wanted to change this.
Autonomy
2000 mAh. "But it's very small!" – I thought when we first met. No softinushki to optimize battery consumption is not expected. Keeps baby nice, actually. About 4 hours of online video at maximum brightness. More than 15 hours of browsing in Chrome via Wi-Fi. Test planted smartphone for 7 hours. In the "I do not turn off the Internet and take notice" – two days, and in active use with calls, messengers, YouTube and social networks – at the end of the day to charge. If at all from the machine to keep up – about 13 hours. Very well.
Output – Honor 3C Lite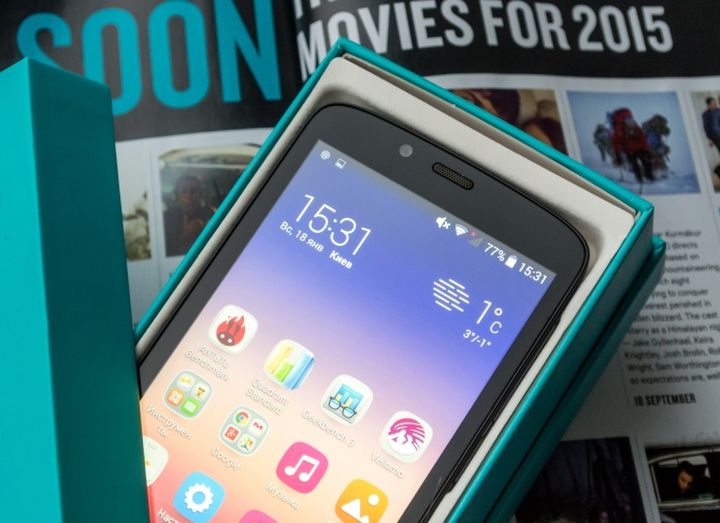 Huawei Honor 3C Lite – a very capable and a good smart phone for its price. $ 150 in terms of economic instability – best price on the device, and if you are trying to fit into this amount to this unit is worth a closer look. Housing solidly assembled in the hand is comfortable hrosho color display, no lag and cope with demanding toys. Main disadvantages: Mark screen and back cover, the camera Tuga in the dark, flashing an amateur. I recall that the lid are still under the skin, and you can change the firmware. With a camera and oleophobic coating is not poplyashesh, but I again remind: $ 150 – and the 5-inch device, albeit at MTC, but with HD-resolution will be. In short, in the loving hands of the duckling becomes a swan accurately, which means that you can take.
Read another very interesting article about alternative energy of the Sun, water and air.