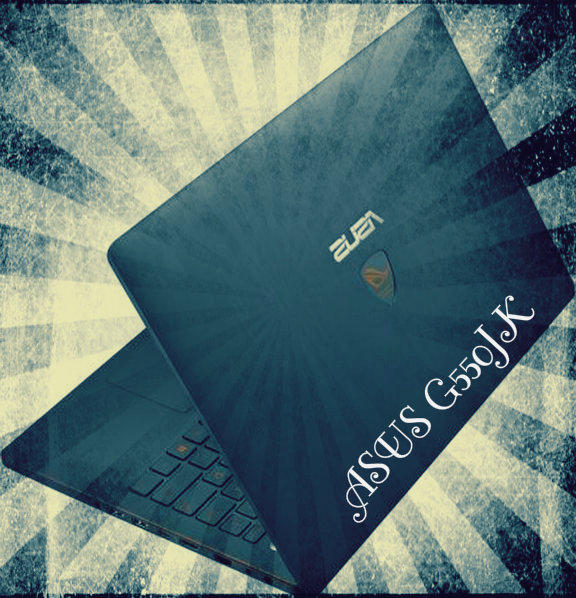 This is not the first encounter with laptops ASUS ROG-series, before that we already had experience in dealing with different versions of ASUS G750, ASUS G55VW and earlier modifications of them. Today we will focus on the opener in the regiment Republic of Gamers – ASUS G550JK review. Contrary to expectations, to see something straight from the tin and interesting, it turned out; it's just an updated externally multimedia notebook ASUS N550JK. And he got a powerful equipment, including a modern quad-core Intel Core i7-4710HQ family Haswell, as well as discrete graphics card NVIDIA GeForce GTX 850M with its own 4GB memory standard DDR3.
Design – ASUS G550JK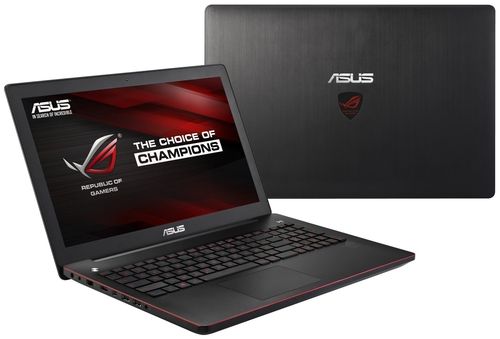 Designers and engineers at ASUS have tried their best, turning in the gaming media ASUS G550JK. The most important difference is the range of colors, from light gray to black and it turned red. All the main surface of the notebook – black, this includes the top cover, wrist pad, edge of the notebook, the frame around the display, as well as the bottom. But red painted only decorative elements, such as a strip along the contour of the laptop keyboard markings and insignia ROG. The latter, incidentally, is illuminated when the laptop is turned on. In general, the appearance ASUS G550JK something reminds Razer Blade, only he used black and green colors, while ASUS G550JK – black and red.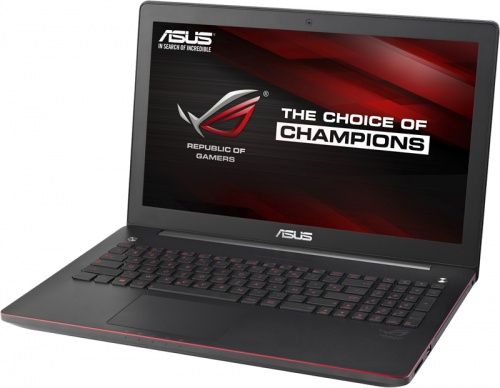 As for the interior materials, here is dominated by brushed aluminum, only the frame of the display is made of plastic. Through the use of metal reached a pretty decent stiffness laptop, except that the cover is a bit of flex. In terms of practicality it is worth noting that the fingerprints remain on the body, but they are fairly easy to remove. To build quality, of course, no claims cannot be, because ASUS G550JK is a premium laptop.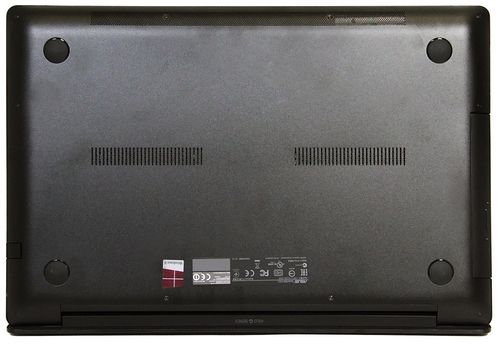 Appearance of the bottom does not fit with the gaming device and more like ultrabook. On a single sheet of aluminum can be seen only two relatively small ventilation slots and four rubber feet at the corners. Still, however, there is an area with speakers, which closed small decorative mesh, but shifted almost on the front side. No quick access compartments is not here, want to replace the drive or add RAM – remove the entire bottom panel as a whole, and for this you need to turn off a fairly large number of screws.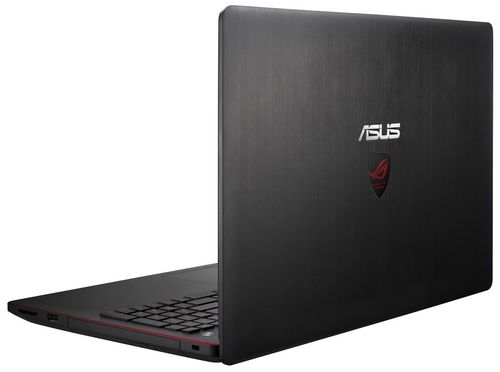 Due to the black color and a more elaborate design ASUS G550JK looks more compact than the ASUS N550JK, although their dimensions are the same and make 383x255x27.7 mm. As for the weight, it is at the level of 2.6 kg, and it is quite normal rate for a 15.6-inch gaming notebook.
Display, sound and webcam – ASUS G550JK
Display ASUS G550JK is not very big for a gaming notebook diagonal 15.6-inch. When this resolution is 1920×1080 pixels, which provides a high pixel density and eliminates grainy. IPS-matrix installed in the ASUS G550JK, characterized by a relatively high quality of the reproduced image, in particular, it is worth noting the excellent degree of brightness and contrast. As for color accuracy, it is lame, and this laptop is not suitable for professional graphics work, but for games and multimedia content – completely.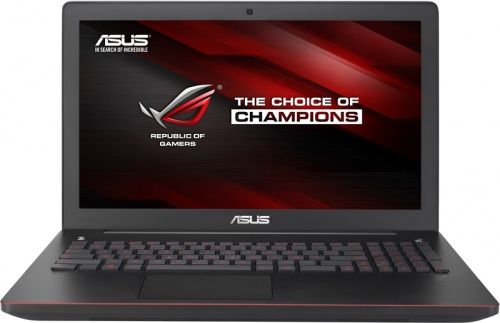 Because the matrix is ​​made of IPS technology, we have a very wide viewing angles, so the image is not distorted almost even with the maximum deviation of the display. Also, many will appreciate the matte coating, which protects against glare and unpleasant reflections.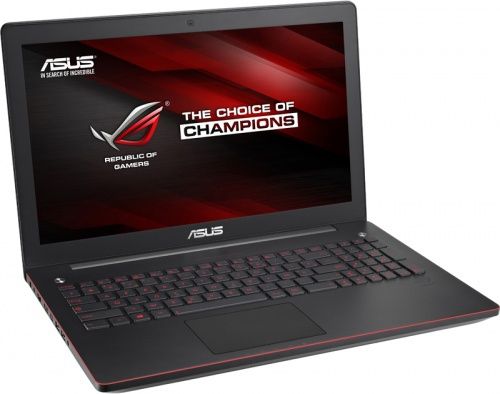 In terms of acoustics ASUS G550JK a complete top-level multimedia model, as a legacy of N550JK she got four speakers ICEPower, which were developed in collaboration with world-renowned company Bang & Olufsen, and an external subwoofer. The latter, incidentally, is a nice bonus and complements the already high-quality sound and deep bass even more that will please both fans of multimedia entertainment, and gamers. However, one small remark acoustics can still be done, because the four speakers are located on the front face and aim at an angle down, because this part of the volume goes to the surface on which is placed a laptop. However, this is only a nostalgia for past speaker placement in the ASUS N-series of previous generations.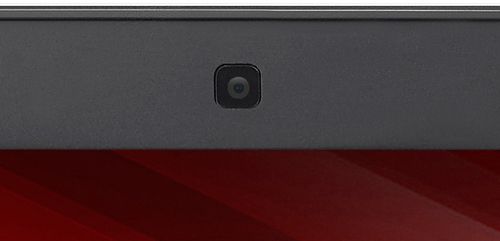 There is a laptop and a webcam, but it is unlike anything remarkable acoustics are released, its resolution is only 1 megapixel. Of course, for video calls using Skype and other similar programs of the webcam will be happy with it.
Keyboard and Touchpad – ASUS G550JK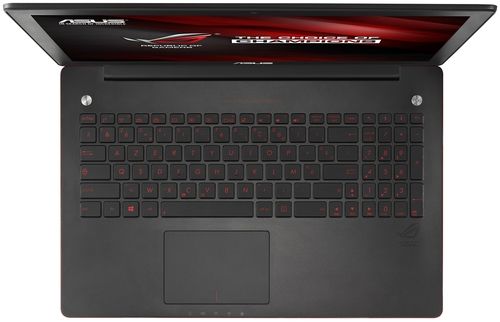 Again, returning to the subject of the similarity of our gaming notebook with his fellow media, I would like to say that the keyboard ASUS G550JK in exactly the same way as in the ASUS N550JK, except that she was repainted from white to black. As for the size of the keys and their location, here 100% match.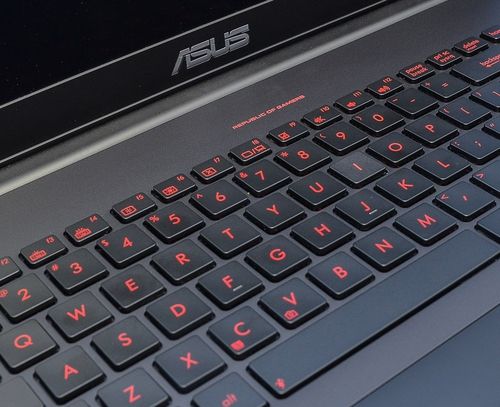 In ASUS G550JK there is also backlit keyboard, but unlike the original, it is not white, and red – a tribute to the style, however, its functionality has not changed at all, it also effectively highlights the button, and you can choose among three different brightness levels. When the keypad is not active for a long time, the backlight automatically turns off.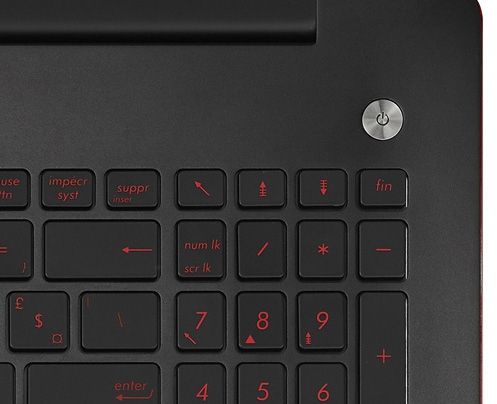 Beyond the basic keyboard ASUS G550JK handed just two buttons. Located in the upper right corner includes a laptop and key located on the opposite side, causing any predetermined application. At last, you can designate how often the utility is used and favorite game.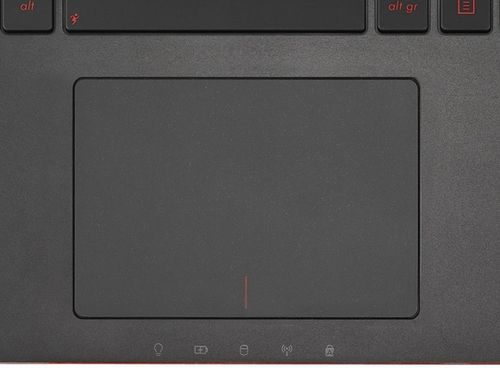 The touch surface of the notebook and the large size is not allocated mouse buttons. Unfortunately, the circuit around the touchpad is not highlighted in many game models, so in the dark you can "lose". Smooth touch area, thereby positioning takes place without any difficulty, and there is support for multi-touch gestures, including: scrolling, zooming, rotating, flipping two fingers.
Performance – ASUS G550JK
Our equipment ASUS G550JK 90NB04L3-M06140 is running Windows 8.1 64-bit. Processor Intel Core i7-4710HQ built on the architecture of Haswell and has four cores that can handle up to eight data streams through technology Hyper-Threading. Clocked at 2.5 GHz, but with Turbo Boost it can be increased up to 3.5 GHz. Cache in the third level is 6 MB and TDP with the integrated graphics card is at 47 watts. By the way, the integrated graphics Intel HD Graphics 4600 has 20 shaders and good performance for embedded solutions. It can easily solve simple everyday tasks, consuming very little power.
In addition to the built-in video card in this game laptop, of course, there is also a digital adapter, but just he and causes the most problems and complaints. Graphics card NVIDIA GeForce GTX 850M, namely it is installed in ASUS G550JK, belongs to a class of game cards and has in its arsenal of 640 shader units and a 128-bit memory bus. The frequency with which work the core graphics card is quite high, but the problem is in the standard uses video memory, she immediately DDR3, instead of GDDR5, which significantly affects its possibilities, by the way, its volume is 4 GB. As a result, we have absolutely the same performance as that of the multimedia ASUS N550JV that might upset the owner of a gaming notebook. In fact it is a powerful multimedia model, stylized under the game.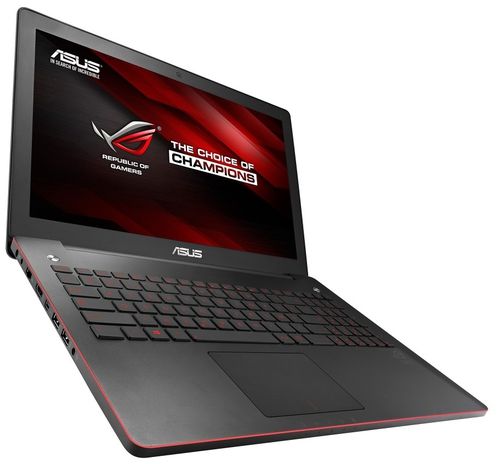 But, despite the fact that ASUS G550JK close to multimedia, he is pretty good at gaming. Battlefield 4 will go on high settings with 57 fps, Call of Duty: Ghosts and Wolfenstein: The New Order will show the result of about 37-45 fps, but the play Watch Dogs on high settings will be just 20 fps. However, all these games with high settings have been launched with a resolution of 1366×768 pixels, but if you install a native Full HD, the number of frames dropped significantly, so some games will have to lower the settings to medium.
To store information on a laptop hard drive has 1TB. This option is suitable for a large number of audio and video files, as well as for modern games that a lot of "weigh". But the speed of the HDD is not happy, as the spindle speed is only 5400 rpm.
In this configuration is set to 16 GB of memory standard, DDR3, which operates at a frequency of 1600MHz. This is the maximum amount of RAM available for this notebook, just as there are two slots for memory strip.
Ports and Communications – ASUS G550JK
Port selection is exactly the same as that of the ASUS N550JK, but it's even a plus, since multimedia model has a very good set of interfaces and their location is not irritating and does not cause discomfort. Most went to the left side; here you can find two USB 3.0, network RJ-45 connector, HDMI video output and a Mini DisplayPort, and the power supply connector. In addition, on the left side is still combined audio jack and jack through which you connect an external subwoofer.


Located to the right optical drive DVD ± RW with Tray load. On either side of it are the Kensington lock port and USB 3.0. Closer to the front face can be found in card reader, readable format SD / SDXC / MMC.


As for wireless communications, here we have a standard set consisting of Wi-Fi 802.11 b / g / n and Bluetooth 4.0, although such an expensive laptop as ASUS G550JK and ASUS N550JK could put radio Wi-Fi 802.11 a modern al.
Battery – ASUS G550JK
Again, we have 100% similarity ASUS G550JK with his fellow media, this time in terms of battery life. The laptop is a 4-cell lithium-polymer battery capacity of 4000mAh. Several upset that replace the battery yourself will not work because it is not removable, and built-in, so if it fails you direct road to the service center. Charging the battery is made by a 120-watt power supply.
Since filling and battery at ASUS G550JK and ASUS N550JK almost identical, then the battery life they have also the same. Laptop charge enough for four hours watching movies or three hours of web surfing. But in the game mode, when all the parts are working at their best and consume a lot of electricity, our test model is able to hold out for exactly one hour. As for the gaming device, it is the usual indicators, but, as already mentioned above, ASUS G550JK rather, it is a powerful multimedia notebook, rather than a real game.
Conclusion – ASUS G550JK
After exploring the ASUS G550JK is a double sense. On the one hand, we see a stylish and attractive gaming notebook with the plate ROG, high-quality display and excellent acoustics, and on the other – it seems that it's just a beautiful wrap, wrapper, which turned not what we expected. Yes, performance quad-core Intel Core i7-4710HQ and a discrete graphics card NVIDIA GeForce GTX 850M envied by many laptops, but the level of this game monsters this bunch does not hold. Many games will go on high settings at a resolution of 1366×768 pixels with normal fps, but it is necessary to change the resolution to the native Full HD, as the video card starts not cope.
In defense of ASUS G550JK can say that its value does not differ from a multimedia ASUS N550JK and is $ 1200, so that, in fact, it's all the same powerful multimedia model with a wide range of possibilities. There's even suggests a certain analogy with cars – ASUS G550JK this ASUS N550JK in sports, but in our case – the game, body kits.
Read another very interesting article about alternative energy of the Sun, water and air.