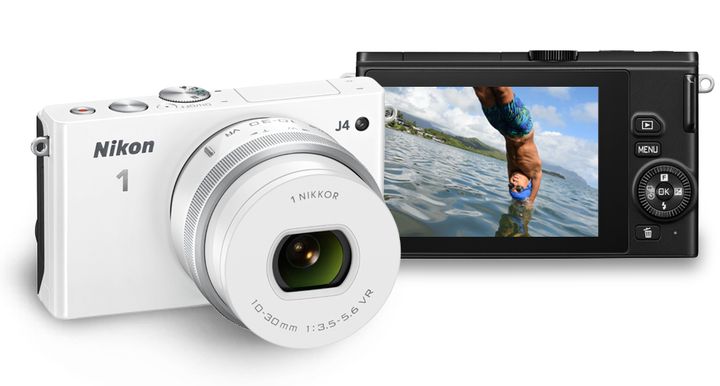 Nikon and Canon got into this train much later than the other competitors. To this day, the flagship mirrorless – from Olympus, Sony, Panasonic and Fujifilm, but widely known for their SLR cameras brands "encouraging" users, to put it mildly, a strange decision. But not so bad. Nikon J4 – not so far outsider mirrorless market as it might seem at first glance. On the contrary.
First of all, it is worth noting that Nikon decided to build its mirrorless Nikon 1 system on the basis of 1-inch matrices Corp. factor 2.72. Exactly the same matrix are in the Sony RX100 (including versions II and III). Actually, Nikon generally quite often does on camera matrices from Sony. Decision, quite frankly, unusual – the Sony camera series RX100 still belong to the segment "Soap", although the premium class. At the same time, bezzerkalki from Olympus, Panasonic, Fujifilm and Sony have the same caught up with advanced SLR and a little crammed in the professional segment (for example, full frame Sony A7s).
However, and the company Nikon, apparently, with DSLRs is not going to compete. Controlling cameras Nikon 1 series is designed specifically for beginners and those who prefer to shoot on a "navёl and shoot". Manual and semi-automatic modes are also there, but to get to them is not so easy, and the parameters of shooting (shutter speed, aperture, ISO) changed "on the fly" extremely uncomfortable. Especially all at once.
So, the most suitable competitor for the Nikon J4 – all the same Sony RX100. This is in no small measure contributes to the new "pillars" of the lens 10-30 – now it is equipped with automatic curtains, electronic zoom and translated into "combat" mode automatically after turning on the camera. In fact, with the established whale 10-30 Nikon J4 turns into a premium bar of soap. And the difference here with the same RX100 (any) – a wider range of focal lengths from Sony and a wider aperture (ie, a high-aperture lens) at them.
In general, if you guess the technical data, one would assume that, all other things being equal (matrix size), "Soap" from Sony takes better. But in reality it is not so – "dark" lens Nikon J4 gives the picture even better sharper than a competitor. Plus, on the side of Nikon wider dynamic range that Sony RX100 (any version) – the weakest point.
Camera Nikon J4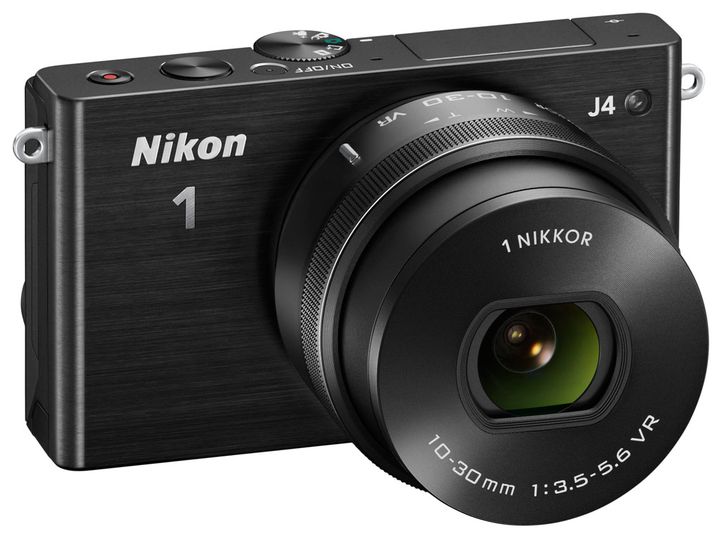 So, apparently Nikon J4 is strongly reminiscent of the previous series cameras Nikon 1. Unfortunately, rotary screen is still missing, and it is in vain – soon without this accessory to imagine the camera, though amateur, professional though, it will be impossible. Management is still quite symbolic – the mode switch instead of the typical PASM controls the selection of automated scripts (one of them hidden PASM), the wheel on the back plane of the body is able to change the option of shooting, but only one (configurable).
But there is a built-in flash. Of course, the poor and the "for show". But there is. But the "hot shoe" – no. And right here it once.
Nikon J4 connectors
What makes us very upset – if micro-USB port and its own battery, charge the Nikon J4 is possible only with a special adapter. When finally charging via micro-USB will be the standard? Why on vacation to take extra charger for the camera?
Battery and MicroSD slot Camera Nikon J4
As a memory card with Nikon J4 can only use cards MicroSD. Maybe it's good, it is still easier to find now on sale this card with an SD adapter included than itself SD. And the price for a long time is no different. Just the choice of this format card again points to the "soft-touch" camera – it's not even a tool amateur photographer and the camera for a lowly user who probably could be removed and a smartphone, but still lacks aperture and optical zoom.
Speaking of the latter – for testing in addition to "whale" lens 10-30 / 3.5-5.6 and we were offered an additional 10-100 / 4-5.6 that the EGF gives 28-280 – just Freaky range of focal lengths. Thus, the lens was very versatile, but also very heavy.
On the other hand, having included two lenses, you can cover all the focal lengths and shooting scripts (well, except for professional portraits and macro – but it's not a professional camera, we immediately told). That is, at home, in the city, you go with 10-30, and on vacation takes with a 10-100. There, he will also need not always, but going on any tour will be very appropriate to attach the main 10-100 lens and shoot until you return to the tour.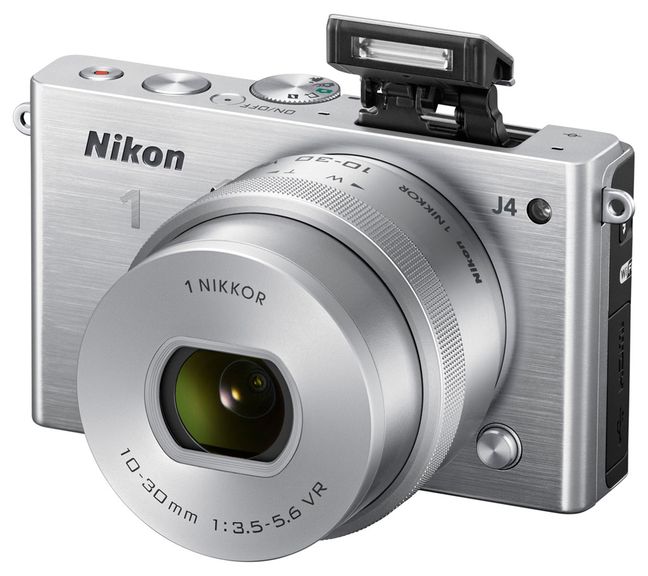 By the way, the camera screen finally made touch. Use it to indicate the point of focus, and even take pictures, but control the parameters of the camera from the screen inconvenient (in bezzerkalke Canon EOS M was vice versa).
Screen mode exposure settings
Another feature Nikon J4 – module Wi-Fi, with which you can control the camera from your smartphone and instantly transmit photos. In general, nothing special, now almost every camera is equipped with this module and soon to imagine the camera without it would be impossible.
There is also a micro-HDMI output and a micro-USB connection to a computer or mobile gadget (just in case, again – charging via micro-USB not).
The main advantages of Nikon J4 – extremely fast and accurate focusing and shooting speed of 60 k / s.
Setting Continuous Shutter
Of course, a time series of 60 shots the camera do not give (the buffer is too small – on the memory card SanDisk Ultra recorded only 20 pictures), but to take such shots where it is important to seize the moment, quite simply. In fact, the video camera shoots, but full resolution.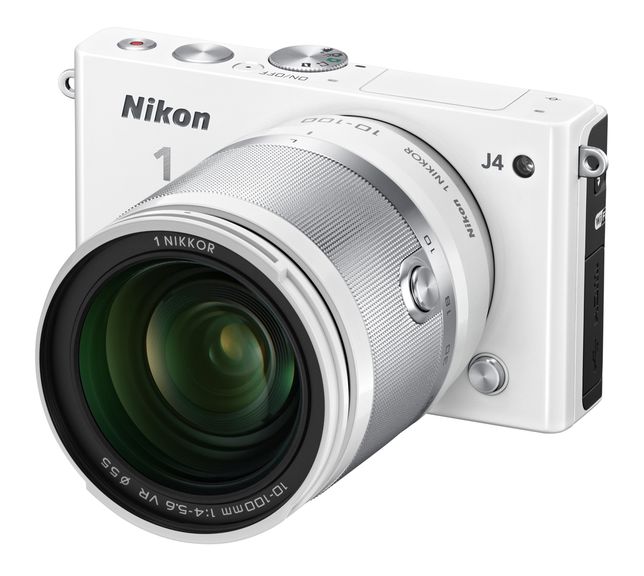 Switching between modes (the wheel on top of the casing)
Automatic shooting modes and various effects here a lot, but switching between them, alas, uncomfortable.
But let's look at the quality of pictures that can offer Nikon J4.
As you can see, in good light nothing to complain about: excellent color rendition, sharpness okay. But with the fall of light appear very noticeable noise. However, the good news is that the camera still focuses quickly and allows you to shoot night scenes literally "with hands" (one shot per second delayed, we made using the application on your phone).
However, if puzzled processing RAW, you can achieve more interesting results.
Although we believe that the typical user Nikon J4 should not even know what the RAW. In the end, if you really plan to shoot in close conjunction with the smartphone camera driving through Wi-Fi, something about RAW worth to forget.
In total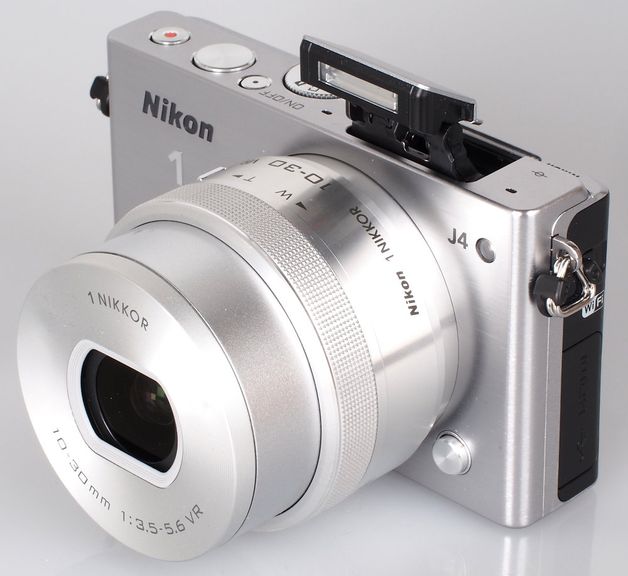 In general, Nikon J4 – good camera for those who for some reason is not enough camera smartphone, but the desire to delve into the intricacies photographic not.
On the other hand, if you choose between Sony RX100 (any) and Nikon J4 – the latter still give you quality and better and will work quicker and smarter.
Source: Nikon
Read another very interesting article about alternative energy of the Sun, water and air.