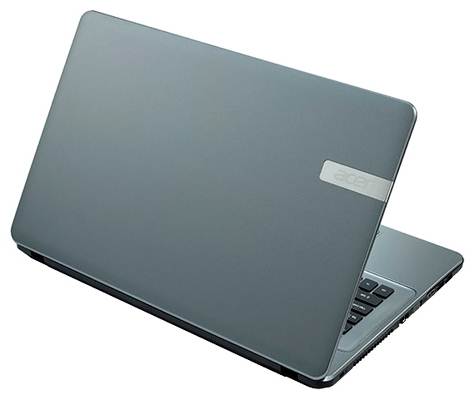 Often there are people who are trying to get round a simple low cost laptops. They want to become the owner of something stylish, multi-functional, with all kinds of chips, perhaps the original, and of course, performance. Undoubtedly, these devices have, but they are not cheap. Actually, why buy a sufficiently powerful and trendy laptop if it is used as a typewriter device to surf the web or to watch a movie sometimes. And if your problem will be limited only by the workers, there is no reason to buy the office dorogushchy and high performance laptop. All this shows once again that the device type Acer Aspire E1-771G can be quite popular. Just this laptop and we will pay attention in this review.
Design – Acer Aspire E1-771G
Appearance of this laptop is very ordinary. The housing is made of plastic, has a pleasant coloring gray (metallic). On the cover of Acer Aspire E1-771G is a company logo, and on the inner surface of all there is no design details that would have been able to give some flavor.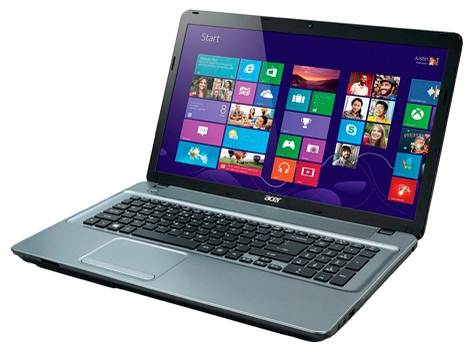 Use this laptop for work is very convenient because he will not be distracted once again. By the way, with such unfussy design Aspire E1 literally fits perfectly into any interior.
Case Dimensions 414x274x35 mm do not suggest this laptop as a fairly bulky device. However, the weight of 3.2 kg certainly not be comfortable if you have to take your laptop with you on your trip. Especially in passing that often takes at least a charger, add extra 200-300 grams.
Display, audio, webcam – Acer Aspire E1-771G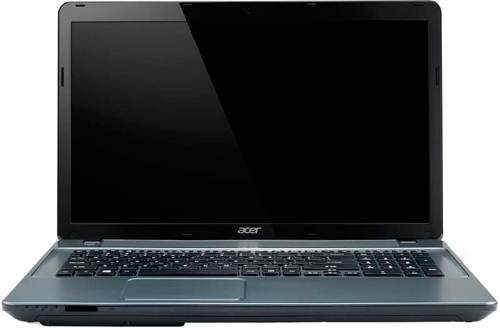 Laptop equipped with a 17.3-inch glossy display with LED-backlit display and a resolution of 1600×900 pixels. Screen size is suitable for business and pleasure. For example, you can watch movies or work in parallel with the two applications, placing them near open windows. Display brightness is not too high, but it will be enough room. But on the street to have a little look closely depicted. By the way, the colors on the screen are transmitted normally, and the lack of contrast, if you use a laptop for simple everyday tasks.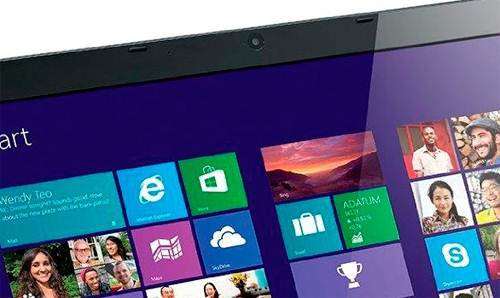 Stereo speakers Aspire E1 located just above the keyboard, they are hidden under the special grills. Sound does not overlap, so the music is not muted, and heard as loudly as possible in this case. Of course, compare speakers Acer Aspire E1-771G with a home theater system is useless, however, the sound is clean, it can be heard predominantly high frequencies.
With respect to all webcams trite standard – 1.3 megapixel resolution. This, of course, not 0.3 MP when the image more grainy and blurred, but do big bets on a clear and high-quality image in this case is also not worth it. At the same time communicate with Skype is free.
Keyboard and Touchpad – Acer Aspire E1-771G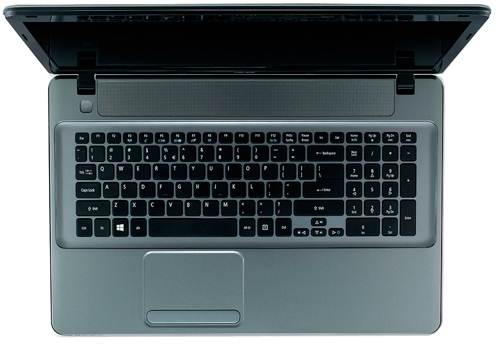 The keyboard of this laptop is nothing unusual. It is an island, quite spacious, with large buttons and a separate numeric keypad. Of the minuses can be noted too reduced "arrows" that not every owner will be easy to press. Otherwise there will be no discomfort to the average stroke as buttons and a clear two-color labeling.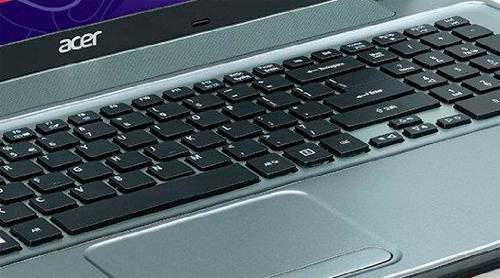 Touchpad in Acer Aspire E1-771G takes place on the left of center podladonnoy site. Field manipulator enough for normal positioning, and sensitivity – to execute commands without delay. Within the area you can see the touch rocker replacing mouse button. It is slightly rounded, not too big, but it is convenient to use.
Performance – Acer Aspire E1-771G
Despite the fact that the laptop seems usual to state, it lies far from the weakest stuffing. Powered Acer Aspire E1-771G-33128G1TMnii on Linux, on which if necessary can install Windows. Laptop CPU Intel Core i3-3120M is built on 22-nm technology and relates to the generation of Ivy Bridge. Two cores can process up to four threads, but the base frequency 2500 MHz will remain unchanged, as no overclocking feature Turbo Boost. The volume of third-level cache is 3MB. In general, the performance of this processor is not too high, however, office tasks, video playback, web surfing will be a feasible task, which handle a laptop.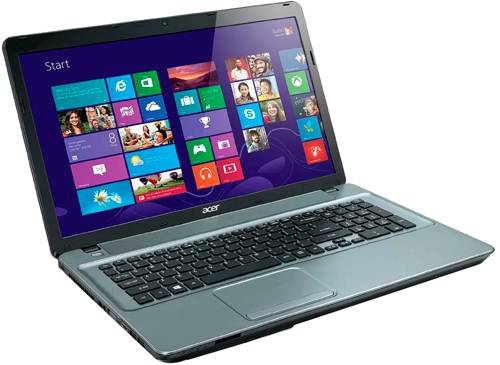 Video Subsystem device represented primarily integrated Intel HD graphics 4000. Its enough for any simple calculations, such as editing photos or video, simple presentations, etc. There are also discrete accelerator NVIDIA GeForce 710 M, through which you can normally play games. For example, for medium-settings will Tomb Raider or BioShock Infinite with a frequency above 30 fps, although the resolution of the display will have to be reduced to 1366×768 pixels. Unfortunately, the toys will be more demanding of the video card is not on the shoulder, except that some of the 2012-2013 collection will go on low settings. By the way, GeForce 710 M supports DirectX 11 and uses its own 2GB of memory standard, DDR3.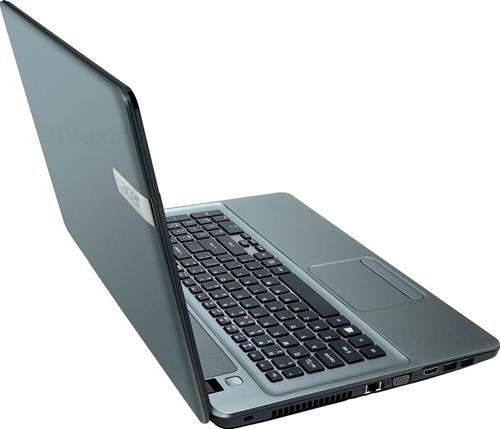 We must understand that the CPU and GPU in this configuration are not powerful enough, however, engineers are fully taken care of the amount of RAM, which provides a standard 8 GB DDR3-1066 MHz. By the way, the capacity of the hard drive is also quite large – 1 TB. For those who intend to store a lot of files that should be enough to spare.
Ports and Communications – Acer Aspire E1-771G
All interfaces laptop Acer Aspire E1-771G occupy the edges. For example, the left are two USB 3.0, HDMI, VGA and LAN port RJ-45. Also has a Kensington lock, separated from the main group of the grille.
Another USB 2.0 on the right. There you can see the slot for charging, integrated optical drive and two audio jacks for microphone and headphones.

But on the front face is only a card reader 5-in-1 and a few LEDs. The rear panel is completely free.
Wireless modules this notebook – a standard set consisting of Wi-Fi 802.11 b / g / n and Bluetooth.
Battery – Acer Aspire E1-771G
The device is equipped with a 6-cell lithium-ion battery capacity of 4400 mAh. The manufacturer claims that the laptop will be able to work autonomously for about five and a half hours. Well, not too much, to quietly work away from the mains.
Conclusion – Acer Aspire E1-771G
Hardly worth ponder over your notebook PC Acer Aspire E1-771G. Everything is simple and clear: run daily office tasks, simple photo editing, no problem you can watch movies. Although listed above provide almost all more or less equipped laptops. In defense of this laptop, you can put a large display, there are two video cards, though not too productive, and comfortable keyboard and a nice unobtrusive design. In principle, there is no compelling reason not to choose as buying this device, because its value at around $ 650 is consistent with the stated capabilities.
Read another very interesting article about alternative energy of the Sun, water and air.