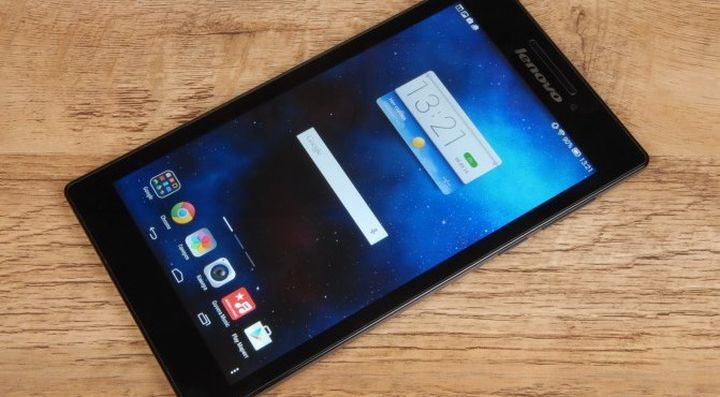 Lenovo TAB 2 A7-10 – this is one of the cheapest tablet manufacturers. This is telling us the price at $ 100 and no front camera. Let's see what kind of product turned out to the company and to whom it may be of interest.
Options
Lenovo TAB 2 A7-10 comes in a simple cardboard box. Inside are the pen tablet, charger with an output current of 1 A, cable and documentation.
Design and usability – Lenovo TAB 2 A7-10
Despite the fact that we face a maximum budget device, the manufacturer did not make it easy to design. TAB 2 A7-10 appearance strongly resembles much more expensive TAB S8-50, just this time we do not get any variety of colors – the hero is only available in classic black.
Front panel covers the glass and the back and sides are made of a single piece of plastic. Due to this construction is achieved normal body rigidity, the build quality does not raise any problems – all a few details perfectly fit, no squeaks and not loose.
Plastic and matte back. On the one hand there are used the most simple materials, on the other hand, everything looks and feels high quality. Dimensions Lenovo TAB 2 A7-10 typical seven-inch tablets – 105 x 9,3 x 189 mm and weighs 269 grams. It is convenient to hold in any orientation with one hand, it is promoted by sufficient width framework, not slippery plastic and lightweight.

Location of controls is standard. The front panel is the only speaker and the front camera lens miniature connectors for connecting cable and headphones are assembled on the right side of the upper face. Power key and volume control in the usual place on the right. The side faces of the plate are made flat, so the keys easy to use, they are clearly distinguishable to the touch. The microphone is located on the bottom, and a memory card slot covered by a neat plug on slightly arched.
Summing up a little, we can say that in terms of design and quality performance, the tablet does not look the budget and there is quite a practical device quality durable body.
Display
Lenovo TAB 2 A7-10 received IPS screen 7-inch with a resolution of 1024 by 600 pixels (170 ppi). Brightness of the display manually varies from 10 to 267 cd / m2, measured contrast was 1: 1526. Between the glass and the matrix has a discernible air gap and has no screen protection olefobnogo coverage.
The quality of the factory calibration is at a low level. The screen has a narrow color gamut, but the biggest criticism is too understated palette, which is why, for example, gray text on a white background has a horrible readability.
The maximum brightness is not enough for comfortable use tablet outdoors on a sunny day.
In general, everything will depend on the usage profile. If you watch videos, play games, or simply explore the interface of the tablet, the screen looks normal because in such cases in front of you is a contrast image.
Hardware Platform
As hardware platform, Lenovo TAB 2 A7-10 acts budget quad-core MediaTek MT8127. It includes core Cortex-A7, running at 1.3 GHz and a graphics accelerator Mali-450. The chipset is a relatively "fresh" solution designed for low-cost tablets. From previous generations SoC MediaTek, it differs primarily an improved video system. The amount of RAM is 1 GB, 8 GB built there, supports memory cards up to 32 GB. Communication modules are represented by a set of standard Wi-Fi 802.11 b / g / n, Bluetooth 4.0 and module GPS.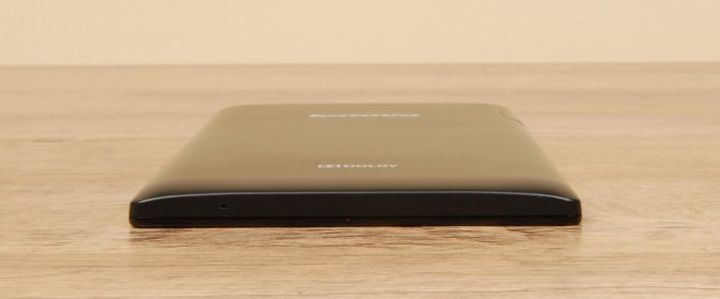 The operating system supports Android 4.4 KitKat c proprietary interface Lenovo. A nice bonus is as promised upgrade to the next version of OS Android 5.0 Lollipop, but the manufacturer does not specify the timing of its release.
In the tablet does not present any surprises. The interface works smoothly enough of the platform for all applications, including games because using low-resolution screen. General speed limiter works rather acts RAM than the performance of the chipset.
To work Wi-Fi and GPS did not have any complaints. Wi-Fi provides normal data rate and the sensitivity of GPS can be called medium – tablet sees a small number of satellites.
At Lenovo, TAB 2 A7-10 has a single speaker, located above the screen so that the sound is always directed to the user. Additionally, the system provides an equalizer Dolby Audio. With off Dolby Audio speaker plays softly and flat – just saying "no." The inclusion of the equalizer increases the volume several times to a comfortable level while the sound is a little bulkier, but "floating". For example, looking at the show, the hero can start talking with a replica of one volume, and its end will be said too softly or not at all be heard. The situation is similar when using headphones. As a result, about the speaker can say for sure that he is poor quality, and system EQ algorithms still need a bit of tweaking.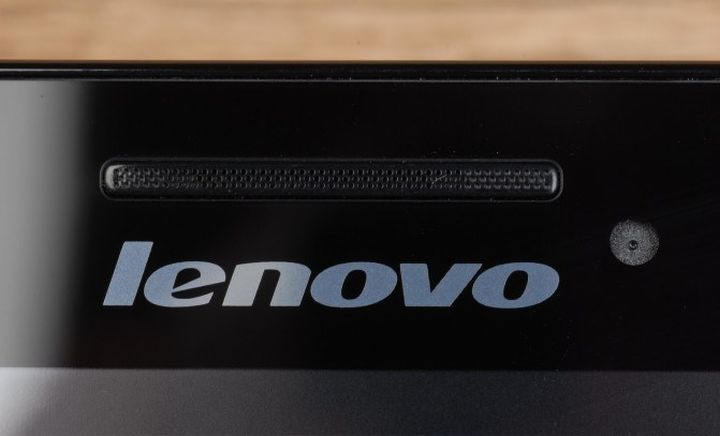 The manufacturer promises that the built-in battery capacity of 3450 mAh, the tablet will last up to 8 hours or 18 days of standby time. In general, the declared figures are close to reality, they confirm the synthetic tests and personal impressions. Video playback with the screen brightness of 150 cd / m2 tablet will last up to 12 hours. Such autonomy is not a record but corresponds to the normal average level for such devices.
Only the front camera of the tablet has a VGA-resolution (0.3 megapixel). Maximum, for which it is suitable – is communication in Skype, but your face will at best simply recognizable.
Results – Lenovo TAB 2 A7-10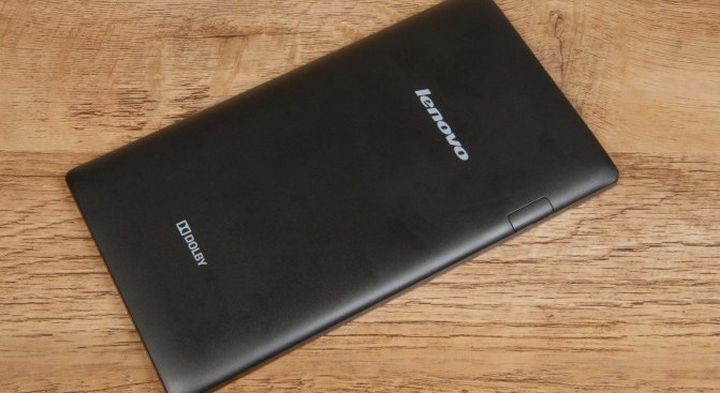 As we said in the beginning, Lenovo TAB 2 A7-10 – this is the most affordable of the "fresh" tablet manufacturer. To achieve an attractive value at $ 100 manufacturer went a few steps justified, for example, completely refused to replace the back of the camera. In this case, the plate was pleasant to use housing, normal performance platform and a good autonomy. A little upset too simple speaker and front camera, but they can live, if you remember about the price of the tablet. At the same time really could use a higher quality screen – let the same low resolution, but with better color reproduction.
In general, the product was typical for its price category, with its own advantages and disadvantages. Lenovo TAB 2 A7-10 may come to those who choose the most affordable tablet quality in a compact body, in order to pass a little time for simple games or watch a series of TV series before going to bed. At the same time it has enough competitors – similar models offer as "Chinese» (Ainol, Cube, Pipo), as well as the most familiar competitors – ASUS, Acer, Prestigio, Impression.
Source: Lenovo
Read another very interesting article about alternative energy of the Sun, water and air.