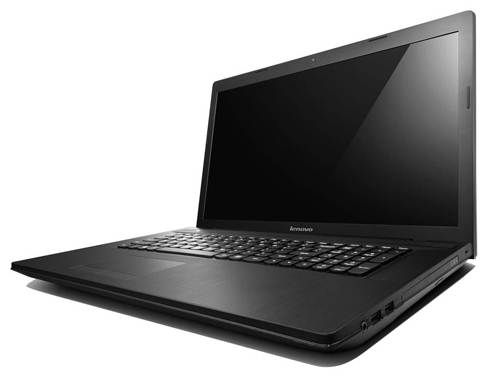 Lenovo G budget line includes not only 15.6, but 17-inch models. Performance of such laptop should not wait, but considering the small cost of these devices, and very good functionality, you can, without a doubt, consider the option of such a purchase.
If we talk about the Lenovo G710, which is one of the representatives of the line, then this is the laptop that will be optimal for users who do not have high demands access devices of this kind. Among them are unlikely to be big businessmen or professionals, while at the same time, ordinary office workers, he likely will appeal. Let's see what the strengths of this laptop, and how much can be justified such an acquisition.
Design – Lenovo G710
The notebook Lenovo G710 simple and attractive at the same time. The body is made of opaque plastic, strongly reminiscent of polished aluminum. He is not quite practical, because on its surface, fingerprints, because of what will often wipe panel. But the construction is solid, the lid does not flex, no creaks. Designers chose unattractive black coloring, however, to draw attention diluted its textured. By the way, the cover itself the logo of the company Lenovo, no other details on the outer surface is not.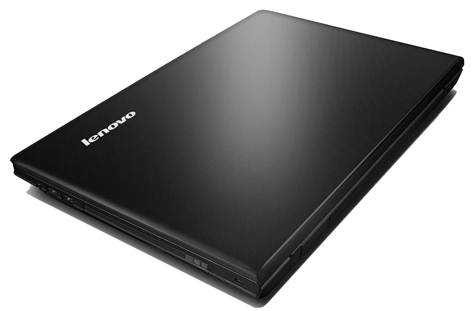 If we talk about upgrading, then this laptop will not cause any inconvenience. Battery is removed quickly and easily slot on the bottom does not impede access to the modules of RAM and hard disk.
Of course, the 17-inch laptop, by definition, can not be too compact size, and prove that the figures: 418x278x36.6 mm. If we add to this unit's weight 2.9 kg, it is unlikely to be a secret that this laptop does not turn too often carry. At the same time, we can say that the Lenovo G710 is very cumbersome.
Display, audio, webcam – Lenovo G710
Laptop screen is large enough, it has diagonal size 17.3 inches and a resolution of 1600×900 pixels. For work that is enough, because on such a display can be freely disclosed to place two windows application. By the way, watching movies also bring discomfort, except that you have to adjust to slightly glossy surface, but rather the inevitable glare. At the same time you get a bonus in the form of rich colors and high contrast (about 1100:1). As for the brightness level, it does not exceed 260 cd/m2, which, in principle, fine for most tasks.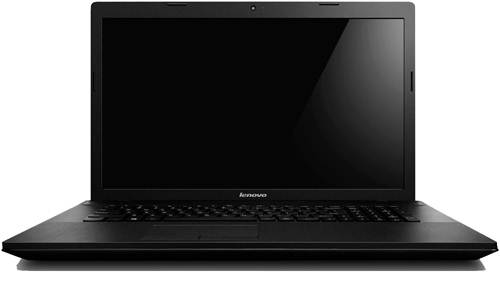 Screen visibility is typical for a standard TN-matrix. So much fail vertical viewing angles – even a small deviation begin severely distorted colors. With horizontal much easier inversion occurs only if too deviate from the straight position.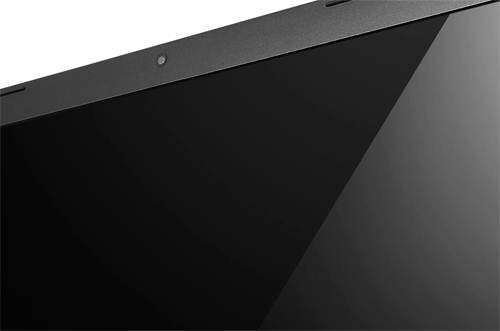 Webcam laptop has a pretty low resolution 1 megapixel, so count on the chat in Skype and nothing more. If we talk about acoustics, the Lenovo G710 has two stereo speakers and support for Dolby Advanced Audio. While listening to music will be heard loud and relatively clean sound, so that is not to blame for that.
Keyboard and Touchpad – Lenovo G710
Laptop equipped with an island keyboard AccuType with relatively large buttons. The main keys are complemented by a digital unit, which also has a normal size.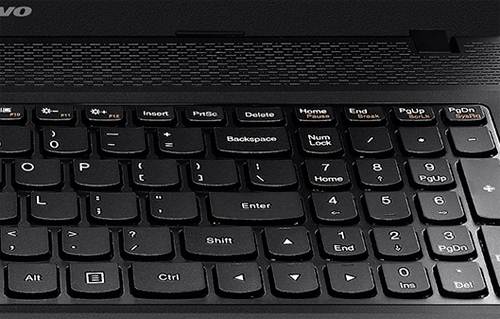 We can not say that the keyboard is in the ideal, because makes itself felt fuzzy returns each time, as well as deflections during an intense set.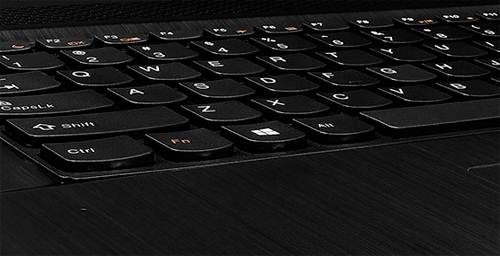 As for the touchpad, it is made in the traditional style, ie ends with two physical buttons. By the way, the buttons work pretty hard, but to touch the site itself does not have to get used to because your fingers glide over the surface without delay, and excellent sensor responds to any touch. It is worth noting that the pad is slightly shifted leftward from the center, but discomfort during operation it does not.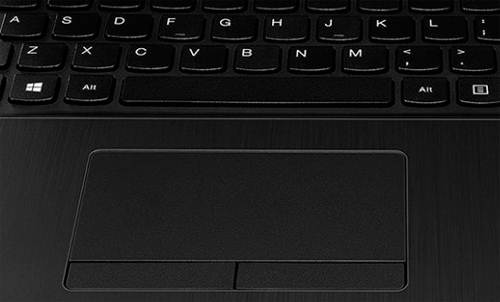 Performance – Lenovo G710
In the Lenovo IdeaPad G710 (59-410795) no pre-installed operating system. And this can not be called a complete set of the most powerful. So, with the calculations here copes dual-core processor with Intel Pentium 3550M 2.3 GHz and third level cache 2 MB. It is built on 22-nanometer technology, but, unfortunately, does not support Turbo Boost technology and Hyper-Threading. Besides the power consumption of the chip is not too low, it is 37 watts. Haswell processor will not be able to provide high performance, however, for simple everyday tasks such as web surfing, video playback, of course, typing his power enough.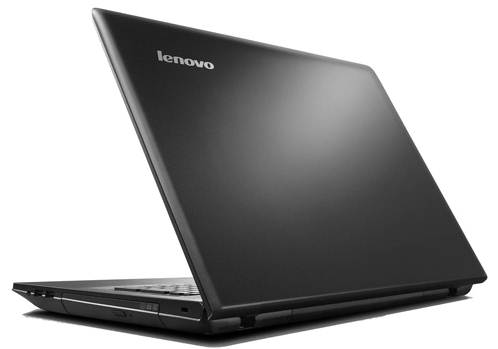 Do not count on high-quality graphics processing, despite the fact that there is installed integrated graphics Intel HD Graphics (Haswell) and discrete NVIDIA GeForce GT 820M. Built-in accelerator supports DirectX 11.1, well decodes video, and performance, in comparison with the Intel HD (Ivy Bridge), looks more advantageous. However, with him you should not rely on resource-intensive applications and many new games. Special rates are not worth doing, and on the second card – GeForce GT 820M, which has 2 GB of memory DDR3 memory and supports DirectX 11. Certainly, it is better integrated HD Graphics, but refers to the primary level, and hence is not too strong to confidently handle with complex calculations. However, you can use it to play Call of Duty: Ghosts at medium settings with a resolution of 1366×768 pixels (25-26 fps) or Batman: Arkham Origins (32-33 fps). Same F1 race in 2013 could go free on high settings with HD-resolution of more than 45 frames per second.
Good support system performance can be regarded as 4 GB of RAM standard DDR3-1600 MHz. For there are two RAM slots, so you can expand the amount of memory by installing strips in the second free module, for example, up to 8 GB or 12 GB. Data can be stored on the hard drive capacity of 1 TB. That's enough, even if the owner except documentation plans to create multimedia collection.
Ports and Communications – Lenovo G710
Interfaces laptop occupy the edges. Left taken power socket, VGA, HDMI and one USB 3.0 standard. In addition, there is a card reader SD / MMC and network RJ-45 port. But on the right side is two USB 2.0, Kensington lock slot and a combined audio jack for microphone and headphones. The main part of this face takes an integrated optical drive DVD Super Multi with support for Double Layer.


Of wireless communications provides Wi-Fi 802.11 b / g / n, Bluetooth 4.0 – in general, a standard set that can be found in almost every laptop. The only thing that Wi-Fi transmitter is not too fast, he catches a good signal only when it is close enough to the access point.
Battery – Lenovo G710
Of course, Lenovo G710 laptop can work not only on the network, but also from the battery. It stands 6-Cell Lithium-Ion Battery 4400 mAh (48 Wh). For a balanced regime of its charge lasts up to five hours. This, though not a good result, but not the worst.
Conclusion – Lenovo G710
This laptop certainly can recommend to buy, but it is better not too demanding users, because apart pros and cons found here. For example, the processing power is not always enough for demanding tasks, and the display will not be pleased wide viewing angles. At the same time, 1TB hard drive – a godsend for those who are going to store a lot of files, and a robust housing and a decent autonomy allow Lenovo G710 regarded as an acceptable option for infrequent, but perhaps necessary trips. If we add a comfortable keyboard, the required set of ports and a built-in optical drive, it turns out that the purchase of such laptop solve many problems, including financial, for the purchase does not exceed the threshold of $ 600.
Read another very interesting article about alternative energy of the Sun, water and air.