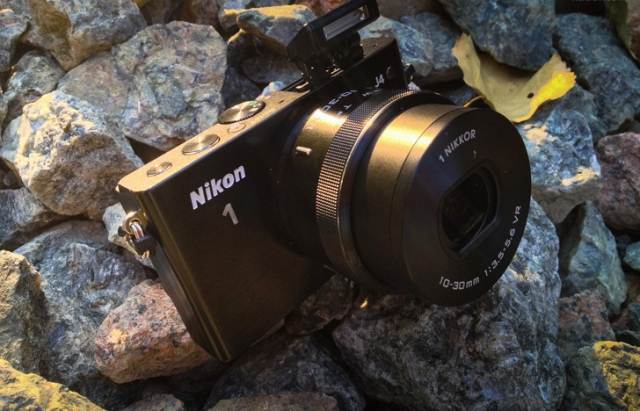 To a certain bike someone just had to choose between "intelligent and beautiful" and not knowing which way it go. Around the same conditions were set and buyers who are trying to sort out the photographic technique. Well, in the end, priority? Quality or size, compact or picture?
Indeed, almost all in the distant early 2000s "CD" is associated not only with the small size, but with low quality images. A Nikon 1 J4 "SLR" – with a high price, almost a necessity for special education and excellent, professional quality.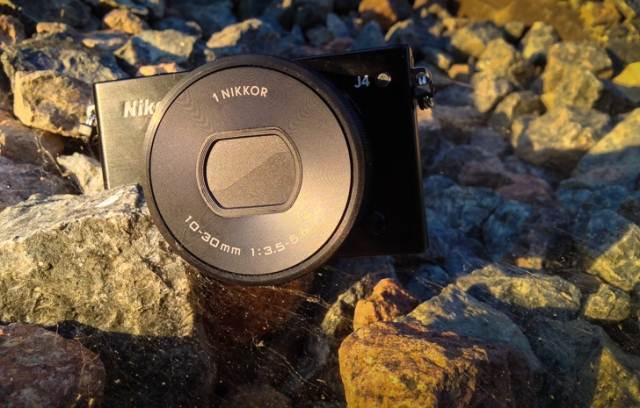 Now, such a choice, fortunately, it is not necessary. Now on the market are taking their place in the sun bezzerkalki or system camera. In fact – a compact device with a large and a good matrix, as well as removable lenses, offering high mobility and creative possibilities.
Design – Nikon 1 J4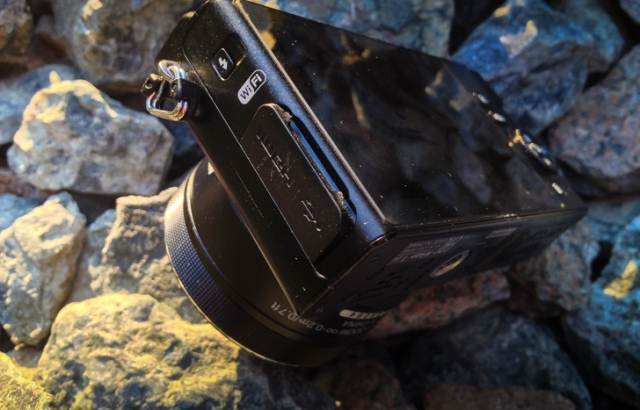 Appearance of the camera – neither give nor take a soap dish with a protruding front lens. The body is made ​​of metal nice curdling hand, which, however, substantially heated by the sun.
Labor – excellent grip – not the most convenient for the majority of the huge hands. However, the ergonomics here yet more from the "compactness" rather than on "quality".
On the front side of a small rectangular bar contains absolutely nothing but mount and the lens release button.
Left – the flash pop up button and ports HDMI / USB under a plastic flap.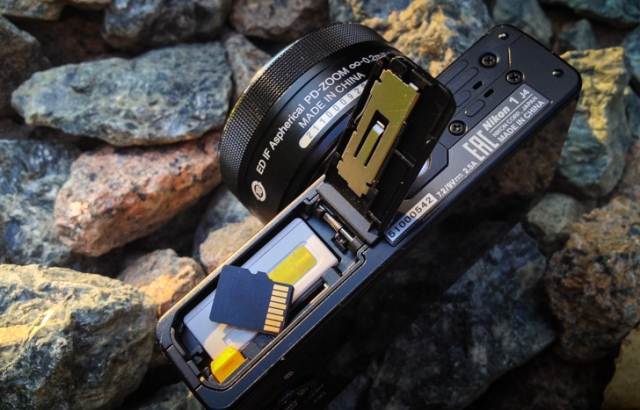 The right side is empty.
Bottom – tripod socket and the battery compartment. Next to the battery – Card slot MicroSD, which I thought was very uncomfortable – to lose the card smaller much easier.
Occupies the upper end in-body flash with jumping mechanism that we have seen in some and even some devices on / off button / shutter button, the REC and the mode dial.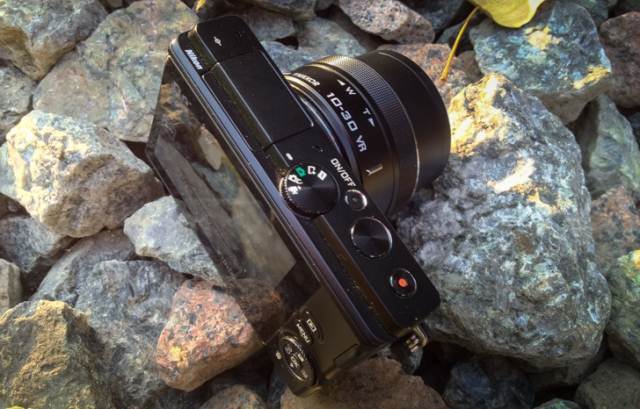 Actually, the mode dial some minimalistic, there are only five points. In addition to Auto and "enhanced video" there is also a rapid sequence of motion (which creates somehow short ten-second commercials for obsessive melody – it turned out that the shooting occurs at a rate of 60 frame / s, then the video is played back at a speed of 24 k / s, but not all, but only a part of …), shooting better time (20 images at a rate of 60 frame / s to select the best), and creative. It is in the last paragraph and includes manual PASM, but they need to look long and hard at the menu. Why not put it all on the mode dial – is not clear.
Behind Nikon 1 J4 – a three-inch touchscreen display with a resolution of immovable 720 × 480 pixels. It's bright, well behaved in the sun, allowing initialed even on a bright day. In addition, the onscreen buttons just for poking optimal size.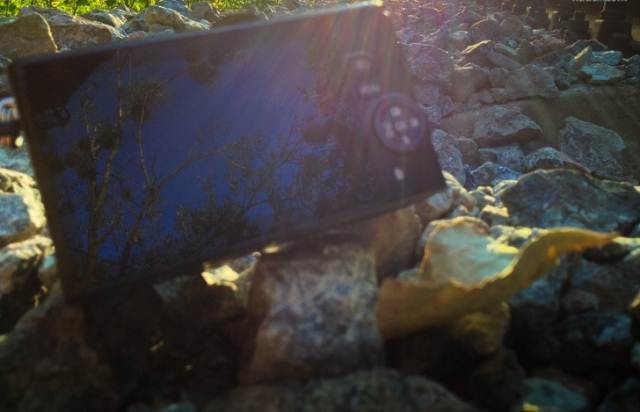 Right of the screen – the option for viewing and deleting pictures, menus, and five-way joystick-wheel.
Inside – Nikon 1 J4
The camera Nikon 1 J4  has a processor Expeed 4A, or rather, as I understand it, the two of them here. One is responsible for the speed, the second – for the image. Role film performs inch matrix 18 Mn, without AA filter. This bundle provides decent results, both in speed burst shooting, which here is 20 / s at AF tracking, and quality. The dynamic range is sufficient for the majority of full-time situations is here and D-Lightening, which is hidden so that the user is not found.
Autofocus – Nikon 1 J4
The module then set steep – 171 and 105 point contrast phase sensors provide guidance on lightning objects, however, in good light or with light fast optics. Otherwise, a small false passages you will be provided.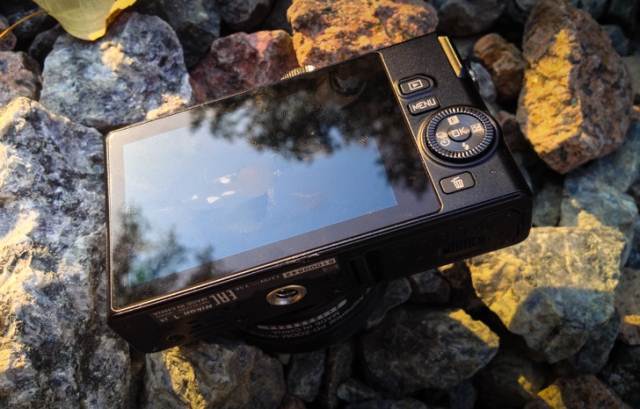 In 2014, the opportunity to write to 1080p at 60 f / s no surprise. There is also the ability to record slow-motion, 768 × 488 pixels at 400 / s and 1200 / s at 416 × 144 pixels. Why and to whom it may be necessary in today's world of increased separation capacity, I do not understand. Set to be, I guess. Microphone and headphone port is not here.
Other features – Nikon 1 J4
But other possibilities here stuck a lot.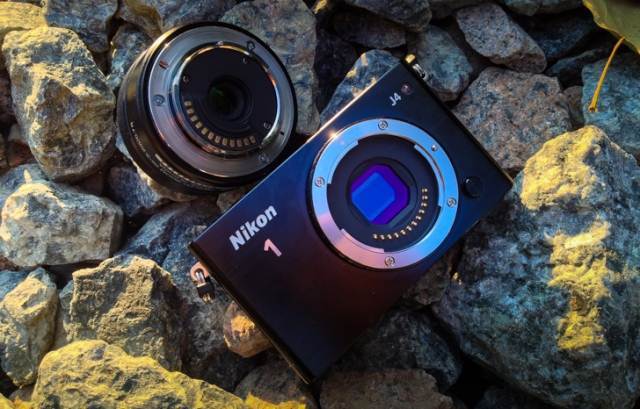 There was an opportunity here to podkonnektit smartphone camera using special utility. However, thanks to the name Mobile Wireless Utility and absolute disregard for the words Nikon 1 J4  will have to look for it online or manual. The connection is pretty standard – charged smartphone, distributed camera network connected – shoot, view photos, Sharim them and do everything they do modern people with this feature.
Improved here and editor – now, in addition to the standard photographic base, you can also do "ragged assembly", "acceleration" and "4-second spot."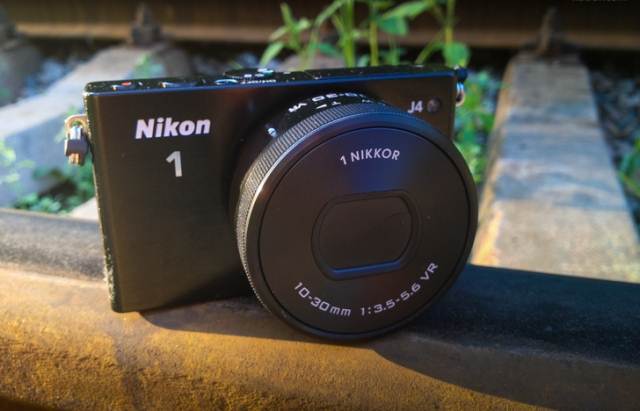 Nikon 1 J4 is also a simple panorama and HDR, and a variety of creative filters such as cross-process. I do not know why, but when the data processing filters and wanted to walk around the city and take everything like lomografistu – from the hip without looking.
Only now I do not understand the course of Nikon 1 J4 .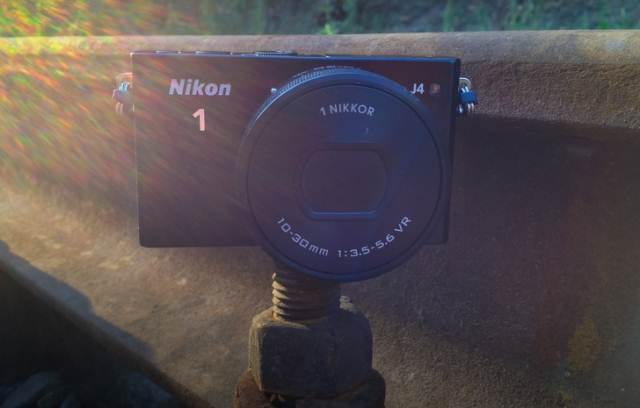 One gets the impression that the design of this camera they brought in a special post – antiuser interface designer. All of these features, for example, PASM, hidden so far, it's easier to already include machine and remove it. Though perhaps it was payment. It seems people will not read our review, the store shook his hands j-version can not find the manual settings and say, "Well it, this bar of soap with a gun, give me the v-model is better." Overpay and leave happy.
Liked – Nikon 1 J4
Design
housing
touchscreen
speed
Burst speed
Image quality
Low noise
AF
Do not like – Nikon 1 J4
ergonomics
no hot shoe
meager selection modes on a mechanical drive
immovable screen
confusion and absolute unfriendliness menu
price
Outcome – Nikon 1 J4
The camera Nikon 1 J4 is probably the parity between the pros and cons. It is compact, but ergonomics is lame, it is good quality images in the photo, but confusion and incomprehensible menu, good opportunities for the video, but there is not even a rotary screen. But the main drawback would be its price, which is $ 620. And it's grandly much.
Read another very interesting article about alternative energy of the Sun, water and air.