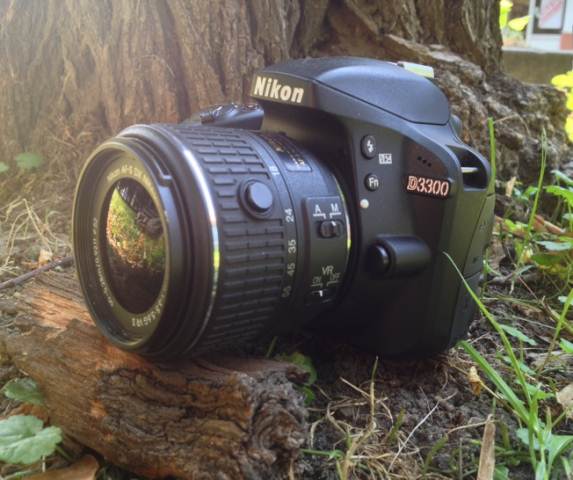 Every company has such a device – cheap, not enough stars in the sky and no technically or technologically. Typically, they are used to call simply. When this call somehow casually with a touch of irony, condescending.
Only here it is in vain, because most modern devices have long ceased to be  in the bad sense of the word and can easily offer their owners many opportunities for not very much money. Do not believe me? Before you – Nikon D3300.
Appearance – Nikon D3300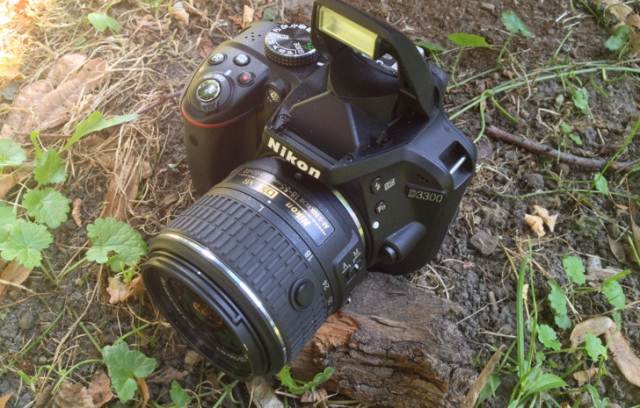 You take the camera in hand and … well, it does not shine premium materials. Although plastic housing built spectacular soundly. No crunch or play you will most likely not achieve, although no persistent barriers. But thanks to the small size of the device fits in your hand is not as reliable and safe as we would like. In general, do not understand what to do for fashion device small budget, and top – great. As if the size solves.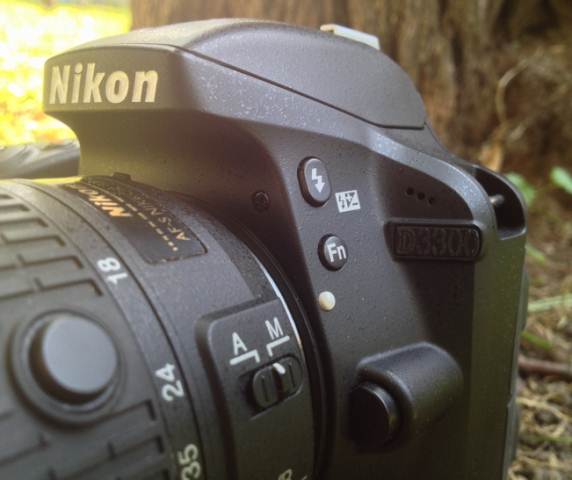 On the front side – serving handle, bayonet and a few buttons – removing the lens, flash and functional. Bayonet – a metal that is good, but "screwdriver" is not here – have to use lenses with autofocus motor. Such solutions are typical for Nikon – still in the lineup could be seen D40/D60/D80 like.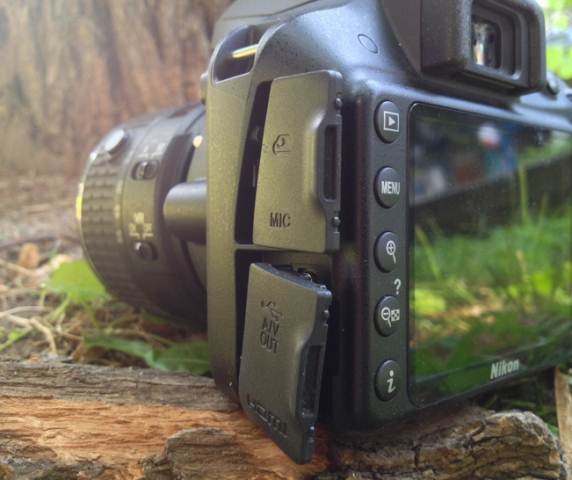 On the left side, under the plugs – ports for remote control, AV / TV Out, HDMI and even a port for an external microphone. For the most affordable SLR manufacturer – very cool.
Right – nothing but the memory card compartment.
Back face – habitually the busiest.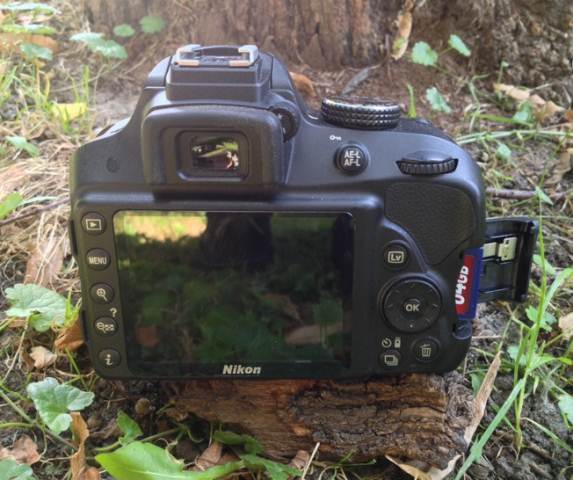 Most of the space is occupied by a three-inch display with 640 x 480 pixels. He immovable and non-touch, and at a decent resolution pictures look faded and "not very".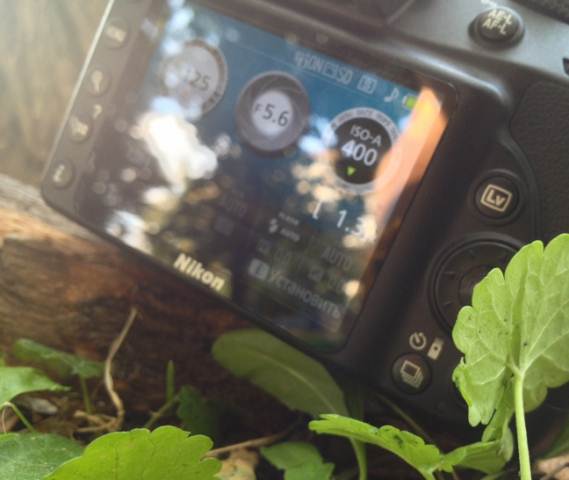 Left – five buttons: Play, Menu, Zoom In / Out, info.
Left thumb – change the wheel adjacent to key AE-L, the switch to Live View, the choice of "pulling" the deletion of photos and a five-way joystick with the "OK" button in the center.
Above the display is the viewfinder diopter adjustment wheel.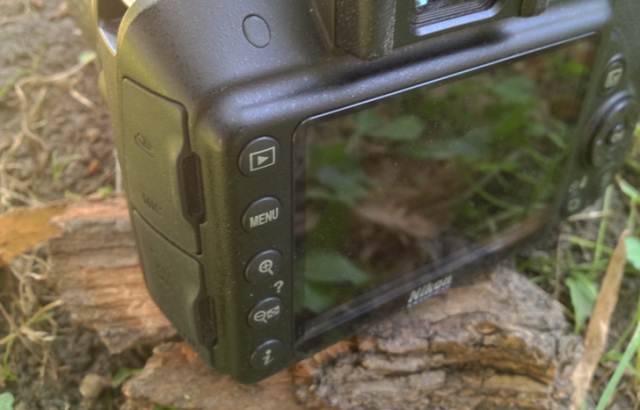 On the upper face – the absolute minimum. Here – the hot shoe and built-in flash, mode dial, and the handle on the gun – the shutter wheel on / off switch and three buttons: REC, info and exposure compensation.
Below – as always. Tripod mount and battery compartment.
Inside – Nikon D3300
Matrix standard for this class of devices. This APS-C CMOS 24 MP, but antialiasnogo filter is not here. When using good optics detailing promises to be a cut above.
Processor – Expeed 4, is the latest development of the company, established in D4s/D810.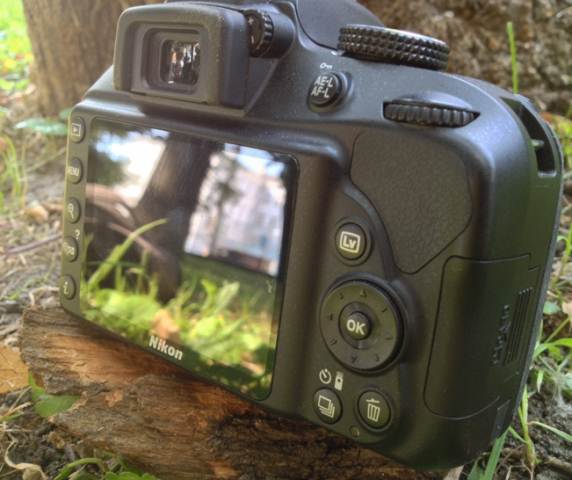 This solution provides absolute lightning-like device when navigating through menus and viewing / saving / editing RAW-files.
Continuous Shooting – 5 k / s, which should be enough for fans. Range ISO – 100 to 12800, 25600 – in the extended mode. Noise reduction system in the new "brain" works quite correct and well – with the right post 6400 will produce good results, even when printing A4. Values ​​above should either incredibly long and hard to handle, or do not use as much as possible.
Dynamic range images is very good. Even under difficult lighting conditions, shadows, and the penumbra of light transmitted correctly and juicy. If the standard is not enough, you can include D-Lightning, but no HDR – will have to remove the fork arms. As stapled.
Autofocus – Nikon D3300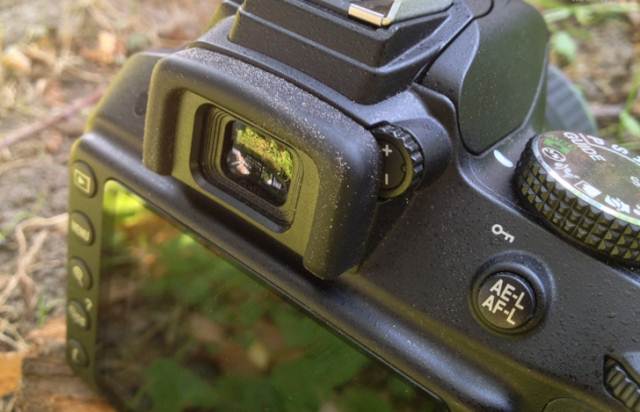 He immediately on 11 points with a single cross-type sensor. It's kind of a bit, especially knowing love Nikon to maximize this index, and like and is sufficient for most situations that arise not only for beginners, but also for more advanced people. In addition, some manufacturers manage the same number of points to put in their full-frame model, so that for the younger representative – excellent.
Tenacity AF – normal, nothing more. When using a lens with a motor, everything happens quickly and correctly, in poor light conditions occur false drives forward / backward.
Videography – Nikon D3300
Rollers can be recorded at up to 60 / s at FullHD progressive. It is excellent. However, iris control mode LiveView is not here, yes, indeed, no one expected. But the presence of the port for a microphone in the youngest model – it's super. Because the sound quality will be available from the beginning, without having to upgrade.
Features – Nikon D3300
From what I liked, and I'm sure will appeal to many – tips. In fact, it is a short guide to the world of photography, which in letter form will explain that, what, why and how. So not only will you mindlessly shoot on automatic settings, but also learn what is responsible for what.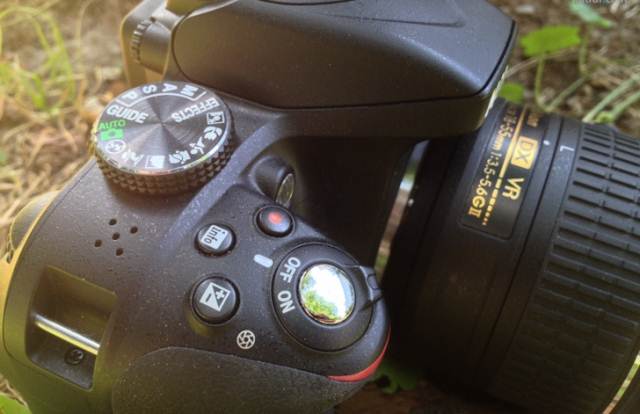 Second "chip" devices become embedded rangefinder. This allows beginners wishing to learn how to manual focus, do not lose because of defocusing beautiful frame. Rangefinder works as follows: when you switch to manual focus in the viewfinder lights up a small bar that moves left and right, depending on how much you missed in sharpness. If all is well – the line becomes a point, hovering in the middle.
And the third – Easy Panorama. Put mode, press the shutter button and the camera led to one of the parties.Automation will do everything for you.
Liked – Nikon D3300
faster processor;

absence of AA-filter;

low noise;

wide dynamic range;

a port for a microphone;

excellent features for beginners – rangefinder, tips, easy panorama;

video recording 60p FullHD;

good autofocus.
Dislike – Nikon D3300
lack of "screwdriver";

lack of regular HDR;

Unable to switch aperture in video;

lack of the Wi-Fi.
Output – Nikon D3300
Nikon D3300 can be purchased for around $ 500. Perhaps for "beginner" camera it may seem a little expensive, but there is much more useful – the port for a microphone, noise reduction is good, acceptable to 5 / s continuous shooting, decent video, tips, rangefinder, panoramic – in general, all that so urgently needed during the development of the novice. This camera TIPA nominated as "Best SLR Entry Level" and I think she deserves this award.
Read another very interesting article about alternative energy of the Sun, water and air.