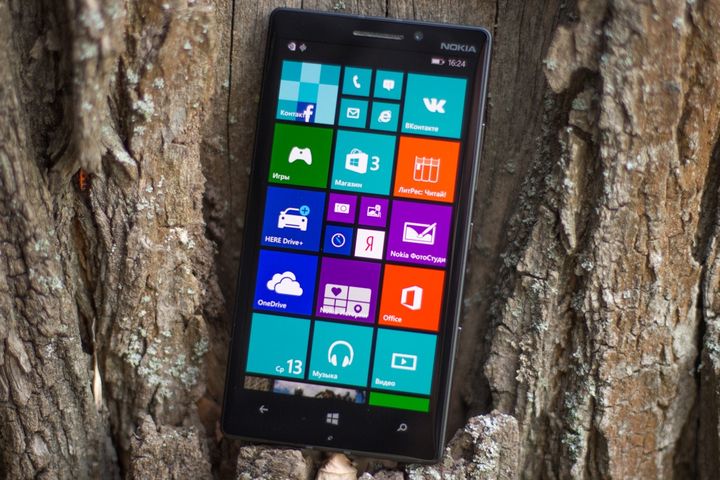 Smartphone Nokia Lumia 930 runs on Windows Phone 8.1. Brief specifications of the smartphone Lumia 930: 4-core processor Qualcomm Snapdragon 800, 2.2 GHz, 2 GB of RAM memory, 32 GB ROM, work in the frequency bands GSM 900/1800/1900, standards support data transmission GPRS, EGPRS, EDGE, HSPA, LTE, interfaces, Bluetooth 4.0, microUSB 2.0, Wi-Fi 802.11 a / b / g / n, chamber 20 and 1.2 Mpixel., built-in GPS chips with feature A-GPS, GLONASS.
The first Nokia smartphone running WP 8.1 and, concurrently, the current flagship of the manufacturer. Trump card – 20Mp PureView camera with optical image stabilization, optics Carl Zeiss , dual LED-flash and numerous fotoprilozheniyami. How successful was model as the next "killer" shoot cameras from Nokia and is worthy of its price tag if at $ 630. All this and not only on.
Scope of delivery – Lumia 930
The smartphone comes in a cardboard box with a new design for the Lumia devices – now it is more compact and is in bright colors.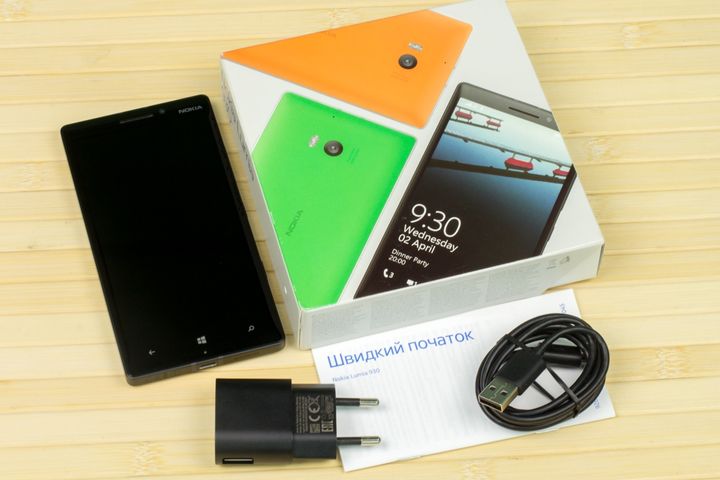 In the box to the Nokia Lumia 930 manufacturer put charger adapter cable, USB -micro / USB and documentation. Given the price tag of the device positioning and I am personally surprised by the absence of the headset. Obviously, the Nokia emphasis on picking this model does not emphasize.
Design – Lumia 930
Lumia 930 is a heavy (167 grams) bar with a metal frame and a 5-inch OLED LCD monitor.
Design smartphone, in my opinion, definitely not boring due to the effect that creates its appearance slightly convex protective glass Gorilla glass 3, covers the front panel.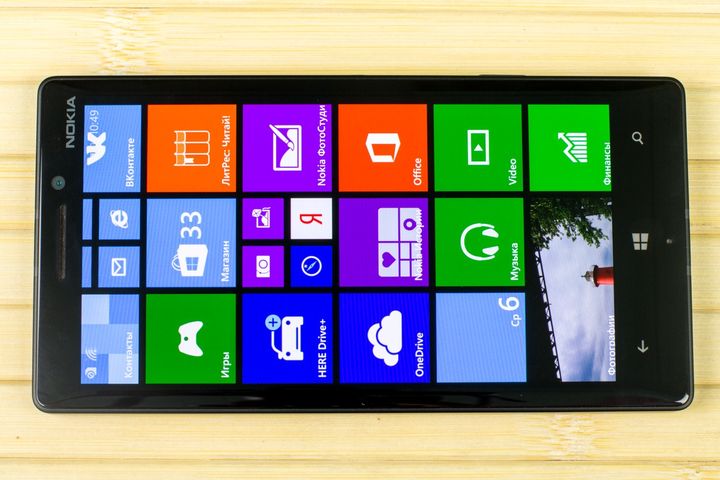 I'm sure many will like a soft-touch soft-touch coating the rear panel, through which smartphone does not slip in your hand. Chosen by the manufacturer quality material seemed to me, although predicting its "behavior" with careless use of a tube not say.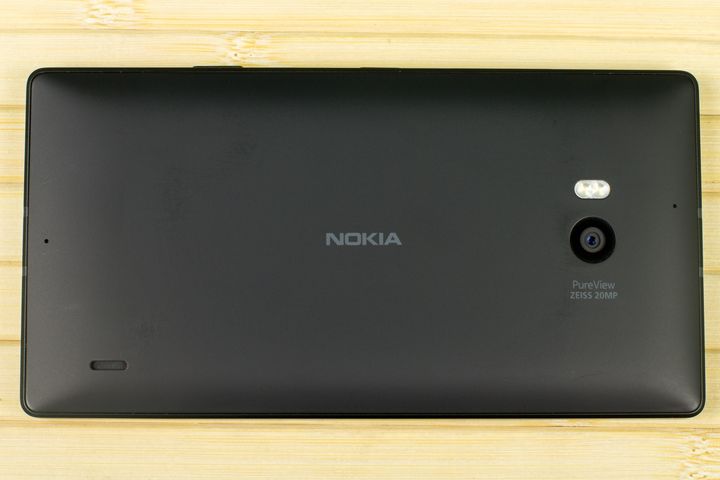 Version of 930 minutes with a white and bright orange coloring will suit young and energetic, we also got to taste the classic black device.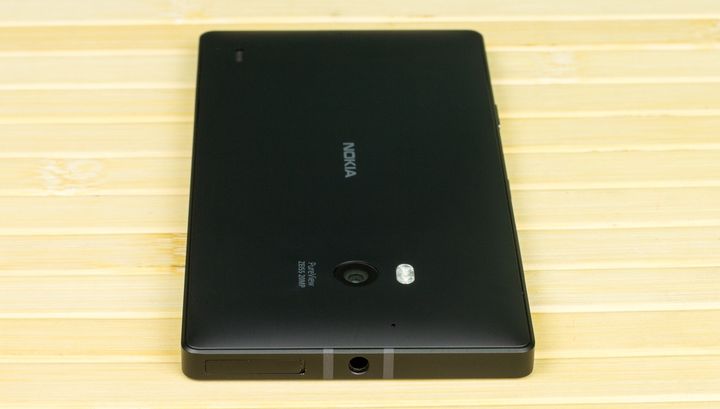 To build quality is difficult to find fault even with a strong desire, as the body of the smartphone Nokia flagships traditionally monolithic – no squeaks, not "playing" in the hands.

Lumia 930 has received support wireless charging Qi, for which he had to pay a rather "plump" body (137x71x9,8 mm) compared to the flagship competition. However, despite this, it is quite comfortable to hold even in a female hand, and all the controls are placed close enough to each other, within easy reach of the thumb.
Functional elements – Lumia 930
At the top of the front panel are the earpiece grille, eye 1.2Mp front-facing camera, light sensor and proximity, as well as high-performance digital microphone HAAC (High Amplitude Audio Capture), used for directional stereo.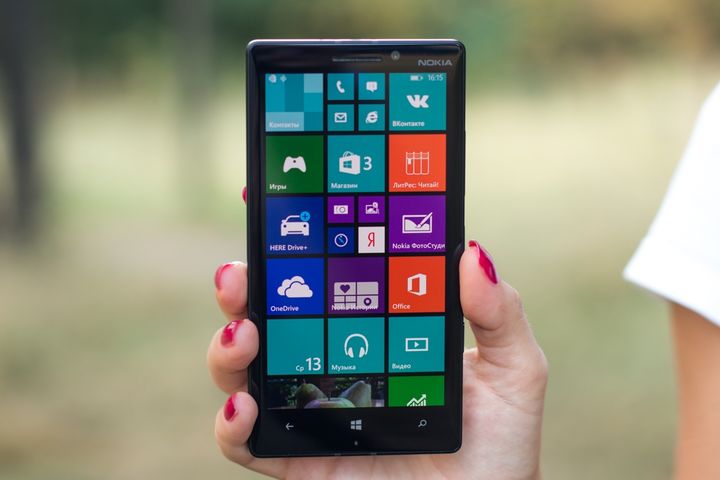 The latest in a tube only four – one located under the system using the "Back", "Start" and "Search", and the two remaining top and bottom of the rear panel. Their "tandem" implements technology Nokia Rich Recording, which allows you to "cut off" background noise when recording sound during video recording and so, consequently, improves the quality of sound. The dynamic range of the recording for Nokia Rich Recording is 107 dB (from 33 to 140 dB SPL).
On the back of the smartphone user "find" a small output speakerphone, basic eye PureView 20Mp camera, dual LED-flash and the logo of the manufacturer.
The top end is placed under the 3.5mm audio jack and a sliding slot for nano-SIM card. By the way, to open it does not need a special "clip", it is enough to hook.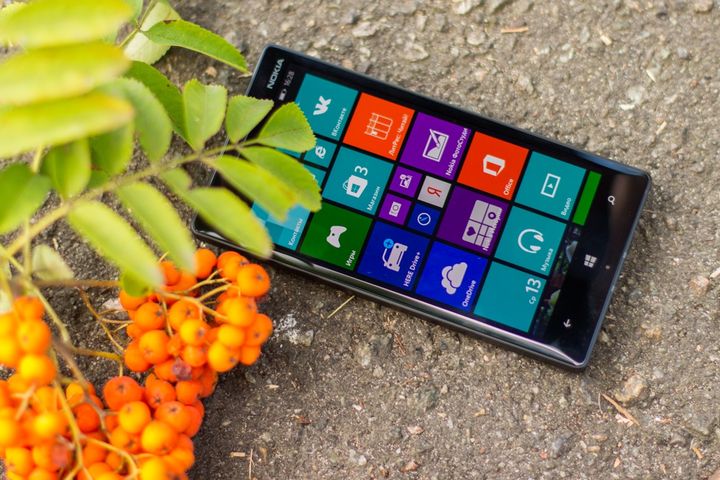 At the bottom of "marginalia" to equip the port micro-USB, and on the right are located the volume rocker, power button and start key camera / shutter button.
Display – Lumia 930
Lumia 930 has a 5-inch OLED-display with a resolution of 1920×1080 pixels, pixel density per inch – 441.
Traditionally, the flagship Nokia screen is made using a proprietary technology ClearBlack, which provides the most clear and vivid display of colors, especially black.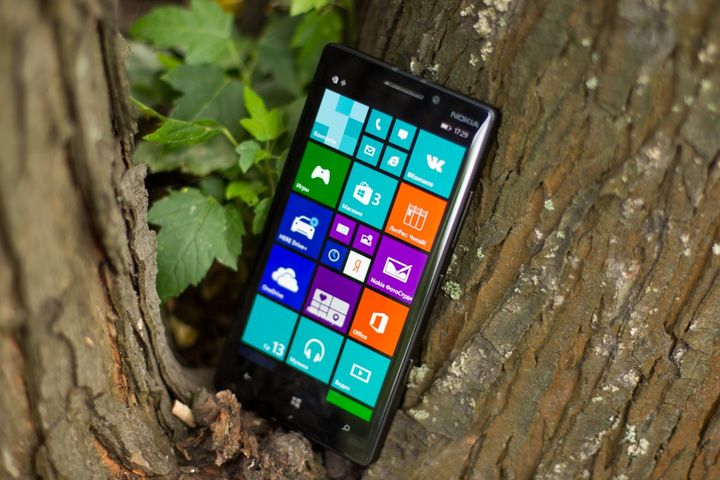 From small bumps and scratches protects him slightly convex glass Gorilla Glass 3.
The screen has high contrast and excellent viewing angles both vertically and horizontally. Reserve its brightness enough for any environment, including for comfortable reading under direct sunlight. Everything else, in devayse implemented an optional feature that allows you to work in bright light.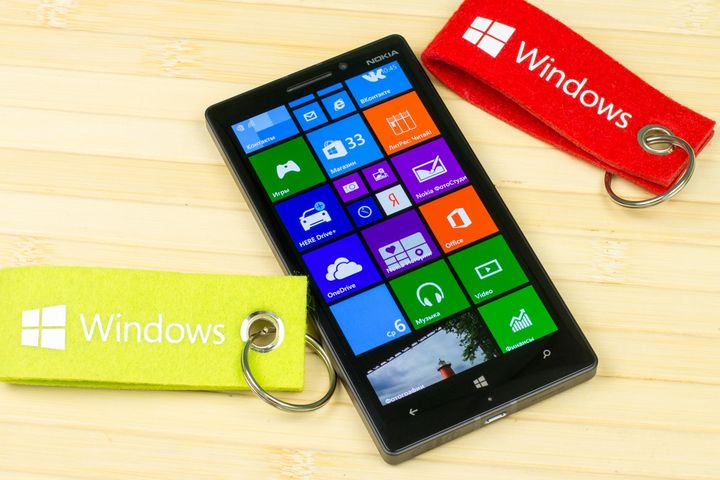 The backlight is adjusted manually, or (s) automatically. In addition, the disposal of the user several display modes display – Use the slider to play with the brightness and saturation to make more muted colors or overstated.
One of the major "chips" screen Lumia 930 – possibility to control it not only finger but also nails, stylus, as well as all types of gloves. Sensor layer is responsible for 10 simultaneous touches.
Features and performance – Lumia 930
"Heart" became the flagship 4-core Qualcomm Snapdragon MSM8974 800 with a clock speed of 2.2 GHz and Adreno 330 graphics. The RAM is 2 GB.
"Iron", but not "top" of today, however, provides excellent performance WP-smartphone – Play Full HD -video, smooth operation interface, smart Web surfing, quick application launcher and no slowdown, even in the most demanding games . Here are just a load of smartphone gaming heats up at the bottom.
Memory – Lumia 930
The volume of the built-in flash drive with the capacity of the tube and there is no slot for memory expansion, plus support for USB-OTG specification is not the largest – 32 GB, of which you will get around 25 GB. There is a kind of "bonus" in the form of 7 free gigabytes of cloud storage OneDrive.
Communications – Lumia 930
In this respect, Lumia 930 all the latest technology, as indeed befits a flagship. There is support for all networks, including 4G LTE, 2-band Wi-Fi 802.11 A / b / G / n / AC (2.4 GHz and 5 GHz), Wi-Fi Direct, DLNA , Wi-Fi Hotspot, Miracast Bluetooth 4.0 , GPS , GLONASS and NFC .
Autonomy – Lumia 930
Capacity 2420 mAh non-removable battery that allows the smartphone to work with moderate use day and a half. On average it lasts for 4-6 hours of playback Full HD video, depending on the brightness of the screen, or 15-16 hours of talk time.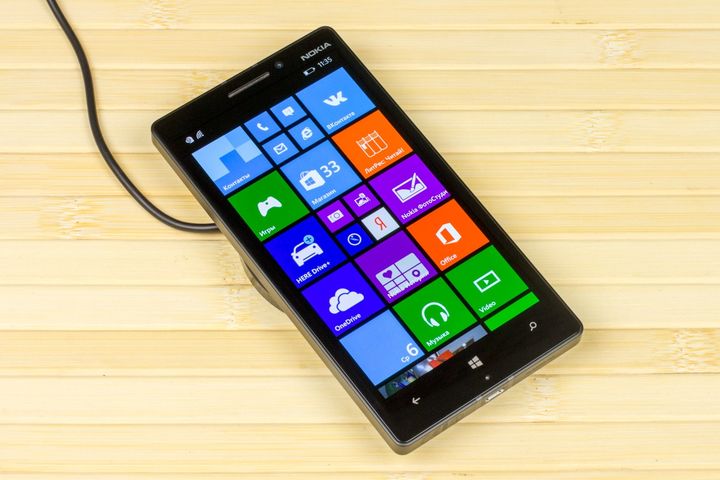 Charge can "fill up", including through the wireless charging standard Qi. For example, I use the battery panel DT-601.
All very easy – just connect it to any USB-port and you put it on your smartphone. By the way, the manufacturer offers a variety of other accessories for recharging "mobile friend" in all shapes and sizes.
I also note that in the settings devaysa provides power save mode.
Speakers – Lumia 930
The volume of the first high – the interlocutor can hear clearly and legibly. In general, the voice quality is great.
Multimedia power is enough for a comfortable listening to the audio in a room. In other cases still rely on headphones. By the way, the last connection gives you access to more and FM-radio.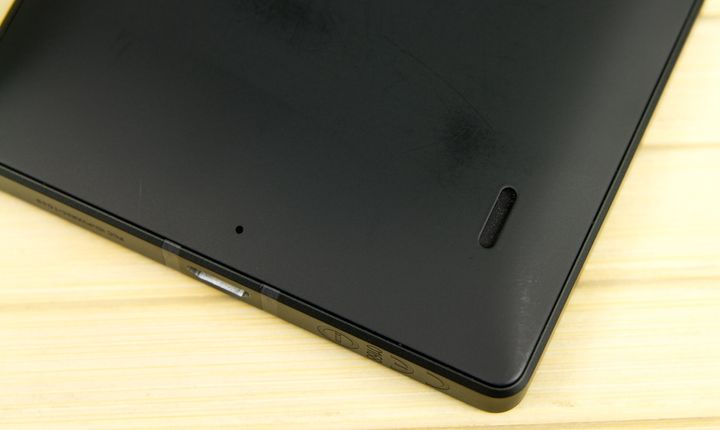 In Lumia 930 uses audio technology Dolby Surround Sound and has a built-in equalizer. Start with features audio equalization and improvement of dialogue. In turn, the EQ allows you to optimize the sound quality of the music player in accordance with the style of song you listened to. In fact, everything is the best way affect the quality of the reproduced sound.
Camera – Lumia 930
Lumia 930 by analogy with the test before Lumia 1520 got photomodule branded PureView with 20-megapixel sensor 1 / 2.5-inch BSI-matrix.
That's the only difference being the pore fableta Finns in 2014, the flagship of the camera lens, which uses 6-lens optics Carl Zeiss, an inch sticks out above the surface of the body.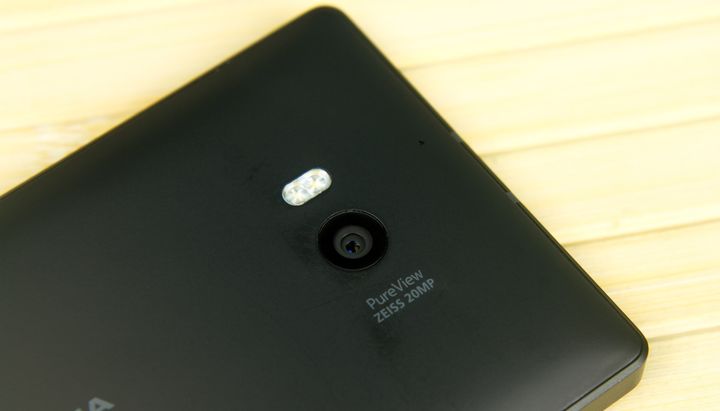 Its effective focal length – 26 mm, the minimum focus range – 10 cm, and the maximum aperture – f / 2.4.
Camera systems supplemented AF and optical image stabilization, dual LED flash. It is worth noting also 2x digital zoom when shooting and 4-fold when recording video. Last smartphone shoots in a maximum resolution of Full HD at 30 frames per second.
Another "plus" camera Lumia 930 – the ability to take photos in the "raw" format RAW (DNG), thereby giving the user the opportunity to "create" your photos with all that your heart desires.
Thanks to this set of characteristics, as well as numerous specialty fotoprilozheniyam camera smartphone makes high-quality images even in the most well lit and in automatic mode. And if you use the manual, allowing yourself to change the exposure, white balance, the value of ISO and shutter speed, eventually you can get off and on sort of a "fotoshedevr" who is not ashamed to hang the frame.

By the way, you can take pictures with the virtual keys on the display or the most convenient, special hardware button on the case.
The user is a large number of fotoprilozheny, allowing to simulate the photographs depth of field, to apply animation effects, special filters and stuff.
For example, the Nokia camera that combines modes Nokia Pro Cam and Nokia Smart Cam, allows you to not only edit photos but also sharing them in social networks. «Nokia Stories" as photo diary, combines photos by time and place of the shooting in such a "story" and "Revived photo" of a series of frames "creates" the animation in the selected image area.
In front of the wide-angle camera 1.2Mp matrix and a lens with an aperture of f / 2.4. It records video in HD-quality and it is enough for the self and communication in Skype .
Software – Lumia 930
The smartphone runs on Windows Phone 8.1 Lumia Cyan with many useful features and preinstalled free services from Microsoft and Nokia. Among them: a program to work with office documents Office, OneNote – analogue of the usual stationery pad, navigation package from HERE Drive +, HERE Maps and HERE Transit (cards work in offline mode), applications Bing: «Health and fitness", "Cooking" , "Finance", "News", "Travel", "Sport", "weather", and many others.
Smartphone desktop consists of three columns of live tiles, and Notification Center drop-down shutter presented with access to all notifications and settings. In addition, the platform is built personal voice assistant Cortana, provides separate volume control and new lock screen customization.
Conclusions – Lumia 930
Nokia Lumia 930 is probably the best solution in the segment of smartphones Windows Phone 8.1.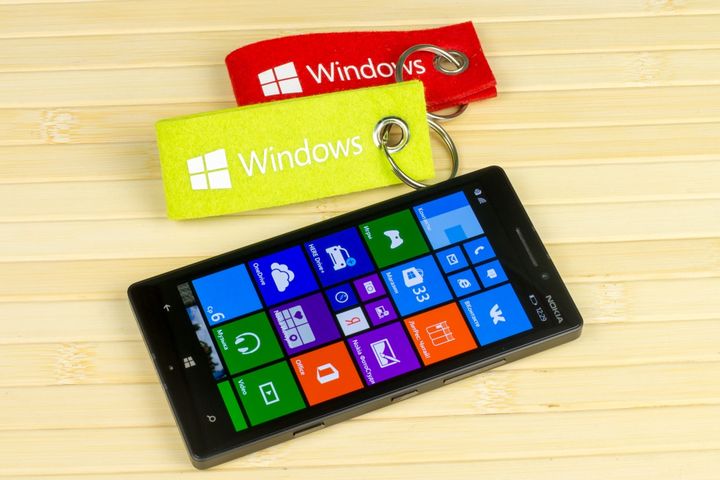 Undoubted advantages of the device – Cancel productivity and bright OLED-display with supersensitive surface and wide viewing angles, excellent main camera, which, in my opinion, is superior in features photo-modules many recent Android -flagmanov. For some, it may be important that the smartphone does not have a memory card slot and headphone included, but for me, in fact it turned out really is not so critical.
The estimated cost of Lumia 930 is $ 630, and a slightly lower price, of course, would give him a much better chance in the market, but given the small market share of WP, in the apparatus there is every reason for the success.
Pros Lumia 930
– High-quality assembly;
– High performance;
– Great display / Wide viewing angles / protective glass Gorilla Glass 3;
– Ability to wireless charging Qi;
– Loud speakers;
– Cancel the camera with a wide range of software for processing photos;
– Decent autonomy.
Cons Lumia 930
– Heats up under gaming load;
– No slot for MicroSD -card;
– No headphones included with the price tag.
Estimated price: $ 630
Read another very interesting article about alternative energy of the Sun, water and air.