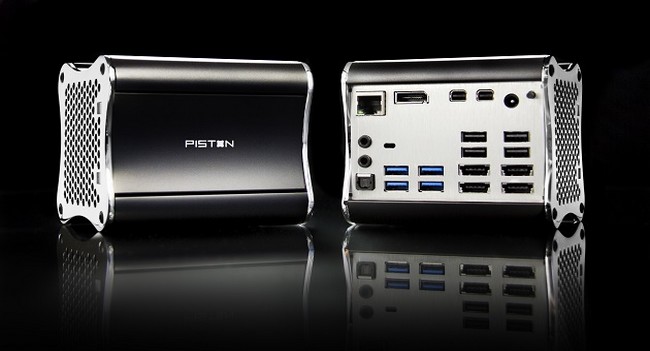 Xi3 Company announced that Piston game console , compatible with the recently announced OS SteamOS, but as it turned out, not related to Valve , will be on sale on November 29. Customers who have made reservations through March, will receive the console two weeks earlier – on November 15.
«Piston provides much more than games consoles from other manufacturers. The solution of the Xi3 outperforms the competition not only in terms of computing power, but also in size, "- said the founder and CEO of Xi3 Jason Sullivan.
He also said that the official announcement of the final version of the game console Xi3 Piston held this week at the Interop trade show in 2013, and announced some changes to the hardware specifications.
"Heart" of the gaming console supports 4-core 64-bit CPU that runs at 3.2 GHz. The structure of the integrated graphics CPU is "discrete" class (384 stream processors). Despite the fact that Mr. Sullivan did not mention the name of the manufacturer of the processor, it can be assumed that the console-based solution is the "white-green".
Possible options include SSD storage system with 128, 255 (+ $ 340 to the cost of the basic version) or 512 GB (+ $ 750). It is worth noting that the manufacturer has added another connector for the drive. Thus, if desired, can be up to 1 TB flash memory. In addition, the console is now equipped with an optional microSD card slot and supports external 4K-monitors. Moreover, the compact PC can operate with three displays of high resolution simultaneously.
What will be the main OS is currently unknown. It was assumed that the console will be running Windows, but in a press release stated that the second SSD will install another operating system, including the recently announced SteamOS.
According to the developer, the Ethernet controller has been optimized and configured so that data transmission priority is given to the game.
Recall that the cost of the base game console modification Xi3 Piston is $ 999. New products will be delivered with several pre-installed games, but so far nothing concrete. The fact is whether the supplied game controller manufacturer also silent.
Read another very interesting article about alternative energy of the Sun, water and air.