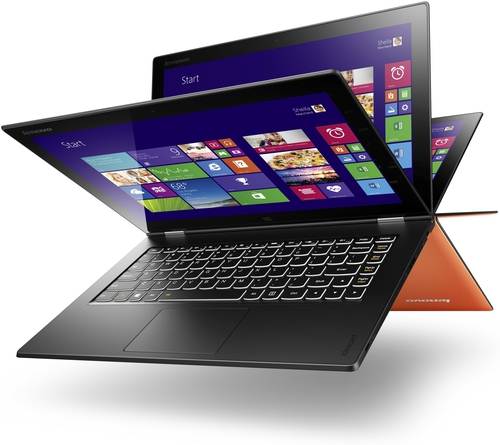 Several years ago at CES 2012, Lenovo representatives proudly demonstrated its new development – Lenovo IdeaPad Yoga. This device was a mix of tablet and hybrid, and initiated the creation of the whole line, which today is sold successfully worldwide. However, the first pancake usually turns lumpy, and this fate is not spared and the Lenovo IdeaPad Yoga: a hybrid is a bit underdeveloped. Engineers corrected their deficiencies, and soon appeared on the market Lenovo IdeaPad Yoga 11 Yoga and 13. Undoubtedly, these models deserve attention, but in this review we will not talk about them.
2014 saw the release of the second generation debuted in 2012, the first version – Lenovo Yoga 2 Pro. This transformer, as well as his brothers, can operate in four modes: laptop, tablet, console and presentation. It is equipped with a revolutionary display resolution 3200h1800 pixels, and the strength of the rotary mechanism other manufacturers can only envy!
Design Lenovo Yoga 2 Pro
Concept Lenovo Yoga 2 Pro is exactly the same as those of his predecessors: with particular laptop hinge cover can be rotated 360 degrees, rotate it so that it will fit the bottom of the device. Segment hybrids already oversaturated just did different kinds of transformation, often this type – removable. In this case, to obtain a tablet does not need to disconnect the display and keyboard, which means that the extra physical effects on the turning mechanism is absent, which protects it from premature wear.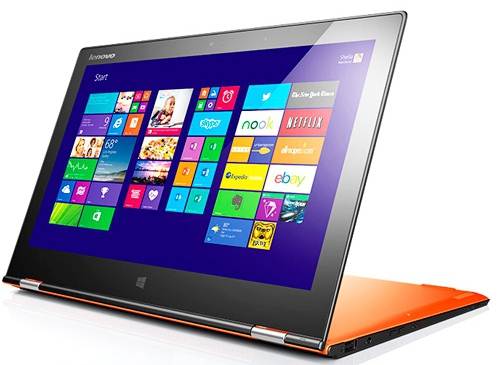 Let's talk about modes transformer. So, laptop mode is ideal for tasks associated with the processing of documents using a variety of applications, in a word, if you can not do without a mouse and keyboard. Tablet mode can be used in games, when working with web pages, etc. Presentation mode speaks for itself, and does not stand mode involves a frequent touch to the device (for example, during a slide show with music, etc.).
Color colors Lenovo Yoga 2 Pro is available in two variations: gray and orange. However, the selected color will not affect the color of the keyboard, as in both cases it will be black. By the way, the keyboard and the whole working surface made of plastic, and not Mark, the only exception is the touchpad, but we'll discuss this later.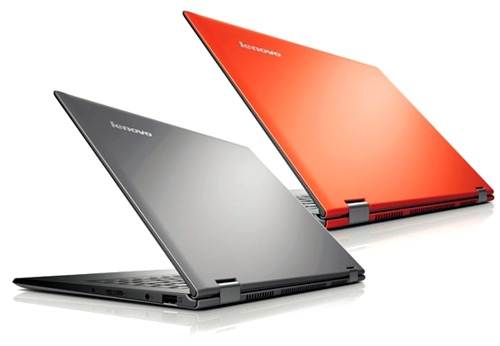 Practicality and ease of use can be seen throughout the design of this laptop. Cover it also plastic, and it does not leave fingerprints that you will agree, is only a plus. Gadget glossy screen, touch. Above it is placed lens webcam, below the display – the key of Windows, which vibrates when it is clicked.
Updates affected not only the filling of the display, but also the thickness of the device, which is decreased by 1 mm. Now its dimensions are 330x220x15.5 mm and weighs 1.39 kg. Structural strength Ultrabook can only admire. Tight loop so that one hand hybrid will not open. Pressure-sensitive keyboard is not deformed, the cover does not bend and not falter.
Display, audio and webcam Lenovo Yoga 2 Pro
Screen Lenovo Yoga 2 Pro – is what the representatives of the company have focused when presented transformer worldwide. Diagonal of 13.3 inches, and resolution – 3200×1800 pixels with a density of 276 pixels per inch ppi. Again, the resolution of the first-generation predecessor was below exactly 2 times, so in this case, the "face" obvious progress. However, if we dig deeper, we find that such a large resolution does not really fit here: color balance leaves much to be desired, and diagonal for so many pixels uniquely enough. In addition, this ultrabook operating system Windows 8.1, which is equipped with automatic scaling of 200%, but most of the interface elements are not adapted to such a high resolution, but because when scaled font problems can occur. For example, different thickness of lines of letters, especially if they are close by. This is a minus, because at 100% scale of such problems would not arise.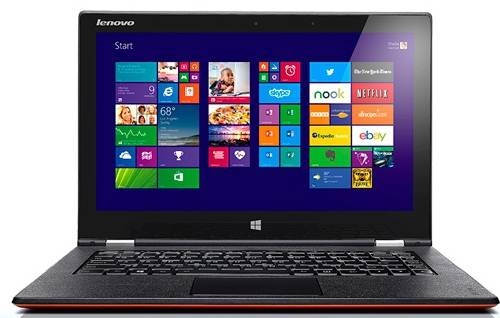 Type set matrix – IPS, creating excellent visibility images at different angles. Glossy display surface instead of Gorilla Glass is present here borofosfatnoe glass. Working with a laptop on the street is likely to be a little uncomfortable because of insufficiently high margin brightness indoors as this is no problem.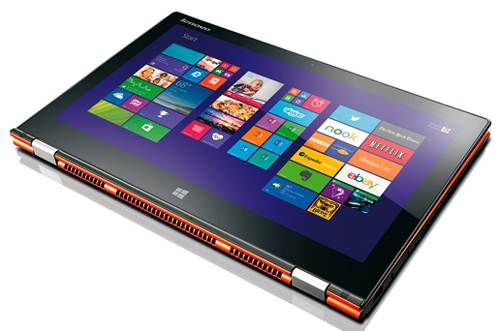 Sensor normal screen quality, fast response, but sometimes possible deceleration, again, we do discount on transcendental resolution. There is support for 10-finger multitouch.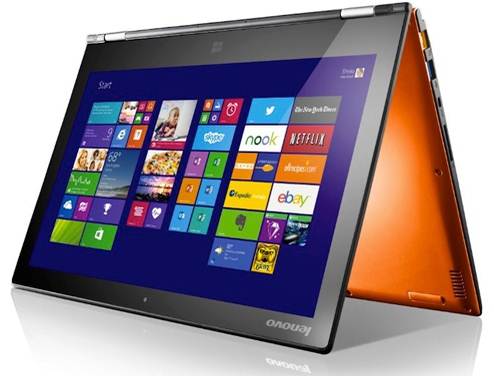 On the left side of the frame over the screen manufacturer for some reason put your company logo, which, if you use the gadget in any mode other than the laptop, "looks" of the user upside down. Next to the logo, but in the middle, you can see the eye of HD webcams. It is suitable for video conferencing, but not really acceptable for photography.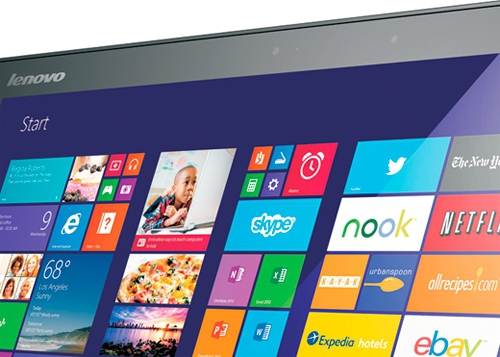 As for the sound, we note that in the Lenovo Yoga Pro 2 he goes through two speakers located on the bottom of the sides, making the sound seem muffled. In principle, this cons end. Pros much more volume is high enough, and the quality of the song playback is decent, especially with support for Dolby Home Theater. In short, for both speakers ultrabook is on quite a decent level.
Keyboard and Touchpad Lenovo Yoga 2 Pro
Keyboard in the Transformers was no less interesting display. As usual with such devices Lenovo, it is an island, all the keys are spaced from each other at an optimum distance, besides their lower edge is in the form of a semicircle. There is a one-level button illumination, however, it is not such a problem, because the keys are on the edge of the bright edges, making them brighter and more noticeable, especially in the general dark background. By the way, the buttons are illuminated not entirely, but only their faces and characters.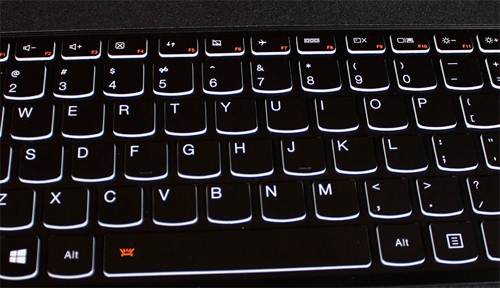 All the keys are quite large, with the basic white labeled, whereas functional – red, it adds to the comfort of work. Definitely happy dial unit that is not too reduced, so you do not have often mistakenly hurt nearby buttons. [Enter] key-row, and the right [Shift] gutted, unlike the left. The key travel can be called average, which is very convenient for printing, even intense. All these features are approximate keyboard Lenovo Yoga 2 Pro almost to the status of an ideal!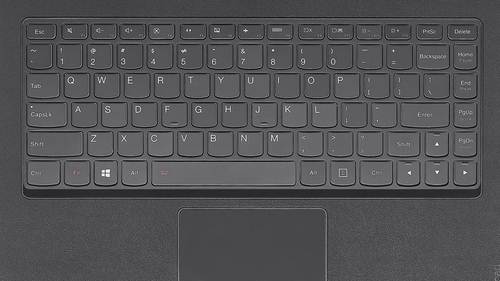 As for the touchpad, it is also made of plastic, but the plastic stamps, and, as you know, fingerprints still no devices added appeal. Sensitivity touch manipulator good for someone, it will seem worse for someone better. It depends on which devices used to work the user. The surface is smooth, it is easy to slide your finger. Fast response of the touchpad, there is support for multi-touch gestures. No physical keys, but there is a zone press the Left and Right buttons contingent, separated by a vertical strip.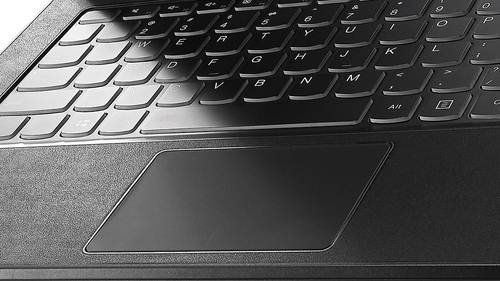 Performance Lenovo Yoga 2 Pro
Given that the Lenovo Yoga 2 Pro (59-402619) has a touch screen, it's no wonder that as the operating system manufacturer chose Windows 8.1, because it is best suited for touch.
In this configuration, installed dual-core processor Intel Core i3-4010U clocked at 1.7 GHz and cache level 3 in the amount of 3 MB. Support Turbo Boost Technology is missing, so this figure is the maximum possible. CPU built on the architecture Haswell, ie, the last generation, it is powered by the 22nm process technology. Also Core i3-4010U supports Hyper-Threading, which allows you to handle up to four threads simultaneously two cores. This processor is a low voltage, the level TDP of only 15 watts. By the way, this chip is the least powerful among those offered in other trim levels. Besides it, the manufacturer sets the Lenovo IdeaPad Yoga 2 Pro Intel Core i5-4200U or Core i7-4500U. Of course, the price of such models is much higher.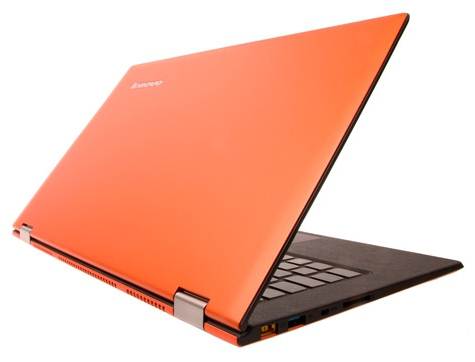 No discrete graphics card, yet this ultrabook is not created for the games, but the built-in, of course, there is. Graphics processor Intel HD Graphics 4400 is well suited for devices with very low power consumption. It supports DirectX 11.1 and Shader 5.0, and is able to cope with various tasks of medium complexity, not to mention the easiest.
RAM in the laptop only 4 GB of standard DDR3L-1600 MHz. RAM soldered on the motherboard, so increase it will not work. Storing information provided by solid state drive capacity of 128 GB. That's the minimum, but you can select the capacity and more than – 256 GB and 512 GB.
Ports and Communications Lenovo Yoga 2 Pro
To organize interfaces ultrabook Lenovo IdeaPad Yoga Pro 2 engineers involved only the lateral edges, leaving the front and back blank.


On the right side of the gadget placed USB port with a slightly outdated version 2.0. It is equipped with a function of charging external devices. Also here you can see the combined audio jack, auto-lock button to rotate the screen, volume rocker. In addition towards the front is a button with the corresponding switch on the indicator and the start key recovery system.

The left end is equipped with USB 3.0, a digital interface Micro-HDMI, card reader 2-in-1.

By and large, this set is enough for normal operation, but would like to see more output RJ-45 ports and more USB 3.0 standard. Wireless technologies are very standard and familiar: Bluetooth 4.0 and Wi-Fi standard 802.11 b / g / n.
Battery and heating Lenovo Yoga 2 Pro
In Transformers installed 4-cell battery, the capacity of which is 54 Wh. On average, without recharging the device is able to work about 5:00. The figure is not a record, but not the lowest. To be precise, while in read mode is about 6 hours, and when viewing movies – about 4 hours.
If you want to work with the Lenovo Yoga 2 Pro in tablet mode, holding on his knees, then do not worry, that will burn your feet warm. The hybrid basking immaterial, and then only when a long time under load. But even this degree of heating is not capable of making the user experience discomfort. Needless to say, that the mode of Internet surfing or just reading gadget is cool.
Conclusion Lenovo Yoga 2 Pro
Yes, the second generation of multi-mode transformer Yoga from Lenovo definitely attracted attention. It is not surprising that only there is an incredibly high resolution 3200×1800 pixels, while many other manufacturers still produce their models with a display of 1366×768 pixels! Of course, in connection with a screen QHD + swim various shortcomings, but it's the little things that we are sure that soon the developers will bring to perfection. Another nice thing in this hybrid – is its keyboard. It is extremely comfortable and is perfect even for long typing. Well, of course, it should be noted Ultrabook swivel mechanism, which not only allowed the device to be reconstructed in four different modes, but also appeared to be extremely durable and practical.
Was at an acceptable level and filling Lenovo Yoga 2 Pro: a discrete card, though absent, but the work copes built, and the processor can be selected from at least mild to the most severe. You can also determine the most necessary SSD capacity for storing information.
Perhaps the only significant shortcoming, which, however, does not cover all the advantages of this ultrabook – its cost. Note that the easiest grade transformer Lenovo Yoga 2 Pro will cost you an average of $ 1,200.
Read another very interesting article about alternative energy of the Sun, water and air.