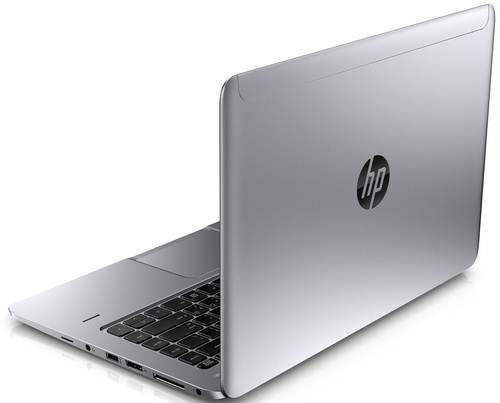 Late last year, Hewlett-Packard Company showed its new creation – Notebook HP EliteBook Folio 1040 G1. It is a fairly compact device designed for business users, whose thickness is only 1.6 cm, weight – 1.5 kg.
As is characteristic of such gadgets, it looks flashy, but at the same time stylish and expensive. Comfortable keyboard, good quality display, a fine selection of toppings – here are the reasons why many people come to the delight of the laptop. But Does this justify the price, which currently stands at around $ 1,700, and it's not even top configuration?
Design – HP EliteBook Folio 1040 G1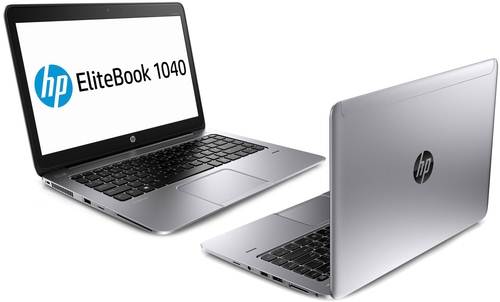 Today HP EliteBook Folio 1040 G1 is considered the thinnest laptop line EliteBook. Its manufacturer – the company HP, incredibly strong proud of the fact that we managed to create a laptop thickness of 1.6 cm when closed. Also, do not leave anyone indifferent and appearance. Given the business concept HP EliteBook Folio 1040 G1, there is nothing surprising in the fact that the gadget is made in an inconspicuous and simple.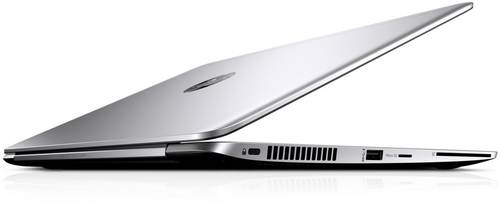 Coloring gray laptop. This is perhaps the most popular colors among manufacturers. But, despite its monochrome, sometimes looks very stylish. The entire body is made of aluminum, middle cover – round logo of HP. Also draws attention to the top of the pad, which hides the antenna wireless network.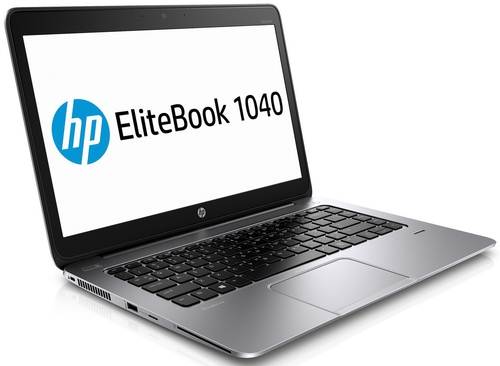 Inside the laptop of the same material. Above the screen you can see the webcam, under it – another small manufacturer's logo. At first glance, the keyboard is very comfortable, and the large touchpad. Constant attribute business gadgets as fingerprint scanner is also present here.
At the bottom of Folio 1040 G1 has four rubber pads that prevent any unwanted sliding on the surface. Around its perimeter settled screws, with which you can get inside the device to its components. Middle bottom – oblong ventilation grille.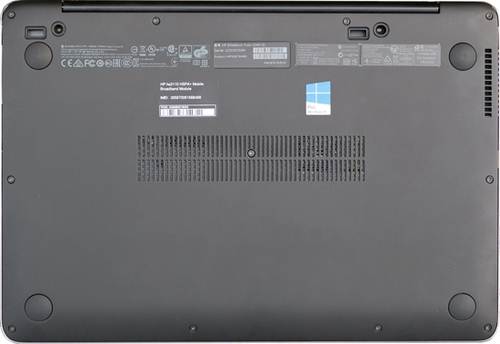 As already mentioned, the thickness is 1.6 cm, but pleasing others and dimensions and weight that make HP EliteBook Folio 1040 G1 compact. In particular, its width is 34 cm, length – 23cm, the weight – 1.5 kg. The manufacturer claims that the gadget has been tested according to the standard MIL-STD 810G, which suggests its resistance to various types of falls, bumps, moisture, dust, temperature and vibration. Summing up, we note that the laptop has a good first impression, but it was not without unpleasant moments, the quality of the assembly. For example, if you press on the cover, it flexes, while the rest of the body remain steadfast.
Display, audio and webcam – HP EliteBook Folio 1040 G1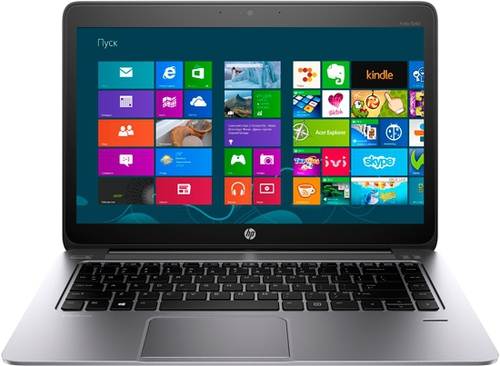 Diagonal display HP EliteBook Folio 1040 G1 is 14 inches – the optimum size for users who often takes the device to trip or is it always with you. As for the screen resolution, then you can choose between 1600×900 pixels and 1920×1080 (we grade display Full HD). Reflective coating at the screen, the matrix standard IPS. Display characteristics were mostly good: high contrast, good color rendition and brightness. Viewing angles, as expected, just great!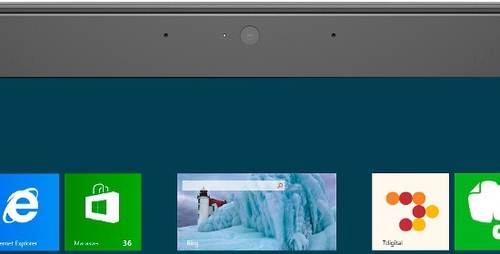 In fairness, we note that if the buyer chooses resolution HD +, he will get the matrix TN. And by the way, the possibility of touch-control is missing in both variations, which is very surprising considering that there are often models of other manufacturers like form factor display also is an input device. Given the business orientation of the laptop, it is logical to assume that the owner will often arrange video conferencing, what will help him webcam located above the display. Its resolution is 720p, and that, by and large, should suffice for virtual communication.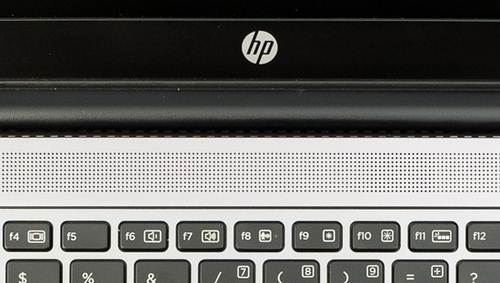 Above the keyboard is perforated grid, under which the hidden speakers. Sound is quite mediocre, but the settings in DTS Studio Sound will help improve its quality. In general, in order to watch videos or listen to music, it will be enough, at least you can always connect speakers or headphones.
Keyboard and Touchpad – HP EliteBook Folio 1040 G1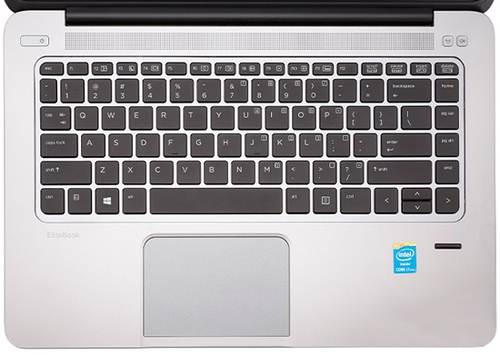 Fullsize keyboard, but there is no numeric keypad. Podladonnaya surface and the aluminum substrate, the same gray color as the cap. The keys are made of matte black plastic, square, pleasant to the touch, marked with white. Gap here is quite compact, small size, [Enter] key-row, right [Shift] is slightly longer than the left. Extreme right vertical row can boast the presence of auxiliary keys, which can hurt the habit, but this can quickly adapt himself. Clear key travel, tripping is not very loud.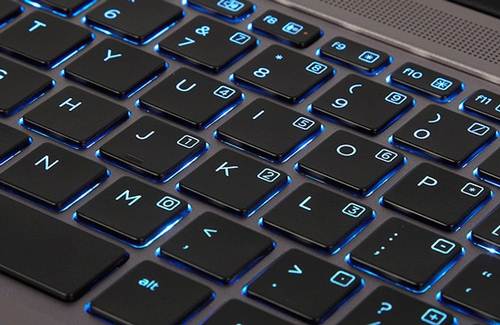 Generally, the keyboard is incredibly comfortable, it is one of the advantages of this laptop. It is equipped with a moderately bright illumination with two levels. In addition, the keypad waterproof, and if suddenly on its surface will result some liquid is able to exit through the drain holes.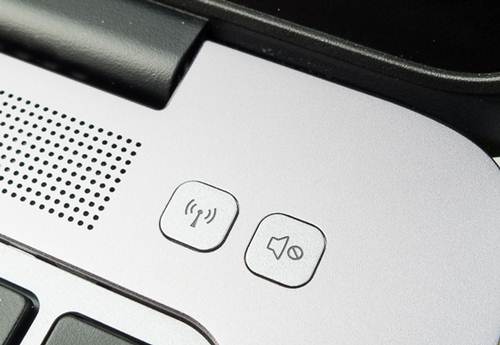 Above the keypad, as already mentioned, there is an oblong horizontal grille. In the left corner provides metal button on a laptop in the right corner – two small square keys that are responsible for the mute and Wi-Fi.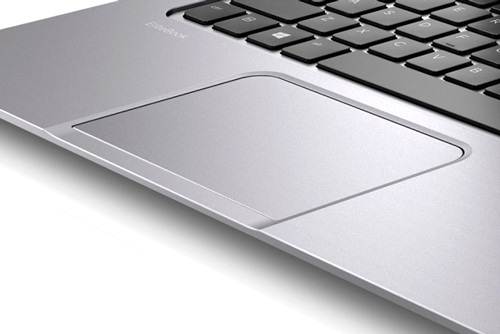 Touchpad in HP EliteBook Folio 1040 G1, which is here called Synaptics ForcePad, has quite an interesting solution. It is expressed in the fact that the surface of the touchpad responds to the pressing force. This requires some skill, and at first will definitely bring inconvenience, so there are people who are unlikely to appreciate such know-how. However, this problem can be quickly resolved by plugging the mouse.
On the right side of the touchpad is a fingerprint scanner, without which it is hard to imagine any business laptop. If necessary, it will protect data from tampering.
Performance – HP EliteBook Folio 1040 G1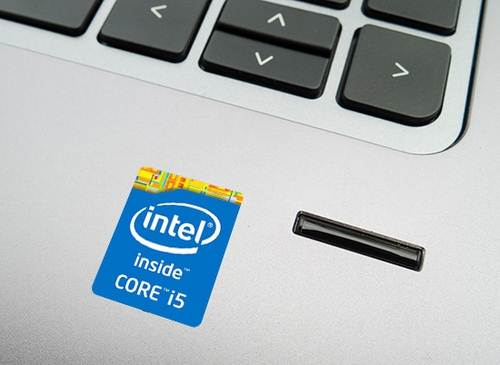 Model HP EliteBook Folio 1040 G1 (F1P42EA) can be purchased with the operating system Windows 8.1 Pro 64, but also the buyer has the opportunity to get in and use Windows 7 Professional.
As for the filling, then as a processor in this configuration involved a dual-core Intel Core i5-4200U with clock speeds ranging from 1.6GHz to 2.6GHz. Processor built on 22 nm process technology standards architecture Haswell. It boasts a pretty low power consumption – 15 W, 3 MB cache level 3 and additional features, including AVX, AVX2, Quick Sync, Virtualization, AES-NI. Note that there is a complete set and with more powerful hardware components such as the processor Intel Core i5-4300U and Intel Core i7-4600U.
In EliteBook Folio 1040 G1 has only integrated graphics Intel HD Graphics 4400. This schedule is quite productive, in any case, with the vast majority of daily tasks easily cope. There is here a decoder for video processing 4K encoder Quick Sync, as well as DirectX 11.1 and Shader 5.0.
RAM 4 GB standard laptop DDR3L-1600 MHz. RAM soldered on the motherboard, but there is one empty slot into which you can put 4 GB bar, increasing thereby the amount of up to 8 GB. Data storage manufacturer suggests using a solid-state drive capacity of 180 GB (there are also completed with 128GB SSD and 256GB).
Ports and Communications – HP EliteBook Folio 1040 G1
By and large, we can say that the laptop is endowed with all the necessary ports, though not without some nuances. On the left side we have a port USB 3.0, card reader microSD, Smart Card slot and Kensington lock. There is also the elongated vent.

On the right side took their places another USB 3.0 port with charging function, DisplayPort, combo audio jack for headphones and microphone, power socket and a connector for a docking station HP Ultraslim Docking Station, which, by the way, you need to be purchased separately. Its value on the official website is $ 149, but it is justifiable purchase, because it gives you an opportunity to get two port DisplayPort, one output VGA, Ethernet, four-port USB 3.0, line in and out. Furthermore, we note that the bundle includes an adapter that will connect the network cable to the RJ-45 or to display an image on the external display video output through VGA.

Rear face laptop, as well as the front, is empty.
Wireless communication is available in a Wi-Fi 802.11 a / b / g / n, Bluetooth 4.0, the module HSPA +. Optionally, it can support 3G, 4G LTE, EDGE, GSM.
Battery – HP EliteBook Folio 1040 G1
HP EliteBook Folio 1040 G1 (F1P42EA) is equipped with a 6-cell lithium-ion battery with a capacity of 60 Wh, so the duration of the laptop without charging though not beat the record high, yet should show a good time to spare. Dimming by about half, we obtain the following results: when web surfing laptop will last about 6 hours, but the play or watch the film received an average of 3:00. In other trim can be installed lithium-polymer battery of smaller capacity – 42 Wh.
Conclusion – HP EliteBook Folio 1040 G1
Well, it's time to sum up. Say that the HP EliteBook Folio 1040 G1 surprised us with something difficult. Yes, he looks very well "tailored", the engineers did their best. But, again, in some places the laptop is pressed hard enough that for many serious drawback. The notebook's LCD touchscreen that can also cause surprise and dissatisfaction on the part of potential buyers. Agree that it is now not often see business notebook without the touch management. But the quality of the screen, as well as its resolution – Full HD, pleased.
The keyboard claims no, quite the contrary! It is very comfortable to use, even if the print would be long. Touchpad is made by special technology: Depending on the degree of pressing on the touchpad will perform certain commands. True, it is unlikely many will support this innovation, because it frankly uncomfortable. But a variety of kitting happy, you can choose something more powerful and more expensive, and you can easier.
HP EliteBook Folio 1040 G1, of course, is good, however, the average cost, which is about $ 1,700, will make considerably thinking about buying this, especially as a model today, with great potential will not be difficult, the benefit of competitors are not asleep.
Read another very interesting article about alternative energy of the Sun, water and air.