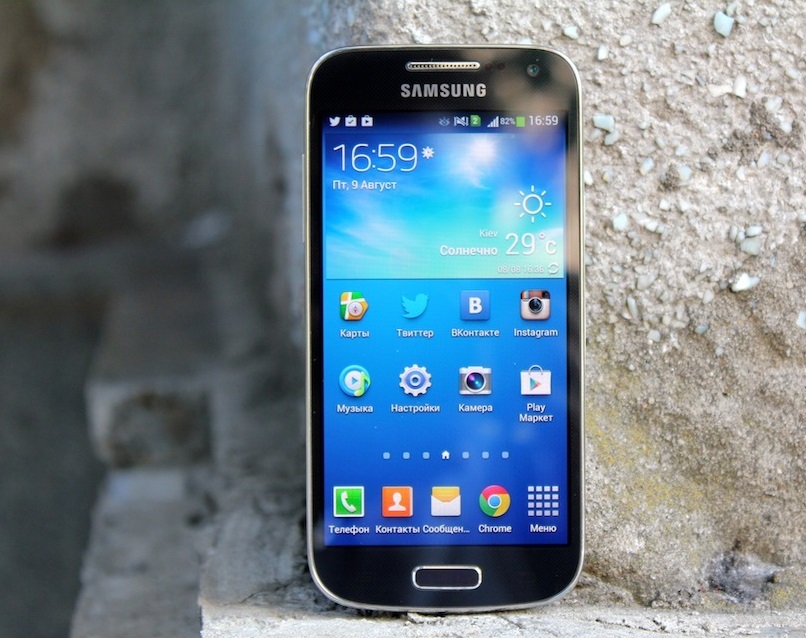 As we have recently said, the Samsung is now very much a variety of smartphones to suit every taste. This is undoubtedly cool, but I'm still confused them. The majority of the new models have already reached the point where the purchase can cheer someone who is familiar with the work of top-end devices. They are already working, rather than trying to work. Every time remembering how puffed average smartphones career start Android, I still cry, and sometimes can not sleep. And looking at what is available now for the same money, I calm down, new modelki is encouraging, and sometimes may seem more logical solution than the "coolest".
As you know, now we do not talk about the flagship. Rather, it is something between a leader and srednyachkom. Not everyone has $ 670 to S4, but many would like to have, if not this, then approximate to such a device. Need for good pay, and in the case of our guest today, the amount must also find considerable. Samsung Galaxy S4 received a copy of the youngest, and she, in turn, has two variations. Today we will try to sort out with the second copy of the flagship dvuhsimnoy – S4 mini DUOS.
First impressions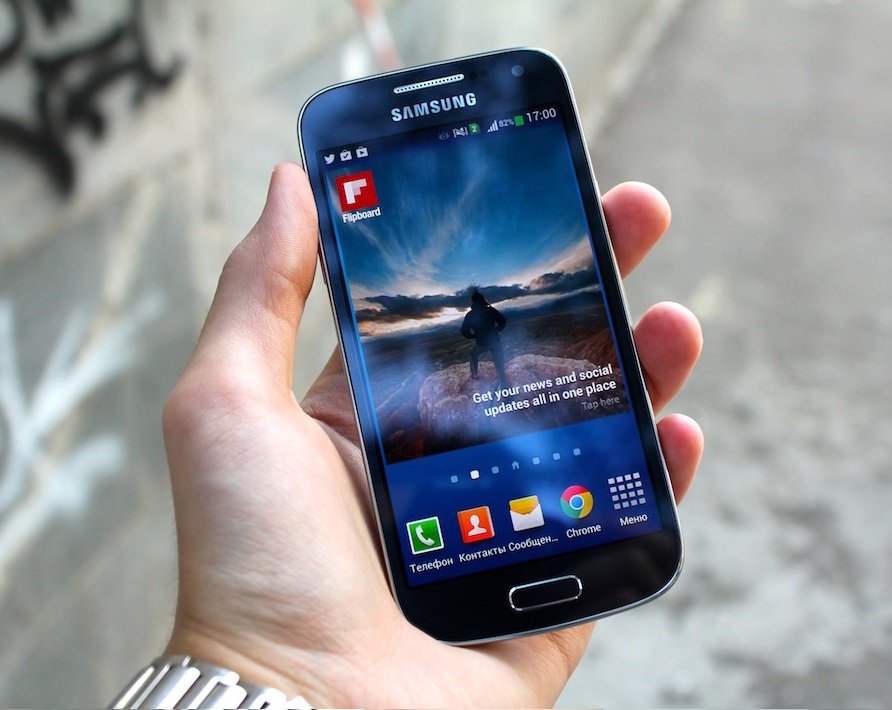 Imagine a situation where you put a shirt and pants that are a couple of sizes bigger. You walked a couple of days, and you again have returned clothes in your size. These are the feelings I had had when, after some time spent with a large display S4, I have taken up S4 Mini. Again there comes a pleasant moment when you can carry in one hand and a bag of food, and the other hand to respond to a letter, for example. Again, you can use the device without the aid of the second hand. And the question is not whether I have small hands, but the fact that not many people can afford to work with a large display with one hand. Recently I saw a young lady that four (!) Times were very close to the "Damn, again dropped her S4!», While trying to do something with one hand. I'm sure if she were a bit more sensible, could easily be used Mini.
The first step after the smartphone I rubbed my eyes and reached into the display settings as the original display mode color was very well saturated, as for me. Of course, a matter of taste, but a quick survey of the surrounding showed that not everyone may like it. Since the first use and setup, everything is standard, even without a sudden reboots. In general, the introduction leaves a very good impression. Up feeling good use of the device. So it should be, at the Samsung Experience flagship got to move on its smaller copy. And then you can start to talk in more detail.
Design, buttons, display …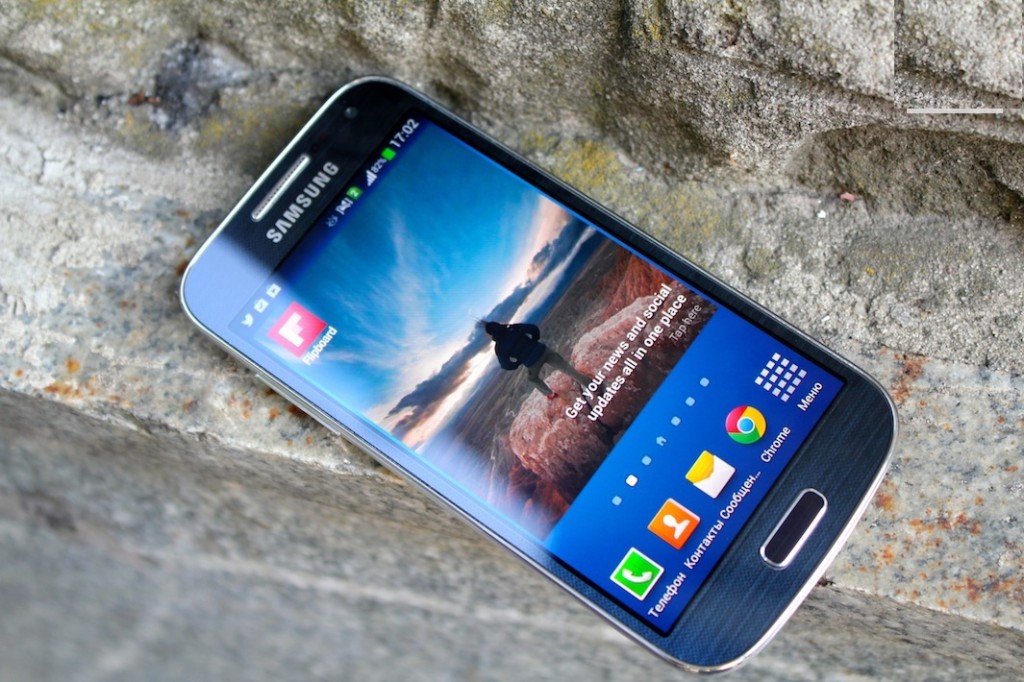 It is difficult to describe S4 Mini somehow original. This is the same flag, only smaller and with two Sim-kami. Dimensions of the Mini can be easily compared with the iPhone 5, Samsung only slightly thicker, though, and weighs less. Yes, smart light, only 108 grams, but there is no sense of toys, hand, holding up well. A little plastic spoil the experience, but it's quite subjective. But the easy-to-use smartphone. You just need to, as we recently mentioned, prilovchilis keep your smartphone on your fingers, not the palm. Another thing is that the chance of dropping such a device smaller than in the case of larger devices, especially in situations where a person is doing something quickly, for example, at the checkout, or near the ATM at the wheel (which does not repeat, I beg you!). Personally, I sized smart phones like the most. They look more aesthetic and more comfortable to use. A movie on the plane easier to see the plates, thus leaving the smartphone battery life for more important things.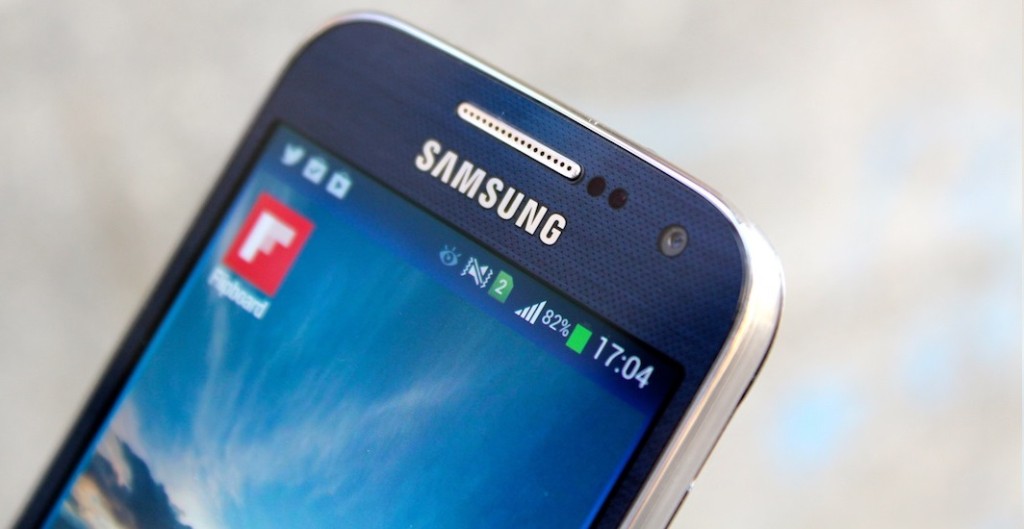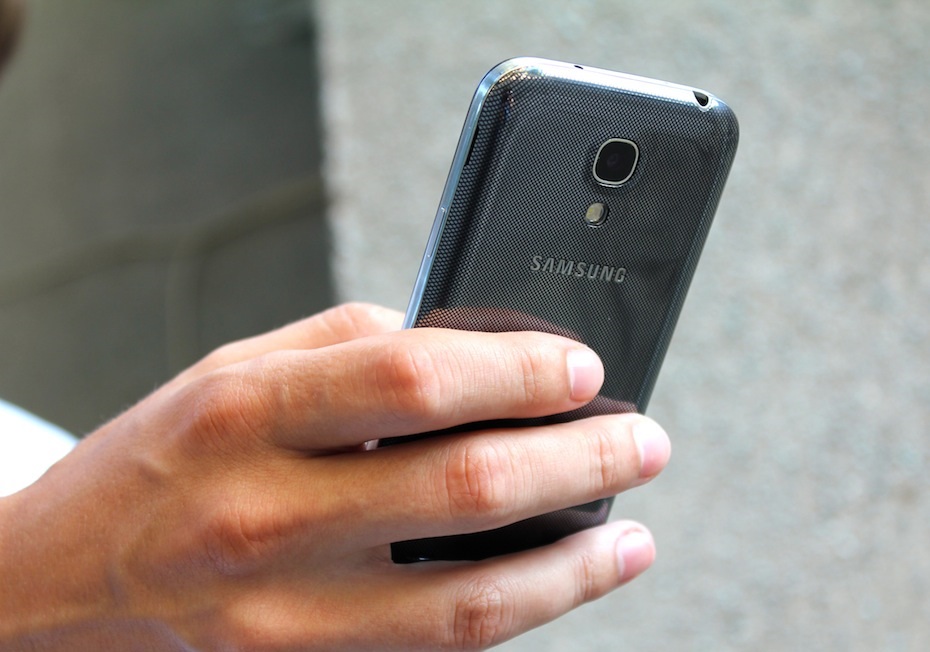 For those who missed the review of S4, a small excursion in appearance S4 Mini. The body is made of glossy plastic. The colors to choose from – black and white. In our case, black. "Back" is covered with a fine mesh in the style of "diamonds", and under the glass on the front – point structure. If you stare, I personally have my eyes very tense, this "topic" on the body ripples. But if you do not look closely, then at a working distance of virtually invisible. The case is glossy, and certainly time to leave scratches on it, but the back cover can be easily replaced. Besides the above-mentioned "grid" will hide the fingerprints of both time and fingers.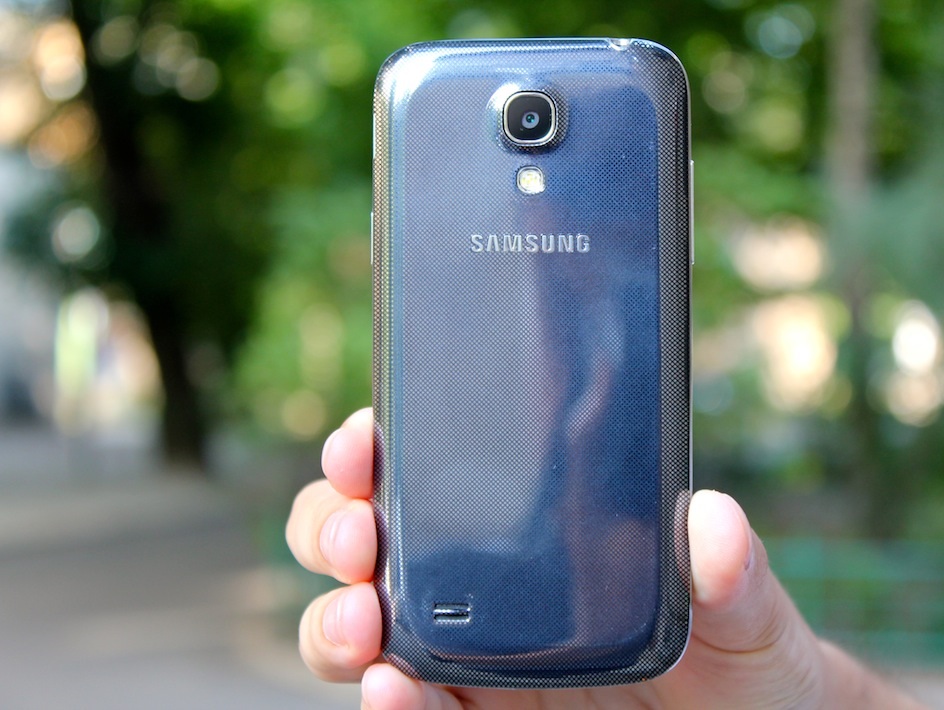 Location of the main items on the Mini also no differences from the flagship. Located on the back bay window of the chamber, under it – the flash and depressed bukovki logo on the lower left corner endured speaker. On the right side – the power button on the left – the volume rocker. Bottom – Micro USB and the main microphone on top – the headphone jack, the second microphone and infrared. On the sides of the device – silver edging, similar to iron, but is actually plastic. Placing a standard work item, and get used to it is not necessary – a minimum of intuition will be enough.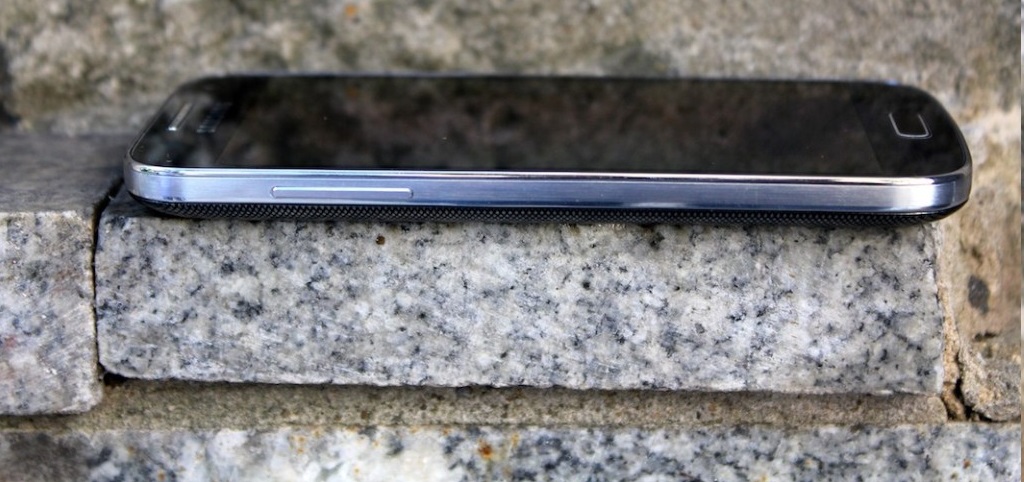 The front side is completely enclosed by glass. It is worth noting thin frame on each side – looks very nice, aesthetically pleasing. Above the display – the earpiece, light sensors and ear, a webcam and a logo of Samsung. Below the display – a physical button "Home" and the two touch "Back" and "Menu". Everything else was replaced 4,3" Super AMOLED-display with a resolution of 540 x 960 pixels (256 ppi). With all the good viewing angles, as well as with light. Another thing – the intensity. Paint look overly saturated, and they are difficult to see, especially on red. Of course there are people who are like paint, but I'm not comfortable with. Fortunately, you can suppress the display – just go to settings and select a different profile. Then everything will fall into place and work with the device will be much more comfortable. But if you love the sharp contrast and vivid picture, you will not be disappointed. The rest of the display is quite good. Working with him is comfortable and enjoyable. But all the same disadvantages AMOLED-display left and white on the half light looks grayish.
Overall, the look I was pleased. If you look closely, body ripples. This is not many pay attention to, and to me that's not really caught the eye. But the assembly corrects the position. In daily use, I did not hear creaks or crunches, but the intentional squeezing appear extraneous sounds. The back cover fits well, keeps her 16 mounts. Take it off quite easily. I liked the small details on the back of the letters in the form of dents in the style of the logo, thin frame on the sides of the display, and other amenities. Looks solidly, just for their money. To ergonomics I have also no other questions, use the smartphone-friendly. And most importantly, it does not take up as much space as cover large flagship, and I love it.
Like his older brother, S4 Mini got two cameras. And what else? I do not know how often you use the front camera on your phone, but so far the model has not changed: dakfeys or communication with overseas relatives / friends. In my family more and more common cases of these conversations, and I tell you, the front camera on the smartphone will soon become a necessity. The quality of the local webcams on almost 2 megapixels (1.9, to be precise), I and my party were thoroughly satisfied after the test call.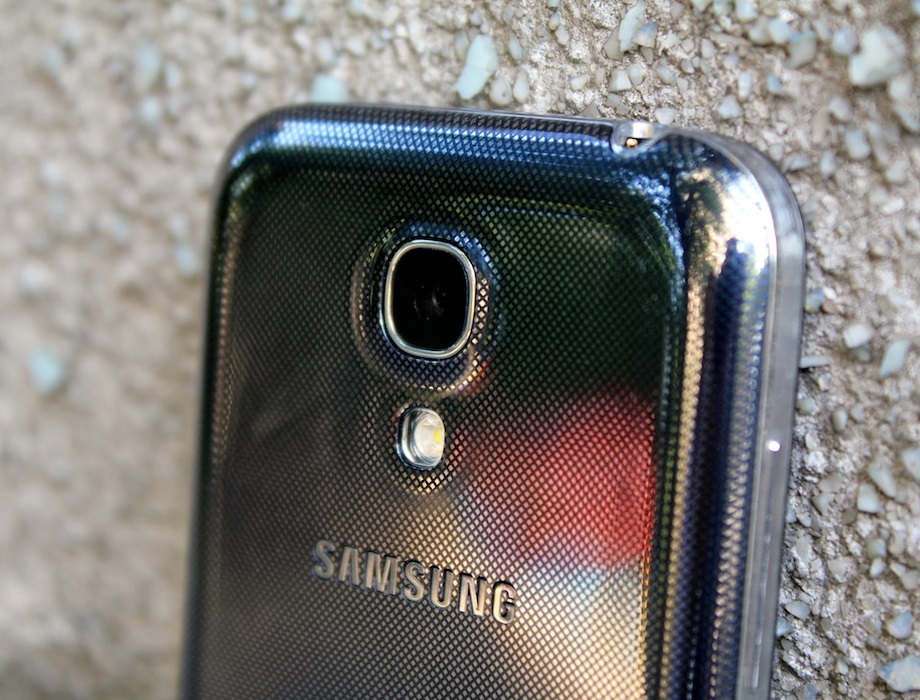 The main camera on the back side devaysa good. 8 megapixels, shooting video at 1080 p. The camera shows a good rate of fire. During video recording, you can take pictures. Photos are derived class, although sometimes visible overexposure. In low light there is noise, but as for the built-in smartphone camera is quite bearable. In other words, if you run into the evening some incredibly funny thing, you'll be able to share it. If necessary, the flash will give enough light to illuminate an object at a short distance, but all will be around grain. In general, I am satisfied with the camera. It is fast and photographs makes it very steep. In addition to the usual set of settings, there is a nice little things, such as voice commands, "Smile", after which the camera takes the picture immediately.
Hardware, software and battery
Even if we are talking about the leader's younger brother, he still dvuhsimnik. And not just because it is one of the most expensive smart phone niche. Inside, in the S4 Mini Duos engineers put a dual-core Qualcomm Snapdragon 400 (MSM8930), overclocked to 1.7 GHz, 1.5 GB of RAM, is responsible for the picture Adreno 305, 8 GB of storage, expandable with cards Micro SD. As expected, a smartphone shows excellent results for both the flagship dvuhsimnika: in AnTuTu tests had accumulated 14271 points, and in NenaMark 2 – stable 60 frames per second. The case heats up within reason, and only in the performance of demanding tasks. As for dvuhsimnika results are great.
Works under the iron control of Android 4.2.2 with TouchWiz proprietary shell latest version. Either I'm just her (shell) was used, or it is really starting to like me. In addition to the smooth animation and different effects, then finally divided the settings by category. Personally, I was waiting for such a long time, because personally I prefer to navigate through tabs with settings menu rather than flipping a long list. At the same S4 ​​Mini Duos is the flagship habits, such as, for example, monitors the user's eyes regime that will not allow the display go out again, until you look at it. There is already a standard set of gestures. For example, getting the message and read it, you can just rest my phone to his ear, and he will dial the subscriber. There is an infrared port to control the TV. With my smartphone Samsung'om not have managed without problems and long-term tinkering settings. And all of this can work a half or two days with average load. Battery capacity – 1900 mAh.
Specifications Samsung Galaxy S4 Mini Duos (i9192)Dimensions: 124,6 x 61,3 x 8,9 mm.Weight: 108 gOperating System: Android 4.2.2 Jelly Bean.Processor: Dual-Core, (MSM8930) Qualcomm Snapdragon 400, 1.7 GHz.Display: Super AMOLED, 4,3 ", 540 x 960, 256 ppi.Memory: 8GB Flash + Micro SD (up to 64GB).RAM: 1.5 GB.Camera: 8 MP, video recording at 1,080 p, front – 1.9 MP.Wireless technologies: Wi-Fi, Bluetooth, IR.Interface connectors: 3.5mm headphone jack, Micro USB.Battery: Li-Ion 1900 mAh battery.
Two Sim-card
The work of two operators is organized logically. In the phone application and reports have options to call / send a message to the sim 1 or sim 2. Remember it's just because both slots are numbered and can be installed immediately understand what the first card, and what the second. They are placed outside the box – one under the battery in the company of SD-card, the second – on the battery. Other settings – in the menus of the two sim-cards, where the network is configured and priorities. Speaking of priorities. Both operators can be active, that is, during a conversation via sim 1 to sim 2 will still push through calls and messages. A most enjoyable moment for me was the ability to set different notification sounds and ringtones for different Sim. I do not remember this before, and here it was a very pleasant bonus.
Conclusions and personal impressions
Younger version of the flagship, and even with two Sim-cards, the Samsung turned dignity. The case is assembled well. Ergonomics has not brought a smartphone easy to use even with one hand. After a minimal intervention in the display settings of his image began to delight in spite of the minor flaws and AMOLED PenTile. Quality of both cameras I am satisfied, happy no need to climb on the settings, automatic quick thinking and good at handling. Performance S4 Mini Duos also enough to almost everyone, and application compatibility issues I did not have, like the attacks of self reboots.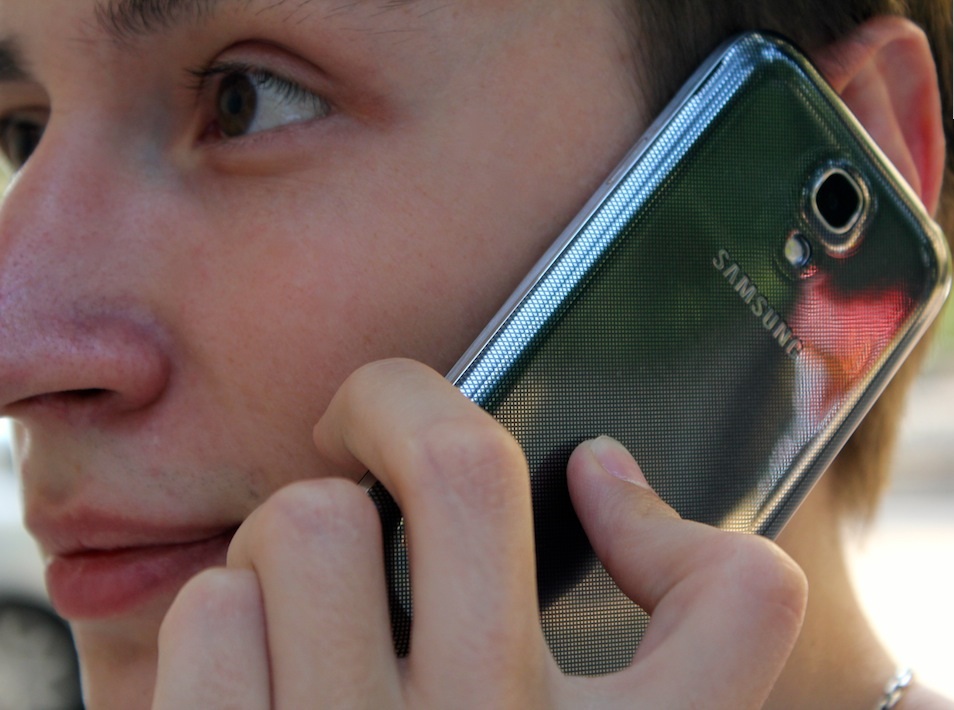 From the outside it seems that all great! But be that as it may, you need to look at the reality. More often than not dvuhsimniki bought for $ 500, and somewhere for $ 300. Of course, the user receives the money for a very decent smartphone, rather, one of the best in its class. But here's the big question, will need two sim-cards people buy a device for the money? This is a good option for those who want a strong smartphone plus a slot for a good internet connection. And those who only need to replace the standard two "dialer" on a smart phone is likely to pay attention to something else.
Read another very interesting article about alternative energy of the Sun, water and air.