Everyone respected brand has in its arsenal game lineup, but not every makes avid gamers such awe, as a segment of gaming laptop Dell Alienware. It is not surprising: the image of a stranger on a gray background cap evokes something magical and mysterious, what definitely want to be involved.
The hero of this review – gaming laptop Dell Alienware A15 – a model with the 15-inch screen, the heart of which – a processor Intel Core i5-4210H and graphics card NVIDIA GeForce GTX 965M. Even the appearance of the device can be understood – in front of us a quality gadget that will give odds to many competitors!
Design
We begin, as usual, with the appearance. The housing is made of carbon fiber, extremely durable, because it is used even in the aerospace industry, and that says a lot. The cover is made in gray in the present design clear lines which divide the surface thereof into three segments. At the top of the cover – a small image of a stranger, which is more eloquent than any symbols and logos.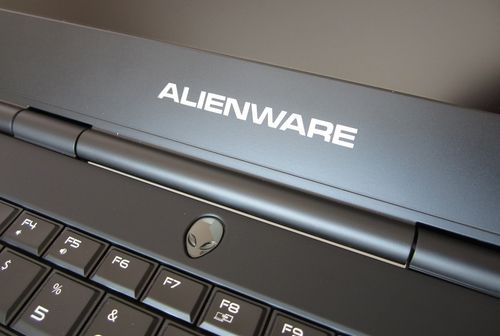 Front laptop no less conservative: the same chopped crisp lines and a hint of "pops". The screen is surrounded by the frame, the size of which varies depending on the brink. For example, at the bottom of it is very broad and likely to engineers freely placed there the inscription «Alienware». At the top of the frame strongly narrowed and made in the form of a small house. There – a small peephole webcam.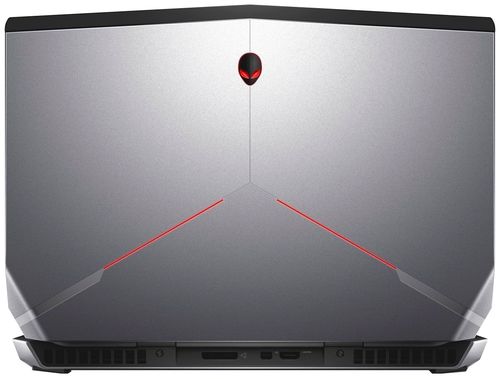 Working surface features an ergonomic keyboard, which is located under the touchpad is very compact. The side faces gaming laptop Dell Alienware A15 – a massive and wide, but it only successfully completes the overall concept of the device. By the way, the backlight of the notebook segment – one of the many "chips". When the gadget at the same time begins to glow alien on the cover, as well as two lines, which run from him like the rays. Lights inscription «Alienware», keyboard, power button, touchpad, as well as the entire perimeter of the bottom. See it all just amazing, that's a little show before the big game.
At the bottom of a large amount of space set aside for the vents, which, in general, a good thing, given the focus of gaming devices. As for the build quality of the laptop, it is, as you've probably guessed, just on top! The laptop is made for the glory of his body does not flex without cracking and no backlash. The hinge mechanism is triggered clear, moderately tight.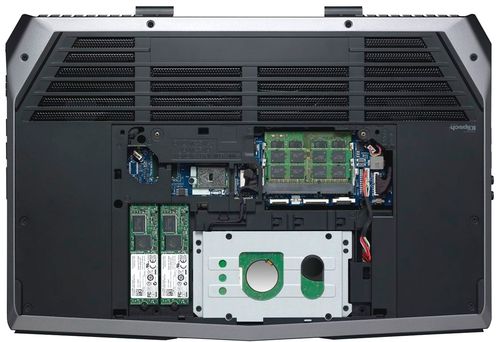 Of course, count on the fact that the gaming laptop Dell Alienware is light and thin is not necessary, it is still not the case. Although, in fairness, we note that many manufacturers have already started work in this direction to take at least a 15-inch ASUS G501JW. If we talk about our model, its dimensions – 384h270h34 mm and weighs 3.2 kg. Yeah, away with such a device does not go, but it it not calculated.
Display, sound, and webcam
Screen gaming laptop Dell Alienware A15 is available in two versions: Full HD and Ultra HD 4K (3840h2160), which, moreover, still touch. The chosen equipment – more modest, in the number of its characteristics – 15.6-inch diagonal, resolution – 1920×1080 pixels, IPS-matrix, matte surface. The display will please its users with a wide viewing angle, which is not terrible inversion; rich and realistic images with high contrast and brightness (300 cd / m2). Another advantage is the anti-glare coating that allows you to play at the window without compromising the quality of the game.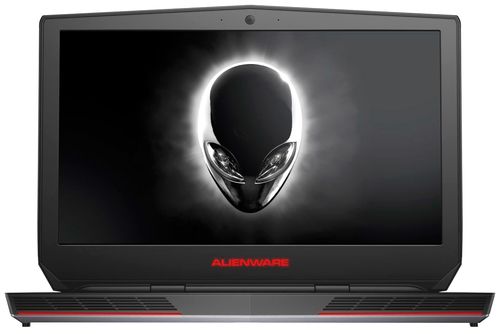 The gaming laptop Dell Alienware uses technology Klipsch and Creative SoundBlaster X-Fi, to achieve a high level of sound. The two speakers located at the front of the gadget show excellent results because the sound of the output is clear and voluminous. With the volume and everything are in order, to the maximum sound does not deteriorate, wheezing observed. In general, listening to music or watching movies acoustics will be enough, but to make the game as realistic as possible for part of the musical accompaniment, it is better still to use headphones.
The device is provided and a webcam, where the same without her. The resolution is 2-megapixel webcam while conventional laptops – 0.3 or 1 megapixel. Thus, it allows you to not only communicate via Skype but also take pictures, of course, if the details are not very important.
Keyboard and Touchpad
Working surface of the notebook has a matte soft-touch coating that positively affects the work. Thus, even during intense gaming battles can not be afraid that your hands or fingers slip off at the most inopportune moment. The layout of the keys is sufficiently dense, the distance between them is minimal, gamepad missing. It is noteworthy that the button got rubberized anti-reflective surface, which is designed to hide fingerprints and protect against dust. Engineers added a vertical row of the keyboard keys to the left edge, which have a special mission. They are programmable, and at any time, the user can start a predetermined application or the designated macro.
Typically, gaming laptops Dell Alienware are equipped with lighting, and gaming laptop Dell Alienware A15 is no exception. Its keyboard conditionally divided into four zones, each of which can be illuminated separately. In addition, the area may throb and color – flow smoothly into each other. Thus, in the dark hard-core gamers will not be bored! Above the keyboard, you can see three small LEDs that indicate the hard drive, wireless module Wi-Fi, and Caps Lock. Finally, I would like to note the degree of usability of the keyboard: it is above all praise! Middle keystroke and fast response of the keyboard allowed to build gaming segment rank in the top, because typing on it – a pleasure.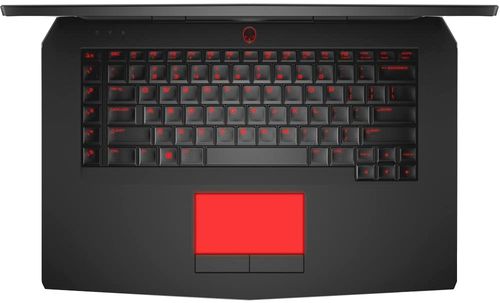 Touchpad gaming laptop Dell Alienware engineers do not lack attention, giving its incredible functionality. Let's start with the fact that at its disposal – colored lights. In addition, the laptop has a special tool, which is responsible for setting the manipulator. With it you can adjust the pressure sensitivity, the scroll display to select an option and more. Matte surface of the touch pad is ideal for positioning, perform multi-touch gestures: scroll, zoom, etc. In its lower part – two physical buttons. However, despite the pomposity of the appearance of the touchpad, for games it is unlikely to be useful only for daily work. Still, worth a special gamer mouse, otherwise the game can turn into defeat.
Performance
Gaming laptop Dell Alienware A15 (A15-8406) comes to market with a 64-bit operating system Windows 8.1. As the processor is a powerful dual-core Intel Core i5-4210H generation Haswell. It is made on 22nm process technology, a range of clock speeds ranging from 2.9 to 3.5 GHz, increasing by Turbo Boost. In addition, the chip multi-threading technology support Hyper-Threading, which involves processing four threads two cores simultaneously. TDP of the processor can not be called modest, quite the contrary, because the coefficient of energy consumption is 47 watts.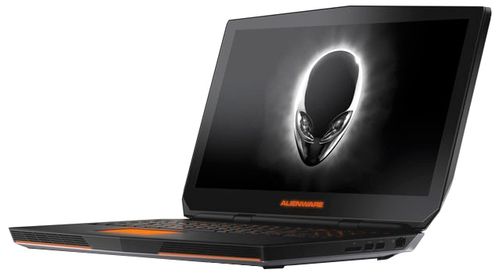 For gaming laptop is crucial schedule. In this device, the manufacturer provides two graphical components. In the role of an integrated graphics card acts as Intel HD Graphics 4600, which is designed for everyday tasks. It is made of 22-nm process technology, supports DirectX 11.1, Shader 5.0, the decoder is equipped to handle 4K video encoder and Quick Sync.
However, in order to start the game requires a stronger, in our case – an NVIDIA GeForce GTX 965M with 2GB of video memory standard GDDR5. Its frequency varies from 924 to 950 MHz, there is support for features such as Battery Boost (activated when the laptop is not connected to a wall outlet), ShadowPlay (writes the best game moments) and Games team. Of course, this allows you to start filling a variety of games: for example, released last year, for example, Call of Duty: Advanced Warfare, Alien: Isolation and others, no problem will go high or maximum settings. As for toys this year, for example, Battlefield Hardline, Evolve, etc., then they also should not have any issues, but may have to choose a medium setting and reduce the resolution.
The device has 8 GB of RAM standard DDR3-1600 MHz out of a maximum of 16 GB. The data storage system provided a hybrid drive: hard drive 1 TB (spindle speed – 5400 rpm) and 128 GB SSD.
Ports and Communications
Of course, without a broad set of interfaces in the gaming laptop can not do. Let's look closer: on the right side are located two port USB 3.0, network port RJ-45 and a card reader 9-in-1.

The left side is equipped with two additional ports USB 3.0, one of which supports PowerShare for charging external devices from the laptop. In addition, there are two: headphones with a microphone and a headphone jack; Finally, the socket for recharging a laptop and a slot for a Kensington lock.
But this was not limited to the manufacturer and added a number of ports and connectors on the back edge of the notebook. So, there you can see one port for docking Graphics Amplifier Alienware, which, by the way, need to be purchased separately ($ 299), Mini DisplayPort, video output HDMI.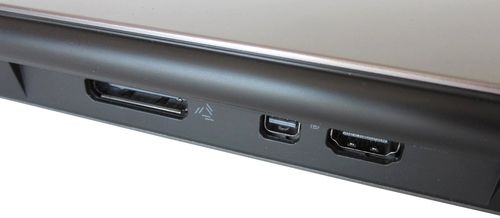 As you can see, this feature gaming notebook is the optical drive in the Dell Alienware A15 is absent. With regard to wireless communications, they are presented Wi-Fi 802.11 b / g / n and Bluetooth 4.0.
Battery and heating
The battery in the Dell Alienware A15 – 8-cell lithium-ion battery of 7800 mAh (92 Wh). On the one hand, it is quite a powerful battery, and if it was in a normal laptop, the price would it was not. But we're talking about a game device in which a screen Full HD, productive filling, and impressive lights, through which shines the entire laptop, not just a keyboard. Based on these data, it is no wonder that the battery is not able to demonstrate a good autonomy, however, and it is not a bad name. Opportunities battery will last for 3-4 hours daily tasks that include web surfing, watching movies, listening to music, working with documents, etc. Gameplay is, no doubt, put the battery faster, in about an hour and a half.
Heating in the gaming laptop Dell Alienware is an important factor, so it is also worth attention. Fortunately, in our gadget with him no problem, coolers cope well with stress, and to remove the warm air provides impressive air vents. So even during gaming battles overheating housing is not observed, but to play with the laptop on your lap, we still do not recommend, it is better to opt for this flat, hard surface.
Verdict of gaming laptop Dell Alienware
At that time, gaming laptop Dell Alienware pleases its customers, in this case – a gaming laptop Dell Alienware A15. This gadget turned out to be the best all: the bright and unique appearance that attracts attention, quality IPS-screen with a resolution of Full HD, ergonomically-designed keyboard with backlit detail. Above all praise and filling, which is represented by the processor 4th generation Intel Core i5-4210H and graphics NVIDIA GeForce GTX 965M. Such hardware components allow you to play in many of today's toys, so the user will be satisfied.
Of course, count on the high-performance stand-alone devices such direction would be wrong, therefore, to refer to the shortcomings of weak vitality, we still will not. Unfortunately, the cost of the gaming laptop Dell Alienware like it is not all, because the price considered in the review of equipment is about $ 1,500. Yet for real fans "alien" theme this figure is unlikely to be a serious obstacle.
Source: Dell
Read another very interesting article about alternative energy of the Sun, water and air.