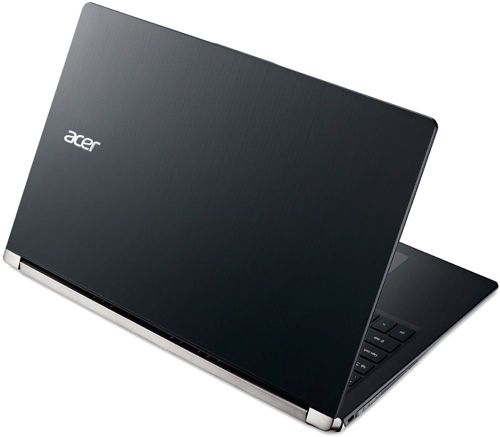 Laptops Nitro line is gradually gaining popularity. Number nitro models increases, eyeing them more and more users who need a low-cost laptop for entertainment, including games. But there really is something to see, even if run superficially. The housing of these devices is stylish and elegant, this will appeal to many.
By the way, one of the Nitro-notebooks we've already got. It is a powerful and incredibly stylish Acer Aspire VN7-791G-57RE with processor Intel Core i5-4210H, two graphics cards, as well as Full HD-display. Laptop Acer Aspire VN7-571G-33J0 is interesting in its own way, though, and can yield in terms of performance, because it mounted ULV-processor Core i3-4030U. However, along with that provided in the stuffing hybrid drive, 6 GB of RAM and a discrete video. So that this model could be equally interesting.
Design – Acer Aspire VN7-571G-33J0
The unit case looks quite strict and concise, partly due to sharp corners. It is made of plastic with a matte finish, feels close to the soft-touch. Unfortunately, the surface of Mark, her fingerprints are collected and can be clearly seen in the black. Apparently, the notebook will often wipe.
On the lid of the laptop can see the unique element – the company logo Acer. But closer to the rear panel hinged – engraved Aspire V Nitro. Also, on the outer surface has a lithographic pattern.
By the way, the lack of metal is almost not felt – plastic pretty hard to bend it will take considerable depression. With regard to the size of the housing 390h257.5h24 mm, they are standard for the 15.6-inch device, but overall the notebook looks visually thinner. Weight Aspire VN7-571G is 2.4 kg, it is a bit, even if every day to take a laptop with you.
Display, sound, webcam – Acer Aspire VN7-571G-33J0
Acer Aspire VN7-571G-33J0 is equipped with a 15.6-inch matte display with a resolution of 1366×768 pixels. Just say – sparse, many already "bypassed" such screens, setting, for example, Full HD and higher.
Display the most common, not touch, it has a small degree of brightness and contrast, and visibility is also not one of his virtues. The matrix shows a good picture only when the "live" viewing and only at the slightest deviation. However, the larger the angle of the screen, the stronger begin to distort color becomes darker, and the worse is changing sharpness. This is not the best way affects the quality of video viewing, work, and the more the game.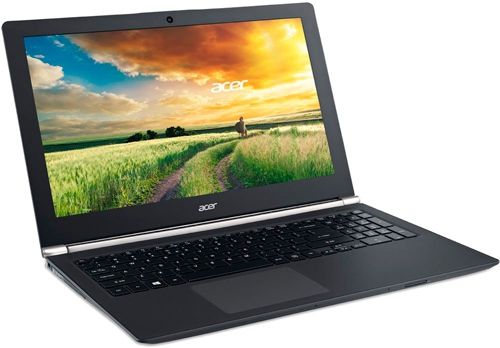 The notebook has two speakers, also has support for Dolby Digital Plus Home Theater. Sounds device normally, although not always audible low frequencies, due to the fact that they overlap medium and high. However, for movies, music and other entertainment that should be enough.
Webcam on a laptop Aspire V15 Nitro has a resolution of 0.3 MP – frankly lowest. However, more is needed if the camera is needed only to communicate in Skype.
Keyboard and Touchpad
Manufacturers established in the Aspire VN7-571G-33J0 island keyboard, adding to its separate number pad. Almost all of the buttons normal size, were reduced only arrows, but if you frequently use them to control the cursor, you get used to it is not difficult.
As for the icons on the keys, the key made white, while some functional – blue on black surface buttons are immediately apparent.
It's nice that the keyboard is illuminated, however, did not calm white or blue tinge, and red. In addition, the level of emission is not regulated. In fact, you can either turn the backlight on or off. As the saying goes, "there is no third."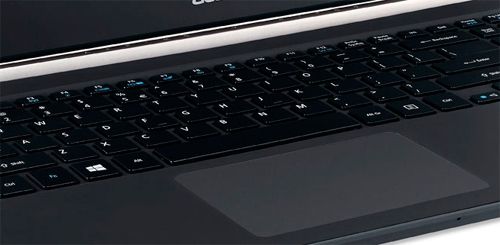 The touchpad in a laptop is quite large and slightly recessed area. Beneath it hides the mouse button, all of its area is fully clickable. In general, the sensitive area of the touchpad, but sometimes things go wrong, and the commands are not recognized at first. It might be better to go directly to the use of the mouse.
Performance
Acer Aspire VN7-571G-33J0 (NX.MQKER.003) comes with pre-installed operating system – Windows 8.1 on a 64-bit version. Laptop provided for entertainment, some manufacturer calls it, is not the most powerful stuffing. Thus, in the configuration provides dual-core processor Intel Core i3-4030U clocked at 1.9 GHz and third level cache 3 MB. This CPU is built on norms of 22-nm technology microarchitecture Haswell. It is also a low voltage, and its power consumption does not exceed 15 watts. From tech support can be identified Hyper-Threading, thanks to simultaneously treated with four data streams. Unfortunately, without Turbo Boost frequency Core i3-4030U not rise above the base. As for the performance of the chip, it will be enough for many tasks, including Web surfing, video playback, games and, of course, routine work with documents.
The device employs two graphics cards. Has an integrated Intel HD Graphics 4400, as well as mid-level discrete NVIDIA GeForce 840M. For simple calculations, such as office applications, simple image editing and so on. Using built-in accelerator. It supports DirectX 11.1, and also has twenty-uniform flow. But for games best fit discrete graphics. GeForce 840M with 2GB of DDR3 video memory will master many modern toys, although some will have to change the settings. For example, Wolfenstein: The New Order normally go to the medium at a frequency of 30 fps, but with a resolution of 1280×800 pixels. But Titanfall – on high, with a native resolution of 1366×768 pixels and 34 fps.
As for RAM, there is provided a standard 6 GB DDR3L-1600 MHz. Under the RAM allocated two slots in which the strips are installed capacity of 2 GB and 4 GB. If you need more volume, the manufacturer provides for an increase of up to 16 GB.
Also in the filling has a hybrid drive, which includes 8 GB SSD-cache and a 500 GB hard drive. Winchester is running at 5400 rpm, it allows you to store various files, but for games, perhaps not all of it will be enough. As for the SSD, then with it will boot quickly and not have to wait long.
Ports and Communications
This notebook has the required minimum of ports and connectors. However, it is not too varied. For example, on the right side of the notebook contains three port USB 3.0, combo jack for an external microphone and headphones, as well as the interface HDMI, RJ-45, hidden under a plug and socket for recharging.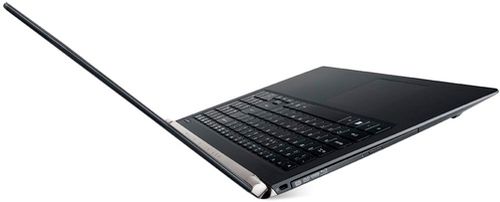 Virtually the entire left face empty, it contains built-in optical drive DVD-RW with support for Double Layer, and a slot for a Kensington lock.
But on the front end is provided only SD-card reader.
Laptop wireless modules are Wi-Fi 802.11a / b / g / n and Bluetooth 4.0.
Conclusion – Acer Aspire VN7-571G-33J0
Laptop Acer Aspire VN7-571G is an example of the working device average, which will be under the power of multimedia tasks and, of course, work with documents. This laptop even if not the most powerful processor, but in tandem with him are two video card and 6GB of RAM. Will not stand aside backlit keyboard, as well as stylish looks to be another bonus in the treasury of this notebook. However, some points may not like it. This display with low resolution and too simple set of interfaces. Although this is a matter of personal preference.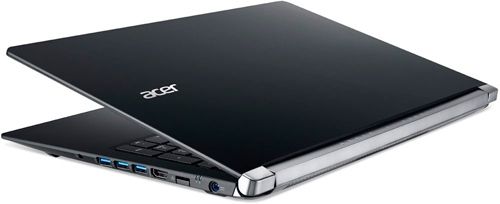 Given the cost of about $ 800, you can seriously think about buying a laptop Acer Aspire VN7-571G, which under the force of modern problems, including games.
Source: Acer
Read another very interesting article about alternative energy of the Sun, water and air.