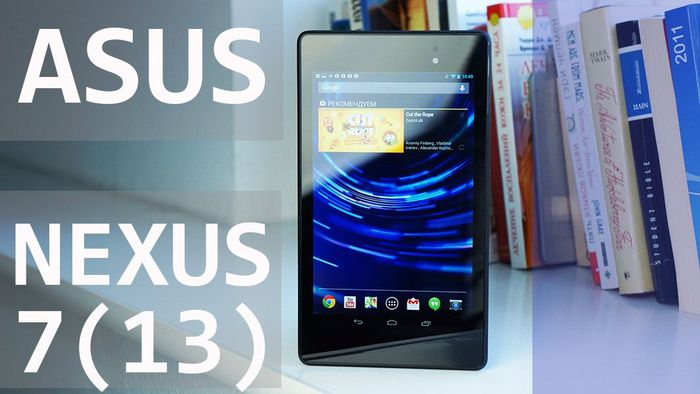 I'm tired of survey devices that have to praise. I have repeatedly made sure that in 2013 – it's terrible for the lover of gadgets, because not only have to choose from which to choose simply not realistic, which did not look – all very interesting. Should I list here? I think not. Just check out our reviews of the latest flagship smartphones, as well as announcements of preparing to sell. But today is a special case in my hands, not a smart phone, which I would very much like a tablet. More precisely, the best tablet on Android – ASUS Nexus July 2013 the first year.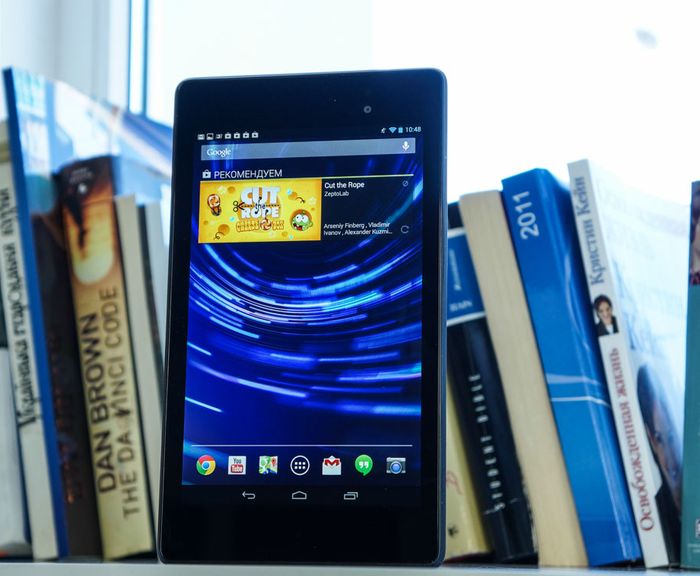 Surely, someone can argue with me about the "best", but that's my opinion. I used it a week and I can not remember what time would be at least some other Android-tablet me so much, so the beginning of this review – this is the conclusion: if you need a tablet – take this. New items can be called at the best tablet on the market, if you need a compact version with a 8.7 "display, but it is necessary to compare the Nexus 7 iPad Mini. At first glance, Nexus 7 wins in all the iron, the display speed (!), But there are a couple of points. Of course, we are talking about the application. I tablet, in fact, not needed. I use it only for three purposes: music applications, games and movies. The third can be folded as movies on the iPad just for casting a flight home watching on your smartphone or on your computer. After buying some time looking at the tablet – not used to. By the way, the Nexus 7 video look more convenient – it is banal easier to handle. But music applications – this is still not even a losing battle Android, but has not yet begun. But you have to realize that's just me and another, from the force of one percent of users, this functionality is needed. So skip. But the game – it's more common use of the tablet. Nexus 7 is equipped with a highly productive iron and elegant display – all in order to play it nicely. But games for Android is much less than for the iOS. Large projects, such as Modern Combat 4 or Real Racing 3 arrives, but with indie projects generally tight. Almost nothing of what I'm playing on the iPad, for the Android is not. If all you care about, and the plate is needed for video, web browsing, sots. Setey – you can not even choose to look at the Nexus 7. By the way, just at the moment when I am writing these lines, I was with the state came another Nexus 7, but for use. Ordered by service Banderolka soon tell more about it.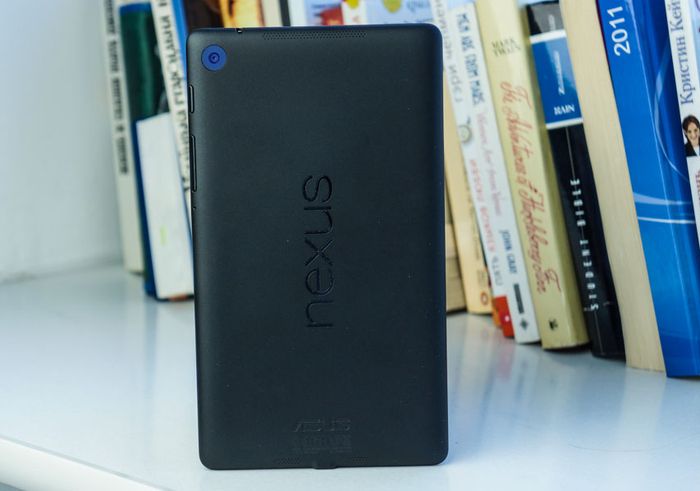 Nexus 7 – new tablet family nexus, the first device to get the newest version of the operating system Android – 4.3. Novelty is very different from his prodshestvennika. Last year's Nexus 7, which also produced ASUS, primarily distinguished value. It was not the best at all, but for my money easily bypassed the competition. That is why the model has become so popular in geek circles. Today things are different – we have a budget, according to its value, the tablet, which is also the best on the market. The previous model was quite good, but there were some flaws associated with the body (creaking slightly bulging display that can pin down, etc). Also, Tegra 3 can not be considered the best solution. Now let's look at the case and design Nexus July 2013.
Design and Ergonomics
The case is plastic, but no less amazing. Literally, everyone who took novelty to see just still admired materials and build quality. Rear and side parts – one part. Because of this, the body stiff. Even if you make an effort to distort the structure, no squeaks you hear. All the parts fit perfectly, nothing sticks out, not loose, no backlash – a model for other tablets.
The back part is made of soft-touch plastic, it does not allow the device to slide in his hand. But, like most soft-touch surfaces on her highly visible traces of fat. Gruel will not be as glossy, but will have to wipe the case. I am glad that the back cover does not flex even when pressing in its central part.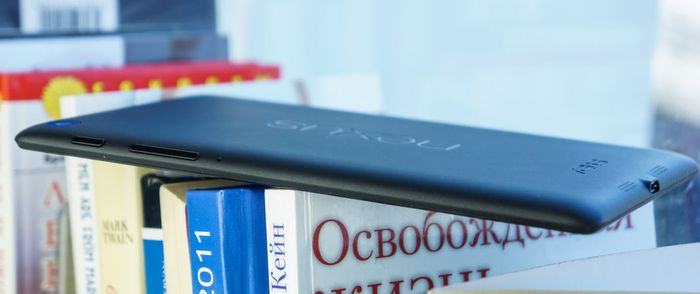 The new Nexus 7 is noticeably thinner, narrower, but at the same time, a little higher. Frame at the top and bottom seem to be too big, I think it could be made more compact body. The aspect ratio of the new and old models, respectively: 114 x 200 x 8,65 and 198,5 x 120 x 10,45. Weight of the tablet – 290 grams, or 50 grams less than last year's model. Hold the tablet vertically with one hand comfortably, in a landscape orientation and the big chin nadborodok (c) act as handles to hold. Location of little changed from last year's goal. Now, a headphone jack (which, incidentally, is not supplied) from above, MicroUSB left bottom. Keys and volume control on the right side, the left is occupied only a slot for the SIM card, if you have a version with LTE. Appeared on the back of the main 5-megapixel camera, and a second speaker on top. Google promised a very good sound out of the speakers, but, unfortunately, such a HTC One is still very far away. No bass at all, the stereo is also not very picky, because the speakers are at the back.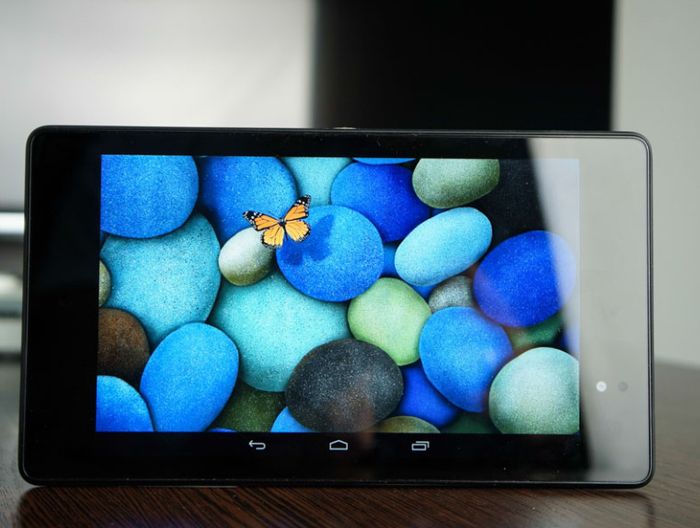 The only thing more I note MicroUSB connector combined with SlimPort. With a pump adapter can connect the device with HDMI or D-Sub interfaces.
Display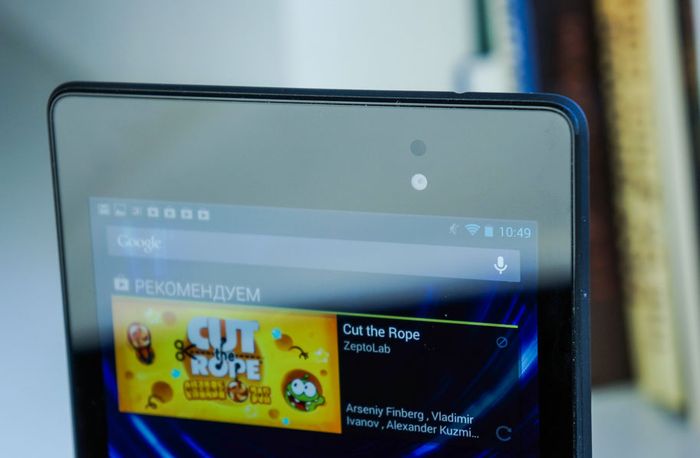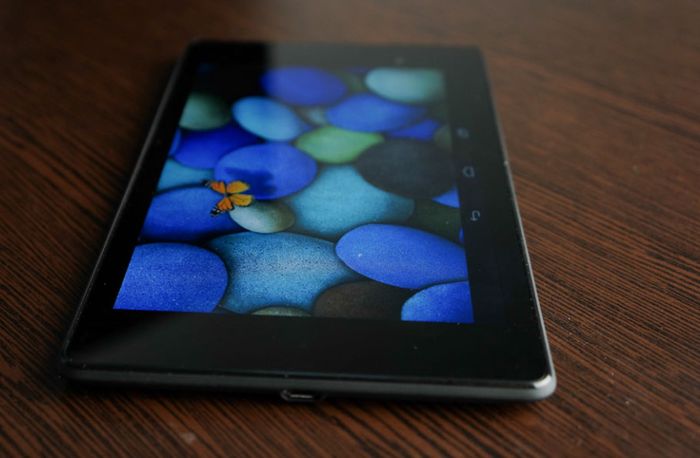 Somewhere someone has already called Nexus 7 display the second generation the best of all that today are set in tablets and smartphones. It is a question of the relationship between all the parameters: resolution and pixel density, brightness, contrast, viewing angles, proximity to natural colors. I can definitely say that this is the best display, but it is precisely among the most-most. In Nexus 7 highest number of pixels per inch – 323.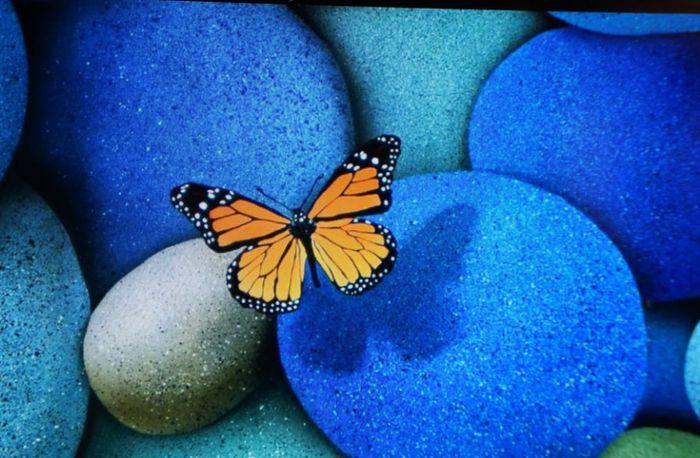 In comparison, the iPhone 5 is almost the same – 326. Consider separate though possible, but this is zadrotstvo. Resolution – 1920×1200 pixels, but part of the space occupied by the function keys back home and call multitasking. Even if the new product was HD-display, it did not look would be a failure, it is all the same more clear than in the iPad mini, but Full HD – it is right to distinguish himself from others. Screen Type – IPS. Brightness of 590 nits enough to more or less comfortable using the tablet in sunlight. The minimum brightness is small enough so as not to strain your eyes in the dark.
Cameras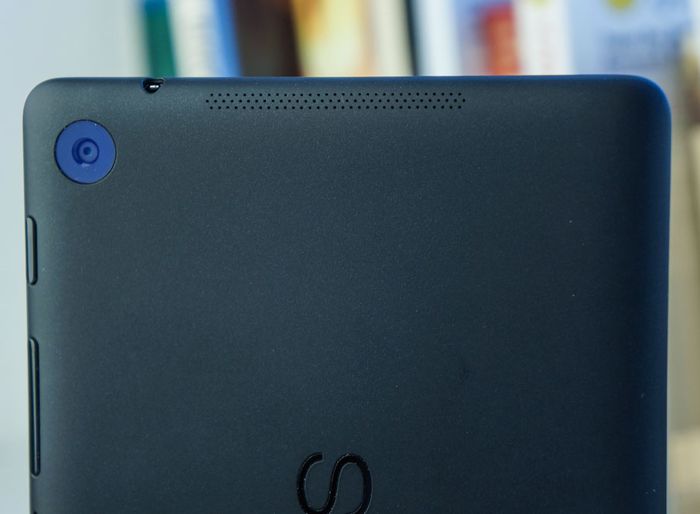 The front camera – 1.3 MP, video writes in 720p. It was removed from the center to the right corner, because of this, talking on Skype with video, have a little tilt plate to face in the middle. But the most important thing – there was a main 5 megapixel camera at the back. It can record video up to 1080p. The quality of both cameras is average, but their presence – definitely a plus. By the way, the video quality is even nothing, in the proportions – it is better than the photos.
Specifications and Software
Last year, the Nexus 7 runs on a processor Nvidia Tegra 3 and it will not be considered an advantage. The novelty here is better and, in the second generation of the Nexus 7 is set a good processor. Nearly 600 Snapdragon, but not quite. Inside – a quad-core Qualcomm Snapdragon S4 Pro APQ8064, running with a clock speed of 1.5 GHz, based on the Krait cores 300 (as in 600-ke). Graphics Core – Adreno 320. RAM – 2 GB user – 16 or 32. Memory card slots, as usual for nexus, no. The plate was very fast, is not inferior to iPad 4 and even surpasses the iPad mini to speed. Games such as Real Racing 3, Dead Trigger and others go for the maximum graphics settings. The main thing – the processor and graphics can easily cope with such a high-resolution display. Separately, I note, even when the all-privsego of Google Play, it does not affect the smoothness of the interface. And since not everyone can even top device.
Autonomy tablet standard – the same 10 hours, all that promise. Of course, discharge the battery to zero can be much faster with the same-RR3, but capacity at 3950 mAh enough to do without a few days of charging for average statistical use.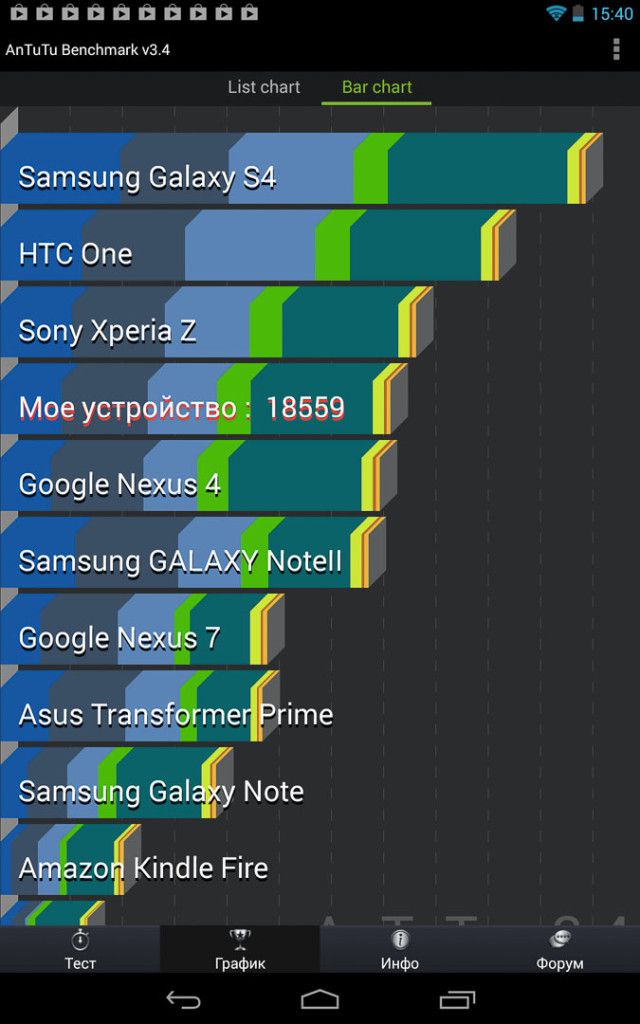 Nexus 7 – this is the first device which is now available with the new version of the operating system – Android 4.3. The update also flew to other Google-device, but on the shelves with only 4.3 Nexus 7, which makes sense – this is the new device. How strange and pleasant to write that on top of Android no one installed! You get the right experience with the Linux operating system, because it is so it sees Google. In addition, the name Nexus, on the back side of the device, is already a sign that everything new that Google will release will be with you. It's just perfect!
External changes in the new version of Android 4.3 is not very much. The biggest – profiles with limited access. In tinctures, Section "Device", there is an item "Users". In it, you can create a normal user, and can restrict access. This is useful when the tablet is most of the time at home, and you use it only on the arrival from work. Then, no one will get to the main uchetku without entering a password (for example, graphics). In this way you are providing the opportunity to use only those applications that are themselves choose.
But under the hood in the Android 4.3 much more interesting. For example, support for Open GL ES 3.0, which is not present in Nvidia Tegra 3 or Tegra 4 in. They never mentioned in the release, they say, will not soon games will require Open GL 3, and then bang, and it uses the OS itself! In principle, it is possible to finish the driver and I would not exactly say that no one has ever made. But in the current update of the first generation of Nexus 7 support Open GL ES 3.0 is not. Read more about the changes and innovations in Android 4.3, we wrote here and here.
Dimensions: 114 x 200 x 8,65 mm.

Weight: 290 g

Operating system: Android 4.3 JB.

Processor: Quad, Qualcomm Snapdragon S4 Pro APQ8064, 1,5 GHz.

Graphics: Adreno 320.

Display: IPS, 7 ", 1920 × 1200, 323 ppi, recognizes 10 simultaneous touches.

Memory: 16/32 GB of flash.

RAM: 2 GB.

Camera: basic – 5 megapixel, 1080p video recording, a front facing – 1.3 MP

Wireless technology: dual-band Wi-Fi, Bluetooth 4.0, NFC antenna and induction charging standard Qi.

Interface connectors: 3.5mm headphone jack, Micro USB, combined with SlimPort.

Battery: Li-Pol battery 3950 mAh.
Accessories
It is right that Google introduced not only the device, but also some accessories to it. There are a couple of films, including anti-glare, and two types of flip covers: Travel Cover and Premium Cover. The first embodiment can be in one of six colors, the second – just black and white. But, Premium Cover can serve as a stand for the Nexus 7.
Output
Like I said, we have the best Android-tablet, given the quality, performance and, of course, cost. And those that I have described the delights of iOS are not required, can easily acquire a second-generation Nexus 7 as the best tablet at all. The only thing, the display could be closer to 8 ", as modern ceiling lamps (huge smartphones) has come close to the mark of 7." Take the same Sony Xperia Z Ultra or Samsung Galaxy Mega 6.3. A Nexus 7, even if you want to use will not work as a phone – no earpiece.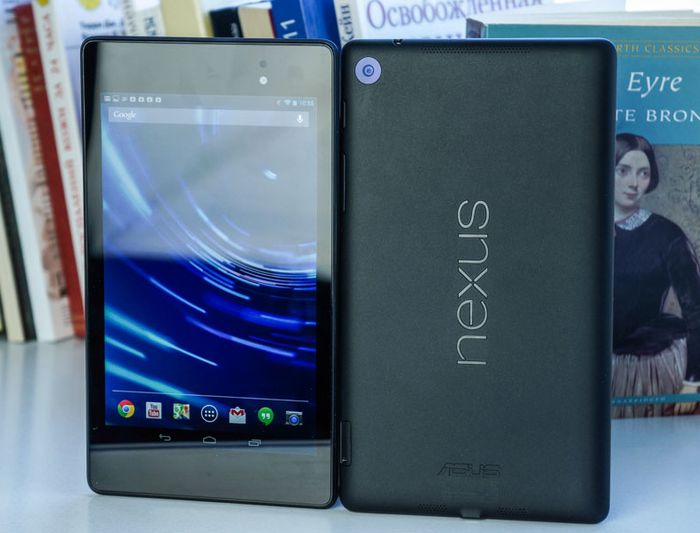 There are three versions of the Nexus 7 with 16 GB of internal memory with 32 GB and 32 GB + LTE. I now have two: the easiest and coolest. Value stated by Google: $ 229, $ 269 and $ 349. When he reached us, the cost will increase slightly, but even 300 dollars, and for many it is already possible to buy the basic version, it is imputed cost. Remembering about the iPad mini, its 16 GB-I version costs $ 329, it is they and taxes.
Overview of turned all so joyful and of itself is good, the tablet is definitely different from anything we have today of 7-8 "of competitors. Inexpensive, very high quality, productive – just wish shtukentsiya which can afford. But do not forget that we are comparing Nexus 7 of the second generation of the original model, which sold more than a year, and with the iPad mini, which is also almost a year. It is logical that the second generation better than the first. I did not expect the difference will be less dramatic, but still. But the iPad mini is about to get an update. I do not think he will be able to overcome the Nexus 7 in value, it will remain at $ 100 more expensive when compared to the basic version, which is a lot. Moreover, I do not think it will catch up with new mini hardvernye Nexus 7, but even with 1 GB of RAM and processor A6 iPad will be very fast. Therefore, it is necessary to bear in mind in the first place if you care about the most recent game, or do you use specific applications like music, you should at least wait for the presentation of Apple. If the output rate and the number of games for Android is suitable, specific programs are not necessary – you just here. You can safely buy a new Nexus 7 and no doubt the right choice. At a minimum, you provide yourself with stable updates from Google, and adequate operation of the device. I definitely put the tablet and the highest score is the coolest name badge, Nexus 7 deserves it. As for myself, I have already ordered this model, and as you realize, at the time of this writing, has received the ASUS Nexus 7.
Read another very interesting article about alternative energy of the Sun, water and air.