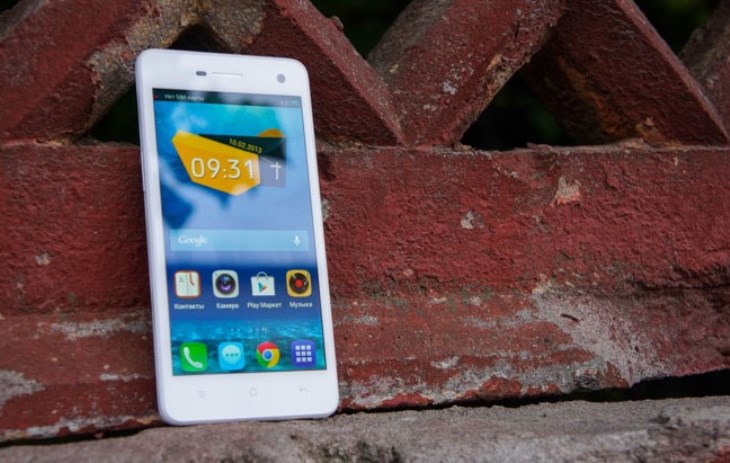 What we know about the company OPPO? They ran out (in other words it will not name) on the market with the application for the thinnest smartphone in the world. It turned out they have it? Definitely, yes. Subsequently, the company announces loudly discussed with you in our circles (which alone is worth the hype around the OPPO Find 5 or N1!). Of course, no noise would not work if the machines were of poor quality. In this regard, we look at the more quiet, budget smartphone from the Chinese company and try to find out if they have successfully obtained work in this segment. So, OPPO Mirror R819.
Design and Ergonomics
Even from a distance see the entire budget machine. The body is made of glossy plastic, but collects fingerprints are not so much – the front side good oleophobic coating and the back of the prints are masked for a barely perceptible ripple on plastic. Housing is not collapsible and without play (thanks to a small metal box, which is a rib). The smartphone is very thin and light, the thickness of only 7.3 mm, and weight – 110 grams (for comparison, iPhone 5, with smaller dimensions weighs 112 grams). I'm not a big fan of these characteristics, I believe that a smartphone should weigh exactly as much as it looks like, and in this case the figure is normal.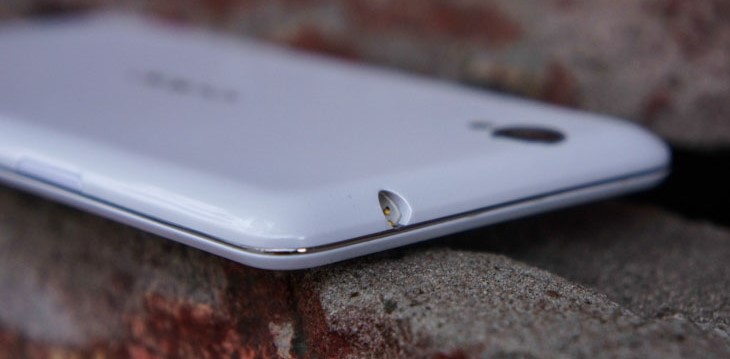 But the weight distribution unit is not the most successful. The fact that the top of the smartphone slightly heavier bottom, and it seems that the phone tries to jump out of his hands. However, this impression was only the beginning – then I got used to fast, or just take the phone the other grip, did not understand, but the feeling was gone. Walk through the arrangement of elements and their ergonomics.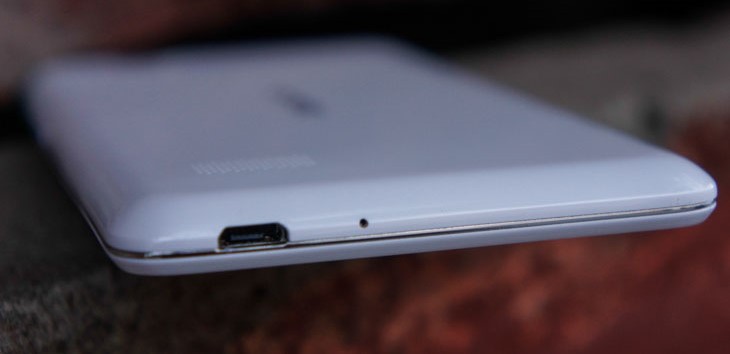 Right – a small rocker up / down, it's up to a small inconvenience, and tactile response is poor. Many would consider that I pick, and would be right, but the work I was. On the left – almost the same size lock button, which is a lot for her. And thanks to her, I turned off the display to two times more often than he wanted.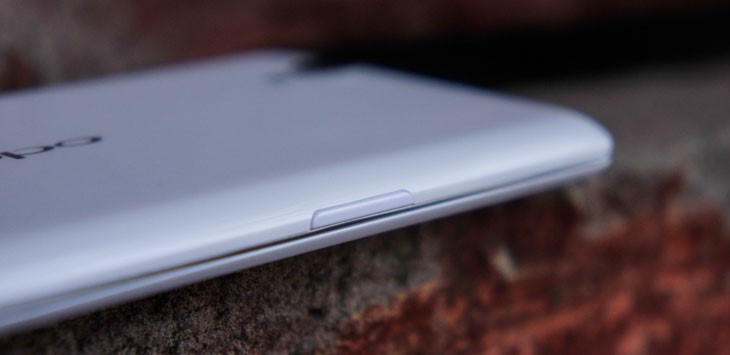 Front – 4.7 "inch display, a 2 megapixel front camera, sensors and 3 touch buttons, lights are switched on only when you click on them, there is no automatic inclusion, besides, she is very dim lighting. Honestly tell you, even in the dark it looks dull.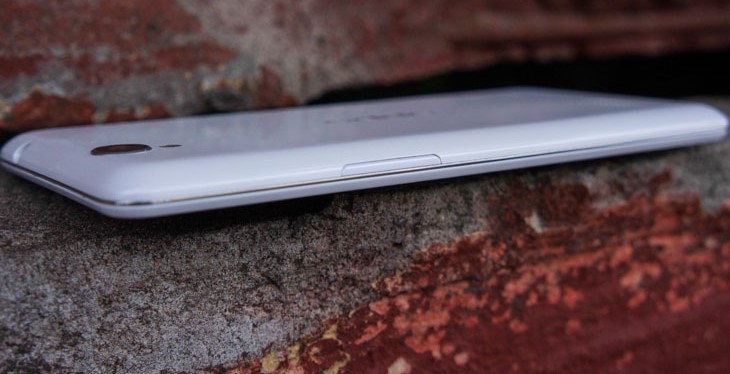 Rear – 8 MP camera, slightly sticking out from the body, it looks aesthetically pleasing. Next to it – a flash and an optional microphone. Symmetrically with respect to the camera is located at the bottom of the speaker is loud and quality. There is also a slot for two SIM-cards is bordered on the lateral edge (by the way, I can remember the first phone with a dual tray for SIM-cards).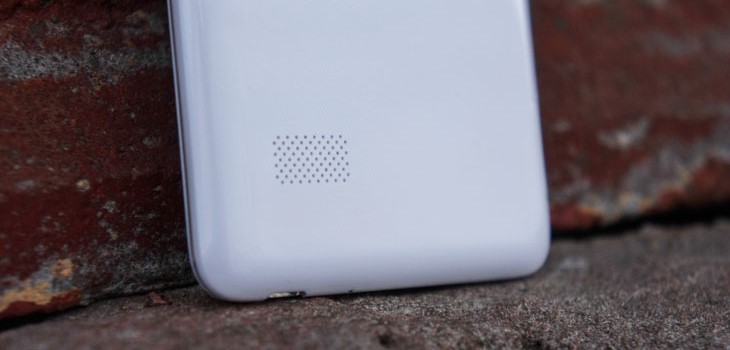 Display
The device is equipped with a 4,7 "IPS-display with a resolution of 1280 x 720 pixels (312 ppi), which is covered with a protective glass Dragontrail from the company Ashai – the world's largest manufacturer of glass (Dragontrail the characteristics comparable to Gorilla Glass 2). The display itself is not bad, the maximum viewing angles, a minor flaw – a vertical slope is slightly different color transfer. Grit is not visible, the brightness is sufficient. In automatic mode, the brightness is changing very rapidly, putting a screeching halt for a while.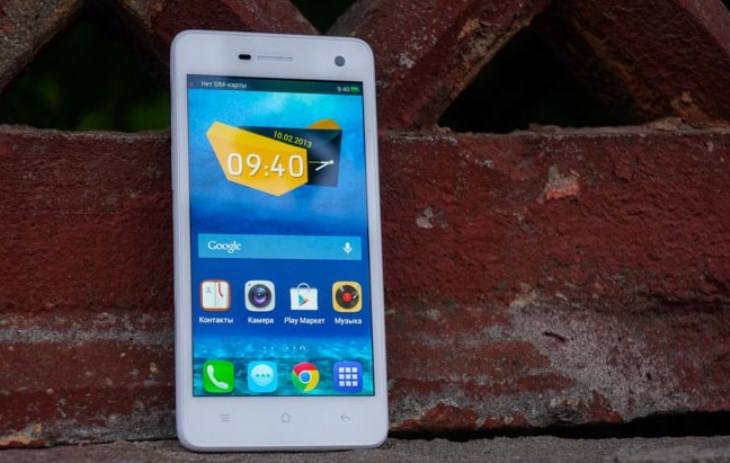 Cameras
The front camera is 2 MP can shoot video in Full HD. By the way, the camera angle – 88 degrees (for comparison, a standard angle for these cameras – 65 degrees), which is especially useful when the conversation via Skype. Well, of course, with such a camera are all friends vlezut the frame. The main camera 8 MP, based on a matrix Sony Exmor R, which is already talking about a decent picture quality. In theory, as well as all the "revolutionary" of the matrix, this allows you to capture detailed, low-noise images in all lighting conditions. With examples can be found below. Camera Features – High speed mode – 0.6 seconds per frame, 100 frames – 15 seconds.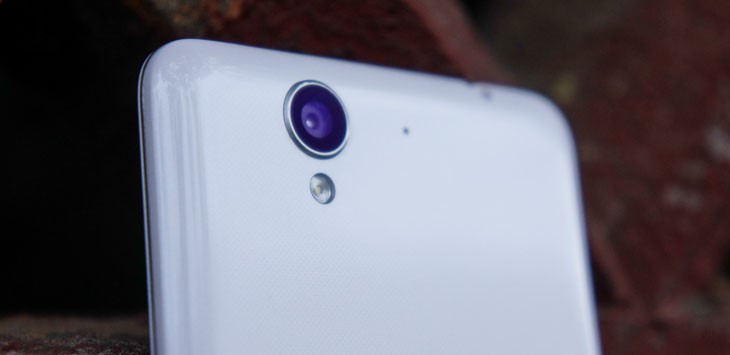 Specifications and Software
Oppo Mirror uses a quad-core CPU MediaTek MT6589, clocked at 1.2 GHz (Cortex-A7) and made on 28-nanometer process technology paired with a video processor PowerVR SGX544MP. RAM – 1 GB built-in – 16 GB. Memory card slots do not. Due to the fact that the new processor is not the most popular, old projects can be optimized (eg, Nova 3 run I did not succeed, and FIFA 14 starts but runs with a slowdown, although, in principle, playable).
Device under control of Android 4.2.1 Jelly Bean with a proprietary shell from OPPO, with Color OS (which is developed based on user feedback on the site oppoforums.com) or on the bare Android. Say what? Yes, that's right, it's the world's first Android-powered device, which will be available for as many as three official firmware. It would be nice if the guys were able to make the most of the good support firmware, then it would chip failed. Also on the menu is present smartphone tab "Gestures and movements", which includes such amenities as a mute flip phone, answer a call PRESENT phone to your ear, unlock by double-clicking (like LG G2), smart alerts, etc. It established its own music player with a stationary widget on the far right of the desktop. An interesting feature of this widget – to start the music, drag the pickup to the plate. All is good variety and a large array of options for customization (fonts of the system, setting the lock screen, etc.).
Technical characteristics
Dimensions: 136,5 x 68 x 7,3 mm.

Weight: 110 g

Operating System: Android 4.2.1 JB.

Processor: Quad, MediaTek MT6589, 1,2 GHz.

Graphics: PowerVR SGX544MP.

Display: IPS, 4,7 ", 1280 × 720 pixels, 312 ppi

Memory: 16 GB flash

RAM: 1 GB.

Camera: basic – 8 MP, video recording at 1080p, front – 2 MP.

Wireless technologies: Wi-Fi, Bluetooth 4,0.

Interface connectors: 3.5mm headphone jack, Micro USB.

Battery: Li-Pol battery of 2000 mAh.
Total
It is very strange that after such designer of smartphones, as N1 and Find 5, the company still can not afford to release the device without design (yes, that's what a OPPO Mirror).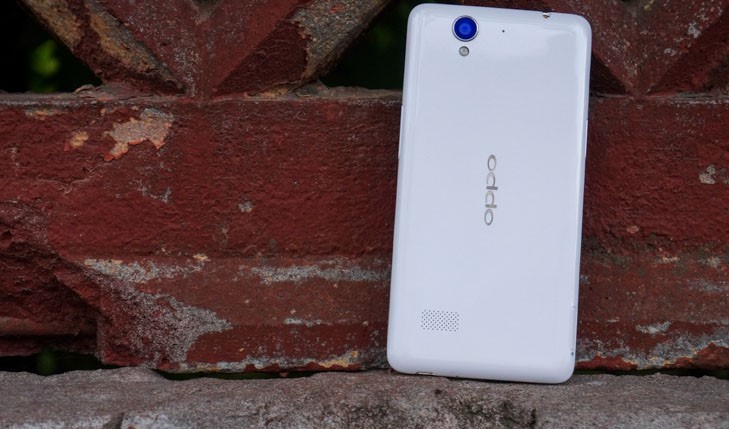 I can not say that the smartphone as a whole I did not like. It is not bad, especially considering its price – $ 350. To all its tactile features I'm used to quickly variety firmware and settings too pleased, but where I find fault lie only my personal habits, as I describe all the little things that the end user may not be so important.
Read another very interesting article about alternative energy of the Sun, water and air.