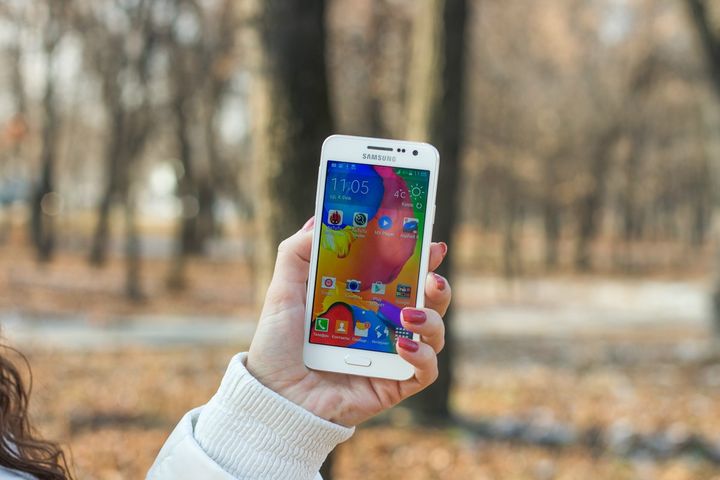 The youngest in the new A-line smartphone company Samusung. Model captivating stylish design and minimal dimensions – the thickness of its metal housing just 6.9 mm. In addition, there is a good filling: 4.5-inch Super AMOLED- display, 4-core processor, 1GB of RAM and battery with 1900 mAh. At first glance it looks interesting, is not it? Well detail about the features of the unit and its value further.
Design and functional elements
Galaxy A3 attracts with its stylish design is still new to the devices Samsung: looks fashionable and expensive. All-metal housing, painted on the back of the marginalia and white beautiful pearl color with a matte texture – that impresses at first sight.
Without paint manufacturer has decided to leave only a neat chamfered faces at the ends. I reminded them of the "apple" smartphone, as well as the previously presented model of the Samsung Galaxy Alpha.
Yes, perhaps unpainted metal Galaxy A3 would have looked much more solid, but also the presence of paint, as for me, absolutely does not spoil the overall good impression from the exterior of the smartphone. Plus, the material proved to be quite resistant to scratches and does not collect fingerprints. Pleases wealth and variety of colors: white, black, blue, gold.
Due to small dimensions – 130.1×65.5×6.9 mm, Galaxy A3 easy to manage, including the one hand. There is no absolutely no complaints and ergonomics – before all the necessary functional elements easy to reach. Thumb fits in exactly the power button, arranged on the right side, and the index on the volume rocker located on the left.
Housing is not collapsible – smartphone in hand feels like a monolith – no backlash and extraneous scratches. Respectively, and two sliding the SIM-card format nano brought to one of bokovushek. One of them, by the way, if desired, can be used not for SIM cards, and for the microSD-card.
At the lower end to settle the microphone, 3.5 mm headphone jack port and micro-USB, and the top output microphone noise reduction.
Most of the front side takes 4.5-inch screen. Above it are the proximity / light, eye 5MP camera and earpiece. Under the screen there is a physical button "Home" and two touch-sensitive backlit.
Functional elements on the rear panel – a small mesh multimedia speaker, LED-flash and lens 8MP camera, framed by a metal rim and extending substantially over the body of the gadget.
Display
Galaxy A3 is equipped with a small by today's standards a display diagonal of 4.5 inches with a resolution of all 960h540 points. The density of pixels per inch – 245. Pixelize seen only near the screen.
The smartphone uses Super AMOLED- matrix. The display has an excellent viewing angles, good color and brightness. The latter has both manual and automatic adjustment. Ability to customize the color is implemented on a page with a selection of profiles, one of which includes automatic adjustment.
The front surface of the screen is covered with glass, mirror-smooth surface, resistant to scratches and fingerprints. Do not be so annoying problem for the readability of information on the screen and the direct rays of the sun.
Touch capacitive layer to recognize the 5 simultaneous touches and has a good sensitivity, while the finger slides over the surface rather easily.
Memory
Problems with free space for new files in the case of the Galaxy A3 I did not have. Since 16 GB of internal memory on board, you can optionally be expanded to 64 GB through microSD-cards. But support for USB OTG manufacturer somehow had not foreseen – connect an external drive to the smartphone can not.
Features and performance
Premium materials for housing Galaxy A3, as it turned out, hides "iron" typical budget-4-core processor Qualcomm Snapdragon MSM8916 c 410 clocked at 1.2 GHz and Adreno 306 graphics and 1GB of RAM.

Best in class performance it can not be named, but in general, with the daily tasks he does well: easily play video in HD-resolution, it is a good idea to work on it a three-dimensional race Asphalt 8.
Wireless modules and communication
A set of communication interfaces Galaxy A3 quite traditional to the modern market: Bluetooth 4.0; ANT +; GPS with A-GPS, GLONASS and Beidou. In addition, the smartphone is equipped with NFC-chip.
I also note that the "troika" works fine in Wi-Fi networks of standards b / g / n (2.4GHz) and can distribute Wi-Fi. In addition, the smartphone is equipped with NFC-chip.
The device supports communication standards 2G GSM, 3G WCDMA and 4G LTE FDD.
Battery
One full battery charge Galaxy A3 capacity of 1900 mAh at a sufficiently active use, includes part of "surfing" the web, as well as phone calls and SMS communication, not enough for more than a day.
Although if you activate the extreme energy, by limiting the number of available applications, and the screen color changes to shades of gray, while the battery life can be extended significantly – up to 2-3 days.
Dynamics
The earpiece smartphone perfectly conveys it – during intercourse no extraneous sounds.
Multimedia produces clear and smooth throughout the range of volume. Its power is enough for comfortable viewing movies or listening to audio in a room isolated from outside noise. The only inconvenience that may arise – is accidental overlap dynamics hand while holding the trends in landscape orientation.
Camera
The front camera smartphone with 5MP resolution not only provides good image quality in the process of video in Skype, but also allows you to take self-portraits of decent quality.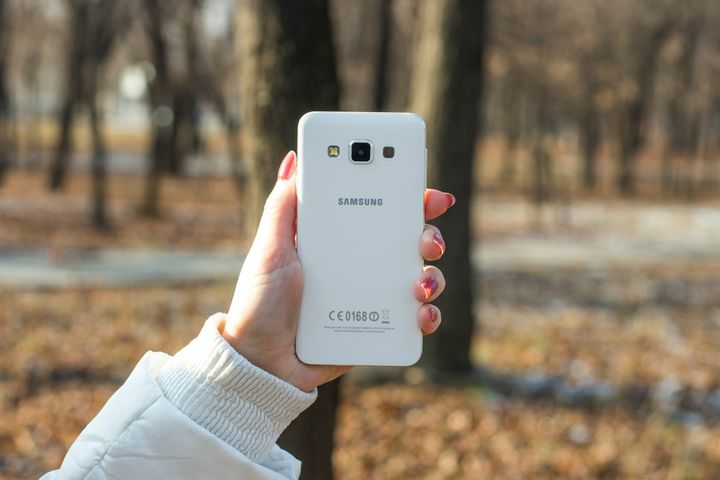 Photographing can be carried out, including a gesture with a palm. There are also modes of group self and GIF-animation.
The main camera on your smartphone with 8MP resolution, autofocus, LED-flash, as well as a large number of settings. Can be adjusted, for example, ISO, white balance, exposure, add geotag, select the method of photography: voice, volume button, clicking on any point on the screen. Among the available modes: Night, Panorama, Continuous Shot, Beauty Shot, and others.
Quality Made on camera Galaxy A3 photo I was satisfied – they have good sharpness, noise if there is moderate.
Competitors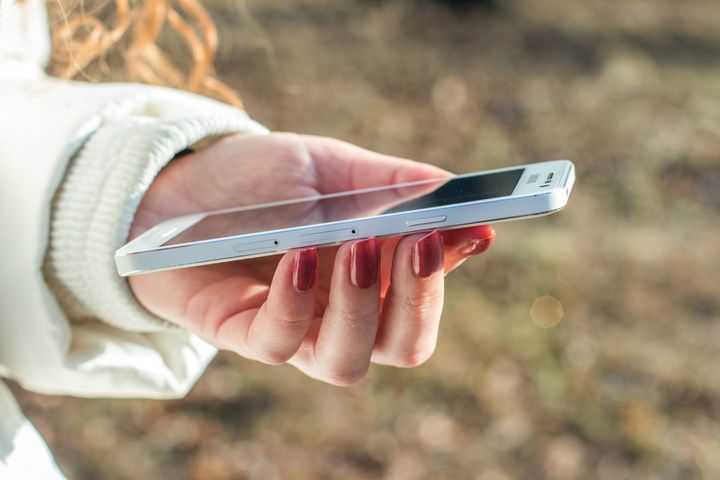 As part of the "iron" rivals Samsung A300H Galaxy A3 – a dime a dozen. But to pick him worthy "opponent" with a stylish design and more like the price is not quite simple.
Software
Samsung Galaxy A3 is running an operating system Android 4.4.4 KitKat. Top "OSes" by Google installed a proprietary shell – TouchWiz latest version, but with a somewhat stripped-down compared to the flagship functionality. So, for example, the absence of the usual applications for handsets Samsung S Health, Children's regime, service Dropbox and many others. But there is a FM-radio, scheduler S Planner and store Galaxy Apps.
One of the interesting features of the shell can be identified as "Simple" mode screen, which involves a simplified layout and display large icons.
Findings
Well, Galaxy A3 – one of the first smartphones Korean giant, who finally looks interesting. Against the background of numerous competitors, he dressed in the first place perfectly assembled an all-metal body, giving it the design cost. In addition, it should be noted the good quality speakers and camera system, as well as the possibility, if necessary, use a slot for microSD-card as a second SIM-card.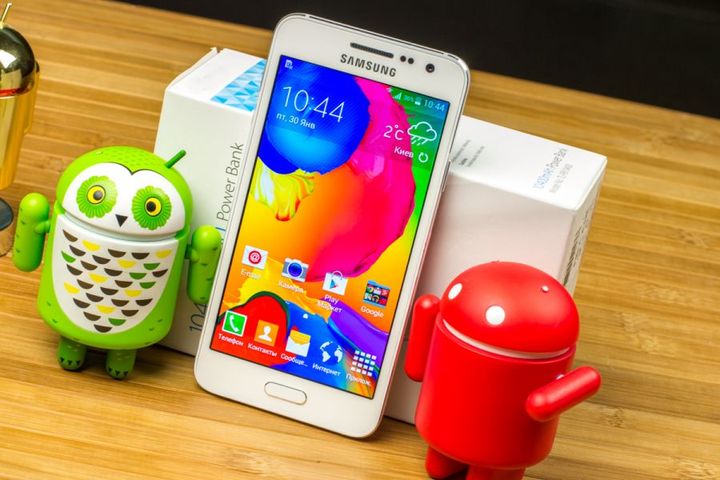 But on the part of the "iron" – a typical middling, the performance of which, however, is enough for a comfortable everyday tasks. Given the price tag of $ 180 to the main shortcomings of the smartphone include a low resolution screen and simplified user interface TouchWiz.
Pros:
Beautiful design / metal body;
Quality assembly;
The ability to connect two SIM-cards;
Good opportunities main camera
Quality speakers;
Bright display with wide viewing angles.
Cons:
Performance with the price tag;
Low resolution display;
Simplified interface TouchWiz.
Read another very interesting article about alternative energy of the Sun, water and air.