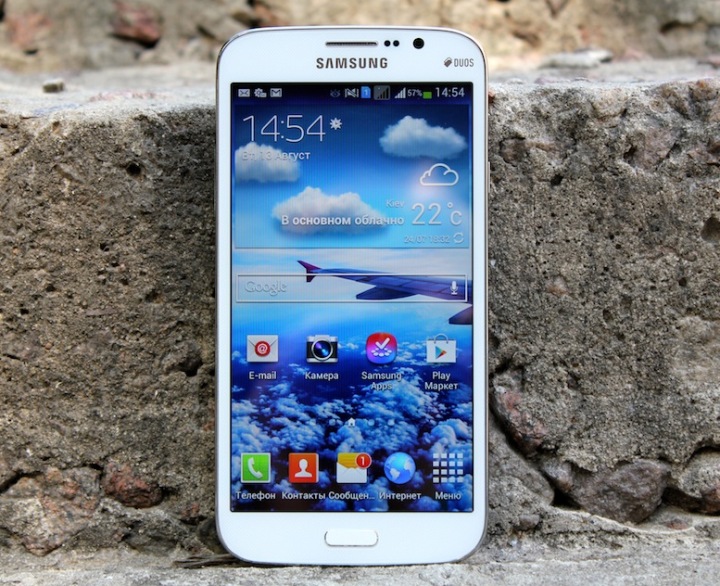 Here sometimes I look at the owners of smartphones and tablets, and think : " Why should they both device? ". Salt in the fact that they are using a smartphone as a " dialer " and the tablet decide all other matters. This, of course , does not apply to all the people who have them on. Simply, there are people who are paid twice as much, but why not have thought . And so it happened that in the smartphone had to pay $ 500-700 for a tablet and 3/4G somewhere as well . But here's the thing : people are for a two unit. On the one hand, they need a large display for the Internet and perhaps video , navigation and more. On the other hand, need a good phone "with all the chores".
And now the moment has arrived, there were " lampshades ". Something that will save people from having two items and unnecessary spending . Indeed, many would agree with me , it really is cheaper. Let such a niche and looks unusual , it's much better than the plates with the earpiece , because attract much less attention . Today we'll talk about another version of this device from Samsung. As much as it may sound funny , but as with the flagship S4, Galaxy Mega has a scaled-down version . Meet ! Samsung Galaxy Mega 5.8 Duos!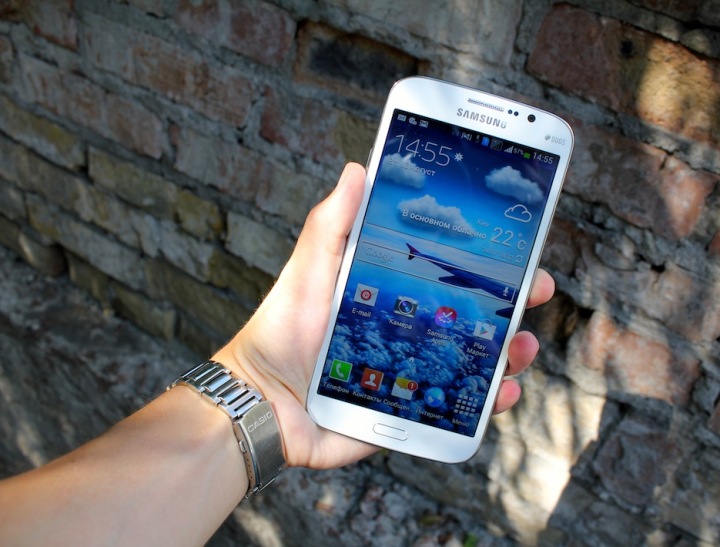 " CSO ", " What can you? ", " How much , how much? 5.8 inches ? "" And how can one hand? " … Basically, here are the first thoughts . The device is really great for a smartphone. The first step is to immediately try on the pocket and realize that you need to have a bigger pocket . Next try to walk – also have to carefully walk up the steps is not convenient, the lift – nothing. Afraid of the idea that if someone calls you while you are driving, it guards the road for about a couple of miles will see that you are talking on the phone while driving.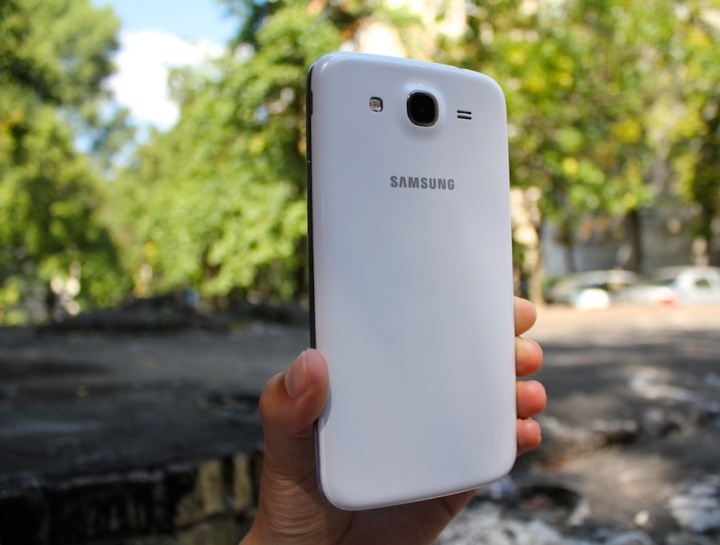 When you first turn on the phone the problems and issues arise. Immediately pleases placement slots for memory cards, which are not hidden under the battery or " preloaded " with it. After switching begin to understand that the display size too big for the usual distance from it to the eye , and you start getting used to keep the device more than usual. Because of the low resolution of the display is the effect of the ladder . It is not very visible – when you remember about the right distance , it becomes better. Next let's talk in more detail, but briefly and only about basic , more details can be found in the review of the senior modelki.
Design, buttons, display …
No need to be a detective level 78 in order to understand one simple thing – people are tired of the same old same design line of Samsung Galaxy. Experienced guys and they tense up , in order to distinguish one from another smartphone . And what an untrained layman who came to the store to buy a new smart phone, and he said : "Love Samsung? There is a Galaxy, Galaxy and such a Galaxy ». And as a result the person is at a loss after five minutes of in-depth discussions of technical characteristics and the difference in just seen the same appearance smartphones. Mega was no exception , and mimics the basic style "a la S4". Even though it looks good, but the design is too become boring.
Quickly go over the main points of the body. The device is made of plastic. The back cover is removable, but it is well attached to the body and did not play . Assembly as a whole is good, but because of the size structure without squeaks not done. Covered with decorative diamond-shaped grid. It covers scratches, although over time will surely wear. But it does not matter, the back cover can be changed . Behind everything is standard : convex camera window , surrounded by a flash, speaker and logo of Samsung. On each side of the body hugging silver bezel with effect glands . Below her – a microphone and Micro USB connector on top – only headset jack . Left – the volume rocker and on the right – the button on and off. With all the excellent location , the buttons just get under your fingers and intuitively accessible. Not only had the IR port, which is the older model Mega.
All individual unit covers the glass. Top – the earpiece grille , a pair of sensors, a webcam , logos and Samsung Duos. Below the display – a physical button "Home" in the company of two touch "Back" and "Menu" . All the rest of the space is allocated for 5.8 -inch PLS- display . Its resolution – 540 x 960. The pixel density – 190 ppi ( at Mega 6,3 – 233 ppi). Rather weak , to be honest . Picture seems a little soapy , clarity is lost. If you look closely, you can find a " ladder" . The sensor picks up five fingers, which is relatively small for such a device , but what more? The viewing angles are good , color rendering also looks normal ( until you start comparing it to other displays ) . But these shortcomings are compensated by size. And he basically light enough. Of course, if you initially set up the negative , it will be of little use . But if you look at the device on the other side , then on the Mega fun to read, watch videos or play. The main thing – do not use complexes during devaysa in public, because it attracts the views , especially during conversations.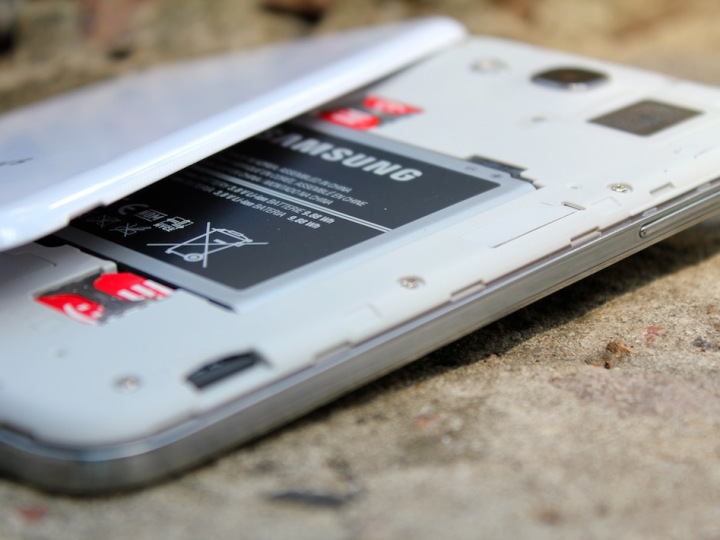 In general, the device is very pleasant . Controls are in place, although there can be collected volume control and power button on one side so that the second could be to lean device with a cover ( for watching videos, for example). Dimensions devaysa great to use with one hand so hard. Carry in your pocket , too difficult, but in need of such a device prilovchatsya . The display resolution is not the same as expected from this size, but at a working distance will be fine. Exacting users will be difficult. On the other hand , good ergonomics , size and weight ( 182 grams) may well improve the situation. And if I needed such a devayse , I would have a 75 percent would be satisfied with the appearance and quality of the picture. 
As with all of the latest Galaxy, Mega received two very standard camera. The front camera – 1.9 megapixels, it runs a little slower than the S4 or S4 Mini, but the quality of it is normal. With the main 8-megapixel all also fairly standard for this price range from Samsung. In the daytime shots are good, as well as Full HD video at 30 frames per second. And when the light is not enough , the camera of the problem starts with the noise. For the average user of such a camera would be sufficient , but the ardent fans of mobile photography can remain unhappy . A couple of examples and move on.
With all the iron a little more modest than in the case of the Mega 6.3, but not too weak. The exact model of the processor is not specified, but it's a dual-core Broadcom c frequency of 1.4 GHz , 1.5 gig of RAM , video card VideoCore IV HW and 8 gigabytes of storage + slot for Micro SD. In fact it shows all 10759 points in AnTuTu and 58,8 FPS – in NenaMark 2 . At the same time he has enough autonomy to an active day , what's cool for a smartphone of this size. This helps the battery capacity of 2600 mAh. Heated device is not strong, which is also very nice.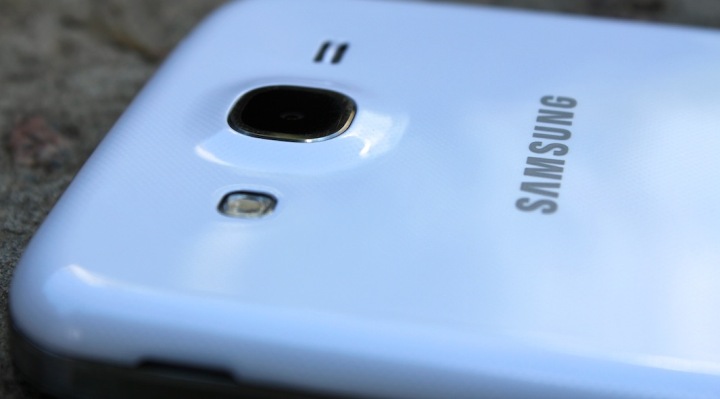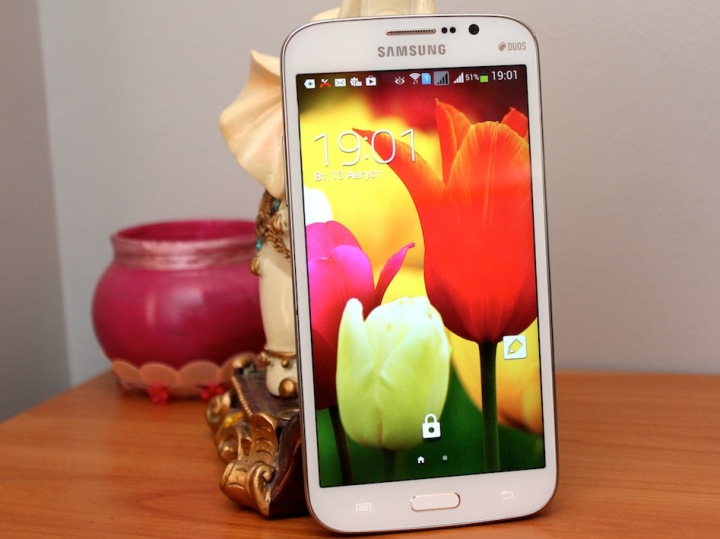 Performance in this will be enough for most of today's needs and toys , but in the most demanding games graphics get cut down . In Android 4.2.2 , too, everything went smoothly and without problems. I think that once again talk about the latest JB's proprietary TouchWiz does not make sense . Changes in comparison with, for example, S4 Mini Duos not. The work of two Sim- cards organized the same way. The only thing I have not counted , compared with Mega 6.3, so it's infrared port to control the TV . Everything else is touched and works well.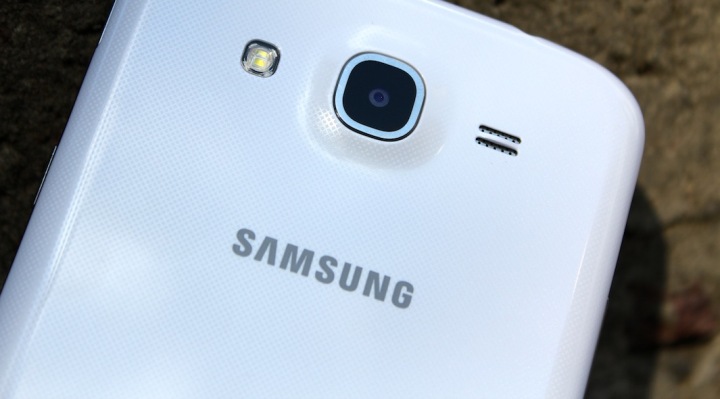 Specifications Samsung Galaxy Mega 5.8 Dos
Dimensions : 162,6 x 82,4 x 9 mm.

Weight: 182 g

Operating System : Android 4.2.2 JB.

Processor: Dual Broadcom, 1,4 GHz.

Graphics : VideoCore IV HW.

Display : PLS, 5.8 ", 540 × 960 pixels , 190 ppi, 5 simultaneous touches.

Memory: 8 GB flash upgradeable (Micro SD up to 64 GB).

RAM : 1.5 GB.

Camera: basic – 8 MP , video recording at 1,080 p, front – 1.9 MP.

Wireless technologies : Wi-Fi, Bluetooth 4,0.

Interface connectors : 3.5mm headphone jack , Micro USB.

Battery : Li-Ion 2600 mAh battery.
Conclusions and personal impressions
To sum up the time spent with the Samsung Galaxy Mega 5.8 Duos, it is worth noting those moments : the design has become boring , convenient device for browsing , games and video to use with one hand is almost impossible ( if your hand does not enter into the record books even Ukraine ) camera performance and endurance are good. The most important point – the target audience ! If you do not need a really big smartphone or do not plan to give up in favor of the tablet smart phone, then you should not look at the Note, Grand and Mega. But if you decide not to buy the tablet and tablet entrust the task to a smartphone , it's a very good decision.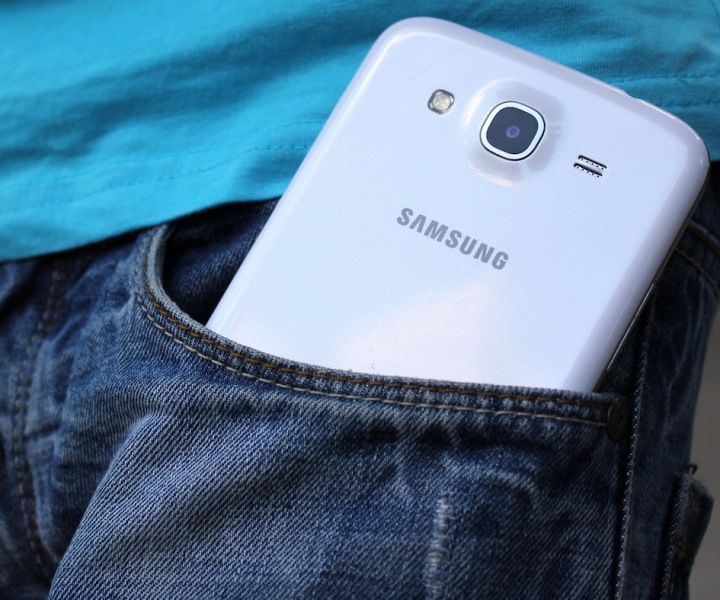 But there is another factor that adversely affect specifically Mega 5.8. The difference between the older model Mega 6.3 and today's hero is only $ 100 . In other words, for a cheaper model you need to pay $ 440 , while the older will cost $ 540. Against this background, Mega 5.8 wins only due to two Sim- card , which will either get rid of two dialers or beneficial use by the operator for the communication and the same for the Internet. In this case, you can save on your tablet as a smartphone with a tablet need just missing . But remember – a pocket for such a thing would have to find a healthy and climb up the steps very carefully.
Read another very interesting article about alternative energy of the Sun, water and air.