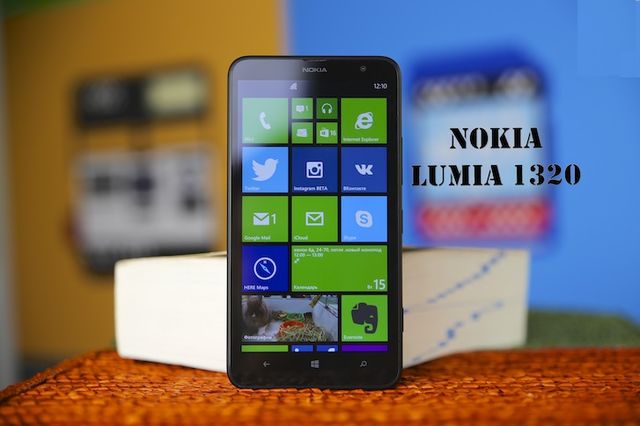 More recently it became difficult to tell the difference between a large smartphone and a small tablet. To make things even more confused in these simple terms, people brought another kind of device, which was named "fablet." This device, in fact, became the line between tablets and smartphones, combining a high resolution of the tablet and the phone is a smartphone. In this case the device found a buyer, even where it was possible to do by the average smartphone. Eventually fabletov popularity began to grow rapidly, and those who yesterday berated 4.5-inch smartphone, today stand in line for 5.5-6-inch Bandura, and telling about the ideal size of the iPhone display 4 take place at the store on 5th Avenue after every news about iPhone 5.5 inches.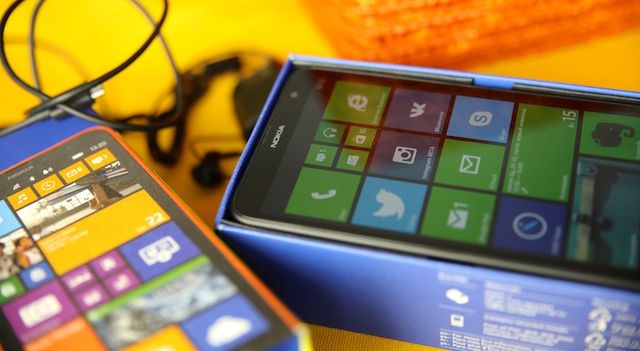 Fablety not spared and the company Nokia, which introduced a pair of such devices. One of them and become a hero of our today's review. This variation younger Nokia Lumia 1520 – 1320. By "younger" means not smaller, and more unpretentious specifications. That is to say, Finnish fablet available.
First impressions Nokia Lumia 1320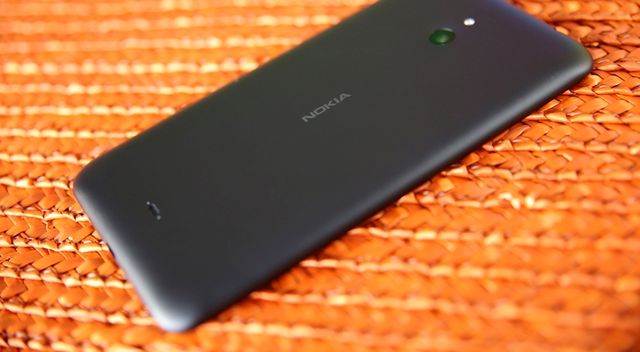 Opening the box with your smartphone, expect that there will be a lot of excess cardboard around the device. But this is not the case. Smartphone is more than it seems in the pictures. I as the owner of a small hand had long assimilated with dimensions of device. In the first few minutes with the smartphone involuntarily start to look for him pocket. So, jeans under it too should be chosen, because not everyone will be able to cope with pocket Lumia 1320.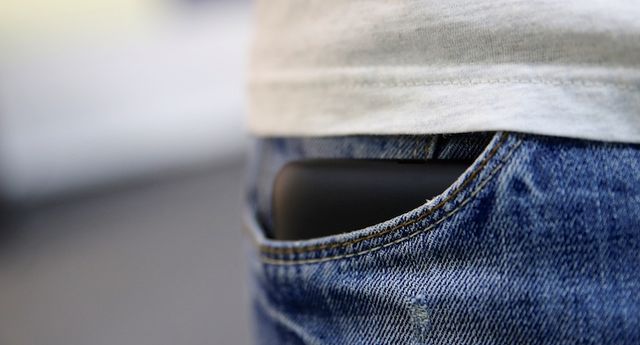 If we are talking about a lady who wants to hide it not in the bag, then it will be difficult to find a suitable pocket on women's clothes, even a small lovely smartphones half of the population can not always be in their pockets umostit.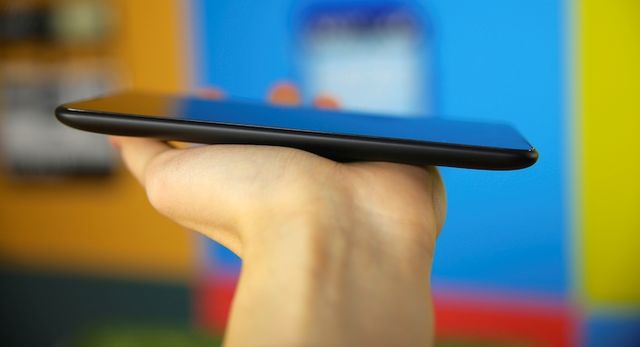 After starting devaysa Users will cover new wave of surprise size. At this time, the size will amaze interface on such display. Plitochki small (I saw somewhere on the web, they are called "quarters") here is not small. They are slightly smaller icons on the iPhone. Scrutinize the icon is not necessary, it is legible even from the other end of town. Okay, here I was a bit exaggerated, but, nevertheless, the size is very impressive. And shape takes some getting used to the first time a couple of times a smartphone planned to slip out of hand. But this is a little further. Included with the device – with removable charging cord USB-MicroUSB and in-ear headphones with a traditionally weak for complete headset sound. Initial configuration of all the most important took me 40 minutes to an hour, after which I started to get acquainted with it in greater detail.
Design, buttons  Nokia Lumia 1320…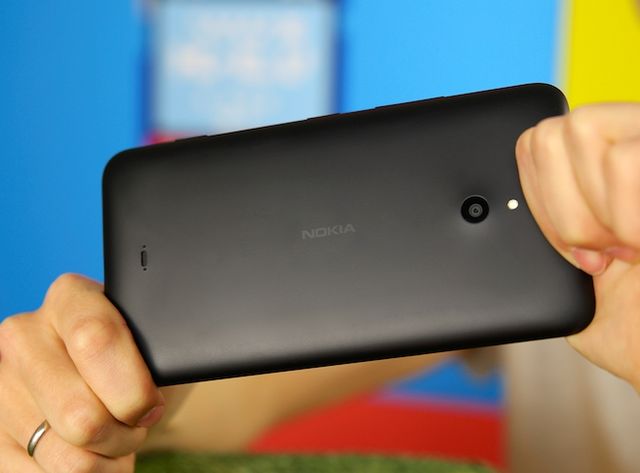 Appearance Nokia Lumia 1320 is very ambivalent feelings. Minimalistic design without any flashy elements. On the one hand, it can dilute the body color, the choice of the buyer are available red, white, yellow, and, as in our case, black case. Why not in the list of green, I do not understand. On the body is still missing some lines, insert a different color, some released edging. Something that would make the design a little more interesting. On the other hand, this minimalism, especially in black, and will attract your customer. Anyway, our model looks very strict, just right for the employee of a large audit firm, for example. In a word, not a children's smartphone – both in terms of design and in terms of size.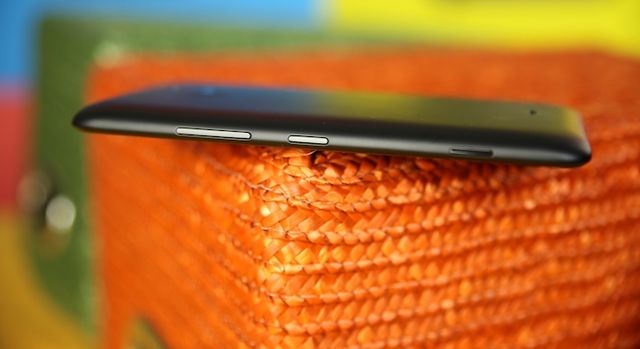 6-inch Disley fit in body size of 164.2 x 85.9 x 9.8, weight gain particularly well – 220 grams. As for the small plate (namely because this fablet perceived) dimensions are quite normal. In the first place, such a device is interesting for people with large hands. My friend, the owner of Note 3, calmly cope with Lumia 1320 with one hand. Although he had little to shift your smartphone depending on executable task. I also extremely difficult to even address starnitsy browser type, though to answer the call with one hand without problems – the answer / reject call big enough. By fortune do not go – most people will still be comfortable using this fablet just two hands. And the chance of dropping it less and the rate of reaction is much higher due to the lack of need to change the position of the smartphone in hand.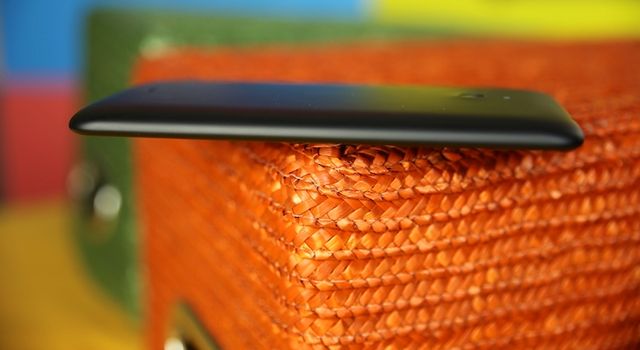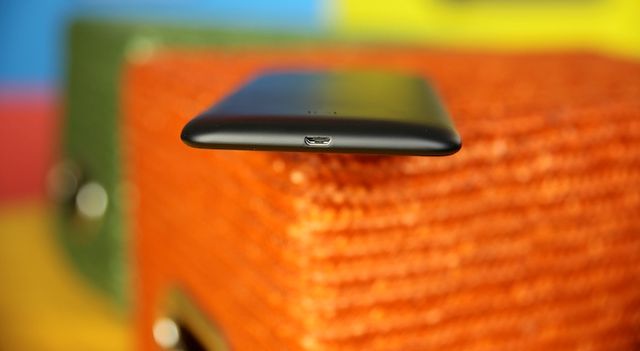 Build failed! Despite the plastic body, very large dimensions and a removable rear cover, even if the device does not twisting crunches. And bent smartphone reluctantly. Removed the cover over the bottom corners with difficulty. Under it – only access to the memory card and Sim, the battery is not removable and the approaches to it are closed. Cover tightly held on 17 mounts, if damaged it can be replaced with more body color and change. The control buttons are located directly on the lid, and replace it they too briefly.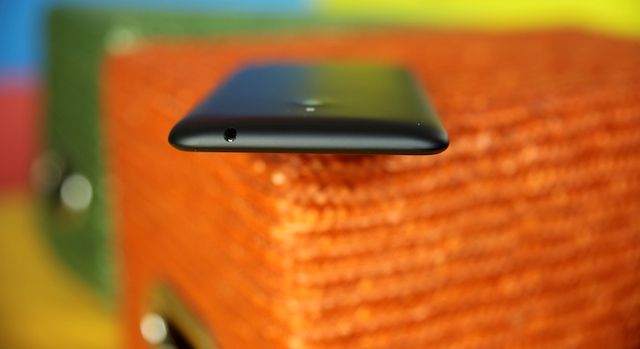 All buttons are located on the right side: dual volume control buttons, a power button and two-button control the camera. Top – headset jack, bottom – Micro USB. Rear – camera window, flash, dark Nokia logo and a small speaker. The front panel is fully under the glass top – a small slit for the earpiece, proximity sensors and lighting, another company logo and a front facing camera. Below the display the "Back", Windows and "Search." They are not highlighted, but have a very large touch surface. Between the glass and the bottom of the housing can be difficult to find the microphone hole.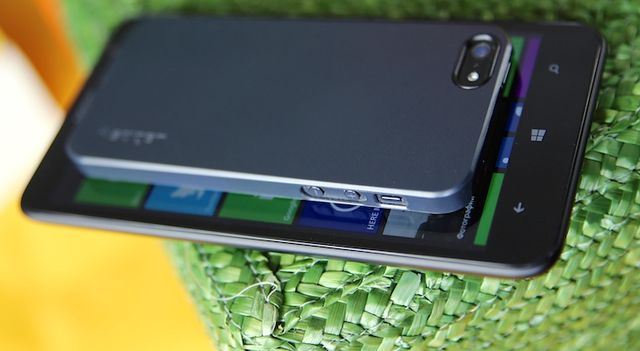 To familiarize yourself with the device and used to its size, you need to tinker with it a bit, to borrow it. For a couple of days I get the hand. Worth more to get used to the fact that the body is quite slippery, and this at a very impressive weight of the device does not help him to remain in the user's hand. I've got to do without the random drop-tests, but a couple of times was close to this. Such a moment is worth considering for those who have repeatedly been accused of letting smartphone hands. Well, those who often operates with one hand – this device will be too great for such tricks. But in need of such dimensions fablete Lumia 1320 should be like. Yes, there are competitors running Android, which displays with the same dimensions and design a little less subjectively more interesting, but of those who work with WP 8 only Lumia 1320 and 1520 have a display with a diagonal.
Display Nokia Lumia 1320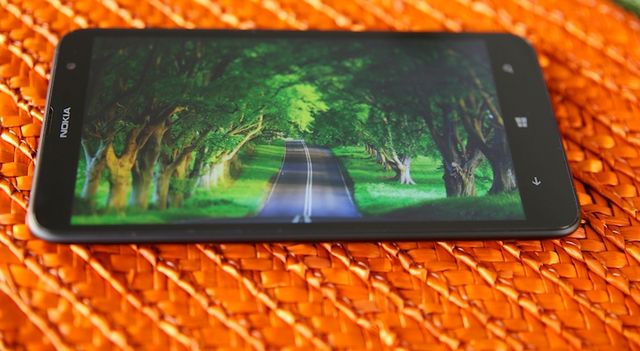 One of the main features of the 1320 can be called Lumia display. More precisely, its resolution. For those who need fablet, the choice is limited. And due to the size of the display, an error in some of the criteria can nullify the use of such a device. And in this case, Nokia came out okay. 6-inch IPS-matrix obtained with proprietary technology Clear Black. Resolution less than Lumia 1520 and is 720 x 1280 pixels, which is equal to 245 ppi. Maybe not a record, but in practice it looks pretty good. Colors Are excellent viewing angles are maximized. If the display is perfectly visible even in bright light.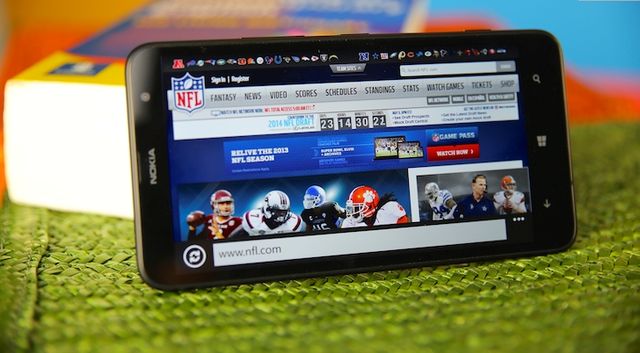 Glass protects the display with Gorilla Glass 3 oleophobic coating. By the way, fingerprint resistant coating could be better, although it is difficult to call it all bad. Traditional for Nokia, the display can operate in hypersensitivity, which will not be removed in winter gloves. Nice bonus will "color profile Lumia", where you can adjust the color temperature and saturation. In general, the display was very good. What you need fabletu. Of course, if you do not suffer from too sharp vision and 245 ppi for you very little. In practice, surfing the web, reading tapes social networks, work with documents and mail, watching videos – the same problem for this size display! What a little lacking, so it is possible quickly to tie the backlight (as it can be done in iOS and Android), but such a need arises infrequently.
Camera, Photo & Video Nokia Lumia 1320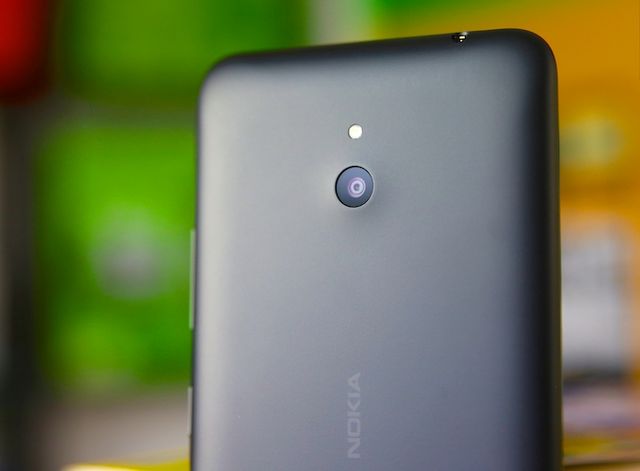 As expected, in 1320 two Lumia camera. Front – 0.3 megapixels. She is very weak, and more or less good self can only be obtained with very good lighting. But for the video should be enough. The main camera on today did not record – 5 megapixels. But be that as it may sound, this is a normal camera with a good result. It starts quickly and focuses quickly enough. Photos are quite satisfactory. Video is recorded in FullHD, and, as is the case with photo camera need more light. But it adjusts the exposure very well and smartly. Of course, this is not the camera, which you can replace even a bar of soap on your holiday. But, you see, for it is quite fableta not a primary criterion for selection. So a couple of shots for clarity – and move on.
Hardware, software and performance Nokia Lumia 1320 
New devices the average price category do not receive performance flagship. But this does not mean that they should blunt and choke on three tabs open, right? Naturally, as the main model in the line is the 1520 model in 1320 turned out easier. So, inside fableta umostili dual Qualcomm Snapdragon S4, clocked at 1.7 GHz, Adreno 305, 1 GB of RAM and 8 GB storage. The memory card slot is present, but it should count only as a storage media, because transfer to a memory card applications in Windows Phone 8 while it is impossible. But it works very smartly! WP basically works smoothly and pleasantly, and Lumia 1320 did not disappoint. Here's a little test.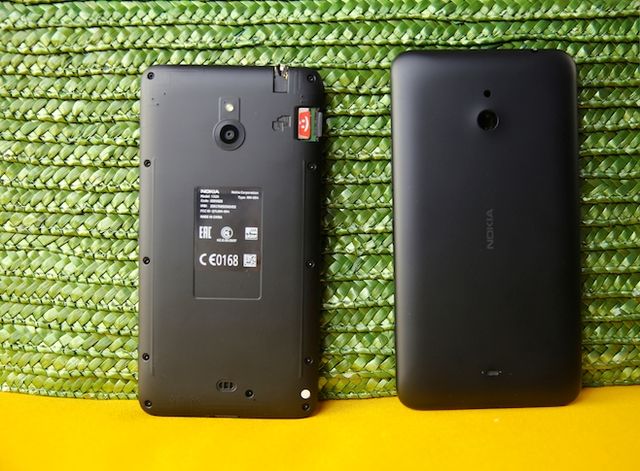 In practice, Windows Phone 8 with iron work just fine. Any custom tasks are executed rather quickly and beautifully. For all the time I do not use devaysa observed any problems with the work. Feels like, this smartphone is a bit faster on Android devices of similar value. Only developer should tweak the speed of some animations (eg, animated closing applications in multitasking menu). Problem areas is soft, which is not under the WP, and errors in the style of illogical elements scattered in the settings. Some "blind" or "hub" (as in the BlackBerry) is also a bit lacking. But all this is not the first importance and is likely to be acquired. For a couple of days, you can get used to living without it.
And by the way, at the expense of a couple of days. Device works as a little too long for a device with such a diagonal display. I devaysa enough for a couple of days without a power outlet. In this e-mail, twitter, browsing, a few games, phone calls and navigation used when needed, not when the battery allowed. I am confident that the device will be pleased autonomy each. Limit yourself to something is simply no need, and no charge in a backpack (or bag) is very easy. Here the role played by optimizing the OS and battery capacity of 3400 mAh. If he was also removable, it would be just perfect. Although autonomy and so the smartphone – a very strong side.
Specifications Nokia Lumia 1320
Dimensions: 164,2 x 85,9 x 9,8 mm.
Weight: 220 g
Operating System: Windows Phone 8
Processor: Dual Core, Qualcomm Snapdragon S4, 1,7 GHz.
Graphics: Adreno 305.
Display: IPS, 6 ", 1280 x 720, 245 ppi.
Memory: 8GB Flash + Micro SD.
RAM: 1 GB.
Camera: Front – 0.3 MP, main – 5 MP, video recording in FullHD.
Wireless Technology: Wi-Fi, Bluetooth.
Interface connectors: 3.5mm headphone jack, MicroUSB, MicroSD.
Battery: 3400 mAh.
Conclusions and personal impressions Nokia Lumia 1320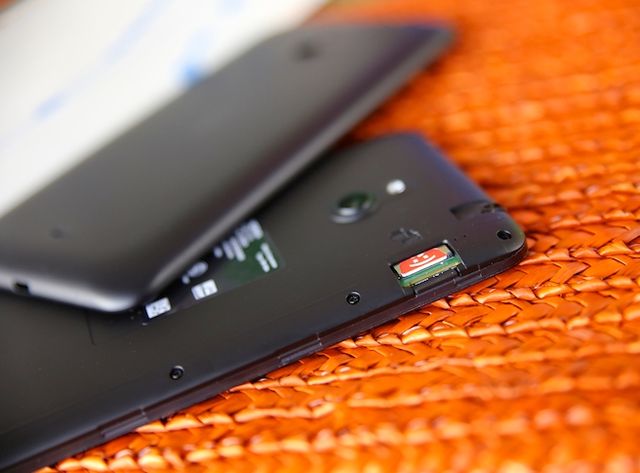 Not often I turn the device with Windows Phone. But every time they leave the pleasant emotions. Lumia 1320 – great fablet. Weaknesses can be called a camera and, subjectively, design. I would like the device more interesting in this regard. But everything else is just great fableta. Telephone chances are good, the display is big, bright and responsive, with a nice color reproduction performance is sufficient for most modern problems (only with the top games can be a small hitch), size is perfect for reading, watching video and navigation. All that need good fabletu. Well, yes, you should consider a large pocket for such smartfonchika. For a sufficiently large weight can quickly get used to. Although unlikely, the potential user fableta looking at this criterion.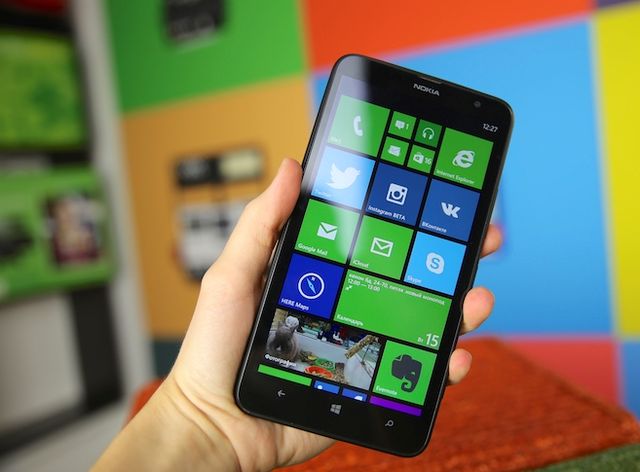 Pay for Lumia 1320 needs an average of $ 300 (make allowances for the course). Thus for the flagship have to pay another $ 200-250. Other options fabletov by WP just yet. And then the choice for the user: if the game resolution camera and display are not so important, it can save you a thumbs up. For those in need fablete with WP 1320 will be on board for light-duty to the above, and 1520 – the most top-end solution. I think, in 1320 – a good device, it justifies the cost. Enthusiast or boom its capacity is small, but most ordinary users – will do. But, as with any device at an affordable price, something will still need to accept.
Read another very interesting article about alternative energy of the Sun, water and air.