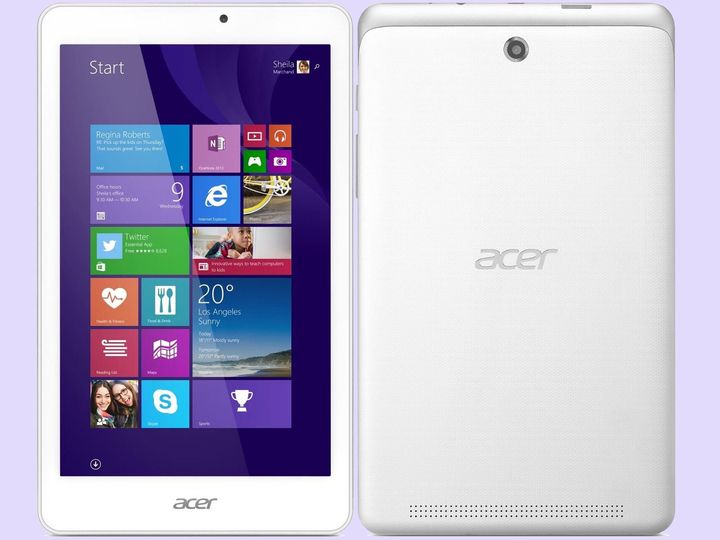 Approved pattern. Another low-cost 8-inch tablet with Windows 8.1 – to determine whether Acer somehow stand out among the growing mass of such devices?
Design and Build Quality
Like other low-cost tablet, Iconia Tab 8 W can not boast a recognizable design. Before us is a discreet white plastic tiles with rounded corners and two logos Acer. Another has a long ridiculous label above the display, which we recommend to get rid of as soon as possible.
Rigidity of the chassis plate is not satisfactory, the device is devoid of weaknesses and can not be bending. Iconia Tab weighs a little more than 8 W 400 g (like almost the same specs HP Stream 8), almost a quarter more modern 8-inch tablet on Android and iOS.
Housing Acer Iconia Tab 8 W entirely made of white plastic.
interfaces
A standard set consisting of microUSB 2.0, microSD and 3.5 mm audio jack, a Iconia Tab W 8 is available, but it is limited and all. There is no video output HDMI (absent, however, in all the Windows-plates that level) or SIM-slot (as in the HP Stream 8), or even a button Windows – to return to the main screen will have all the time cause the side panel.
Communication
The tablet is equipped with a wireless module from Broadcom, offering Bluetooth 4.0 and Wi-Fi 802.11 a / b / g / n. Both protocols work perfectly, communication with Wi-Fi-router remained stable even at a distance of 15 meters.
Camera
Both cameras shoot photos of the tablet with a resolution of up to 2 megapixel, so serious pictures out of the question. However, for video or SELF there will be enough.
For comparison, a snapshot of the camera Canon Powershot SX220 HS (12 megapixel)
For comparison, a snapshot of the camera Canon Powershot SX220 HS (12 megapixel)
Dynamics
Stereo speakers are located on the bottom of the plate and give a good enough sound, it is suitable for Skype calls or watching videos on YouTube. For music lacks bass, it would be better to wear headphones or external speakers are connected.
Display
Resolution 8-inch display is 1280 by 800 pixels. Image can not be called very clear, easy to read the fine print, but the rest of the image is acceptable. A higher resolution for the money Windows-plates (and most on Android) still do not offer.
Brightness distribution is very uneven: at its maximum level, a third of the display is lit at 259-277 cd / m², and the rest of it – at 300-325 cd / m². It catches the eye when viewing movies and photos with the prevailing dark background. By the way, the black color will appear greyish, because the black level is quite high (0.57 cd / m²). The maximum contrast ratio is thus of 549: 1, and the image appears slightly faded. These last two values do not differ from the results of HP Stream 8 (0.61 cd / m², 557: 1), but the Dell Venue 8 Pro 3845 features a significantly better matrix with low black level (0.35 cd / m²) and highest contrast to the order higher (1091: 1) – however, it's worth a few thousand more.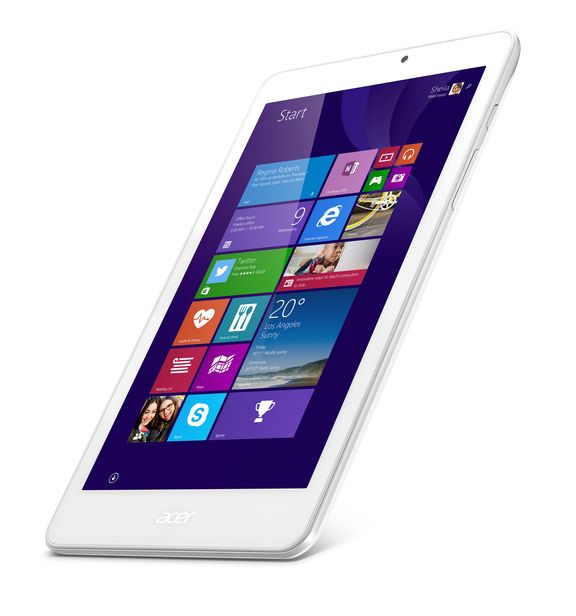 SRGB color spectrum and AdobeRGB are covered by 62 and 46 percent, respectively, and the deviations of most shades of gray and colors noticeably higher than normal. Bluish tide, however, is missing, and the majority of users of color seem normal.
Viewing angles thanks to IPS-matrix are excellent, but when using the tablet in a bright room or outdoors glare glossy surface anyway interfere with the work. If your tablet is positioned so that the sun is not shining directly on the display, the brightness should be enough, otherwise the image fades.
Performance
Acer Iconia Tab 8 W is equipped with the same components as the main competitors (HP Stream 8 and Dell Venue Pro 8 3845): a processor Intel Atom Z3735G, 1 GB of RAM and eMMC-Drive 32 GB. The results of the benchmarks (see. Below) show that the performance of all three plates are absolutely identical. The only difference is disabled by default disk encryption, a serious obstacle HP Stream 8 and Dell Venue 8 Pro, which is why some have been activated. Speed tablet enough for watching movies (Full HD video plays fine), works in a browser, or a very simple game – or the old three-dimensional like Warcraft 3, a new two-dimensional from the app store Windows.
Stress test
Body Temperature when idle is 26-28 ° C, with the exception of one side is heated to 31-36 ° C. At maximum load (stress test) heating is extremely uneven – we measured the temperature from 23 to 46 ° C at different sites. When performing common tasks such as working in the browser heating does not exceed 35-40 ° C, there should be no discomfort.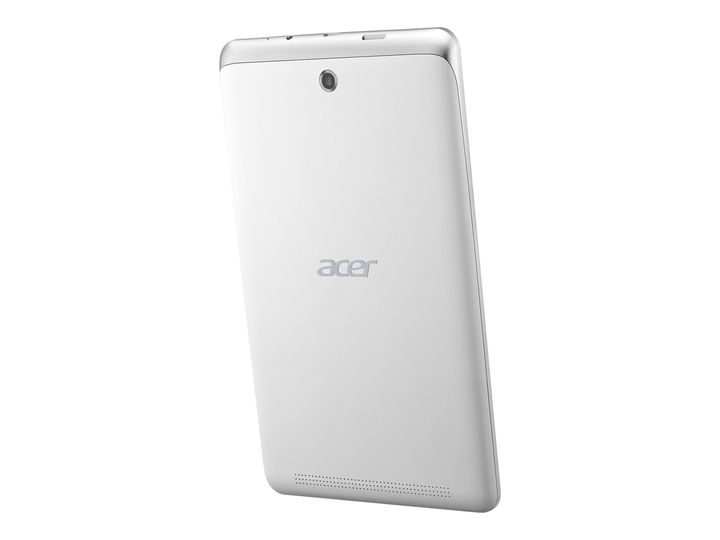 Stress test showed the same results when running on the battery charger and battery: the first 15 minutes processor running at 1.58 GHz, then slowed to 1.33 GHz (base rate), and 40 minutes after the start of the test was subjected to throttling to 1.2 GHz. The graphics core at the beginning of the test works on 620 MHz, but a few minutes later slowed down to 300 MHz. The results are good: the tablet is unlikely to be frequently exposed to stress such a level, and 10-15 minutes in the Turbo-mode, it should be quite enough to cope with the tasks a bit more complicated routine – such as installing applications.
Power and stand-alone operation
As HP Stream 8, our Iconia Tab 8 W when idle is very economical, consuming only 0.4-0.6 watts. When the load is required from 4.1 to 5.6 watts. The battery capacity slightly larger than the HP Stream 8 (14.6 Vt⋅ch) and is 17 Vt⋅ch. This is enough for about 6 hours browsing over Wi-Fi or Full HD movie in the internal memory, almost 13 hours of minimum load like reading e-books, or 2 and a half hours of high load (eg, games).
Verdict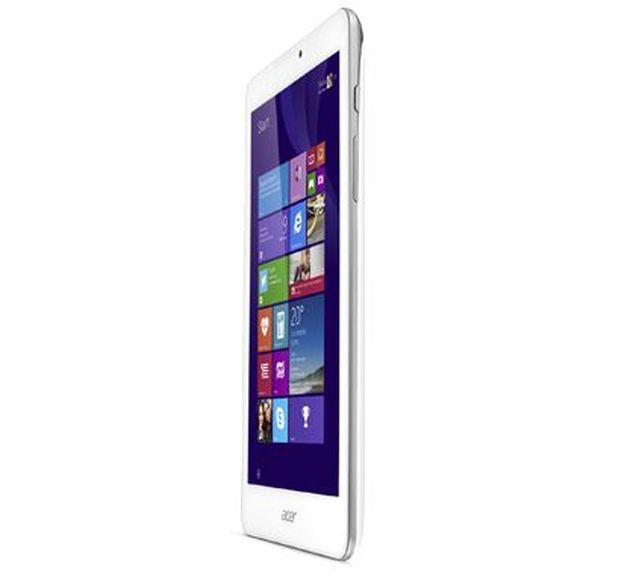 Acer Iconia Tab 8 W obviously do not have any simple but important features that are not available to competitors – for example, HDMI-out. This would enable to connect the tablet to a TV or monitor. While the tablet has not been revealed serious shortcomings recommendations to purchase it deserves only as long as the Russian market appears HP Stream 8, offering the same price (about 12 thousand. Rubles), all the same, plus 3G-modem and not devoid of buttons Windows. Dell Venue Pro 8 3845 differs noticeably better display, for sale in a configuration with 64 GB and / or 3G-modem, but it is worth almost 20 thousand. Alternatives with Android at this price quite a lot, especially if the functionality of the full version of Windows is required.
Read another very interesting article about alternative energy of the Sun, water and air.