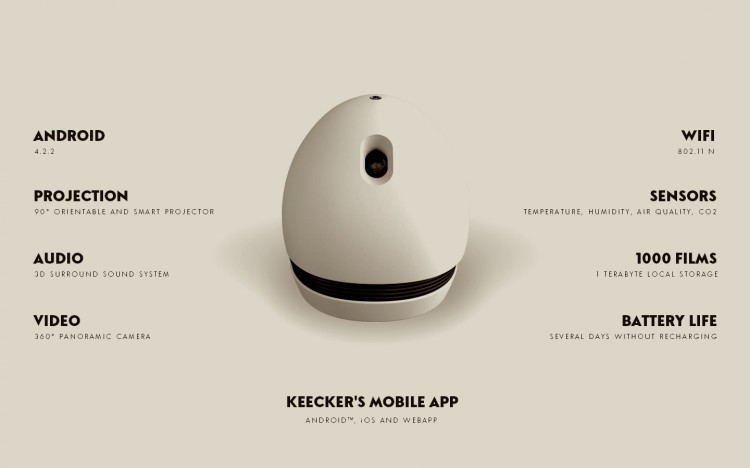 One of the most interesting and unusual new products at the exhibition CES-2014 became a robot projector Keecker, running an operating system Android. Device, at first glance like a vacuum cleaner machine is a project of the former top managers of Google and Pierre Lebeau intended for breeding on video walls and other flat surfaces.
The device is able to move independently of your home and project video on the walls. Since the projection is based on Android, accordingly, it can connect to Google Play to download various applications and games including. Control of the robot by using any Android-smartphone or tablet. Projected video has a resolution of 1280 x 800 pixels with a luminous flux 1000 lumens, which in turn allows you to use the projector in a bright room, and even on the street.
In addition, thanks to built six speakers, the device plays the sound 360 degrees and can be used as a music player. Projector Dimensions – 40.6 cm width and 63.5 cm in height. All of this suggests that it is clearly not designed for small spaces. In addition to control via smartphone , Keecker able to understand voice commands. For example, if you're in the kitchen, you can always call your projector to join you to brighten up your loneliness while cooking or eating. Also, the device has a camera for capturing video from the following demonstration on his smartphone, so you can control everything that happens in the house during your absence. Of course, smart projector can and should be used for its intended purpose – watching movies on the big screen.
Keecker appearance on the market is planned for the fourth quarter of this year, priced from 4,000 to 5,000 dollars if you consider that ordinary projector can be purchased for less than $ 1,000, the overpayment 3-4 times for the "reasonableness" and mobile devices, it seems unreasonable . How do you feel?
Read another very interesting article about alternative energy of the Sun, water and air.