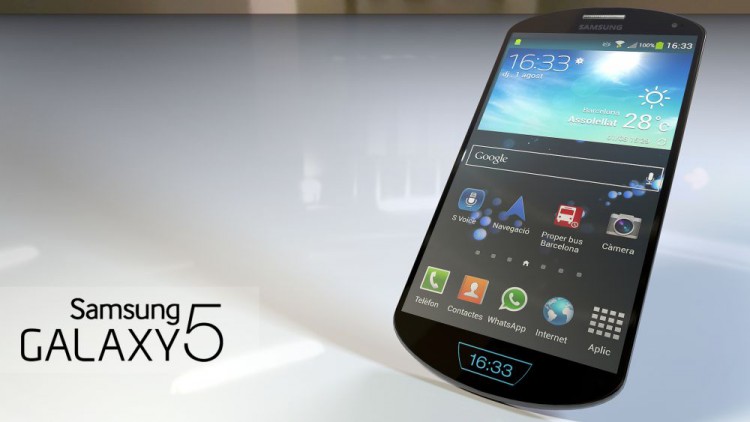 The last couple of months of the outgoing year were richly flavored by all sorts of rumors and leaks of information about the future flagship of Samsung, smartphone Galaxy S5. If pieced together all that we have heard about the new Korean miracle together, it emerges a hard-edged and perfect in all respects, the smartphone. Why are only 64-bit processor, 3 GB of RAM, 2K-screen and battery 4000 mAh! Realizing that fed rumors forever, IT-world community can not, the company Samsung has decided to speak. Especially because talking points accumulated enough. As an information guide to the masses Samsung chose the most authoritative, in business circles, the publication Bloomberg.
In an interview with Bloomberg, executive vice president of Samsung's mobile division Lee Yeon Hee told about the upcoming Galaxy S5, the second generation Galaxy Gear and Galaxy Note 4.
Contrary to information about a possible announcement Galaxy S5 at CES 2014, Lee Yeon Hee reminded everyone that the company is traditionally all their flagship smartphones in the spring and this year is no exception. The exact date has not been named, but the representative of Samsung has made it clear that it will happen in March-April. She also admitted that the current flagship Galaxy S4 sold not as good as expected. The reason for this, Samsung sees the physical similarities with its predecessor smartphone Galaxy S3. To avoid a repeat of Galaxy S5, the company decided to make the main focus on the screen and appearance, but rather on the materials used. Thus, the rumors of 2K super fine screen with a resolution of 2560 x 1440 pixels, indirectly been confirmed. About the same metal housing, as expected, did not say a word. Most likely, the tried and tested and proven to Galaxy Note 3 technology "leather backdrop", will be applied in the future flagship.
Also confirmed the information about one of the main features of the Galaxy S5 – retinal scanner. Somehow, in the Samsung confident that many people need in a similar fashion identification of the owner of the smartphone. Well they certainly know better, although it is obvious that the use of "eye watchman" in Galaxy S5, is primarily a response to the use of Apple fingerprint scanner on iPhone 5S.
With regard to the second generation Galaxy Gear , the renewed "smart watches" from Samsung will be less gramozdkimi and receive additional functionality in the field of health. With them it will be possible to verify the consumption of calories and stress pulse. Radical changes also affect fableta flagship Samsung Galaxy Note 4, planned for release in the second half of 2014. According to Lee Yeon Hee, the device can be used tripartite display with information on all their faces.
Read another very interesting article about alternative energy of the Sun, water and air.