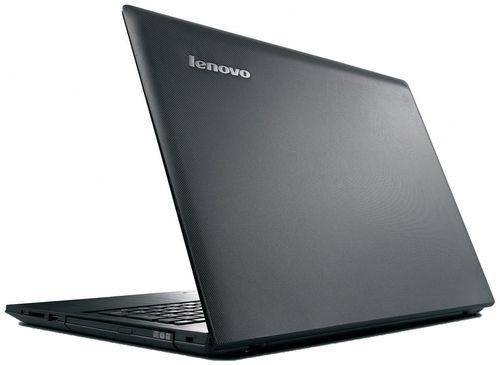 The hero of our today's review – a multimedia notebook Lenovo IdeaPad Z5070. It features a well-balanced components that are able to solve a variety of tasks, ranging from office work with documents and ending demanding modern games. In contrast to the model Lenovo IdeaPad Z5075, which has components from AMD, our test laptop boasts a bunch of Intel + NVIDIA. A nice bonus in our equipment also include the presence of Full HD-display, which is what sets this laptop in its price range. Speaking of price, to reduce the cost of the laptop designers had to make some concessions, so, for example, Lenovo IdeaPad Z5070 deprived of aluminum surfaces, so popular in this segment, the same can not allocate a very rich set of ports. But first things first.
Design – Lenovo IdeaPad Z5070
Lenovo IdeaPad Z5070 combines the stern features and notes futuristic design and combines very skillfully and harmoniously. Almost all of the notebook flat, and in some places even chopped. Smooth curves are noticeable only on the contour lid, wherein the bending becomes noticeable only in the middle, and near the base of his almost none. As for the interior materials, here engineers and designers prefer plastic, misleading can only enter the interior space, which cleverly disguised as a metal. By the way, it is perfect collects fingerprints. But the laptop lid, on the contrary, slightly rough to the touch and it flaunts inscription Lenovo.
Lenovo IdeaPad Z5070 assembled fairly high quality but still rigidity is poor. For instance, the substrate and the bottom of the notebook keyboard flex noticeably not significant even when pressed, and the cover is susceptible to twisting.
Bottom of the notebook smooth and made of durable plastic. It has two strips of slots, one on top of the smaller, more second. Placed at the corners of the rubber feet, and between the loops is a removable battery. Can not but rejoice cover shortcut that allows you to get to the drive, RAM and wireless module, it will take just unscrew the three screws. It should also be noted that removing the cover, there is also access to the cooling system, so to clean the laptop from dust, you do not have to completely disassemble it.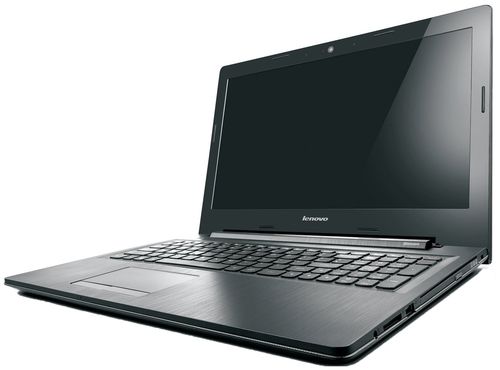 Lenovo IdeaPad Z5070 has average dimensions for its class. It is not too thick, but the title of slim-model does not pull (384x265x25 mm, weight 2.3 kg). Closest to it from its competitors HP Pavilion 15-p164nr characteristics as well as in size, its dimensions and weight nearly the same as that of the character of our survey – 384x260x24 mm and 2.27 kg respectively.
Display, sound, and webcam
Lenovo IdeaPad Z5070 display has a diagonal of 15.6 inches with a resolution of 1920×1080 pixels. There are also complete with a resolution of 1366×768 pixels. Last for a multimedia notebook simply undignified, so the version with Full HD is much more attractive. Unfortunately, the designers had to make some concessions to price Lenovo IdeaPad Z5070 was interested buyers, in the end we have a matrix made by technology TN, rather than IPS. As for the quality, then it is possible to note a fairly good contrast due to deep black color, but color reproduction, brightness, and viewing angles are poor. Here glossy display that many may not like it because a sufficiently bright light, it becomes a very real mirror.
Despite the fact that the Lenovo IdeaPad Z5070 belongs to a class of multimedia devices, the sound that it produces can not be called very good. The two speakers at the bottom of the notebook are closer to the front face. This arrangement is not optimal, since a lot depends on the surface on which the laptop. In one case, the sound can be dissipated, and the other – badly distorted. Bass as such, there is not audible, but the mids and highs are expressed very clearly.
Webcam placed in the display frame, on either side of it are directional microphones. Its resolution is not very large, however, to communicate via Skype enough.
Keyboard and Touchpad
Lenovo IdeaPad Z5070 has a keyboard AccuType. She is familiar to us in many other models of Lenovo and is the island keyboard with separate numeric keypad. But not everyone may like it because the distance between the blocks of keys and keys between themselves and not so great. For example, switch the unit does not separate from the other keys, so the first time you press the wrong guaranteed.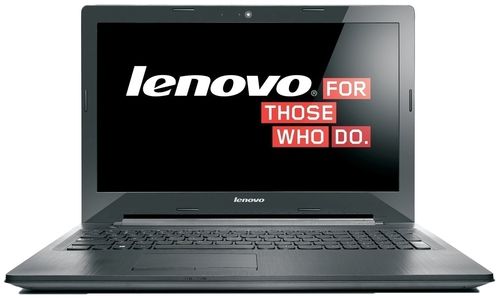 Buttons themselves have a specific shape characteristic keyboards AccuType, they are rectangular, but the bottom of the convex arc. The course they are not very big, but the substrate flexes quite significantly. And flats at sound of the buttons when pressed, can be annoying. In general, the keyboard on the fan, and to reference it away.
In the Lenovo IdeaPad Z5070 no separate buttons except the power key laptop located at the top left. Decrease / increase the speaker volume or brightness of the display, you can use the top row of buttons. Unfortunately, this model lacks a backlit keyboard, so typing in the dark will be difficult, but in the [Caps Lock] and [Num Lock] integrated indicators that light up when these modes are active.
The touchpad Lenovo IdeaPad Z5070 is the average size, but for a comfortable cursor control that's enough. Bezel is made of metal and makes you feel the touch surface of the border, without looking at her. Under it there are two mouse buttons that emit flats at sound.
Performance
Lenovo IdeaPad Z5070 (59430330) is a multimedia notebook entry level. But before moving on to the review of components, it is worth noting that this laptop is running the operating system Windows 8.1 (64-bit).
Such laptops often play a major role powerful processor, while the remaining components may be significantly weaker it. In our case, we have a medium-power dual-core processor Intel Core i5-4210U, and as you can see he is still on the index and low voltage. But despite this, he has a rather good performance. Not the last role to play Hyper-Threading technology and Turbo Boost – The first allows you to process up to four simultaneous streams of data, and the second raises the base clock frequency from 1.7 GHz to 2.7 GHz. Cache in the third level is 3 MB and TDP – only 15 watts.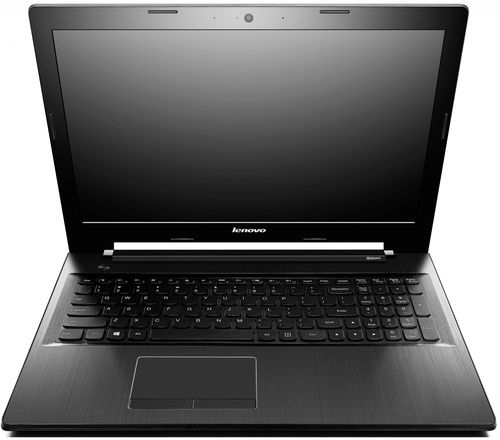 Integrated Graphics Intel HD Graphics 4400 although it has good performance compared to other embedded graphics, yet except for office tasks are not the best option. The only advantage of Intel HD Graphics 4400 before discretion – lower power consumption, respectively laptop will last longer without recharging. But a discrete graphics card NVIDIA GeForce GT 840M is a member of the middle class, and it focuses primarily on multimedia tasks. Due to 384 shader clock 1029 MHz and 2 GB of video memory, this graphics card shows a fairly good performance. But its "narrow" place is a 64-bit memory bus and actually very memory standard DDR3.
For the model Lenovo IdeaPad Z5070 offers or options with the classic hard drive or a hybrid drive. In our case, this is the last option, which consists of a 1TB HDD and optional SSD-cache to 8 GB. Also, this equipment has 8 GB of RAM standard DDR3L. Just a laptop, there are two slots for RAM, and the maximum amount of RAM is 16 GB, however, even the existing 8 GB is enough for most tasks.
Ports and Communications
In terms of communication are all planned out pretty reasonable. So on the left side you can see the power supply connector (it is unusual rectangular shape), HDMI video output and VGA, network RJ-45 connector and two ports USB, one of them a standard 2.0, and the other more modern 3.0. Almost all of the remaining space is occupied lattice cooling system.
The right side of communication is much less. Here you can find the optical drive DVD ± RW (DL) with Tray loading, card reader that reads SD and MMC, another port USB 2.0, and also the combined audio jack. Closer to the rear face is a slot for a Kensington lock.

The back side of the notebook is completely devoid of any elements, due to the fact that there is a compartment for the battery, but on the front edge of the touchpad is located under a set of several indicators.
As you can see the set of ports is not very modern and not very rich, but the owner of Lenovo IdeaPad Z5070 can please wireless communications, as this laptop supports Wi-Fi 802.11ac and Bluetooth 4.0.
Battery
Lenovo IdeaPad Z5070 is equipped with a removable 6-cell lithium-ion battery 2200 mAh. The good news is that at any moment and without any problems, you can replace the faulty battery yourself without calling a service center. But because of the small capacity to count on long battery life is not necessary. So, when surfing the web, this model is able to hold about four and a half hours. But watching movies is limited to three hours of battery life. At maximum load, for example, in games Lenovo IdeaPad Z5070 can run about a half hour. Laptop charging a small 65-watt power supply that will not burden the owner Z5070 overweight.
Conclusion – Lenovo IdeaPad Z5070
Lenovo IdeaPad Z5070 was some entry-level, with their strengths and, of course, disadvantages. The former include a high-resolution display, which is 1920×1080 pixels, balanced performance, and relatively compact size. The disadvantages are as a template, not very long battery life, as well as the lack of body rigidity. But for the price, here you have to decide, or the lack of it is an advantage, we only report that the equipment will cost about $ 750.
In general, Lenovo IdeaPad Z5070 can be considered as universal laptop for everyday, it is possible and play and watch movies, and if you want to work. But in fairness it should be noted that among the competitors also have good models, such as HP Pavilion 15-p165nr or ASUS Transformer Book Flip TP500LN. The latter, by the way, has a mechanism of transformation, touchscreen, as well as aluminum body, and its performance is the same as that of the Lenovo IdeaPad Z5070, however, as the price.
Source: Lenovo
Read another very interesting article about alternative energy of the Sun, water and air.