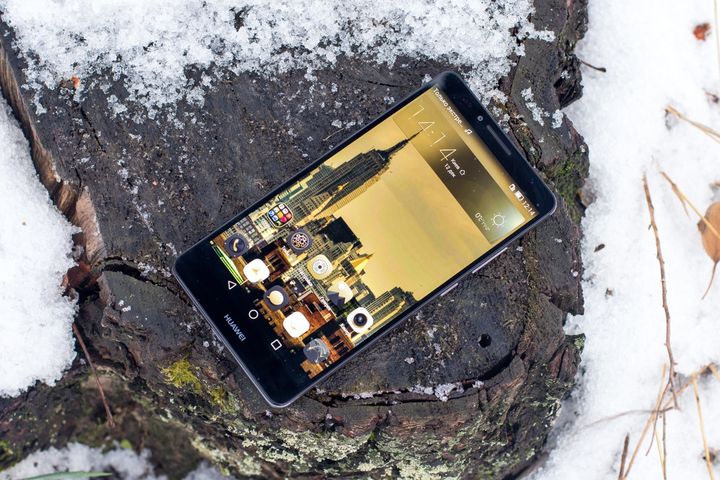 On the test at Smartphone Huawei Mate7 – big and beautiful smartphone in a slim metal body with a 6-inch Full HD display and performance of the hardware filling. What is the cost of this new product and what it might interest a potential buyer later in the review.
Scope of delivery
Factory equipment includes a standard set: microUSB-USB cable clip to eject the memory card and mini-SIM, instructions and headset white. It is worth noting that in Europe and other countries Huawei provides a set of advanced noise canceling headphones and a striking design.
Housing
On the test, we've got a smartphone in black. It is this his whole front part. At a certain light color back cover can be described as wet asphalt – it is still more dark gray.
The rear of virtually all metal. Just insert a little stand at the top and bottom – they are plastic and shine more than it should. But it is only in the case when you look at Phablet by scrupulous boring. While I personally would still for greater relevance and importance of his person opted for a fully gold model (it is, however, not available for Ukraine) or greater brightness would choose white. But our test case – the color more versatile, but still a bit boring.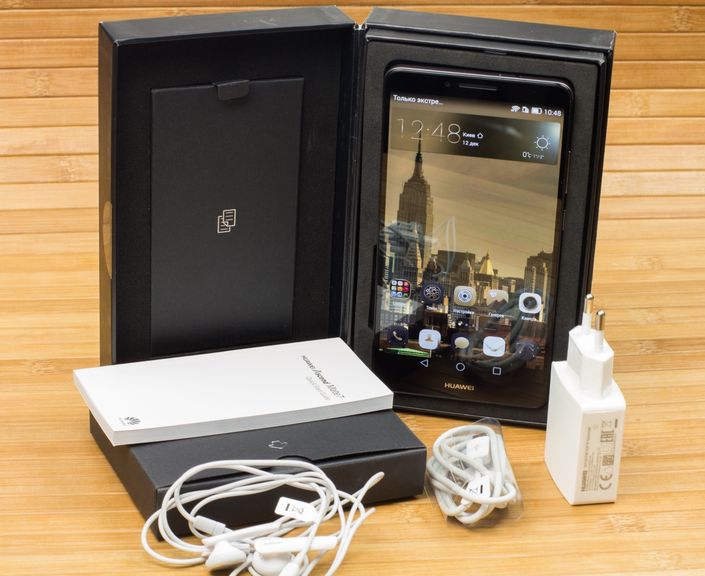 Tactilely pleasing handset. Materials that are involved in this smartphone manufacturer, delight their practicality and quality. Well screen is wiped, and the front part of the week of the test does not appear the slightest scratch. Build an excellent, never a hint of extra seams or gaps. Plastic, metal and glass perfectly adjusted to each other and blend together.
In the palm of your hand and placed Mate7 with it is even possible to operate with one hand, especially if you go on a simple desktop mode and activate the one-hand operation. Not ideal, but still!
Location of the power button and volume rocker right – left on the edge of the thumb. Below the photo shows how to place the other connectors.
Should also be said about the dynamics of multimedia smartphone. It is located on the rear panel slightly above the lower edge. If you keep Mate7 horizontally, in games it is not covered hand. At the expense of slightly sloping body sound is not muted in the case, if you put the handset on the desk speaker down. The sound quality is not satisfactory. However, voice speaker puts out clean and clear voice conversation.
Screen
Mate7 – is a 6-inch IPS-apparatus with matrix. Screen resolution – Full HD, the density of pixels per inch – 368. No matter how look after grain is visible. Display reproach there is nothing, but there is something to praise. This applies to the large viewing angle and maximum brightness, which is very helpful when working in excess of sunlight. In the latter case, no harm was and anti-glare coating.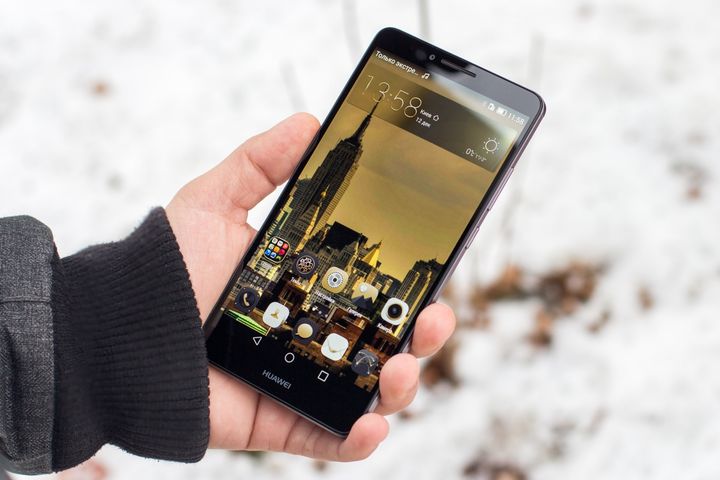 On top of the screen – the protective glass Corning Gorilla glass 3. The sensor sensitive to finger responds clearly and smoothly, while can handle up to 10 touches. Color display vivid, bright and vibrant. In the settings you can adjust the color temperature.
The hardware part of
Under glass inside the disposable housing compactly packaged hardware stuffing Mate7. Why compact? The thickness of this device is only 7.9 mm, which is comparable only with Alcatel ONETOUCH Hero 2. But Note 4 from Samsung and One MAX from HTC – its Android-competitors will be slightly thicker.
Test hardware platform smartphone based on the processor Hisilicon Kirin 925 (4-core Cortex-A15 1.8GHz, 4-core Cortex-A7 with frequency 1.3 GHz) plus graphics Mali-T628 MP4 (6 cores at 600 MHz). In addition, a separate chip to the information processing with the fingerprint sensor, and other sensors. By the way, thanks to a built-in pedometer to it does not kill the battery in half a day.
Computing power Mate7 enough for all that I was able to load the Phablet. High-definition video, game performance – all under his power.
Comments to the work of sensors and radios are also absent. The handset is equipped with modules GPS / A-GPS / GLONASS interfaces Wi-Fi 802.11 a / b / g / n / to support Wi-Fi Direct and BT4.0, and NFC.
Built-in memory Mate7 – 16 GB (11.5 GB available), operational – 2 GB. Internal storage can be expanded with a memory card. The maximum amount that managed to test – 64 GB, was adopted without problems. In addition, the device supports interface USB-OTG – connection stick 32 GB only takes a few seconds.
Battery
With autonomy in Mate7 fared much better than many of its competitors. To be honest, I was pleasantly surprised. When the battery capacity of 4100 mAh in it with my usual manner of use (30-40 minutes for calls, listening to music on the hour, an almost 1.5 hours, browsing, social networking, plus an hour for video or games) lasted for 2 days. In this case, the screen brightness I usually set at half, and radios are included only when necessary.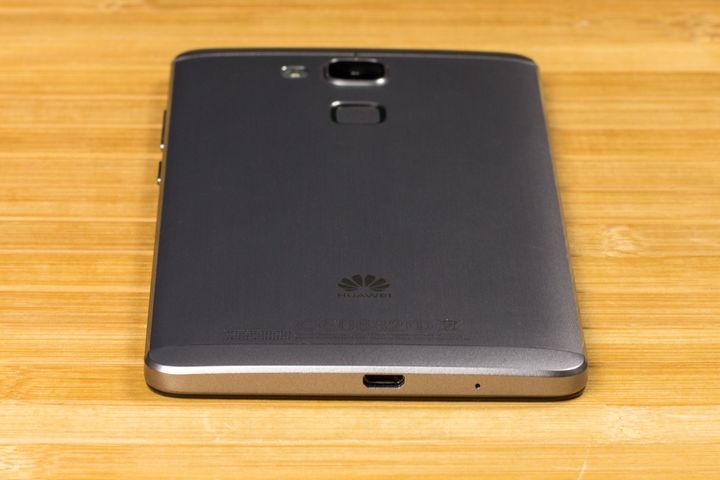 For the record still stands lead official data from Huawei. According to them, Mate7 after full charge, which takes 3.5 hours, can withstand 648 hours of standby time, 8 hours of video playback and 9 hours of surfing the net.
Provided for in this smartphone, and special modes to save battery. In addition to the "normal" added "smart" and "energy saving". Their functions are similar to those in this earlier Huawei G7.
Sensor fingerprint identification
Important, in my personal opinion, and, of course, a mandatory feature of this Phablet is the presence of a fingerprint scanner. He is, as I love – on the rear panel. For me, it's more convenient when working with large machines. In memory, you can "drive" to 5 toes. The sensor is very sensitive and almost always catches mark the first time. Only when the smartphone is turned off the display on the table facing you and you need to instantly take a look at the document or other information, it will either have to take in hand, or the old fashioned way to enter the password from the keyboard. By the way, other options to enter the access code has not been canceled.
In the system settings you can configure two modes: the owner and the guest. Accordingly, access to private data and applications will only be proven by you people.
Apps
Powered Mate7 running Android 4.4.2. Heat-set shell Emotion UI 3.0. About her we talked in detail in the review of Huawei G7.
Camera
The smartphone has two excellent camera. Front on the 5 megapixel. and basic with a 13 Mpixel autofocus. Both know how to write videos in resolution of Full HD.
Supplier of 13 megapixels. Camera – the company Sony. Its solution is the aperture F2.0, BSI-sensor and LED-flash completed. Of the basic functions can be identified and serial panning, watermarks, HDR mode, stabilization while recording video and more. The photos are clear and vivid. Night photo also good. The maximum size of the photo in pixels – 4128 x 3096.
Output
Through the portal Smartphone.ua edition was not a big smartphone, but still found Mate7 than earn my affection for him. Firstly – a thin metal body and excellent in all parameters display, and secondly – a moderate energy consumption, ergonomics, and a fingerprint scanner.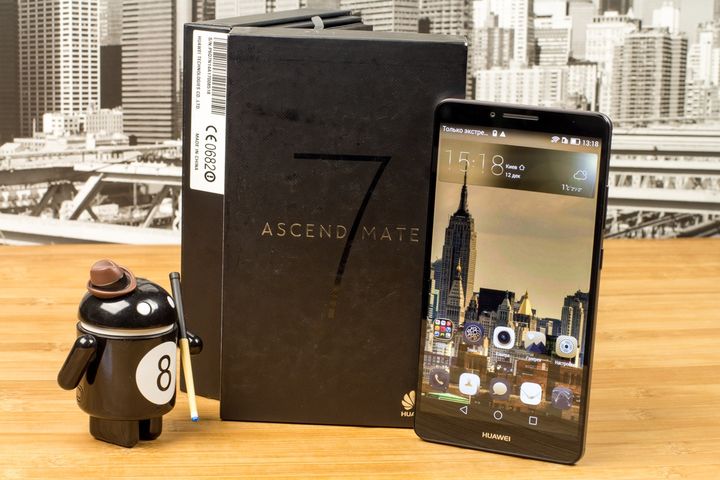 The price of this handset in the day of publication of the review is set to $ 450. A lot of it or not, is difficult to judge, but if you choose your own Phablet, then this model should not be discounted in any case. I have a suspicion that Mate7 sure you will enjoy.
Pros
High performance; (can display about something else to say)
The display brightness with a good margin;
Slim body;
Control mode in gloves with one hand;
Fingerprint access;
Excellent autonomy.
Cons
Simplified headset for the Ukrainian market;
No full INDEX mode.
Read another very interesting article about alternative energy of the Sun, water and air.