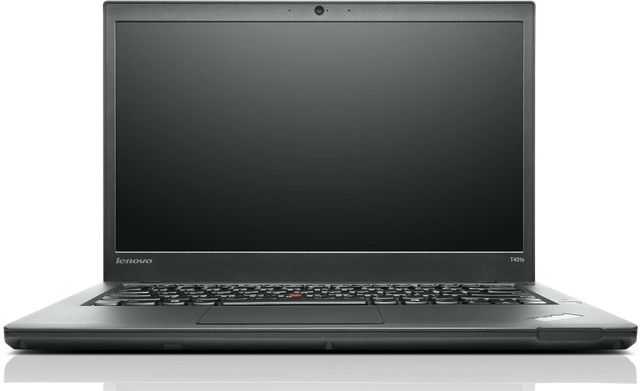 Lenovo ThinkPad laptops have a reputation seriiT legend among many business polovateley. Over the years, these computers meet all the requirements of his time.
Today, when on a business laptop requires not only the performance and compactness, but also suitable for work in the media field, Lenovo released a new ThinkPad T440s computer with high performance and high-quality IPS matrix.
Design Lenovo ThinkPad T440s
ThinkPad T440s has the same body as that of the ThinkPad T431s, sales of which were launched in the spring of 2013. The design of our computer is in the same terms as the rest of the device ThinkPad, which is inherent in foreign conciseness.
The computer is completely made in dark colors that fits well with the notion of a business laptop, as well as to a business sentiment. ThinkPad T440s cover is made of carbon fiber and looks quite modern. Thanks to a matte finish on the lid does not remain fat traces and fingerprints.
Operating panel computer, as well as his body is made of magnesium alloy that not only protects the laptop from accidental damage, but also allows him to look expensive and modern. On top of the operating panel are two thick hinges firmly fixing the screen. These hinges allow the lid to recline 180 degrees, as well as help screen open and close without difficulty.
Input Devices Lenovo ThinkPad T440s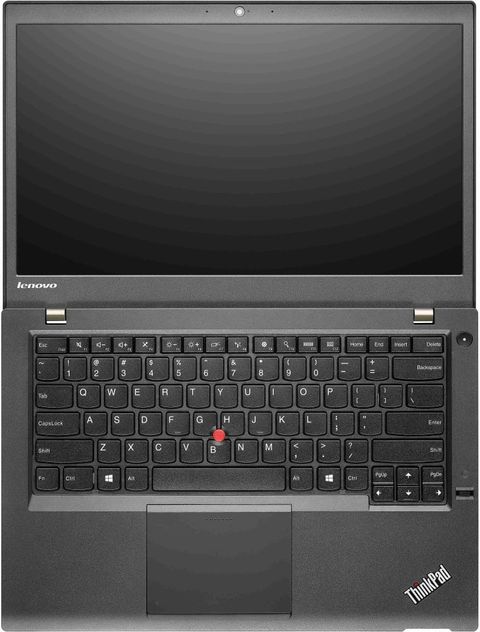 Like many business computers, ThinkPad T440s equipped with quite a lot of input devices, among which is the main keyboard.
ThinkPad T440s has a keyboard AccuType with slightly rounded keys placed at a comfortable distance from each other. This keyboard makes typing more ergonomic and allows raboat in darkened rooms thanks to a bright backlight. The keys have a middle course and frisky rebound, making the work with text flows without any difficulty.
ThinkPad T440s is also quite spacious touchpad without physical keys. Like previous ThinkPad, our laptop has a matte touchpad that lets you work with the necessary traction. The touchpad is profiting quite easily, supports advanced gestures "multitouch" and has high accuracy input and navigation.
In addition to the touchpad ThinkPad T440s equipped trackpoint. It is recalled that the trackpoint is an alternative means of navigation. The advantage of this device is that it saves time: no need to take your hands off the keys to switch to the cursor. Its main drawback is the same as to inconvenient for novice users.
Besides all the above ThinkPad T440s has a touch screen that allows you to navigate the excellent operating system Windows 8. Screen has a fairly precise input, and supports modern "multitouch" gestures.
Screen Lenovo ThinkPad T440s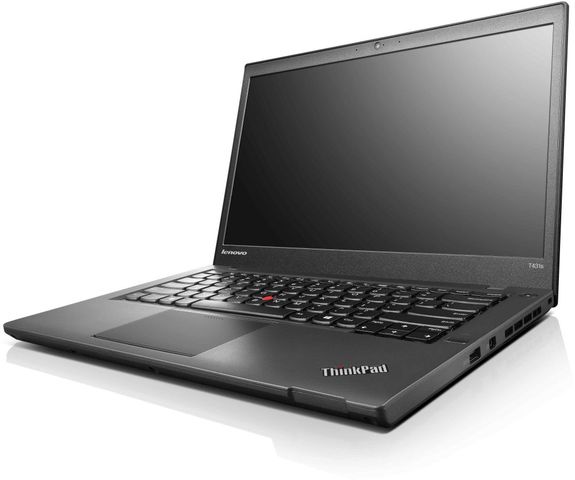 Unlike previous devices, ThinkPad T440s equipped with a high-quality IPS screen. The diagonal of this screen is 14 inches with a resolution of 1920×1080 pixels (Full HD). Thanks to this ThinkPad T440s can be used not only for everyday tasks, but also for professional imaging, as well as for the mini-presentations in the office.
In addition to high-resolution screen ThinkPad T440s has a good level of brightness, enables you to work in a fairly sunny weather outdoors. Also our display has wide viewing angles and produces a bright image and juicy.
Performance Lenovo ThinkPad T440s
On board, ThinkPad T440s is a modern processor Intel Core i5-4200U c 1.6 GHz and 3 MB of cache. ThinkPad T440s also has 12 GB of RAM, 1000 GB of free space on HDD, working together with keshovym SSD 16 GB, as well as integrated graphics Intel HD Graphics 4400 and the discrete NVIDIA GeForce GT 730M. Managed ThinkPad T440s in Windows 8 Professional.
This performance is quite suitable to perform both simple and quite demanding tasks. Also this will be enough for professional work with images, as well as modern video games to run on low graphics settings.
Interfaces Lenovo ThinkPad T440s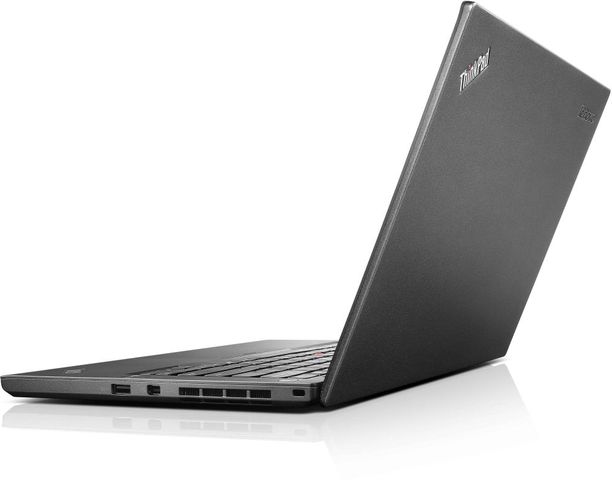 On a dense and robust housing ThinkPad T440s has a little space for the required interfaces. A set of ports is as follows: ThinkPad T440s has a 3.5 mm headphone audiodzhek slot for a SIM card, multimedia card reader, USB 3.0, VGA port and a Kensington lock slot on the right side, as well as two port USB 3.0, DisplayPort connector and a slot for smart card on the left side. The lower part of the computer is placed on itself connector for docking station.
Output Lenovo ThinkPad T440s
ThinkPad T440s – a device that is fully prepared to do the work with high mobility and performance. In addition to this our laptop has a very high-quality screen, which is very please many business users. For productive and quality business ThinkPad T440s laptop is quite adequate price.
Read another very interesting article about alternative energy of the Sun, water and air.