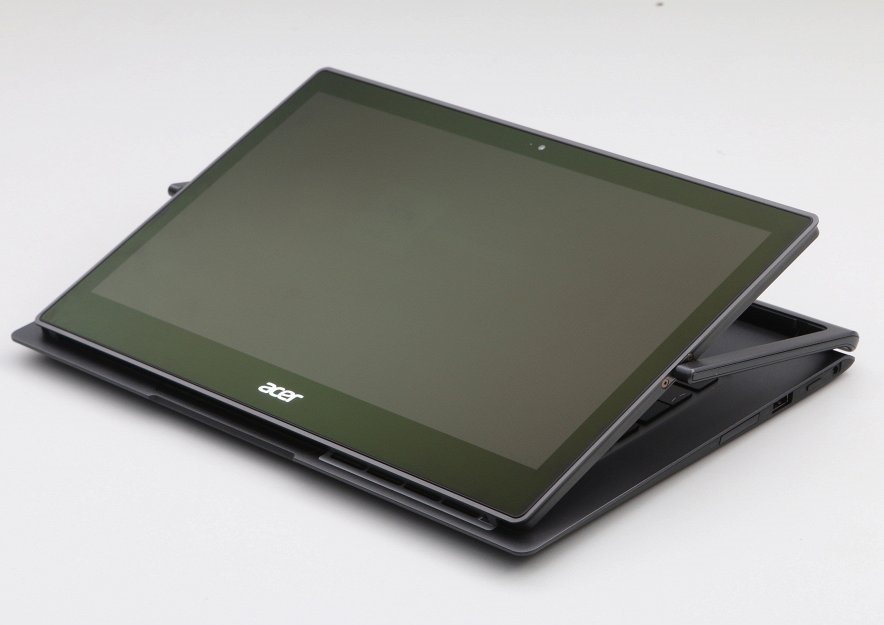 The combination of Windows 8, created with an eye on the growth of sales of sensors and all kinds of hybrid developments in the market has led to the fact that in a few years we could see the most diverse and unexpected ideas designers. Very bold transformer Acer Aspire R7, in which the touchpad was not located under the keyboard, as usual, and above it, was a clear example of this creativity. However, buyers nontrivial idea seemed highly controversial and is unique as the device has received both positive and negative evaluation.
The new transformer Acer Aspire R13 offers functional mechanism of disclosure, but then the touchpad did not touch, it is in its usual place. Model offers everything that usually want to ultrabook, but in addition, the device offers a very flexible in your design. Sort of a bunch of tablet and keyboard in one case or laptop with advanced features, depending on how you approach this issue. Generally transformers can now be found in most
Design – Acer Aspire R13
From the flagship Ultrabook Acer Aspire S7 model inherits the glass cover made of durable material Gorilla Glass 3. On the one hand, so Acer shows the continuity of generations, showing its interesting developments in terms of materials, and, at the same time, offers a spectacular format transformer .
I think that from the point of view of the user the use of aluminum or plastic in the decoration panel would be more practical step. Still, many people do not trust the glasses, fearing for their strength. Although during normal use of the device of any problems glass surface is not delivered. Perhaps it is the only daily minus – increased soiled when the whole area is covered very quickly and prints. The rest of the critical comments on it there. In the struggle for weight expressed a preference for plastic. The quality of the assembly had no effect, the body is assembled very tightly and securely, no play between the parts. But here the metal is still there, it is made from the screen bezel and hinge mechanism that gives us additional confidence in the reliability of such a concept.
The laptop weighs a little less than 1.5 kg, it is a good indicator for transformers, which often go very well fed. The shell thickness is 18 mm, and, most likely, the upper part could be made even thinner, but because of the use of glass had to make concessions. By the way, the size of R13 is comparable to 14-inch laptop, although there is a 13-inch screen. Why so? All the matter in the frame, which "eats" part of the site, so the model has turned out a little larger than their classmates. Fixing takes almost a centimeter on each side, it should take into account when comparing the device to its closest competitors.
Notebook-transformer in recent years we have seen many, the concept that offers its model Acer, can be seen in the Dell. In particular, a similar hybrid XPS 12 offers even before a similar concept. It consists in that the screen is mounted in the frame and can be rotated therein, thereby enabling to choose a convenient operation scenario in real time.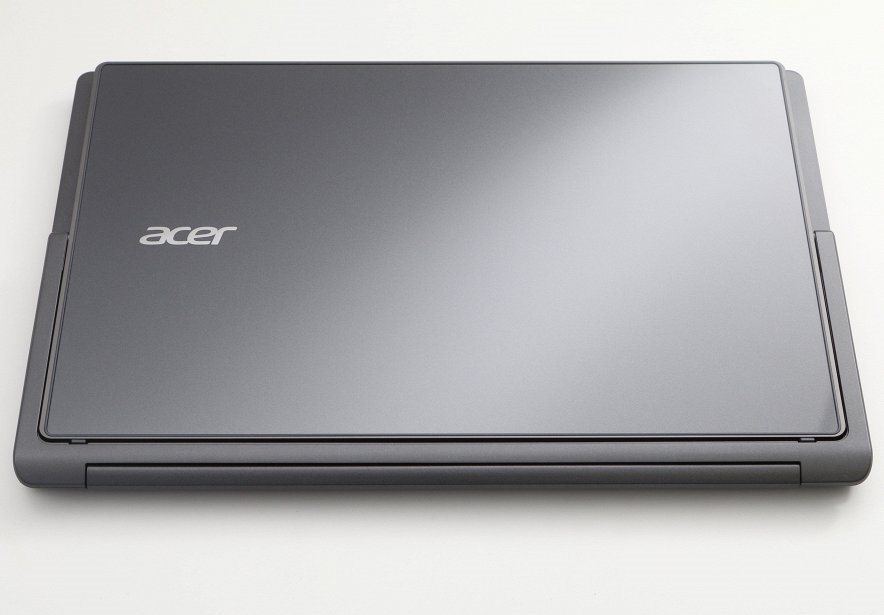 In Acer decided not to repeat the idea completely, and choose their own path. The frame is half of the screen, a massive joint surrounds the display at the bottom and on the sides, not passing above. Therefore, due to such a solution is convenient to change the angle of the screen using a two-stage system: the display can disclose nearly 180 degrees by means of hinges, and if necessary, to rotate around its axis of the screen, selecting the desired position.
The hinges are very tight for the transformer is important because with the active use of the device you want to be sure that in the months and years of operation there is nothing will get loose. Opening the screen, it is necessary to make a significant effort, at the same time holding the second hand laptop, so it did not come off from the surface.
Moreover, working with R13 in the unfolded state and touching the display, you can be happy to note that the screen is not rocking after the user's actions. Although among sensory laptops is quite common. So in spite of its very exotic design, transformer made very durable and can easily give odds to those models that do not have such a mechanism. By the way, it has its own name and is called Ezel. The screen rotates 180 degrees vertically, twist it around its axis is impossible, and is unlikely to be something to someone needed in practice.
In fact, the initiator of the introduction on the market of devices of this format was very successful with Lenovo transformer Yoga. It was suggested scenario 4 with a hybrid. But competitors have gone further and now Acer has put forward the idea of a 6 variants interact with the device.
Basically, if marketers will receive the award for the idea of how to use the device in a special way, gradually changing the angle of inclination of 10 degrees, there is no doubt that such scenarios can be very much. All the major themes can be seen on the official picture, and then everything is limited by imagination and flexibility of the loops. But there will be many options, twist and twirl a transformer can be as your heart desires, thereby using its potential to the maximum.
The bottom of the laptop is covered softachem, practical and durable solution. There are legs by means of which the device rests on the surface. Also, there are clearly visible speakers located near these small stops. In addition, there is a hole, and the ventilation system.
Keyboard
Chiclet keyboard layout, buttons slightly recessed relative to the surface. All of them are made of matte plastic, they are clearly visible engraving. Characters perfectly readable in different conditions, including the dark room, it all merit a pleasant milky white backlight, which is activated automatically. If necessary, you can turn it off altogether. The brightness is adjusted, it has two modes of operation with a maximum level and a more subdued light.
The buttons are not very large, their size is 12 mm. However, typing errors will not be on the keys are sufficient for a comfortable character input distance, so it is safe to type on the keyboard works.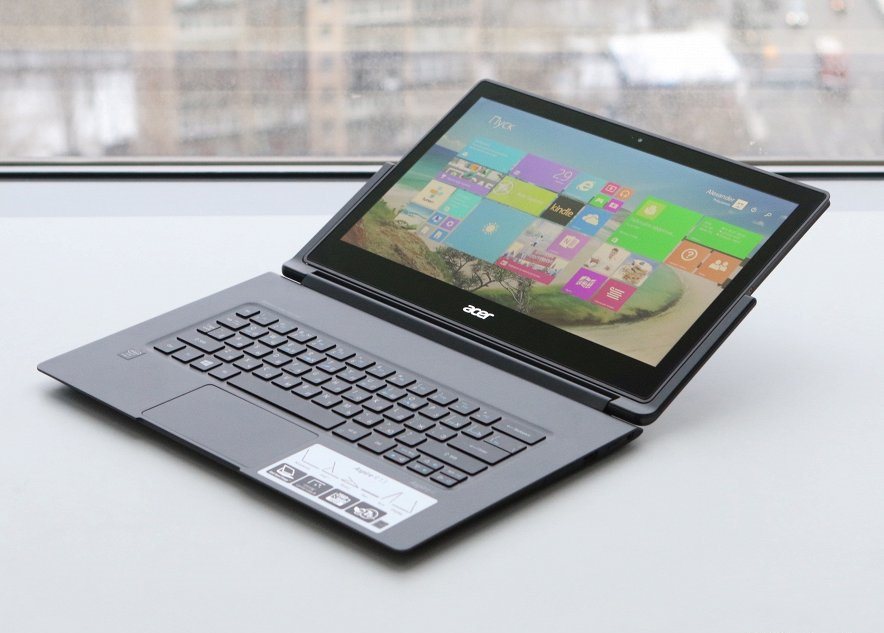 It is worth noting a block of the navigation keys, which is combined with auxiliary buttons. It is not uncommon, is a struggle for space savings, but you have to get used to this layout to avoid errors during the move. More key hit Delete, which is familiar from the upper right corner of the slide down, now it is close to the gap. As is easy to see, there is no number of function keys, so to run additional actions will have to hold the Fn, which is not very convenient.
The buttons are pressed gently, their operation should be made more resilient to the controlled response, which is important for fast typing. Matter who they are pressed almost soundlessly, so here it is very comfortable to work with texts. Clatter of keys, very frustrating, there is no such, therefore, this fact will be another advantage of the device.
Dimensions touchpad make 105h60 mm touch pad perfectly perceives the movement of fingers, manage with it a laptop handy. Single plane and combines two keys that are located at the bottom, so if you want you can work without using the touch screen, preferring a more conservative method.
Connections
Connectors submitted for the left and right side of the notebook. He has a pair of USB 3.0, one USB 2.0, HDMI-port, 3.5mm headphone port, SD-card slot. In principle, it is necessary to date.
There is no RJ-45, but the built-in Ethernet in such models is very rare. Although Acer could add optional adapter as their competitors.
In stock – HD-camera that helps to communicate via video services. For Wi-Fi laptop is connected with the support of Protocol 802.11 a / b / g / n / ac, it works equally well with both 2.4 and 5 GHz networks with, giving high speed when loading data.
Screen
The younger version of the laptop are allowed 1920×1080 pixels, and the more expensive versions will stand WQHD-screen. IPS-panel in such case provides a high density of points which is at a resolution of 220 ppi 2560h1440. For a 13.3-inch notebook rate is very, very good, even if there are analogues with higher resolution. The image looks good, but Windows 8.1 with its problems when scaling of fonts and data continues to deprive the user when working in the desktop mode merit such a display. So the choice of Full HD will be a better option.
Complete the buyer will receive a special pen. This Active Pen, which helps in the work, especially if you want to write something by hand or draw a picture. In principle, a professional tablet, it will not replace, but still better than nothing, and if you want you can be creative or simply operate the device with it.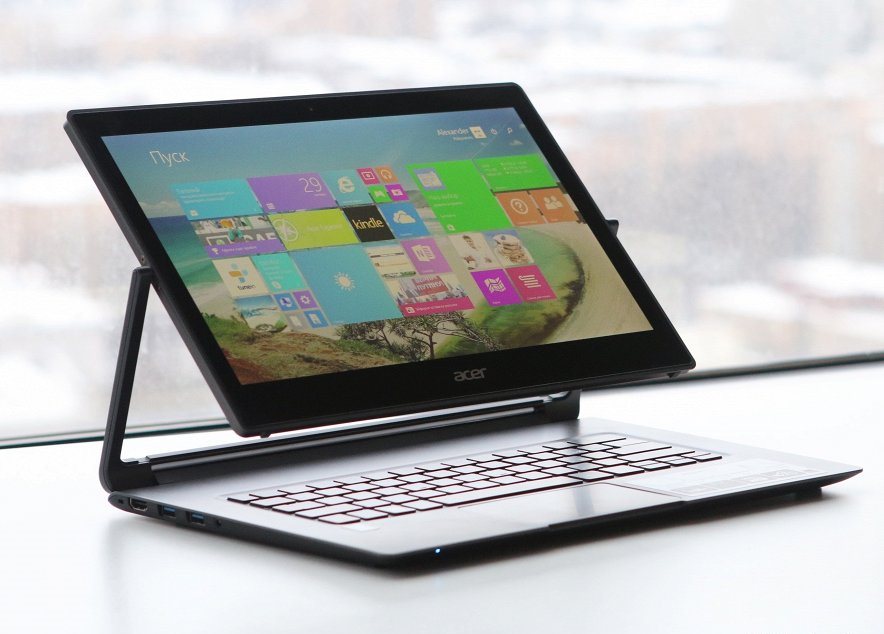 The screen has excellent sensitivity, resume of the convenience and comfort will be very short – all at a height, pressing recognized correctly, equally convenient to perform the operation and with the handle, and your fingers.
Laptop Screen Acer Aspire R13 uses a matrix of IPS LCD 13.3-inch. The manufacturer – company Sharp, and TFT-display substrate using newfangled semiconductor material IGZO. Resolution – 2560×1440 (Quad HD), pixel density reaches 221 ppi. By definition images have no complaints, and in Windows 8.1 interface, you can choose a suitable scale with a good balance between clarity and physical size of elements.
The maximum brightness of 342 cd / m2. And to achieve this mark, it took disable various power saving modes in Windows settings and drivers Intel HD Graphics. Margin could be higher, and in energy saving mode activated by default and does screen may appear dim. Contrast Ratio – about 1177: 1, a very good result for the IPS. Anti-reflective properties of the screen partially decreased due glossy glass with integrated touch-sensor mounted on top of the matrix. Although the room conditions using screen comfortably. IPS viewing angles for a relatively narrow: the image angle is distorted and the "yellow" and the black color becomes purple tint.
The average gamma – 2.4. The image as a whole, obscured the original. This setting is most suitable for the dim room.
The average color temperature – 6750K.
Color balance adjusted well enough swings minor component. Therefore, the average error is Delta E on gray scale is quite low – 2.34. Decent accuracy for factory settings.
Color gamut is close to the standard sRGB, only slightly oversaturated green and blue shifted in hue. Let's see how things stand with intermediate shades.
The situation inside the triangle shows that there are distortions (especially at the secondary colors), but their value – within reason.
The final grade of 24 color patterns ColorChecker gave an average error of Delta E value of 2.81. Overall, the color rendition of the screen left a positive impression, factory setting does not let us down.
Screen Acer Aspire R13, perhaps, does not set a new benchmark in quality, but very well makes it clear the display should look like a modern laptop. Small claims have to stock up the brightness (the default is underestimated, but it is fixable) and glossy glass – an inevitable factor, if you want a laptop with a touch screen. Otherwise, he pleases adequate factory setting with the "correct" colors. So, looking at the photos / videos do not have to regret the choice. This screen is well suited for multimedia tasks and entertainment.
Performance
Laptop got Intel's family of Haswell, choose a version with Core i5-4201U and Core i7-4510U. We had the option of top-end processor. In a dual-core chip operating frequency of 2 GHz in Turbo-mode, it increases up to 3.1 GHz. The chip is made on 22nm process technology, it has a low heat and power consumption, requiring only 15 watts. Power device is sufficient for any daily tasks with the exception of games because integrated graphics has a very limited capacity. The rest is modern and versatile model. Incidentally, the tests showed that there is a maximum load throttling, but in normal use of these situations do not arise only if synthetic measurements. In benchmarks decent housing is heated, the rear panel becomes hot. The cooling system is working effectively, it is almost silent, the laptop is not roaring fans and buzzing even during high load during the tests.
The RAM is 4 to 8 GB, in our case was the first version. Built-in Intel HD Graphics 4400 – obviously not the best option for gaming. Therefore, appropriate entertainment lovers hardly pay attention to this model, without discrete graphics hope for something extraordinary is not worth of any model, R13 is no exception. Acer offers R13 Raid 0 pairs of SSD, it can be from 256 to 512 GB or less. SSD are fast, the system will start almost immediately. The tests SSDs leaders do not escape, but shows good results.
The notebook has a sound support Dolby, however, rely on the most outstanding features a pair of speakers is not necessary. By the standards of notebook system can not boast of any depth of sound, no reproducible purity tunes.
The kit includes useful software applications that are adapted to the "tiled" interface and help you get the maximum benefit from it. There is Flipboard, radio TuneIn, notes Evernote, hotel reservation Booking, as well as a number of other beautifully designed applications.
There is a visual guide that will explain how to use a small interface elements using the touchscreen. Also there is a utility that monitors the way energy is consumed in the device, helping to compute intensive applications.
Time
Laptop battery with 48 Wh running long enough. At minimum load without Wi-Fi and at the lowest brightness level he holds about 9 hours. Watching videos on YouTube in Full HD at maximum brightness of the display device discharges of 4 hours. Watch the movie in Full HD, copied to your device, you can almost 6 hours in this mode transformer is discharged by 15-17% per hour. The following are the data obtained in synthetic tests in comparison with competitors. In practice, to actually get about 5-6 hours in a mixed mode with active wireless modules, and the average level of screen brightness. The index is typical for modern Windows-notebooks.
Acer R13 combines the advantages of several types of devices. He is powerful enough to be a general purpose computer for work or household purposes except for the games, but at the same time it is mobile, it has a comfortable design with a variety of possible operating scenarios. The set can receive practical stylus, it is also a plus. The model is not suitable for games, no discrete graphics will be a serious limitation for those looking for a versatile option for any task. But the rest of the model came out very good example of what should be a modern Windows-laptop.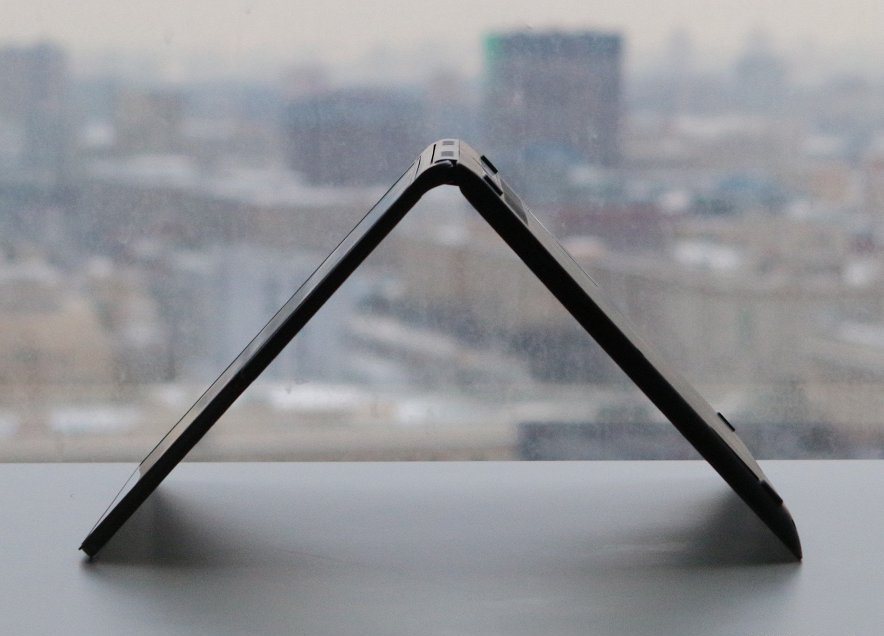 Despite the general rise in prices, the recommended retail price tag for not changed since last year, so you should pay attention to this model. And we can safely recommend the version with Core i5, which costs much cheaper, but in practice much loss in performance will not. It is unlikely that someone will buy a model for games or videomotntazha, and for the typical household tasks possibilities of entry-level model will be sufficient.
pros
Reliable and convenient mechanism for transformer
Comfortable keyboard with backlight
Stylus Included
quiet cooling
quality screen
cons
average autonomy
Inconspicuous sound through speakers
Marco surface
Read another very interesting article about alternative energy of the Sun, water and air.