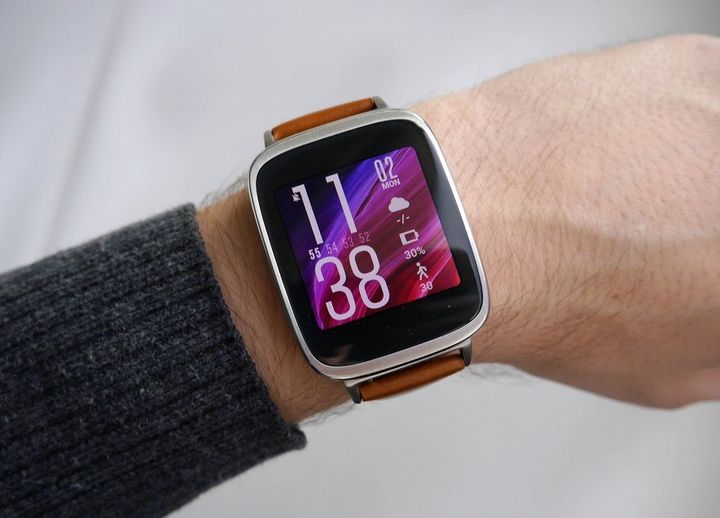 In the battle for a buyer among wearable electronics and joined the company ASUS, which last fall showed at the Berlin IFA show their vision of smart hours. Taiwanese engineers took into account the experience of their colleagues and tried to combine everything in a device that can be useful fashion accessory owner. The first job of appearance design of the watch makes a very good impression. The model curved screen, indoor glass, beautiful metallic finish and a leather strap with stainless steel latch. One of the main competitors Apple Watch will soon appear.
ASUS supports Google with the release of a variety of accessories that get Android Wear. Of course, buying these watches do not think that they can be an alternative to a smartphone or tablet, the possibility of the operating system that it uses to be very limited. However, judicious management, user-friendly interface and excellent support voice control including in Russian puts these devices significantly higher than peers who are unable to join the big family of Google-models.
Despite the fact that on their own watches are quite efficient in the autonomous mode, ie without a pair in the form of a smartphone and a tablet, nevertheless reveal their full potential can only be using more functional gadget. In this case, the clock always show the actual data, which generates Google Now, a useful set of cards with new developments or missing notifications. The clock may play a role remote control music, to take photography in the distance, calories count, set an alarm, show a pulse or perform other useful functions. And unlike some other models with Android Wear, attached to ZenWatch software package from ASUS, which increases the possibility of enhancement.
Design and Ergonomics
During the presentation of the product, special attention was paid to the fact that the company focused on the design and materials of hours. Given that the owner of such an accessory not only wants to get modern stuffing inside the body, but also a trendy gadget desire more than reasonable. In my opinion, the design of the ZenWatch – one of the most expressive among hours of this class. They look nice and the picture, and on the hand, when you look at them in person.
Given that this is the first watch from ASUS, while the number of competitors (LG, Sony) have released several generations of similar devices, such a result can not but rejoice. ZenWatch look more than their prices, there is no feeling of cheapness as it was with a number of analogues of a similar amount.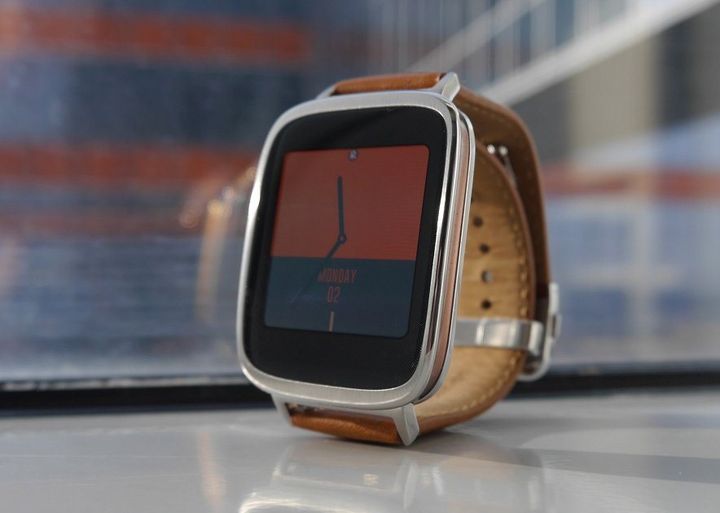 The watch metal case, the sides held a recess painted in bronze color. This variant design goes well with brown strap. Other colors are not yet proposed, ZenWatch available only in one design.
Case has a curved shape with no sharp angles, different surface smooth contours, with no protruding parts. Now in vogue tsiferbrlaty round, but that option looks very nice: no sense of awkwardness or excessive massiveness. In my opinion, ASUS ZenWatch can safely be put on a level with the Moto 360, both a couple of hours in their own way beautiful. Of course, there is a role to play and taste preferences customer: someone more like round the clock, someone for rectangular, a matter of personal interest to discuss difficult.
The advantages include the hours of protection against moisture and dust. Compliance with IP55 ensures that after bathing with ZenWatch not happen do not worry, they will work as before. Hours are universal – they can swim or go on vacation. They have protection against dust and moisture, so for their safety can not be afraid. By tradition, bring some pictures that prove a sufficient level of safety.
On a leather strap watch engraved their name, but also pointed out that use real leather. The strap should be done from a pleasant material, after a week of active use ZenWatch saved a few "oak" state, strap seemed tough. At LG G Watch R material more enjoyable. However, there a standard strap, he width of 22 mm, so if you want you can easily change to another suitable. Replace it will be easy enough to move in the direction of the pin that secures the strap mount. On the back of the watch has a button that launches the settings menu or turns on / off the device .. But to press it necessary to remove the watch from your wrist. Other buttons is not here, full of minimalism in design.
Fillings, time
The watch is hiding Qualcomm Snapdragon processor 400 with 1.2 GHz and 512 MB of RAM, internal memory is 4 GB memory card slot is not provided. These characteristics are now offering most devices with Android Wear. It works with devices running Android 4.3 or higher in hours standing firmware 5.0.1.
The clock is fast or slow podlagivany no reaction to the sensitivity of the screen also does not have to complain. Enough to remember a control algorithm for hours, after which it remains only view from time to time new cards with notifications.
Full charge lasts for hours working day. Basically, if you turn off the automatic backlight and not lead a very active social life, when occasionally there will come a little e-mail notification, in which case the clock can survive and 2-2.5 days. By modern standards, which is very good for such a model. And in the future ASUS promises to increase the operating hours of the new generation to one week.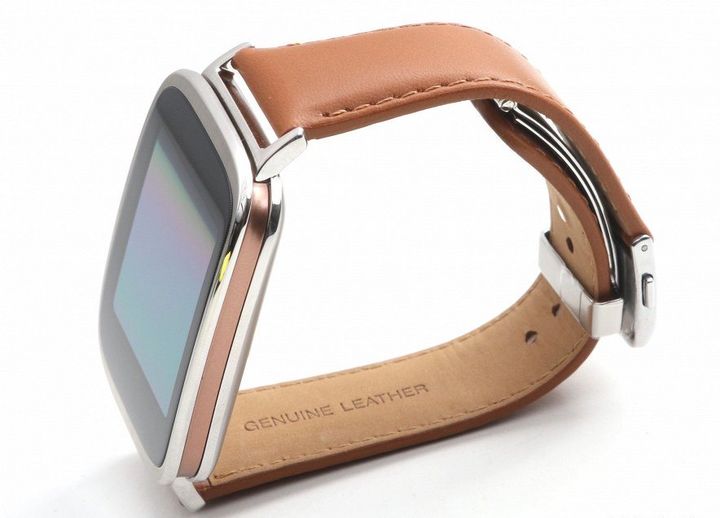 Clocks are charged by a small stand, made of rubberised plastic. Against the background of themselves neat and perfectly assembled ZenWatch this stand with uneven seams fitted looks very strange. It would be worthwhile to pay more attention to the quality of fitting accessory parts, even though it has a supporting role. Hours are fixed tightly in plastic, you can take them out, put considerable effort. To charge that lasts about 1.5 hours, using microUSB-cable, everything is standard.
Screen
Display size – 1.63 inches, AMOLED-matrix is used. Margin enough brightness for different conditions, but on subjective feelings at Moto 360, it was bigger, though not by much. Also in hours from Motorola has another great advantage – brightness sensor. Here it is not, the clock adjust to the surroundings on their own can not, therefore, if necessary, this parameter must be changed manually.
The screen is square, it has a resolution of 320×320 pixels, the surface was bent out of shape. By tradition, all closed tsarapinoustoychivym glass Gorilla Glass 3, which has an oleophobic coating. In hours of high-quality anti-glare, the data on the screen can be clearly seen in various conditions, taking into account the type of matrix to the viewing angles of claims also arise. Read the information on the screen to be easily and conveniently irrespective of which side of the watch face.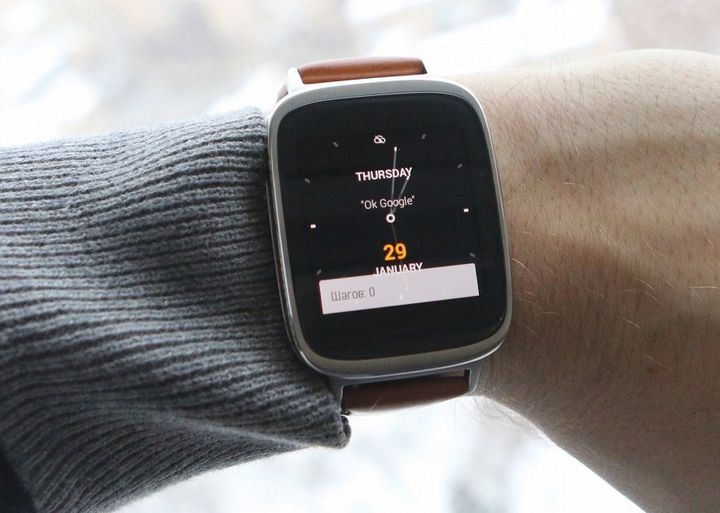 Perhaps the only gripe concerns on the part of design frames around the screen. They are quite broad. Black bands that fit in with a metallic finish, is striking. Therefore, for harmony should pick up the dials for hours in the same style, ie black. In the menu you can turn off the screen saver mode when the display will show a black and white numbers in standby mode. In this case, a very significant energy savings, the clock is somewhere in the 30% longer than the normal mode. However, in such case will not be activated by turning the backlight wrist. We'll have to knock on the display to activate it. But for those who are critical of the work – it's not the worst option. I must say that ZenWatch very sensitive to movements and often included screen just so peculiar rastsenivaya user activity. I think that this can be corrected in future firmware because the activity of a significant effect on the screen while the accessory.
Android wear, soft
In addition use case in a couple of hours with a standard application Android Wear, which is familiar from previous models and opportunities which we have repeatedly tested, there is another way to evaluate the function of Taiwan's development. I note that the hours have vibrottdacha such notice is good enough on his arm and once you notice them, without taking your phone or tablet.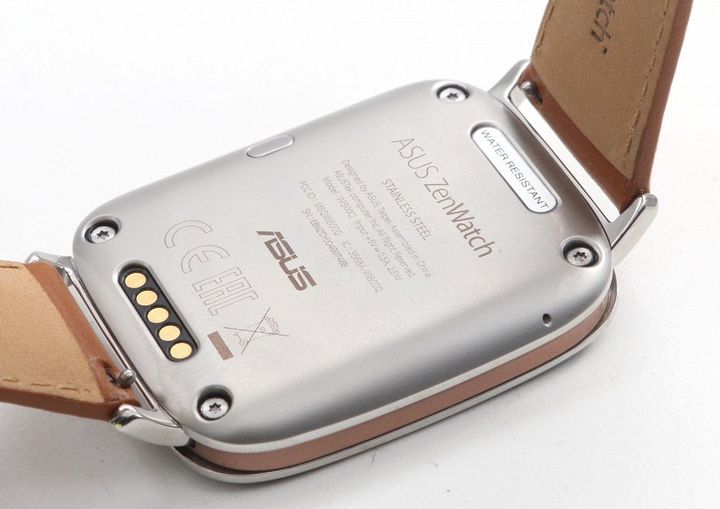 ASUS has prepared a set of proprietary software, which includes the following applications: ZenWatch Manager, Remote Camera, Remote Link, Wellness. Control function smartphone with hours met before. In this case, the image from the phone's screen is displayed on the clock. You can see all the same, but in a more compact scale and take a snapshot of a simple gesture – enough to turn the hand to the side. While shooting is noticeable that the picture is not transmitted very smoothly, so in effect the function is mostly entertaining. While in case of need can be to spy shot straight hours with advance fixing smartphone in a secluded place for review.
Wellness app turns the clock in the fitness bracelet. There is no any special programs for sports, but the software will show a variety of statistical information. Also watch has a sensor heart, with which you can keep track of your physical condition. Pedometer does not work very accurately, sometimes do not take into account the activity or the numbers come out much smaller than those that should be at the end of the day.
A separate scanner on the back surface of the watch will not see its role performs the entire plane. Therefore, when measurements should press harder hours to hand, otherwise you may have problems. Sensor heartbeat pulse is not considered immediately, but fast enough – it takes about 25 seconds. However, the clock can be very different. To do this, you want to check pulse a few times in a row. And after 4-5 attempts can be seen that the readings are very different: instead of 70-75 beats per minute clock can show 100-110. Therefore, the data need to recheck if there is suspicion of objectivity outstanding results.
Through ZenWatch Manager can be enabled through the unlocked smartphone hours. You can enter a special security code, and if the smartphone is on the distance from the hours that exceed 10 meters, in which case it can be unlocked only by entering known only to the owner of the numbers. If there is an incoming call or alarm clock works, then putting his hand to the display can turn off the sound.
In the menu you can configure the design of the clock by one of the many styles. In addition, here you can take advantage of all the diversity of the app store, where the mass of available third-party sketches hours.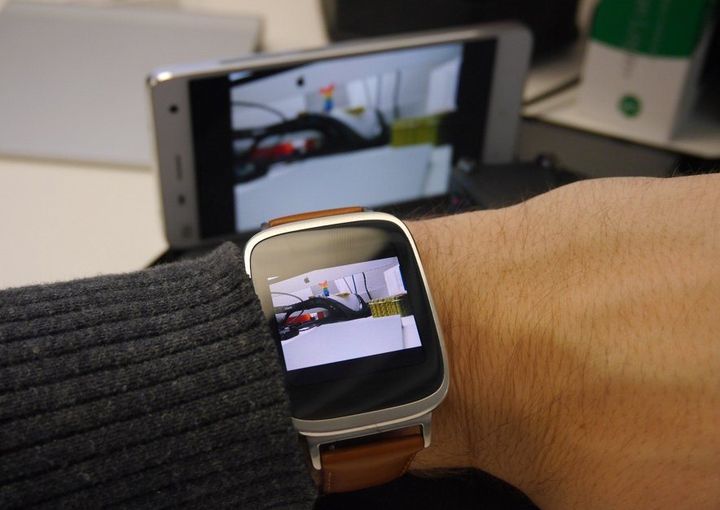 ZenWatch got modern stuffing, hidden in a beautiful shell. Watches from ASUS offer a very good compromise between design and performance. Watches are not like "geek" option, when the device is strange look in a pair with a suit, this model will become a universal solution for a wide variety of users. Although no doubt that it will be young men who want a fashionable gadget in a couple of their Android-smartphone.
Despite the highly technological characteristics, more need to work on the software. Need to be improved pedometer readings and sensor heartbeat, should pay attention to how the backlight is activated in hours. Because sometimes quite uneven movements as turns on the screen. On the side of the model beautiful appearance and high-quality assembly, convenient voice control and flexibility to customize the menu style to the clock, as well as practical applications from ASUS, which complement the basic features Android Wear.
pros
beautiful design
High-quality AMOLED-display
Comfortable soft ASUS
Dust and moisture protection
good autonomy
cons
Motion sensors and heart rate monitor requires more precise calibration
According to the results of our testing hours ASUS ZenWatch deserve our expert design awards.
Read another very interesting article about alternative energy of the Sun, water and air.