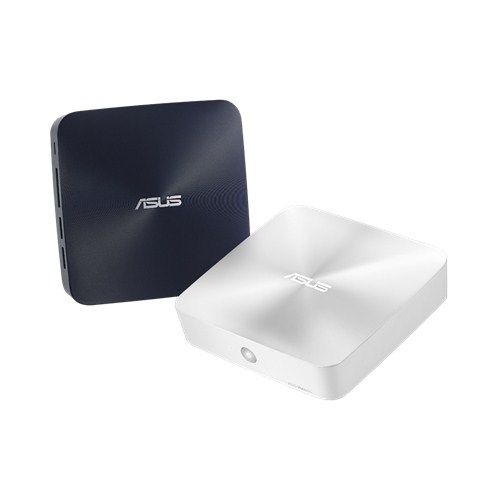 Traditional desktop, this bulky, almost non-transportable "box" under the table, in spite of its relatively low cost and the ability to upgrade the system in the future, for the modern user does not look particularly attractive option. However, laptops, to grab the lion's share of the market for desktop, too imperfect – primarily because of the screen, which is inferior to any decent desktop monitor. How to be demanding users who want to get a compact computer, combined with high-quality desktop peripherals? Pay attention to the mini-PC – for example, a miniature ASUS VivoMini UN62.
Options
Mini-PC comes in a small box of black cardboard, which is just the device itself, external power supply, user guide and bracket for mounting on the wall – keyboard / mouse, and all necessary cables user will have to be purchased separately.
Design – ASUS VivoMini UN62
ASUS UN62 looks like a small, little more than a stack of three or four CD box with rounded corners (volume 0.6 l). Body – dark matte plastic (according to specifications, the color – black and blue, but blue see here is very problematic; fortunately, white and gold nobody sees). The upper bound is covered with very fine, almost indistinguishable from the pattern of concentric circles (making her absolutely no fingerprints), in the center – silver logo ASUS.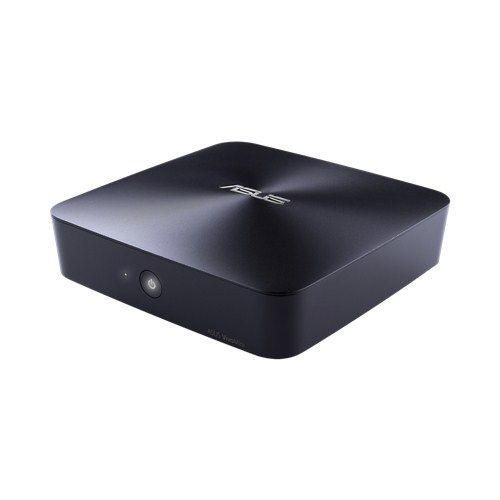 It should be a mini-PCs rubberized feet that reduce (though not eliminate entirely) sliding on smooth surfaces. There is also a mount for mounting the device on the wall; In addition, if necessary, access to the "internal" it can be easily dismantled – the screws are hidden under the rubber plugs.
On the front panel are located in the center of the power button and the "point" Hard drive activity light.
One lateral face is completely free of any connectors, the second to Kensington lock, SD-card reader and two-port USB 3.0 (manufacturer emphasizes the increased amperage in these ports, allowing any connected mobile devices are charged 2 times faster than from the usual USB-ports). All other connectors are located at the back: here we see the video outputs HDMI and DisplayPort, two port USB 3.0 (at this time, the usual), mini-jack for connecting audio garniture and Gigabit Ethernet.
Hardware platform and performance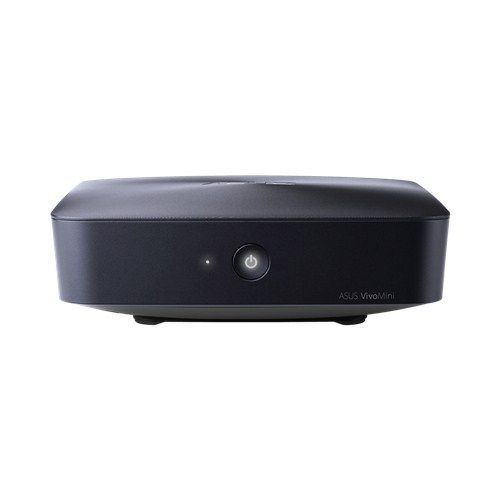 ASUS UN62 offered in different configurations, as amended by the model was based on the processor Intel Core i3-4030U architecture Haswell, operating at a frequency of 1.9 GHz. The processor has two cores, with Hyper-Threading technology can simultaneously process up to 4 data streams. As a graphics subsystem uses an embedded video Intel HD Graphics 4400. RAM in this mini-PC 4 GB storage capacity using 128GB SSD. If it does seem a little, the user can optionally select a different configuration – up to Intel Core i5-4210U, 16 GB of RAM and 256 GB SSD.
Established in ASUS UN62 SSD production SK Hynix HFS128G3AMNB-2200A (mSATA) shows a very decent performance, slightly higher than the average for the modern mass storage devices.
Basic configuration, as seen by the results in PCMark 8, enough for most home and office tasks, except for that game.
Embedded video, unfortunately, does not allow to seriously consider ASUS UN62 as a gaming system, even if the initial level.
The paper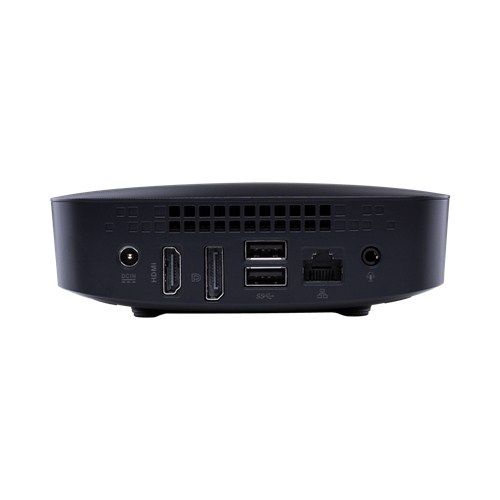 CPU temperature at rest was 52 degrees, the fan speed according to AIDA64, located at 2500 rev / min – but, surprisingly, at the hearing to determine this was not possible, mini-PC is virtually silent, and dismantle the fans could only lean his ear to his body. Under heavy load (a few minutes in the stress test Furmark) the temperature rose to 90 degrees, the fan "roll" up to 4300 rev / min – but the noise level rose, though, but only slightly (to hear the mini-PC in this extreme mode of operation can be from a distance of half a meter in a quiet room). However, under real, not synthetic, load indicators are much more modest – so during "mining" in 3DMark benchmark CPU temperature did not rise above 84 degrees, the fan speed was also more acceptable – 3300 rev / min. According to official specifications, the noise level at rest he is 18.5 dB, with a full load – 26.3 dB, and subjective feelings, these numbers look like the truth.
In ASUS UN62 uses low-voltage processor with low power consumption, it is not surprising, therefore, that the whole system is at rest, consumes only 8 watts of load – 29 watts.
Results – ASUS VivoMini UN62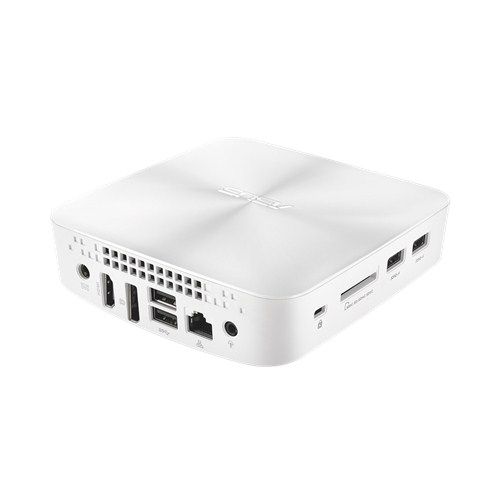 ASUS VivoMini UN62 – ultra-compact and ultra-quiet PCs with very decent performance, more than adequate for most tasks faced by a normal user (with the possible exception of games). Due to the miniature size it is possible to find various applications – from conventional desktop replacement in an environment where a full-size place the system unit is simply nowhere to be used as a media center connected to the TV (with optional fixed cover, for example, XBMC). This option, by the way, looks particularly attractive, given that the system performance is enough to play 4K-video. However, here the user has to solve the problem of multichannel audio output for external speakers – in ASUS UN62 no digital audio output, so it will likely have to purchase additional external sound card that connects via USB.
Sales ASUS VivoMini UN62 appear at an estimated price of $ 540.
Liked
+ Attractive appearance
+ Low noise
+ Enough for most home and office productivity tasks
+ Four USB 3.0 ports
+ Low power consumption
Do not like it
– Minimum equipment
– No digital audio outputs
Source: Asus
Read another very interesting article about alternative energy of the Sun, water and air.