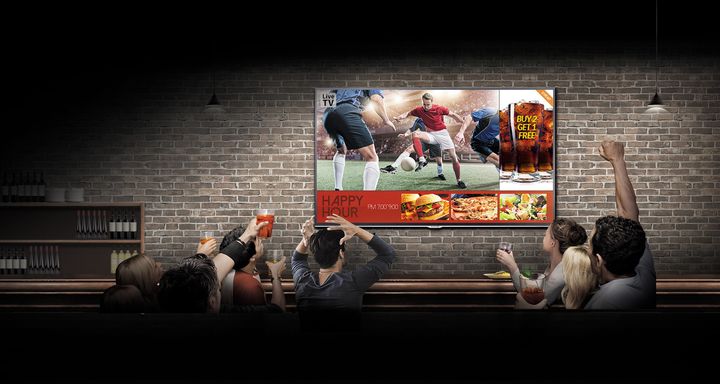 Flat-panel displays – frequent guests in different kinds of schools, cafes and shops. But more often than their destiny – a banal relaying some television or movie. After all, in order to turn an ordinary household TV in full information and advertising boards, it is necessary to solve many problems – how to create a presentation than how to run it on TV, how to manage the schedule?
Much easier to just take a ready-made solution "turnkey". Here only they were available until recently, only large firms and for the appropriate amount. Therefore, small business owners may be interested in a new line of displays Smart Signage TV from Samsung.
It includes two models RM40D and RM48D, with a diagonal of 40 and 48 inches, respectively, and has a price tag is quite humane and very interesting business opportunities.
Design Samsung Smart Signage TV
Externally Smart Signage TV is virtually indistinguishable from the usual "home" TV company. The same glossy black plastic thin body, narrow frame around the display and speaker logo at the bottom (no backlight).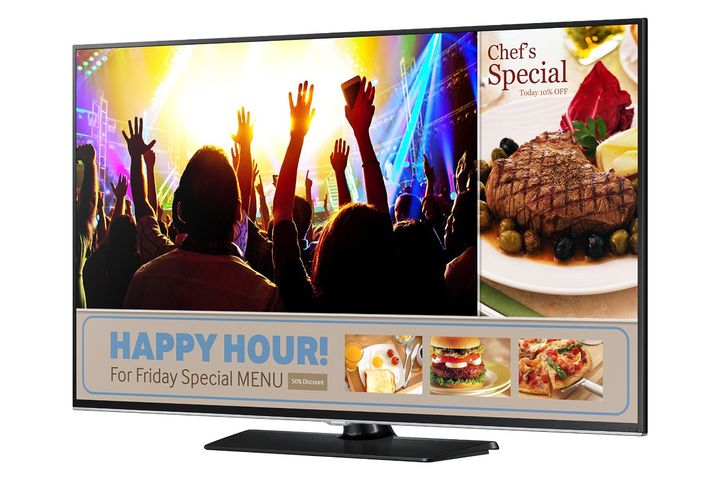 Is that the rear panel is simpler and contains only the minimum necessary connectors – looks indecent pustovato.
Holes for VESA-mount – standard 200×200 (for RM40D) and 400×400 (for RM48D) – useful if the standard "slim" -you are not satisfied.
Facilities and equipment
On the side faces the back of the niche withdrawn most popular port USB, two HDMI and antenna connector.
A little further on is located less popular analog "tulips", the audio output, audio, official RS-232 and video connector VGA, menu, passing under the pseudonym of RGB (PC). By the way, there is a slot for CAM-module and a built-in tuner DVB-C / T / T2 – so problems connecting to any television network should not be.
This is a clear advantage for a business panel, which often did not exist at all tuners.
Despite the unusual absence of Ethernet-port, television, fortunately, has built-in Wi-Fi-adapter.
The panel – matt (a reasonable solution to the installation location of such TV), LED-backlit display, a resolution of Full HD (1920×1080 pixels) and a refresh rate of 60 Hz. Quite decent filling corresponding to the model of the fourth / fifth series of the consumer line of TVs Korean company. Claimed yarkost- 350 cd / m². We nameryanno 310, so that, in principle, the figures are almost converge and more than enough, even for a bright room.
The viewing angles are quite good as for landscape and portraits – yes, the panel can be mounted in such a position. However, the display itself does not know how exactly it is installed and the menu does not expand, so the setting is best done in advance, otherwise, then it will have to be carried out with turned head.
The menu itself, again – the same as that of conventional TV. Nothing is simplified, and not cut, all available modes fine tune the picture, which is unusual to observe in business dashboards.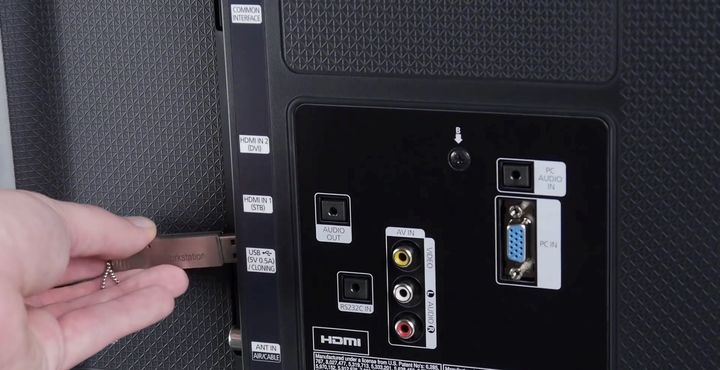 Built-in speakers displayed at the bottom of the display – two speakers with 10 watts, everything is standard, no surprises. If you want a more powerful sound – audio output to help, but only analog, but it would not be a particular problem.
In the box to the display immediately goes all the essentials – the remote control, easy leg-stand, wall "slim" -kronshteyn no control and turn and USB-stick with software MagicInfo Express.
Its built-in support lies the main difference between the models Signage Smart TV.
Software
Installing MagicInfo Express on Windows-based computer, you can quickly create high-quality presentations using more than two hundreds of available templates (or your imagination, if you have it in abundance). There are a variety of options – from cafes and restaurants to dental clinics, salons, travel agencies and studios.
Depending on the selected template, there are several options for placement of information – text boxes, images, and the most interesting – the video field. It is located in any part of the screen, and it appears "live" – a picture with a TV tuner and video input. The size of the field you define yourself. Depending on the template "ether" can dominate, and information fields only eat off of the space around the edges. Or vice versa, the video can go into a small corner of the screen – the choice is yours.
However, the video field can only be used for landscape pattern – this is probably the biggest limitation of the system.
Create a presentation can be supplemented with a slide show, videos and other content in any sequence.
Setting is very flexible – you can set the on-time of a particular presentation on weekdays and hours, its duration, number of repetitions, and more.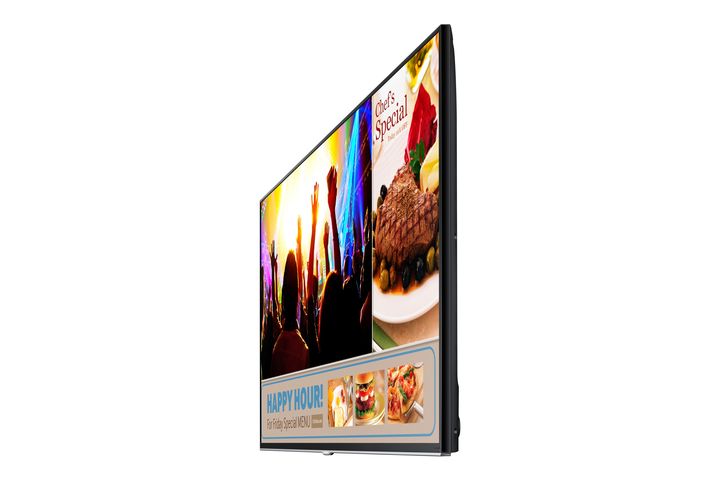 This allows you to program Smart Signage TV, for example, to automatically change the price of food and in the hours of lunch, and return to the standard menu after its completion.
The result of your work is transmitted to the display in several ways – saving to USB-stick or directly to your TV via Wi-Fi-connection. If the wireless network at a school not, the TV itself can act as a connection point.
Additional Features
It is also worth noting that in Smart Signage TV and realized the usual media player that supports almost all formats. In addition to playing with the USB-stick, the display is able to work with the remote content network protocol DLNA.
For operational management Signage TV attached and mobile app, available in Google Play, and in the iTunes AppStore.
With it, you can send the display content from a smartphone, but more interesting is the ability to schedule management presentation. Unfortunately, the full presentation can not edit itself, it will still have to apply to the computer. Stated the possibility of replacing the elements in the template until the program could not be found – it is quite possible, this function will be added soon when updating mobile clients.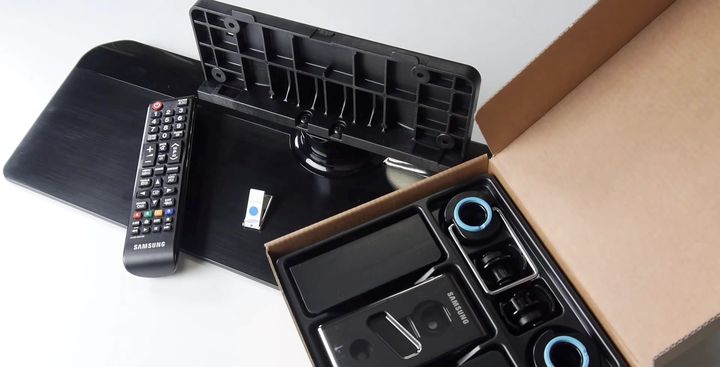 Speaking about the schedule, not to mention the ability to automatically turn on and off of the TV timer. There is also selected volume level and source, including and MagicInfo. As a result, the display can operate in fully automatic mode.
In addition, the company claimed that all the components of the display are designed to work every day for 16 hours (compared to eight in consumer models) and match their words with a three year warranty.
Results Samsung Smart Signage TV
For whom this product is intended? The choice is clear – for any small business owner, whether a cafe, a small shop or salon. Yes, a black board with chalk graffiti or printed posters and price tags – it's cheap, reliable and practical. But if you want to give your business a professional and dynamic, as well as the flexibility to manage the contents of the bulletin board, it's definitely worth choose not home television, namely a business video pane. Overpayment in this case, quite small, but easy to use – up order.
Read another very interesting article about alternative energy of the Sun, water and air.