The company ASUS presents ZenWatch 2 – "smart" watches, running the operating system Android Wear and produced in partnership with Google. Hours ZenWatch 2 made of high quality materials and are used as a supplement to Android-smartphone, bringing to your screen up to date information and enabling the user to respond to it with the help of sign and spoken commands.
As a modern, high-tech accessory, ZenWatch 2 allows you to emphasize the personal style of the user due to the wide choice of housing options (two sizes, three colors), the strap (18 different combinations of materials and colors) and the dial (in addition to standard, you can create your own design screen hours) .
Hours ZenWatch 2 different from the first model, improved design, software updates and additional functionality. In particular, there is now a body of the metal button, used as a control, and a completely new magnetic charger significantly accelerates the battery charging hours.
Especially for the second generation ZenWatch has developed a new version of the application Wellness («Cheers"), which serves as a personal fitness manager, helping the user to track the level of physical activity and improve their physical shape.
Haute Horlogerie – ZenWatch 2
ZenWatch 2 – is a stylish product that differs exclusive design, premium materials, and excellent workmanship. The watch is in a robust stainless steel housing, which is available in two sizes and three colors. Their display is covered with a durable protective glass Corning Gorilla Glass 3, preventing scratches.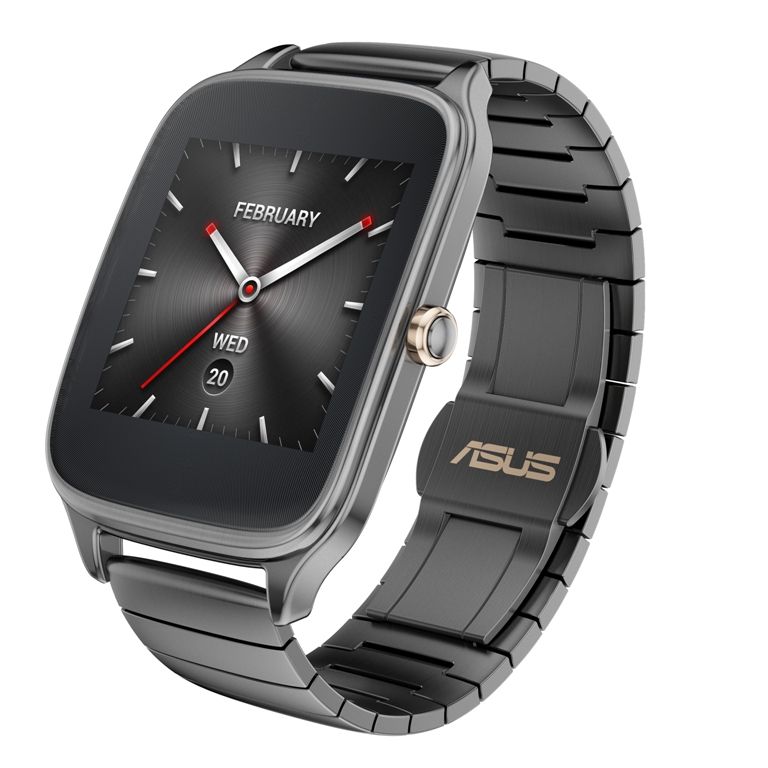 Hours ZenWatch 2 offers multiple-choice strap, which differ in color and material. Durable and flexible rubber strap, available in blue, orange, red and gray-brown color, perfect for athletes, people who lead active lifestyles, and generally all those who prefer an informal style of dress.
Versatility is an elegant leather strap (khaki, brown, gray, blue and orange versions), and to create a representation of the image is worth paying attention to stainless steel bracelet, whose color (silver, metallic gray or pink gold) matches the color of the body as much as possible themselves hours. In addition, the result of a collaboration with the company ASUS Swarovski Professional has become a luxury leather strap embossed with figure decorated with crystals Swarovski.
Unlike traditional hours, ZenWatch 2 makes it easy to change the look of the dial under the current mood or style of the user. In addition to a wide selection of standard dials can apply their own, creating them with the help of a special application.
Intelligent functionality
Hours ZenWatch 2 uses the latest version of the operating system Android Wear and can be used in conjunction with the Android smartphone, extending their functionality. The display clock shows the details of incoming calls and messages, various notices and other information that can be viewed without taking your smartphone out of your pocket or bag. Total hours greatly expanded functionality compared with the first model ZenWatch.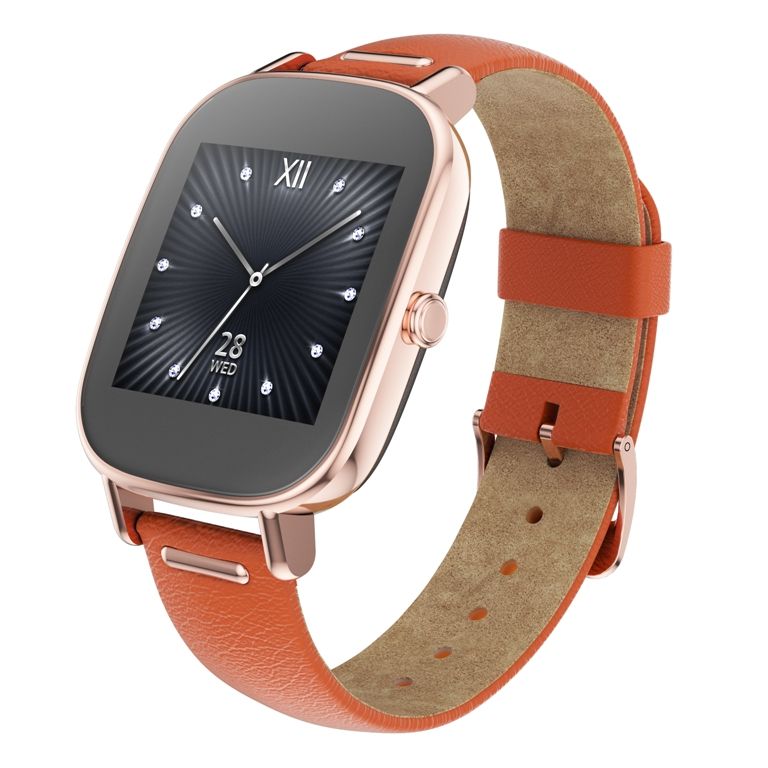 One of the most popular features of the original clock ZenWatch had the opportunity to display their images with viewfinder screen smartphone. This is especially useful when taking group photos and self to which you want to capture, and the photographer. In ZenWatch 2 this function was not only maintained, but also improved. For example, it is possible to switch between the front and rear cameras smartphone.
In addition to software improvements ZenWatch there are 2 hardware. Watches boast enhanced water resistance that allows them not to shoot in the rain, and the new Charger significantly reduces the charging time of the battery.
The new version of the application Wellness («Cheers»)
With built-in sensors and special application Wellness, hours ZenWatch 2 can be used as a personal fitness manager. They are able to track user activity throughout the day and specially optimized for such sports activities as running and cycling. All the collected information is displayed in the form of the application of intuitive charts and graphs. There, the user can set goals to improve their physical fitness and to monitor their achievement.
Source: Pocket-lint
Read another very interesting article about alternative energy of the Sun, water and air.