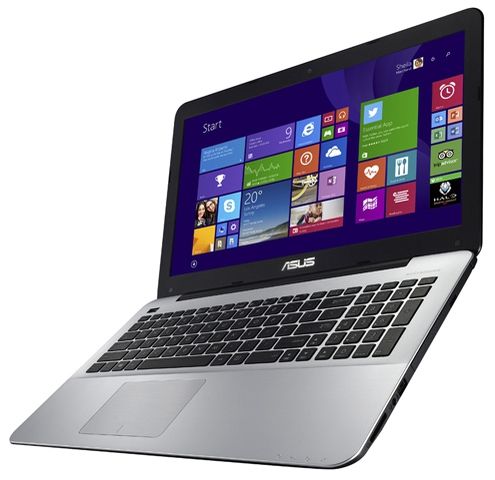 Laptops ASUS K – is a versatile model that will always help if you do not put in front of them particularly complex task. Such devices, the company enough, they are good both at work and at leisure. For example, when meeting with the model K551LN we could not ignore the stylish appearance, as well as the ability to handle multimedia tasks. This laptop processor acts as a low-voltage chip fourth generation. But the laptop K750JA much more powerful, because his body is worth CPU Core i7 generation Haswell. In this review we will introduce yet another representative of the ruler – ASUS K555LD, released in 2014. In terms of design it is not much different from their counterparts, however, we are considering equipment will be weaker. Who knows, maybe this laptop will appreciate something else?
Design – ASUS K555LD
Laptop case is made of plastic, with stylish looks ASUS K555LD and even in some of the premium. This is achieved by a combination of silver and black, and matte textured panels. Incidentally, the surface of the notebook is hard, it will be difficult to bend with a significant pressure. The only thing that will often wipe the cover with a cloth, as there is a lot of fingerprints.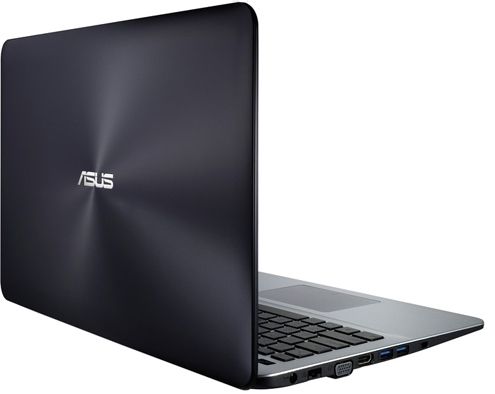 Workspace feels a little different from the outside. The surface is rougher, but it did not spoil the impression, on the contrary, to touch her nice. On the bottom, you can see the bay, under which the hidden system memory modules, ventilation grille, as well as two stereo speakers.
The dimensions of the laptop will not cause surprise. They are the standard – 382x256x35 mm. As for weight, 2.3 kg quite a bit. So ASUS K555LD can safely accompany you on your travels, even daily.
Display, sound, webcam
Normal laptop screen 15.6-inch with a resolution of 1366×768 pixels. It has a matte surface that not only shines but also reflects nothing. Matrix has an average brightness level, low contrast (80: 1), its viewing angles are not very wide. As a result, you can normally work with documents, surf the Internet, but when watching a video you'd better sit right in front of the display, otherwise you have to put up with a little distorted.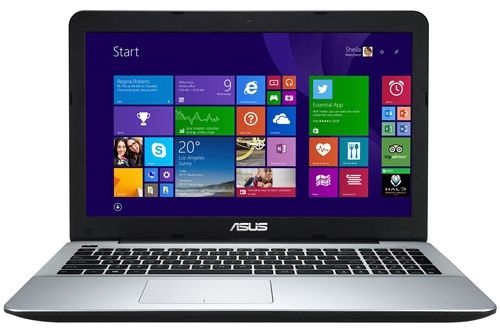 The main advantage of a laptop is the volume of acoustics. Sound emanating from the speakers will be heard well in a medium-sized office. At the same time, the sound quality is not the best: all fill the mids and the bass does not vary. Especially do not change the picture support ASUS SonicMaster. In general, if you are going for a laptop to watch movies, you should worry about good headphones.
As for the webcam, it has a resolution of 0.3 megapixels. It's quite a bit, but to communicate in Skype – enough.
Keyboard and Touchpad
Designers took advantage of almost the entire area of the working area, so in addition to the main unit and the key is present gamepad.
It is unlikely that you will be complaints in the use of the keyboard. It is very convenient, built on island principle, all the buttons are of normal size and clearly labeled. The only thing that keys when pressed. For example, in an office building, working for such a keyboard, you will hear.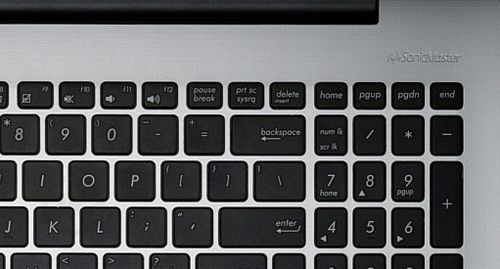 The touchpad on a laptop has an area of medium size. It just so that comfortable position. In addition, the touchpad supports multitouch gestures, so you can zoom, rotate images, and use the horizontal and vertical scrolling with two fingers. In order to show the desktop or display all running programs should be carried out on the touchpad with the top-down or bottom-up, respectively, but with three fingers.
Performance
In picking ASUS K555LD 90NB0627-M09820 preinstalled operating system Windows 8 64-bit. The laptop is equipped with a processor generation Haswell – Intel Core i3-4030U, constructed according to the norms 22-nm technology. This CPU has a low power consumption of 15 watts and is equipped with two cores that can handle four simultaneous flow of information. It should be noted that the CPU core run at 1.9 GHz has a cache in the third level 3 MB. Unfortunately, Intel Core i3-4030U does not support JavaScript Turbo Boost, so the rate will remain unchanged. In general, it is not a high-performance chip, but it is quite coping with many everyday tasks: web surfing, processing photos, work with documentation and so on.
For normal operation of the system and various applications will be enough to 6GB of RAM provided in this configuration. RAM is DDR3 standard and bus frequency up to 1600 MHz. Given that the memory chip are two slots, it is possible to install a larger volume. Maximum count on the installation of 8 GB.
If we talk about the graphic problems, then deal with them as a built-in Intel HD Graphics 4400 and a discrete graphics card NVIDIA GeForce GT 820M. First the power of simple operations, the second – games and other demanding programs. Integrated Accelerator HD 4400 supports DirectX 11.1, allows you to decode the video 4K. To watch the video, or hanging out on the Internet its performance with enough margin. As to the gameplay, there is "connected» GeForce GT 820M. It has 2 GB of video memory standard DDR3, supports DirectX 11. However, this is just an entry-level graphics, so you should not rely on the fact that you can play the latest toys. For example, be able to go shooter BioShock Infinite at medium settings with a resolution of 1366×768 pixels. The frequency will be more than 30 fps. Or will play Tomb Raider with the same settings and 40 frames per second.
Finally, another component of the filling is a hard disk. In this configuration, its volume is 1000 GB. The speed of the hard drive is standard – 5400 rpm. This capacity will not be superfluous if you intend to keep the HDD multimedia files, as well as many essential applications.
Ports and Communications
Interfaces in the notebook busy right and left face. On the left is the nest for recharging, Kensington lock slot, HDMI video output and VGA, as well as two ports USB 3.0. Network RJ-45 connector can also be seen on the left side, but he is almost completely hidden flap.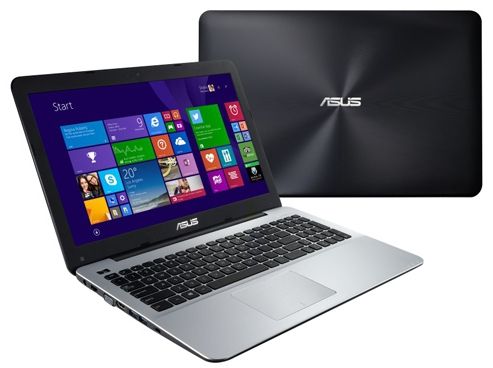 And here is the right one-port USB 2.0, a combined audio jack for headphones and microphone, SD-card reader. The main part of the right side takes an integrated optical drive DVD ± RW Super Multi with support for DL. He reads and writes dual-layer discs.
With regard to the front end and the rear panel, they are from the ports and connectors available.
The notebook has a number of LEDs. They are arranged in groups, in which: indication of operation of the drive, a wireless network, the notebook itself. Also fitted with an indicator showing the state of charge of the battery.
Wireless communications laptop are Wi-Fi 802.11 b / g / n and Bluetooth 4.0.
Battery
ASUS K555LD equipped with 4-cell lithium-ion battery capacity of 2600 mAh. With him, quietly device will work for about 3 hours. Unfortunately, this is not the best autonomy, you can count on a long trip.
Conclusion – ASUS K555LD
Laptop, considered in the review left a good impression. He is cute, has a good performance, but also has everything you need to easily perform daily tasks that do not require complex computational operations. His stuffing includes two video cards, power-efficient processor, 6GB of RAM and a roomy hard drive. Also in the notebook provided gamepad that users will appreciate, often introducing numerical data. Laptop price tag does not exceed $ 500, and for this price you can forgive him so weak as obsolescent by modern standards, a display resolution. However, it should reflect on the low contrast of the screen and a small battery life. In general, ASUS K555LD can be seriously considered as a good assistant in the office or at home.
Source: ASUS
Read another very interesting article about alternative energy of the Sun, water and air.