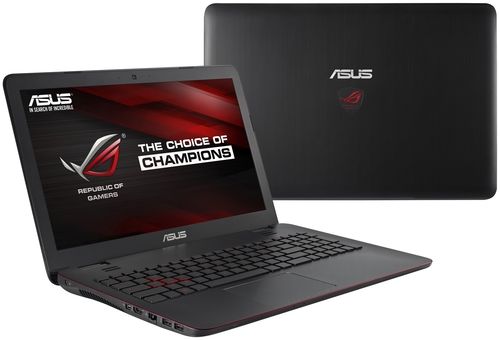 Many of us make mistakes in life, and global companies that manufacture electronics in this aspect is no exception. So ASUS in May 2014 showed us a gaming laptop ASUS G550 video card NVIDIA GeForce GTX 850M, which had a weak spot in the form of RAM DDR3, in fact, this device is no different from the multimedia ASUS N550, noted that many fans of the company. Fortunately, the Taiwanese manufacturer has recently quite frequently updates its game lineup, and a few months later at Computex 2014, we saw the hero of our today's review – ASUS G551JM, which got a new design, and most importantly – a more powerful graphics card.
Design – ASUS G551JM
ASUS has decided not to bother so much with the design of ASUS G551, as, for example, with the ASUS G751, and took the path of least resistance. For gaming and multimedia G551 N551 was created almost the same body, the difference lies only in some decorative details.
So the colors of our test laptop are completely black while the N551 light gray, also changed the color of the keyboard and its labeling, it is now black and red. Were also added other red elements in the design of the notebook and the ROG logo on the cover, in the end we have a game ASUS G551.
I am glad that the body is almost entirely made of aluminum, which affects its strength and practicality. However, aluminum and performs design ideas, giving it solidity and a premium laptop. In general, the appearance of ASUS G551JM retains the features of its predecessor, but somebody lines became smoother, more often it catches the eye when you look at the side of the laptop.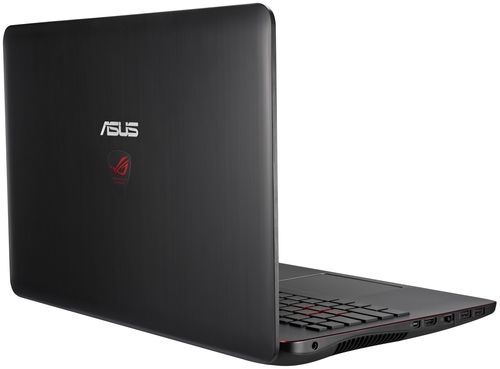 Bottom ASUS G551JM not made of aluminum and durable plastic, however, on the stiffness is almost no effect. Unlike its predecessor, ASUS G551JM has not a single bottom and divided into several zones, is at the top of the battery compartment and the bottom – the cover quick access to the vent holes. To get to the internal components (hard disk, two memory slots and wireless module), unscrew the two screws all. The corners on the bottom are rubber feet that keep the laptop on slippery surfaces.
Despite the fact that in recent years there is a tendency to reduce the size of game models, ASUS G551 still did not chase the fashion and turned out rather "plump" – 383x255x28-31.5 mm, 2.7 kg. As for a conventional laptop, these figures are slightly higher than normal, but for a game model, all the bounds of decency.
Display
ASUS G551JM refers to the classic mid-sized gaming laptop, as made in the 15.6-inch form factor. Its display has a resolution of 1920×1080 pixels, which today can be considered optimal for a diagonal. Firstly, the excluded grain, and secondly, the video card installed in the ASUS G551JM, the strength to play games on it with normal settings without any problems. With regard to the matrix, it is made by IPS-technology, with all its attendant benefits in the form of wide viewing angle, good color and contrast.
About glare and reflections also need not worry, as ASUS G551JM has a display with a matte finish. Though the colors on it and are not as bright as glass, but to work on a laptop is much more comfortable, especially in bright light.
Acoustics in ASUS G551JM from the Danish company Bang & Olufsen, which has a chance to hope for high sound quality. The two speakers located above the keyboard, and the propagation of sound does not interfere. With regard to the purity of the emitted sound, then there is no complaints, almost all the frequencies are very well defined and not distorted. Here is just a bass this laptop is still a little cheated. Unlike its predecessor, G550 and "brother» N551, this model does not have an external plug-in subwoofer, built-in, too, unfortunately, no.
ASUS G551JM, like all modern laptops, equipped with a webcam with two directional microphones. Its resolution is 1 megapixel, it's not much and not enough, the permission can be regarded as the standard.
Keyboard and Touchpad
The keyboard is the same as that of the fellow – an island with a separate number pad, which has a rather large size. The difference lies only in the fact that the N551 is white with gray markings while the G551 – black and red. Oh, and you can do an additional emphasis on the dedicated button [W], [A], [S], [D]. With regard to the last line, it became "chip" gaming laptop ASUS.
The keys are quite strict, and their progress is quite large, for typing this keyboard fits very well as for games, here, too, should have no problem. The only weak point of this keyboard can be called a small distance between the arrow keys and the main unit, and the first time the possibility of erroneous press.
As mentioned above, the keyboard ASUS G551JM done in black and red décor and classic white lights would be here at least inappropriate. Therefore, ASUS engineers have equipped this notebook red illumination. It not only looks good, but not yet "beats" in the eyes as white.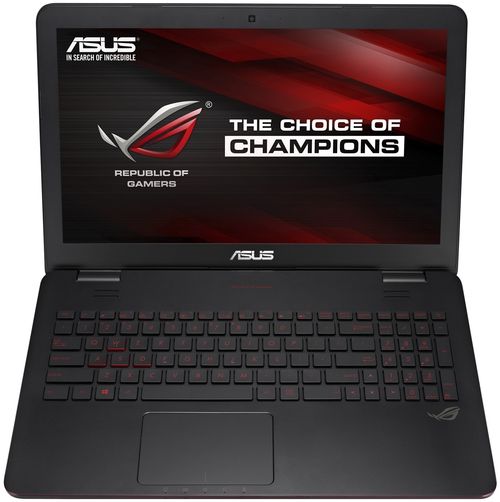 Certain multimedia keys are not, however, even the off button, which in most cases is located on the main keyboard, located in Block Num Pad. Her first time you press a wrong almost guaranteed, but over time can be used.
The touchpad is in contrast to the keyboard slightly recessed in surface, so it is difficult to lose sight of. The dimensions of the touch surface can be called a medium, and positioning accuracy and performance of special gestures close to perfect. At the bottom of the touchpad are hidden keys are pressed tightly and they loudly that may not appeal to many users, but since this is a gaming laptop and is intended to connect an external mouse, the significant shortcomings we will not refer.
Performance
ASUS G551JM (90NB06R2-M01420) comes without pre-installed operating system, so the user has a choice of which OS to deliver. If the software is going to vary, then the hardware component is simple and clear. As the processor uses a modern, powerful and, by the way, is a very popular processor Intel Core i7-4710HQ, which has 4 cores, able to handle up to eight data streams. The base clock speed of 2.5 GHz can be increased up to 3.5 GHz, thanks to technology Turbo Boost. Cache in the third level is 6 MB and TDP with the integrated graphics card is at 47 watts. As an integrated graphics card then acts as Intel HD Graphics 4600, but it is not very interesting for us, as mainly used in read-only mode to save battery power.
But what really interested amateurs playing devices, so it's discrete graphics. Fortunately everything is in order, and even NVIDIA GeForce GTX 860M graphics card is not a top, but still it is more a game than the NVIDIA GeForce GTX 850M video memory DDR3, which was placed in the precursor – ASUS G550. With regard to its technical characteristics, then it is possible to allocate 640 shaders that operate at a frequency of 1029 MHz, 2 GB of video memory GDDR5, as well as a 128-bit memory bus.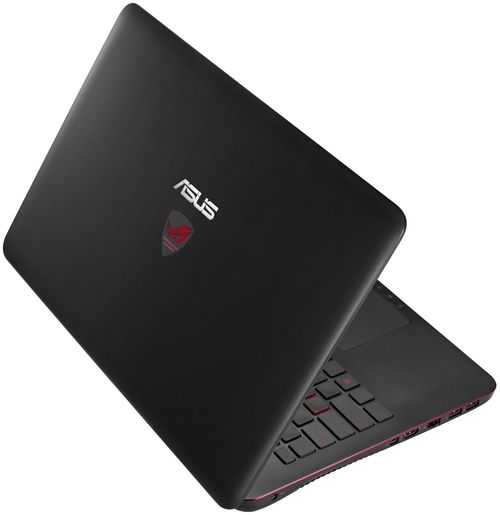 RAM in the laptop to 8 GB, and all it can set a maximum of 16 GB of RAM. Standard DDR3 memory running at 1600 MHz. To store the information in the ASUS G551JM used is not very fast, but quite capacious hard drive 1TB with a spindle speed of 5400 rev / min. There are also versions with hybrid drive or with full SSD.
Game
ASUS G551JM «in the teeth" are all the latest news in the world of computer games. For our tests, we chose several popular games, including Far Cry 4 and Call of Duty: Advanced Warfare. Both games were put on high settings and a resolution of 1920×1080 pixels. As a result, we have an average of 29 fps and 40 fps. But for a comfortable game in Assassin's Creed Unity had to reduce the resolution to 1366×768 pixels to the frame rate has risen to 30 fps.
Ports
Compared with its predecessor set of ports has not changed, but their location has changed slightly, mostly concerning the left side, on which the bulk of interfaces moved closer to the front of the notebook. Here you can find two ports USB 3.0, Mini DisplayPort video outputs and HDMI, Network RJ-45 connector and power connector. Last separated from the bulk of the connectors massive grille.
I am glad that the optical drive DVD ± RW (DL) is located on the right side, so no cables and wires will not interfere at hand gamer unless you're right-handed. There is also a USB 3.0 and audio jack combo, but closer to the rear face is a slot for a Kensington lock.
On the front of the ASUS G551JM is a card reader and a set of indicators under the touchpad. Back face is covered with a cover notebook, so there's nothing there.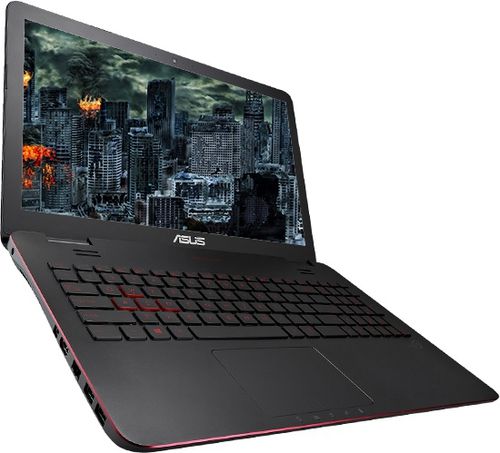 Wireless technology openly upset because instead of the current standard Wi-Fi 802.11ac we have Wi-Fi 802.11 b / g / n. ASUS G551JM also has Bluetooth 4.0.
Battery
6-cell lithium-ion battery capacity of 5200 mAh and even boasts a good technical performance, but it does not provide a long battery life. Therefore, we can be satisfied quite "gaming" autonomy. Maximum load discharge the laptop a little more than half an hour, the regime surf the web – for four hours and ten minutes. Charging takes a 120-watt power supply.
Conclusion – ASUS G551JM
ASUS G551JM is the average gaming notebook, both in performance and size. Clear deficiencies in this model, there is, after all, in the ASUS have learned from the mistakes of the past series and at least not to repeat them. But among the strengths it is worth noting a rather nice design, aluminum trim body, high-quality Full HD-display and good acoustics. As for performance, the majority of games will be playable on high settings and a resolution of 1920×1080 pixels, but in some very demanding need to lower it to 1366×768 pixels. In general, ASUS G551JM for its price ($ 1300) is quite a decent option, but the competition in this price range, too much: the same MSI GE60 2PE, Acer Aspire Nitro V15 or Lenovo IdeaPad Y5070 can offer similar performance, but at the same time have their own interesting "chips".
Source: Asus
Read another very interesting article about alternative energy of the Sun, water and air.