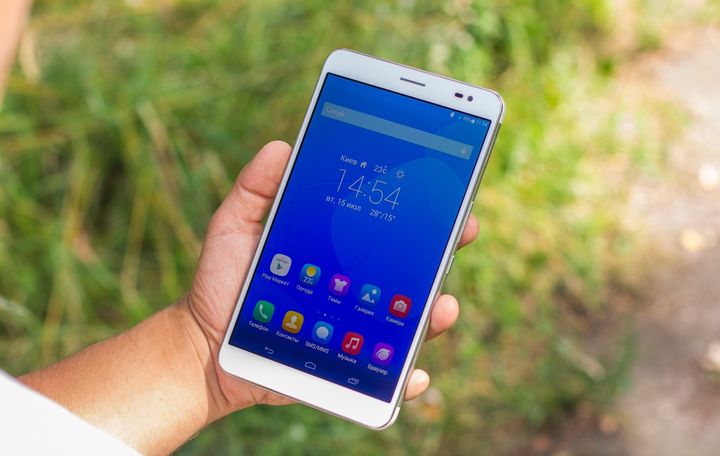 Compact 7-inch tablet Huawei Mediapad X1 7.0 with a good "hardware under the hood", a thin metal body and voice calls. At first glance, nothing new, but "Digging" a little deeper, you realize that the first impression is not entirely true.
Design Huawei Mediapad X1 7.0
Compact dimensions on the background of a 7-inch screen is already impressive, even during a cursory acquaintance. Huawei Mediapad X1 7.0 can hardly be called a tablet – in the best case fablet or even a smartphone (especially when you consider that the latter is already available and with so rather big screen as well).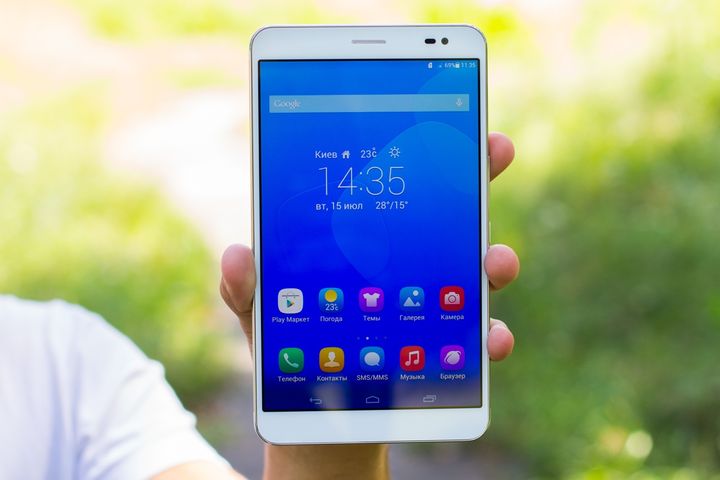 The device looks without exaggeration noble. Yes, the manufacturer is not particularly experimenting with design Huawei Mediapad X1 7.0 – he looks like a tablet MediaPad M1 8.0, which came out before we review here . However, compactness and thickness of the case "Seven", a beautiful border around display "under the metal", fully clothed in a protective glass front panel … Yes, it seems that all this stuff, but that's on them and build a new style and, respectively, and the perception of device user.
Hand this "tube" is probably the most comfortable against the competition – at least among those with whom I worked, I personally (and those, believe me, a lot). The user can unlock the device with your finger holding his hand. In addition, it seems convenient volume control, and a shift in some sub menus and applications. In short, in terms of ergonomics manufacturer the highest score.
Assembling Huawei Mediapad X1 7.0
The materials used – is another plus to the total potential of the machine. Along with the plastic manufacturer mobilized glass Gorilla glass and a considerable amount of metal. "Kills" is all very well – no backlash, albeit minor, the user will see.
Used items squeak "not responsible" even at high compression.
Ergonomics functional elements – Huawei Mediapad X1 7.0
The front panel of the tablet is divided between a large display, three classical touch buttons, mesh earpiece eye front 5MP camera, proximity sensor / indicator and orientation events.

In the body of the rear of the housing output of the basic 13-megapixel camera and flash, a few logos and technical labels, plus net speakerphone.

Looking around the right edge, the user will not be able to miss two trays – the SIM-card and the memory card, the on / off power of the unit, as well as the volume rocker sound.

The opposite of left without any functional elements.

At the upper end provided 3.5 mm audio output plus microphone noise reduction, and the lower port micro- USB and one microphone.
Display Huawei Mediapad X1 7.0
Display Huawei Mediapad X1 7.0 size seven inches and a resolution of 1920×1200 pixels. At the heart of LTPS – matrix. In practice, I easily convinced that the latter has excellent viewing angles to either side.
Between the screen and covers it with a glass no air gap, which in turn positively affects the quality of color reproduction – picture remains "juicy", even when viewed at an angle.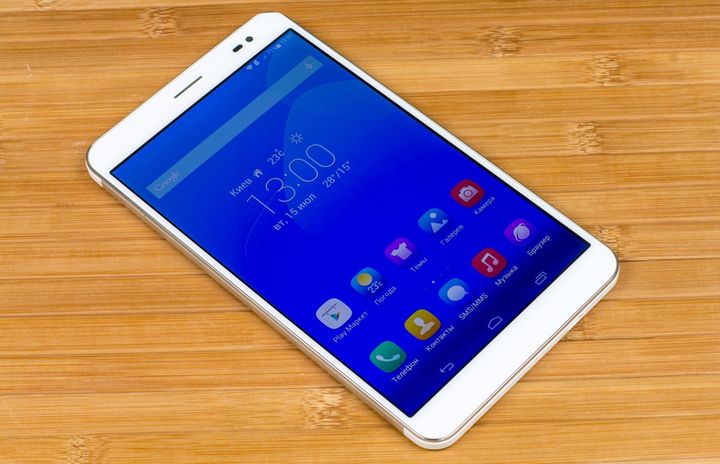 At work "in the sun" for a "extinction" of the displayed data is the place to be, but to say that it creates significant discomfort for the user, I can not – even so the information remains quite good viewing.
Backlight adjustment is performed by two classical ways – manually or automatically.
In addition to the settings there is the familiar scale of color temperature, "smart lights" activation mode "Bright colors" and so forth.
Is also provided and the item "in a case." But try it in action I did not succeed due to lack of said accessory.
Sensitivity does not cause any claims – supported touch controls with 10 fingers simultaneously.
Speakers Huawei Mediapad X1 7.0
In terms of sound like a earpiece and multimedia.
It is comfortable to communicate in a room on the street or even loud Avenue. Distortion does not notice the user or subscriber "on the other end."
Handsfree speaker can not boast except that a special volume of the sound – otherwise no complaints.
Memory Huawei Mediapad X1 7.0
On the market Huawei Mediapad X1 7.0 is available in two versions – with 16 GB of internal memory and 32 GB. Expand said "disk" space as possible at the expense of cards MicroSD , and connecting the USB-drive.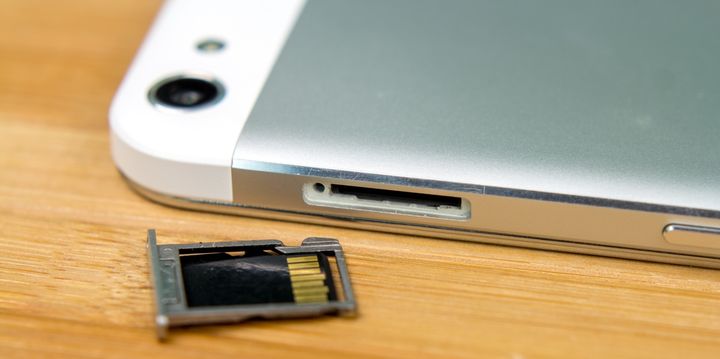 We visited in the wording modification of 16 GB tablet. If you look in the appropriate section of settings, it is easy to figure out how many gigabytes a stipulated amount available to the user.
Battery and autonomy – Huawei Mediapad X1 7.0
Built-in battery capacity of 5000 mAh.
In practice, even if you will often "load" system demanding games, watching Full HD – video, photography and other such things, then eventually a 100% charge will be enough for a day's work.
Under moderate loads do not need recharging and two days.
Without mode "Energy Saving" is also not done – include a proprietary add-on. With its features, we have not once understood the reviews of other device Huawei, for example, in the above-mentioned MediaPad M1 8.0.
Equipment Huawei Mediapad X1 7.0
Powered tablet Huawei Mediapad X1 7.0 running Android 4.2.2 "out of the box." About updating the axis at the moment nothing is known officially, but I personally do more current release here seems appropriate. Let's see how will it actually is.
The "heart" of the system is a 4-core Hisilicon Kirin 910, the clock frequency of 1.6 GHz. The amount of RAM to 2 GB. Also "on board" graphics Mali-450 MP.
OS is installed on top of a proprietary shell Huawei Emotion UI 2.0. About its features in detail, I told here in a separate review here .
In addition to this, the user will be able to operate the device through gestures, use "control button" and much more. About all the functional features discussed in this review of the tablet Huawei MediaPad M1 8.0 .
Also available modules Wi-Fi 802.11 A / b / G / n with support for Wi-Fi Direct, Bluetooth 4.0 plus EDR , VPN, GPS and so on.
Performance Huawei Mediapad X1 7.0
Sold here "iron link" is enough for bandwidth-hungry games and Full HD – video.
Camera Huawei Mediapad X1 7.0
Tablet got two cameras – 5MP front, as well as the main 13 megapixel.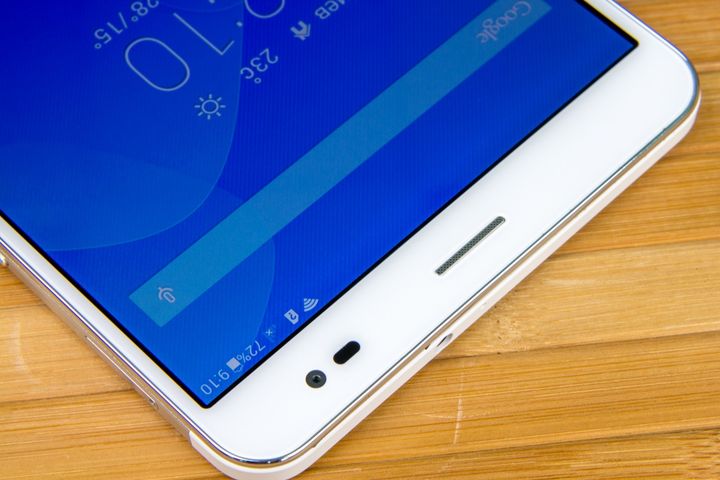 Both the first and second supplemented rather big number of settings / shooting modes. Besides the main flash and has a good autofocus system. In practice, all this is more than enough for quite decent quality content.
Conclusion Huawei Mediapad X1 7.0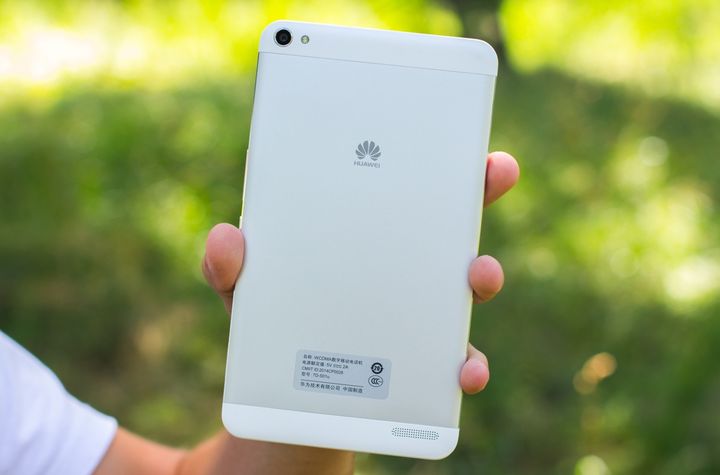 Well, literate balance between tablet and smartphone, no doubt, will make to attract the attention of users who do not want to acquire the two devices, but on their future "mobile companion" waiting for maximum ergonomics, superb connectivity, good performance and a high-quality display. The only thing that can make the "push" buy "for later" – is worth. However, this is a nuance for each user personally.
Pros Huawei Mediapad X1 7.0
Design and ergonomics;
Build quality and selected materials;
Excellent display / "thin" color settings;
Capacity battery;
Well equipped and performance;
Camera
Estimated cost Huawei Mediapad X1 7.0: $ 474
Read another very interesting article about alternative energy of the Sun, water and air.