The brand ASUS has long won the devotion of fans not only in our country but also abroad. Such popularity is due to the cost of an adequate device, a large selection of models, as well as quality and design of the gadget manufacturer. Previously, under our attention already got ASUS notebooks of various series, and all of them were awarded the title of excellent if not, then the solid.
In this review, we would like to address the subject of laptops corporate segment. Despite the fact that this is a highly specialized niche, it is quite in demand in large enterprises and in demand by ordinary office workers. The hero of this review – Asus AsusPro B551LG – is a prominent representative of laptops for business. In the arsenal of its advantages – robust housing, the last major test for compliance with military standards, good display, powerful filling, suitable even for running demanding games. What more could you ask for?
Design – Asus AsusPro B551LG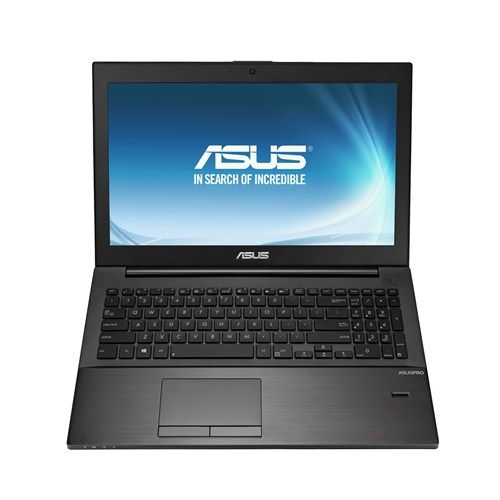 The notebook distinguishes it from its peers. First of all, because it is incredibly stylish: black, clear-cut sharp corners, to the same cover and the bottom of the laptop is made of carbon fiber, and the working surface – aluminum. It is not hard to guess that the case has been extremely strong, in addition, non-staining, for which special thanks to engineers. It should be noted another important thing: before you send the gadget "to the masses", he was a serious test of strength. To be precise, the housing Asus AsusPro B551LG meets military standard US – MIL-STD-810G. This means that it is, if necessary, withstand various external influences such as temperature changes, vibration, falling, etc. factors.
As befits a serious working notebook, its design is nothing superfluous, maximum – the manufacturer's logo. The biggest can be found in the middle of the lid of the laptop, another, but in a much smaller scale – on the lower frame of the screen. By the way, on the opposite frame has a webcam, which makes the cover and display area thoroughly imbued with the idea of minimalism.
As for the bottom of the laptop, here you will not see too much pretentiousness. Ergonomic keyboard seems rather compact, but the touchpad below the contrary, overall. On the right side of it is difficult not to notice a fingerprint scanner, which is an integral part of most business laptops.
The notebook upgrade is subject, however, to do this, try to have fun. The fact is that to remove the bottom cover can only after will be unwound all 20 screws on the bottom. Only after that the user will have at its disposal two slots of RAM, SSD and access to the hard drive.
Regarding the size of the device, they are quite typical for a 15-inch form factor, namely: length – 383 mm Width – 259 mm, thickness – 26 mm, while the weight is 2.5 kg. Basically, the laptop can be called quite mobile, so it can take in the trip and the meeting without experiencing any discomfort. Finally, we note that the build quality of the laptop is high, because it does not flex even when pressing intentionally, no creaks or backlash.
Display, sound and webcam – Asus AsusPro B551LG
It features a laptop screen proved very worthy. Its diagonal can be called classical – 15.6 inches, and the resolution of Full HD, perhaps the most optimal for today. The matrix is made by technology PLS, so it slightly worse IPS, but significantly better than TN.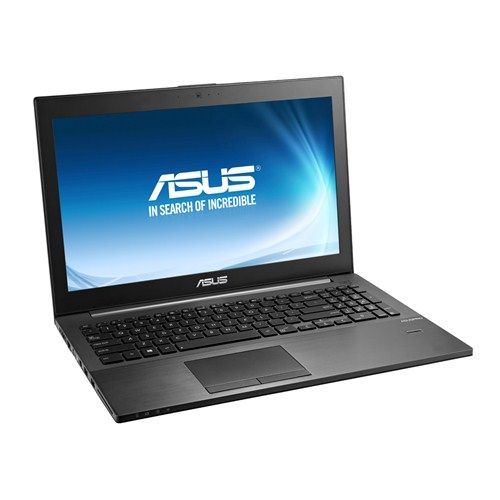 Matte screen surface, which in turn prevents problems with glare in sunny weather. The maximum brightness is slightly more than 300 cd / m2, contrast – 700: 1. Problems with color reproduction do not occur, the display picture looks quite bright and saturated. Because of the PLS-matrix, the viewing angles are not ideal, however, they are at the proper level. So, everything is fine horizontally, but if the screen vertically deflect some colors are distorted in part.
Acoustics is represented by two speakers that support the technology SonicMaster Lite and are located on the front bevel unit. In general, the sound was a good, however, note that the low frequencies it is still not enough, and some songs may wheeze at maximum volume. The situation is easily corrected headphones, and, in general, business laptops do not is an analog of the media, so these nuances are forgiven him.
Webcam got permission 1 megapixel. For his direct responsibility – video calling – it copes perfectly.
Keyboard and Touchpad – Asus AsusPro B551LG
The keypad is slightly recessed into the surface, it is made on island principle, whereby around each button provides a lot of space. The keys have a square shape and labeled white. So-called "hot buttons" that are utilized when printing very often, got the slightly elongated shape. Make sure this is easy, just look at the [Enter], which, moreover, still single row, on [Shift], [Backspace], [Caps Lock] or [Tab]. Analog block tiny, but it is common to most modern laptops, not just our hero. Separate plus is the presence of Nam pada that many users often demand at work.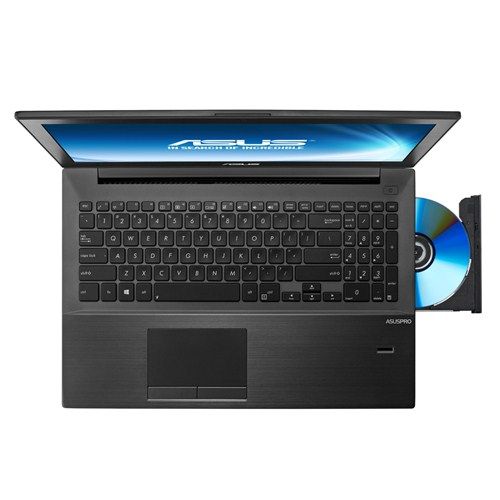 Unfortunately, the keyboard is not equipped with a backlight, and it is unfortunate, given that today's market you can find analogs such bonus. As for the power button, it is not at the keypad, as now it has become fashionable for some manufacturers and taken out separately in the upper right corner. The keys are small, but the blind find it quite easy. Finally, we note the "behavior" buttons while typing. Thus, pressing the soft and perhaps those who had had an affair with a clearer impact, take a little time getting used to.
Under the keyboard Asus AsusPro B551LG has a touchpad shifted slightly to the left. It has a smooth surface, which is, frankly, an amateur, many still prefer the rough ground. The manipulator is equipped with physical buttons, simulating mouse. They pressed easily, effortlessly, and do not emit any noise. Additionally, the touchpad supports various multi-touch gestures, including zoom, drag, and drop, etc.
Fingerprint scanner is placed on the right edge, with his immediate task – protection against access to unauthorized persons – he does well.
Performance – Asus AsusPro B551LG
Asus AsusPro B551LG (90NB03L1-M01300) is sold with the operating system Windows 8.1 Pro 64-bit. The heart is filling laptop dual-core processor Intel Core i7-4500U generation Haswell. It is made of 22-nm process technology, it has a frequency of 1.8 GHz, which can be increased up to 3.0 GHz with an active nucleus, or up to 2.7 GHz at two. In addition to the technology Turbo Boost, CPU also supports Hyper-Threading, allowing two cores can process four threads simultaneously. This ULV-processor is considered to be energy efficient, it is no wonder it consumes less than 15 watts of power.
The graphic component of iron represented by two video cards. Built-in Intel HD Graphics 4400 solves the problem of the everyday level, it supports DirectX 11.1 and Shader 5.0 and is equipped with a 4K decoder and encoder Quick Sync. By the way, this performance video card is not behind a discrete AMD Radeon HD 7610M. By the way, about discrete: in this case, is set NVIDIA GeForce 840M with 1 GB of memory standard, DDR3. Its operating frequency is 1029 MHz and power consumption – 30 watts. In addition, a video card supports DirectX 11, also has the ability to automatically switch from one card to another using technology Optimus. By the way, the performance GeForce 840M enough for it to run many computer games. For example, Batman: Arkham Origins HD resolution at medium settings show 59-61 fps, Metro: Last Light with the same parameters will show up to 35 fps. Unfortunately, the game GRID 2 with a native resolution and ultra-settings will be less and will be playable with 18-20 fps. As you can see, play out, but it is likely to be toys are not new and not too demanding, otherwise locked up and braking can not be avoided.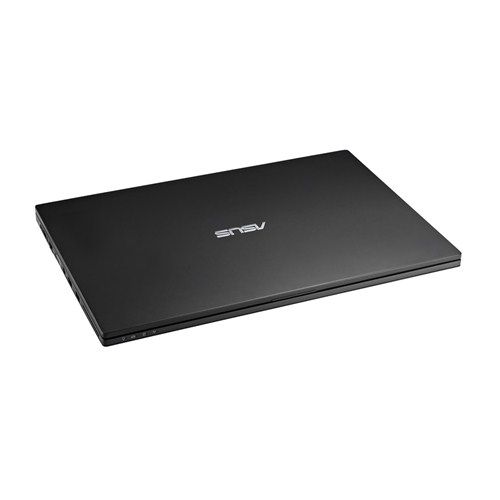 The laptop Asus AsusPro B551LG provides 8 GB of DDR3-1600 MHz RAM standard, but, due to the fact that the two memory slots (one is free), the maximum amount of RAM can be up to 16 GB. To store the information selected hard disk 1 TB with a spindle speed of 5400 revolutions per minute. Additionally provided SSD 256 GB. Another important point: compliance with military standard, which we mentioned earlier, it involves the presence of an accelerometer sensor which reacts to the slightest change of position of the head and locks the laptop HDD, excluding the loss of information on your hard drive. In addition, inside the body there are protective cushions that serve as protection for the hard disk when the device drops and bumps.
Ports and Communications – Asus AsusPro B551LG
Interfaces Laptop Asus AsusPro B551LG focused mainly on business users, play a rather important role. Asus AsusPro B551LG engineers equipped with everything necessary, and this is what came of it. On the right side, you can see the port USB 2.0, combo audio jack, a slot for a Kensington lock and the compartment where there is an optical drive. By the way, instead of the DVD-RW, you can install an extra battery or drive (optional).
The left side Asus AsusPro B551LG can offer the user three-port USB 3.0, one of which can be recharged many mobile devices, even if the computer is off. Also, there are RJ-45, VGA and Mini DisplayPort, a slot for a smart card connector for charging of the laptop.
On the bottom, there is a place to connect the docking station. The back side is empty, and in the front, in addition to the card reader 4-in-1 (SD / SDHC / SDXC / MMC), there are four indicators: work laptop, battery status, hard drive activity, and Wi-Fi.
Wireless communication module standard, namely, Wi-Fi 802.11 b / g / n and Bluetooth 4.0 + HS.
Battery and heating – Asus AsusPro B551LG
On the laptop battery situation is as follows: there is a built-in rechargeable lithium-ion 2880 mAh capacity, plus you can use the optional lithium-polymer 2010 mAh, received a total of the fairly decent capacious battery. And given ULV-processor and that discrete graphics will be used not always it is possible to conclude that the laptop will very tenacious, and it is safe to take with them not only to work, but in traveling. Information at a Glance: video playback gadget will work about 7 hours in the Web surfing – about 5 hours, and discharge laptop toys for about 2-3 hours.
Question heat does not damage the overall picture that has emerged in our after meeting with this model. Gadget barely heats up, its body remains cool at all times. Only in cases where the user runs a relatively serious toys, can heat the bottom. However, if you do not keep the laptop at this point in her lap, the discomfort does not arise.
Verdict – Asus AsusPro B551LG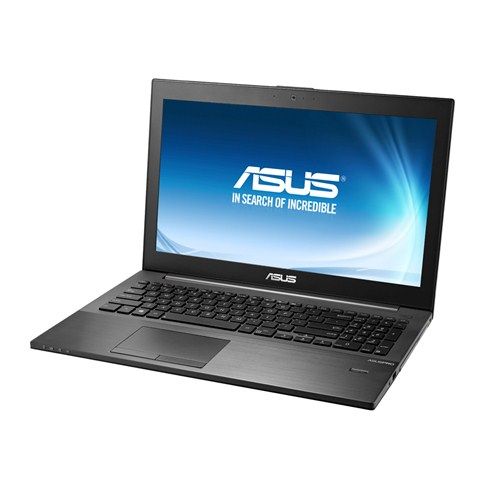 Undoubtedly, laptop Asus AsusPro B551LG is not unique in its kind, although of the same line a narrow focus. There are undeniable advantages, namely, stylish, and most importantly, a robust housing that meets the US military standard MIL-STD-810G. The laptop is equipped with a good Full HD-display, convenient, high-quality keyboard, and a fingerprint scanner to protect personal data. In the stuffing to complain, because it is represented by a rather powerful processor Intel Core i7-4500U and graphics card NVIDIA GeForce 840M. Device Interface also deprived in all available that can be useful in their daily work.
Of the minuses are the lack of keyboard illumination and non-ideal viewing angles. By the way, the price of the laptop is quite acceptable. Given that the minimum cost of laptops business segment usually starts at $ 1,000, Asus AsusPro B551LG in the described configuration will cost about $ 1,300.
Source: Asus
Read another very interesting article about alternative energy of the Sun, water and air.