Multimedia line of ASUS N not only updated periodically, but updated with interesting models. We have repeatedly became acquainted with many of its members, such as ASUS N56JK, ASUS N550JK, N751JK. These laptops are good for entertainment, they have good displays, perfectly sound, some even equipped with an external subwoofer. And the filling of these devices will not only watch movies, but also to play.
In review, we consider one of the representatives of this segment – ASUS N551JM. This notebook is equipped with the latest-generation processor Haswell, and quite efficient discrete graphics card NVIDIA GeForce GTX 860M. Moreover, there is a Full HD-display and speakers, complete with subwoofer. Let's see what can offer this multimedia sophisticated user.
Design – ASUS N551JM
ASUS N551JM housing in attractive colors of black with silver. Some of the panels are made of hard plastic (eg, bottom), there are aluminum surfaces (cover and playground). The top of the notebook is a region with concentric circles centered on the logo ASUS.
It would seem like anything special, but this looks advantageous design, stylish, despite the fact that the idea of using such a "pattern" is not new.
By the way, the laptop is very interesting decorated side ends. Here, the designers used a smooth "wavy" transition conventionally divided the top and bottom area of the base. This item can be seen as a mood for fun, not a working mood. But the lower panel is normal. On it you can see the battery compartment latch to lock it, as well as a cover under which there are a hard drive and RAM slots.
Dimensions of the notebook has 383x255x28-31.5 mm might be the most common for the 15.6-inch device, if not the thickness of which was unpleasantly surprised. Most modern laptops are now much thinner. And the weight of the ASUS N551JM obviously too big, it is 2.7 kg. Probably, this notebook will not be a frequent companion, with whom the owner will be traveling. Simply use it at home, as a good entertainment center. If, however, affect the quality of the build, then the laptop will not have problems. How would you not try to bend or twist his body, he did not succumb.
Display, sound, webcam – ASUS N551JM
The screen ASUS N551JM is 15.6-inch diagonal has a resolution of 1920×1080 pixels. There are more advantages. For example, IPS-matrix with excellent visibility to 178 degrees, a good supply of brightness (350 cd / m2), a matte finish, which guarantees a minimum of reflections and reflections.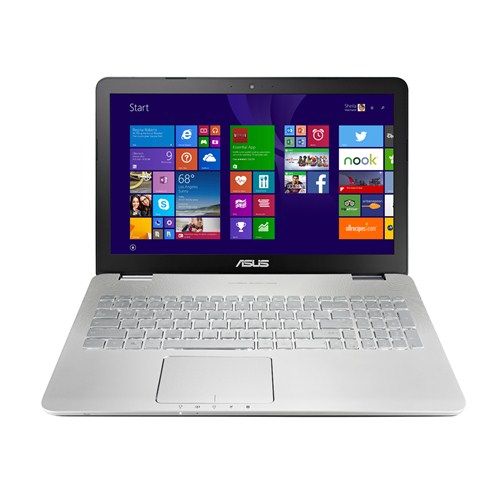 In order for the image to be saturated and accurate color reproduction, you can configure it using proprietary technology ASUS Splendid. With the help of image quality as close as possible to the natural and to be comfortable to the eye, regardless of mode, "Standard", "User", "Theatre" and "saturated." By the way, the color gamut of sRGB space exceeds 90%, for those who will handle photos just a great result.
Resolution Web Camera 1.3 megapixel am not surprised. This is a common indicator, which is enough for everyday video conferencing via Skype. The camera is complemented by two built-in microphones. In addition, her work signals located next to the LED.
Acoustics laptop fully corresponds to the media device. So, in addition to the two stereo speakers and support for Bang & Olufsen ICEpower, it is possible to connect an external subwoofer SonicMaster.
In addition, the sound is adjusted with the help of MaxxAudio. All this is beneficial to the playing media. For example, when watching movies, or, for example, in the game you do not have to listen to the sound of the same type, which are only the high frequencies. The subwoofer will make the sound more varied, adding his bass. Yes, and the volume will have no problems.
Keyboard and Touchpad – ASUS N551JM
ASUS N551JM allocated enough space under the keyboard unit. The buttons are located on island principle, it is medium size, with clearly marked. The key travel is long, when you press you will feel the springy feedback. In general, pass the time of activation will fail.
No matter what the task will be performed on this laptop, typing, games or photo montage, the keyboard seems very comfortable. Especially because you can use it even in the dark, as It has adjustable lighting.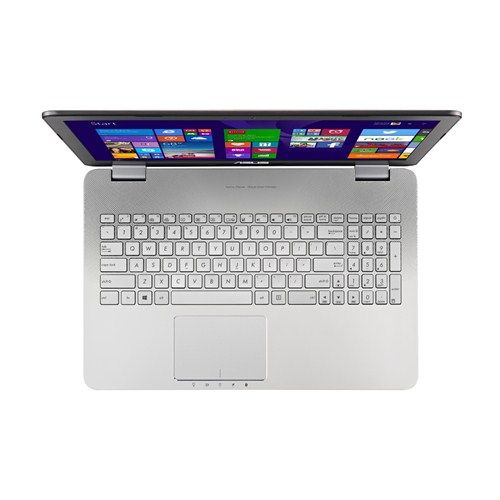 By the way, a full-size keyboard, complemented touchpad. Its key as the arrow buttons, only slightly reduced compared with the main unit. As for the layout, it is a standard, do not have to be reconstructed. By the way, all the keys are in the range of the keyboard, even a button on the laptop.
The touchpad ASUS N551JM is slightly offset to the left relative to the center pad wrist rest. It is large, with a smooth matte finish. Position and perform multitouch gestures with such a manipulator is very convenient, because he accurately recognizes commands. For example, you can increase or decrease the volume of the image with two fingers to flip through pages of a document.
Performance – ASUS N551JM
ASUS N551JM (90NB06R1-M01190) runs on 64-bit Windows 8.1 and has on-board processor Intel Core i5-4200H (Haswell) with a frequency of 2.8 GHz and a cache in the third level in the volume of 3 MB. This CPU is built on norms of 22-nanometer process technology, it has two cores and has a good performance, which will be enough for most demanding applications. By the way, the processor supports a number of technologies. For example, with the help of Turbo Boost speed of the chip can be increased up to 3.4 GHz, taking into account the work of just one core. With two cores active, the figure will be slightly lower – 3.2 GHz.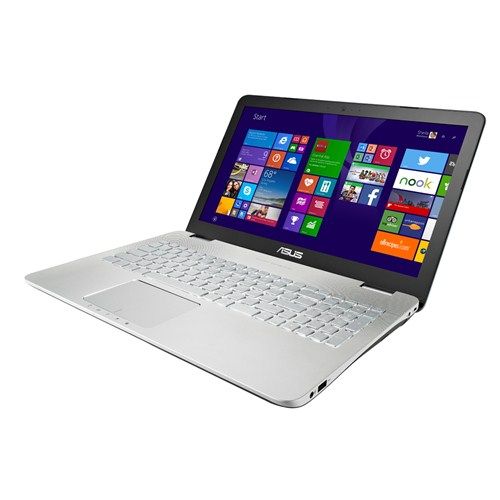 Core i5-4200H supplemented with integrated graphics Intel HD Graphics 4600, which supports DirectX 11.1. Graphics has 20 unified streams, and its frequency is less than 1350 MHz. If your laptop is necessary to cope with simple graphics tasks, such as watching videos, the performance of the accelerator is more than enough. But in games help a 128-bit NVIDIA GeForce GTX 860M. This discrete graphics, which has an above-average potential. It also supports DirectX 11 and decodes the video is great, but in visual computing uses 2 GB of internal memory standard GDDR5. As for games, the graphics card with the will or The Crew Dragon Age: Inquisition on high settings, FHD-native resolution and with a frequency of more than 30 frames per second. You will be able to play in other modern games: Call of Duty: Advanced Warfare, Assassins's Creed Unity, and others. However, for the last playable process will have to lower the settings to medium and limit the display resolution of 1366×768 pixels.
The laptop ASUS N551JM has a sufficiently capacious hard drive (1 TB), as well as 4 GB of RAM standard DDR3-1600 MHz. Thus, you can freely work with several running programs, in addition, the notebook will not be a long time to think if the browser to open a number of tabs. At the same time with the hard drive does not need to think, what to run out of space, even if it be games or other multimedia content. By the way, in other trim instead of HDD may be a hybrid drive or SSD of 256 GB.
Ports and Communications – ASUS N551JM
All ports and connectors devices are located on the sides. So, on the right you can see a subwoofer jack, Kensington lock slot, combo audio jack for headphones and a microphone, as well as the USB 3.0 standard. The main place on the right side holds the optical drive DVD ± RW with support for Double Layer.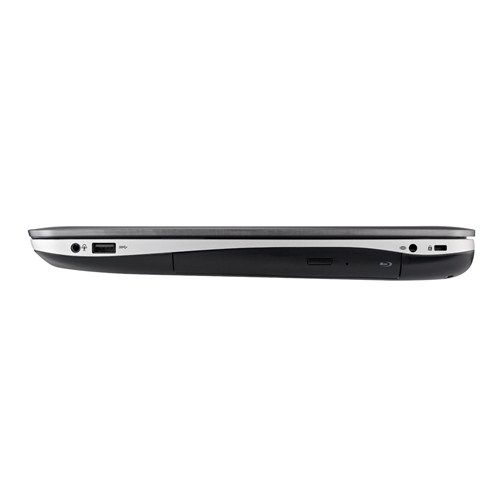 The left side is more full. In particular, there are two more USB 3.0 (one with charging function USB Charger +), power connector, RJ-45, Mini DisplayPort and HDMI. Through the last two interfaces can be output to an external display.
The front is only a card reader SD / MMC / SDXC / MS / MS Pro, and the back panel completely empty.
As for the indicators, they are under the touchpad. Among them is the display of the laptop, the battery status, drive. Also has a mode indicator "on the plane", ie activation / deactivation of wireless modules, and Caps Lock.
Wireless communications are standard of this notebook – it is Wi-Fi 802.11 b / g / n and Bluetooth 4.0.
Battery – ASUS N551JM
In the case set 6-cell lithium-ion battery capacity of 5200 mAh (56 Wh). It ensures autonomy for about three hours and charging the 120-watt power supply. By the way, in hibernation mode laptop can stay for about 14 days.
Verdict ASUS N551JM
Like other multimedia line, ASUS N551JM is mostly positive reviews. All that it is provided operates on the result. We need to come often on the road – robust housing made of durable plastic and light aluminum protects internal components. There is a need for entertainment – Play with your graphics card performance NVIDIA GeForce GTX 860M, Surround yourself with great sound coming out from the subwoofer, and "merge" with what is happening on the Full HD-display. Do you want to just work – use a convenient backlit keyboard and responsive touchpad spacious.
The cost of ASUS N551JM does not exceed $ 1,000, maybe it's the best option if the laptop is needed not only for work but for leisure.
Source: Asus
Read another very interesting article about alternative energy of the Sun, water and air.