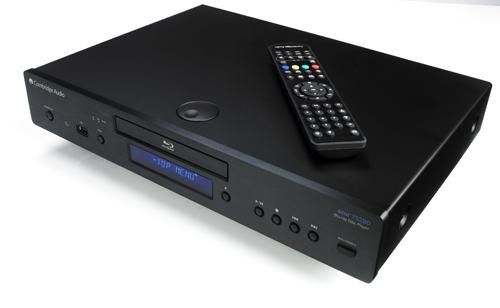 With Blu-ray-player Cambridge Audio, we first met two years ago, but recently this player has undergone significant modernization. Now, in addition to the disc Blu-ray, DVD, DVD-Audio, SACD and CD unit was able to play on a network or connected via USB hard drive a lot of video formats, including "rips» Blu-ray in BDMV format and even ISO-image that previously only able media players Korean and Chinese companies. Of course, these talents Cambridge Audio 752BD (along with multi-zone) are not advertised, so as not to incur the wrath of the various licensing bodies, so the official specification capabilities of the player we do not provide, however, as the company said distributor, the player is capable of anything.
Well, check whether this is so, and at the same time to find out whether the owners Cambridge Audio 752BD can do without additional boxes that give access to the world of "shareware" content.
Of course, unlike the latter Cambridge can not independently download music and audio with Torrent resources, it only reproduces the content that you offer him, by connecting a hard drive or connect it to your home network.
The first option is the easiest and given support NTFS and speed provided by USB2.0, the least problematic: we were able to play HD-video, not only in containers MKV, but also a full (with menus and all the features of this disc) "rip» Blu-ray "Grand Hotel Budapest" format BDMV (with the folder structure of the disc and videos m2ts) and "Prometheus" in the form of ISO-image (both had a weight of about 50 GB). No problems and broadcasting of such monsters on a wired network: to download the video machine took a few seconds – no more than a real disk. No switching chapters, or during rewind unwanted pauses or failures do not occur, while working player never freezes, requiring a restart.
With the wireless network, you have to be limited to "pinched" HD-video in MKV containers or MP4. You lose a disc menu, but the division into chapters, choice of audio and subtitles while watching you are – given an order of magnitude smaller file sizes, the most common and acceptable option today. We will not say that with less "heavy" video in AVI and such player also works. In all cases, the image is displayed Cambridge Audio 752BD as possible, taking into account the quality of the original content, clarity, it is stable and smooth.
Connecting to the network – Cambridge Audio 752BD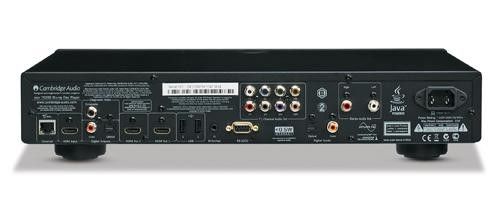 Connecting to the network by means of a wire or the supplied Wi-Fi-dongle that can be connected to one of the USB-connectors on the rear panel (the other is designed to connect an external drive). You can install an adapter and a special database with meter USB-cable to improve the quality of communication. In addition, if you are going to use Wi-Fi, we recommend allocating BD752 single access point – this will save you problems with simultaneous operation of multiple computers. Entering the network settings, switching between wired and wireless options are menu.
But what, in our opinion, makes it especially important to use instead of Cambridge Asian counterparts – sound. In the series, BBC «Sherlock» (720p, H.264, MKV) it is much more multi-dimensional, detailed and vibrant. Even for playing music 752BD is very good.
Jacques Loussier jazz interpretations of the baroque theme, Eric Clapton blues sound collected, rhythmic and expressive. Complex choral cantatas Bach also transmitted reliably and only for large symphonic compositions records you definitely need a dedicated audio player.
DLNA or SMB?
Of course, in addition to access to a network folder using SMB, you can use 752BD as a network client architecture UPnP / DLNA. After all, despite the high-speed navigation using the remote control, be controlled by the application much easier. On the other hand, it will require not only network storage but sufficiently powerful server that would provide high-speed processing of video, supports various formats and codecs and steadily worked. And if the task of broadcasting music, many programs handle good, then for movies seems a preferable option with direct access to network shares. And if Cambridge Audio has released an app for the iPad, replacing the remote control Cambridge Audio 752BD, is quite remarkable.
Price: $ 1430
Pros: Fast and stable operation; Support all popular video formats, including BDMV and ISO; excellent, compared with sound – you can listen to music
Cons: Specialized application for this unit would be superfluous
Verdict: With the new firmware Cambridge Audio 752BD claims to be the only media player, allowing you to cancel the purchase of additional video players Asian manufacturers
Source: CambridgeAudio
Read another very interesting article about alternative energy of the Sun, water and air.