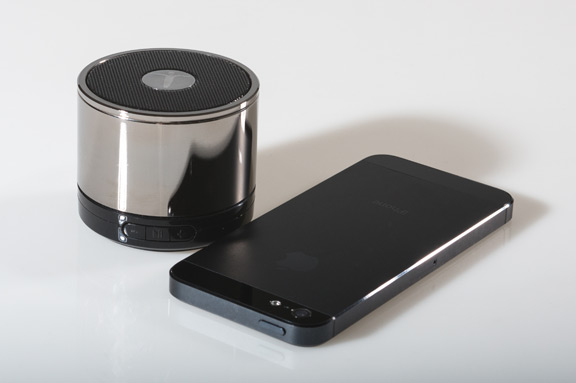 To date, continues to boom portable Bluetooth-speakers, and similar accessories in the market continue to appear more and more new models. With identical dimensions are different for the most part only in design and autonomy But sometimes there are very interesting specimens, which in addition to design and ergonomics boast excellent sound quality, even in comparison with the more bulky counterparts.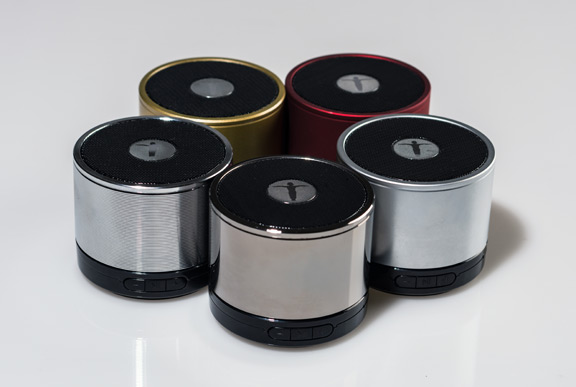 Today I want to tell you about one of them – the vibrating column Abramtek . Sound reproduction technology at the expense of the environment is not new, but now it has been actively used for portable speakers. The only problem with this technology – the need for a flat surface. But if you find yourself with a column on the ground, I do not think there are problems with the search itself. Now, let's move on from the introductory words of the review.
An interesting feature of the column Abramtek is that it not only produces a great sound, but is made of quality materials, to touch it sturdy and reliable. The cylindrical body is made of aluminum, has a matte options and glossy. Plus matte surface that fingerprints there are practically invisible. Column size is half of the smallest banks Coca-Cola, and it weighs just under 300 grams. Agree, it is not enough for the speaker which sounds better than some of the overall acoustic system. Abramtek Another feature is its portability. The range of the column is more than 10 meters, which is a good indicator of the market. Battery life is 8-9 hours, but be aware that wireless data transmission reduces the battery life, so the Bluetooth-enabled device works 5-6 hours. Therefore, in order to make it work a little longer, it is recommended to use an audio cable.
Options Abramtek no different from peers. It includes the very column, paired cable USB +3.5 jack, memory card of 4 GB, as well as brief. For glossy models included a special cloth to clean the surface.
Device looks attractive. It is designed in a cylindrical shape, located on the usual speaker, whereby music can be played back even without installing the speakers on a solid surface. Abramtek can use it in any conditions, even holding a handbag. Underneath is the silicone cover, due to which it is adjacent to any surface.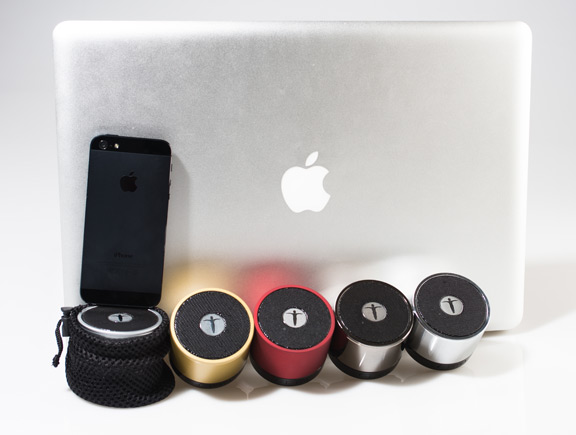 All controls and connectors disposed on the lower side surface of the column. There are: built-in micro-USB (cable included) for charging and connecting to a computer, 3,5 mm audio jack (cable included) to play the sound through the adapter, three-position switch. Column also has built-in slot for memory cards microSD, able to work as a card reader and audio by yourself to read. In other words, the gadget is a function of audio player with the basic features.
Technical characteristics
Aluminum case.

Output Power: 10W> 85dB

Power supply: rechargeable lithium battery, USB 5V or adapter

Frequency range: 40 Gy-20kHz

Audio Connector: 3.5 mm stereo jack (standard headphone)

Audio Source: iPhone, PC, notebook, MP3, CD, DVD-player, mobile phone, tablet.

Package Contents: Memory Card 4GB, column, paired cable USB +3.5 jack, manual.

Colors: Black, Red Matte, Silver Matte, Chrome.
Another small detail – the model number Abramtek there is a column with a built-in microphone, and you can use the device as a normal headset. The built-in microphone makes the column suitable for voice communication. This function can be used at home or even hold a mini-conference on the job. Everything happens quite adequately with normal speech intelligibility and noise-free.
Thus Abramtek column is one of the best portable acoustic devices on the market. It is worthy of that title for a great sound and capacious battery, which lasts for 8-9 hours of continuous operation. This should add a whole range of additional bonuses, ranging from high-quality assembly, ending the support of conferences thanks to the built-in microphone. But, of course, you have to see and hear a hundred times to read. Therefore, the demonstration Abramtek look at the video below.
Read another very interesting article about alternative energy of the Sun, water and air.